OREGON – Going into its Big Northern Conference clash with Rock Falls, the biggest worry for Oregon coach Nick Schneiderman was Booker Cross.
The all-everything running back-turned-quarterback gave the Hawks all they could handle, but Oregon's team strength and ability to make extra points was the difference in a 29-25 win. In total yardage, both teams were nearly identical with 271 for Oregon and 264 for RF.
With a second-quarter injury to freshman quarterback Easton Canales, Cross was forced into signal-calling duties, and the immediate result was a 28-yard pass completion, a 9-yard run and 3-yard touchdown with 0.7 seconds remaining in the first half to cut the Hawks' lead to 15-6.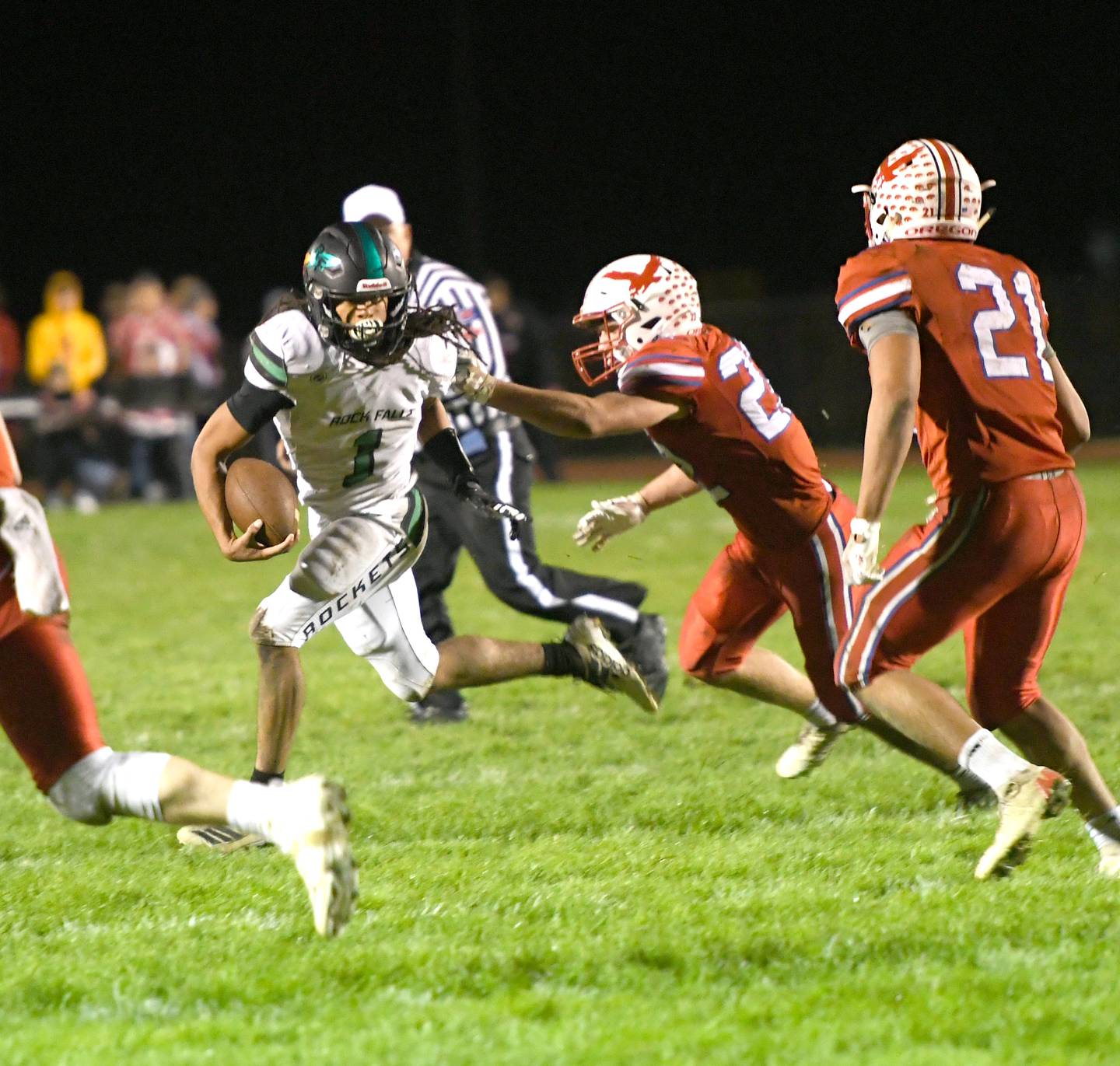 "It definitely changed their offensive game plan," Schneiderman said. "He plays hard and had incredible bursts. I'd say he is the most athletic kid in the conference."
After being stuffed on a fourth down to start the game, fumbling on the first play of its next offensive possession, and failing to cover an onside kick, Cross gave Rock Falls a much-needed spark.
Daniel Dominguez put Oregon ahead 8-0 lead on a 17-yard TD run and subsequent PAT run. Issac Reber made it 15-0 later in the first quarter on a 26-yard sweep around left end, with nobody home for Rock Falls on a fourth-and-4.
In the second quarter, Canales connected on passes to fellow freshman Austin Castaneda and a nifty sideline grab by Dillon Schueler. The drive died, but a punt to the 1-yard line by Carter Schueler put Oregon in a deep hole and helped lead to Cross' first score.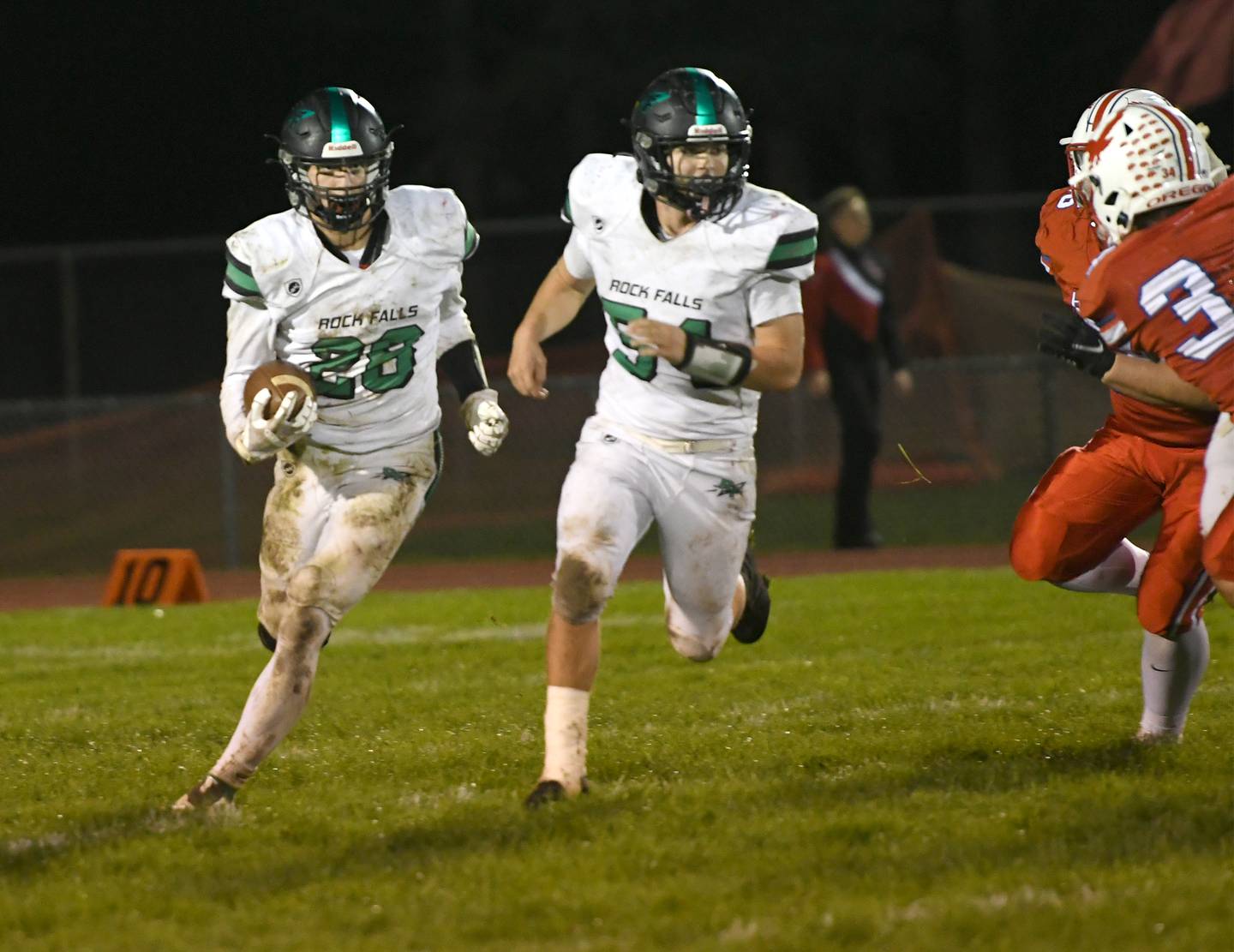 Any momentum Rock Falls had coming out of second half was stymied by a 67-yard scoring drive powered by the Hawk O-line of Jonathon Alaniz, Jackson Fox, Ethan George, Kaydin Reber and Evan Flaherty. It was Gabe Eckerd capping off the drive with a 2-yard score to make it 23-6.
"This was our hardest-fought game," Schneiderman said. "We took our lumps the last couple weeks. Once we got the ball rolling, it boosted our confidence."
Three plays later, it was the Cross show again.
Operating in the shotgun, Cross out-maneuvered the Oregon defense for a 53-yard touchdown run, using his track speed to race past the final defenders. The extra-point attempt failed, and those failed attempts would prove the deciding factor in the loss, as both teams had four touchdowns.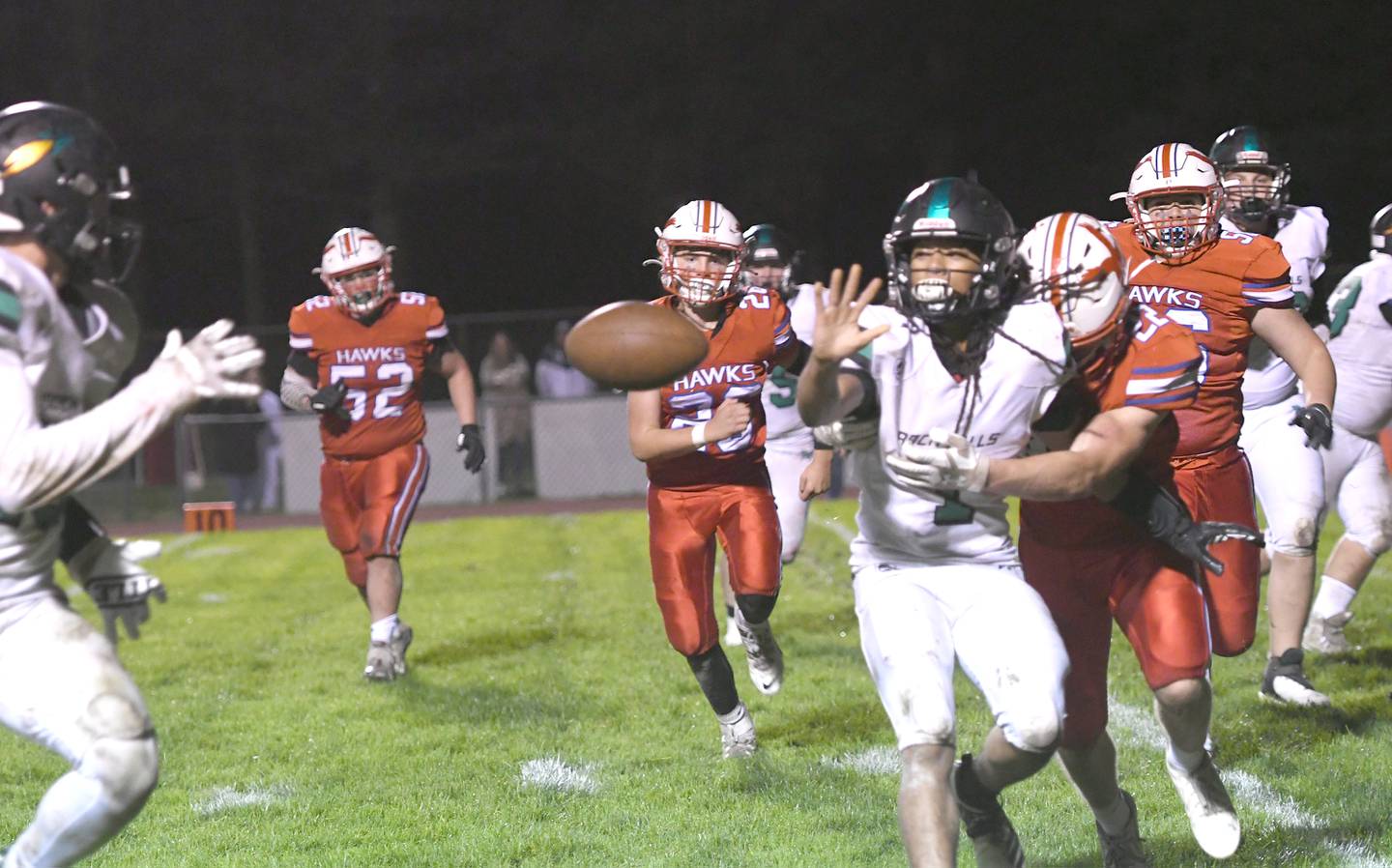 Getting the ball back in good field position following a punt and facemask penalty, Rock Falls looked to make it a one-score margin, but a 34-yard field goal attempt by Vincent Lombardo was short.
Once again, it was the Oregon blockers opening up big holes for Dominguez and company to march down the field. Dominguez (27 rushes, 164 yards) carried the final 9 yards of the 82-yard drive by the Hawks for a 29-12 advantage.
In the fourth quarter, Cross rallied his team to within 29-19 on a 60-yard bomb to Baraka Boards. Then with 1:57 left in the game, he hit Dillon Schueler for a 2-yard score to make it 29-25.
Cross finished with 122 yards rushing on 22 attempts, and 98 yards passing.