STERLING – The Sterling Golden Warriors did what no Western Big 6 Conference team has done in the last four weeks.
Scoring on a very tough Moline Maroons defense, however, didn't matter to them in the long run Friday night.
While the Golden Warriors ended the Maroons' streak of 17 straight quarters without allowing a touchdown, Moline scored much more often in a 38-7 win at Prescott Memorial Field at Roscoe Eades Stadium.
Moline (7-1, 6-0 WB6) inched one step closer to an outright conference championship, with the Golden Warriors not yet eliminated from getting at least a share of it with one more week to play.
"They're good," Sterling coach Jon Schlemmer said of Moline. "Sometimes we've been fortunate enough to be on the right side of these lately in the last couple of years, but that's a really good team. They stressed us and made some real big plays."
The Golden Warriors (6-2, 5-1 WB6) appeared to end Moline's long streak of four straight shutout games during this game's first drive. They got as far as the Moline 5 before a fake field goal attempt failed and forced a turnover. The Maroons added to their mountain of conference points with a 3-yard TD run by Gavin Grace with 3:23 to go in the opening quarter for a 7-0 lead.
Moline's long streak of not being scored upon in more than 200 minutes came to an end on the first play of the second quarter. Drew Kested took a quarterback keeper up the middle for 11 yards for a 7-7 tie to end the Maroons' run at 214 minutes, 59 seconds.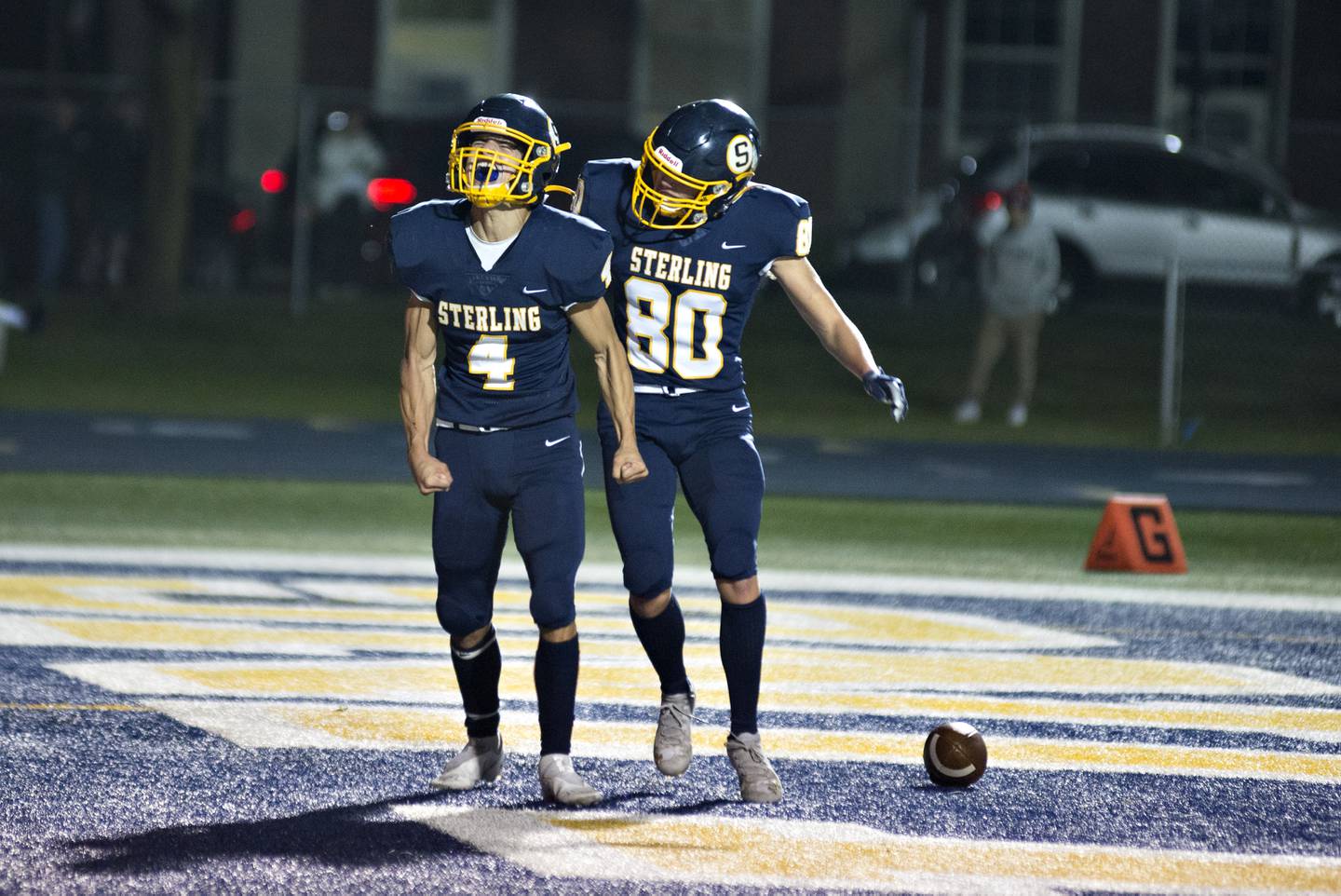 It didn't take too long for Moline to strike back, and it struck hard and fast through the air on its second play back on offense. Alec Ponder's 67-yard strike to his left at Matthew Bailey put their team back in the lead at 14-7.
After another deep Sterling drive into Moline territory was stopped, the Maroons swung the momentum with another scoring drive, once again capped by a 3-yard scamper by Grace for a 21-7 lead with 3:13 to go in the half.
Running backs Antonio Tablante of Sterling and Pablo Perez of Moline handled the bulk of their teams' plays in the first half; Perez tallied 60 first-half yards on 14 plays, and Tablante garnered 59 yards on 13 carries.
The Maroons opened up their options on offense in the second half, and it blew the game open.
Moline went up by three scores with 3:47 to go in the third quarter after Ponder found Cranston Wall from 12 yards out. That drive was highlighted by a 37-yard pass from Ponder to Colin Shults, who recovered his own fumble when he was brought down at the Sterling 10-yard line. Then, after a Trey Maranda interception on Sterling's next drive, Perez punched in a 2-yard TD to run away with it with 2 minutes left in the third quarter for a 35-7 lead.
"I knew it would be a physical game," Moline coach Mike Morrissey said. "I knew Sterling was very good up front, and they caused us a lot of problems at times, especially with their run game. We knew they'd be there for four quarters."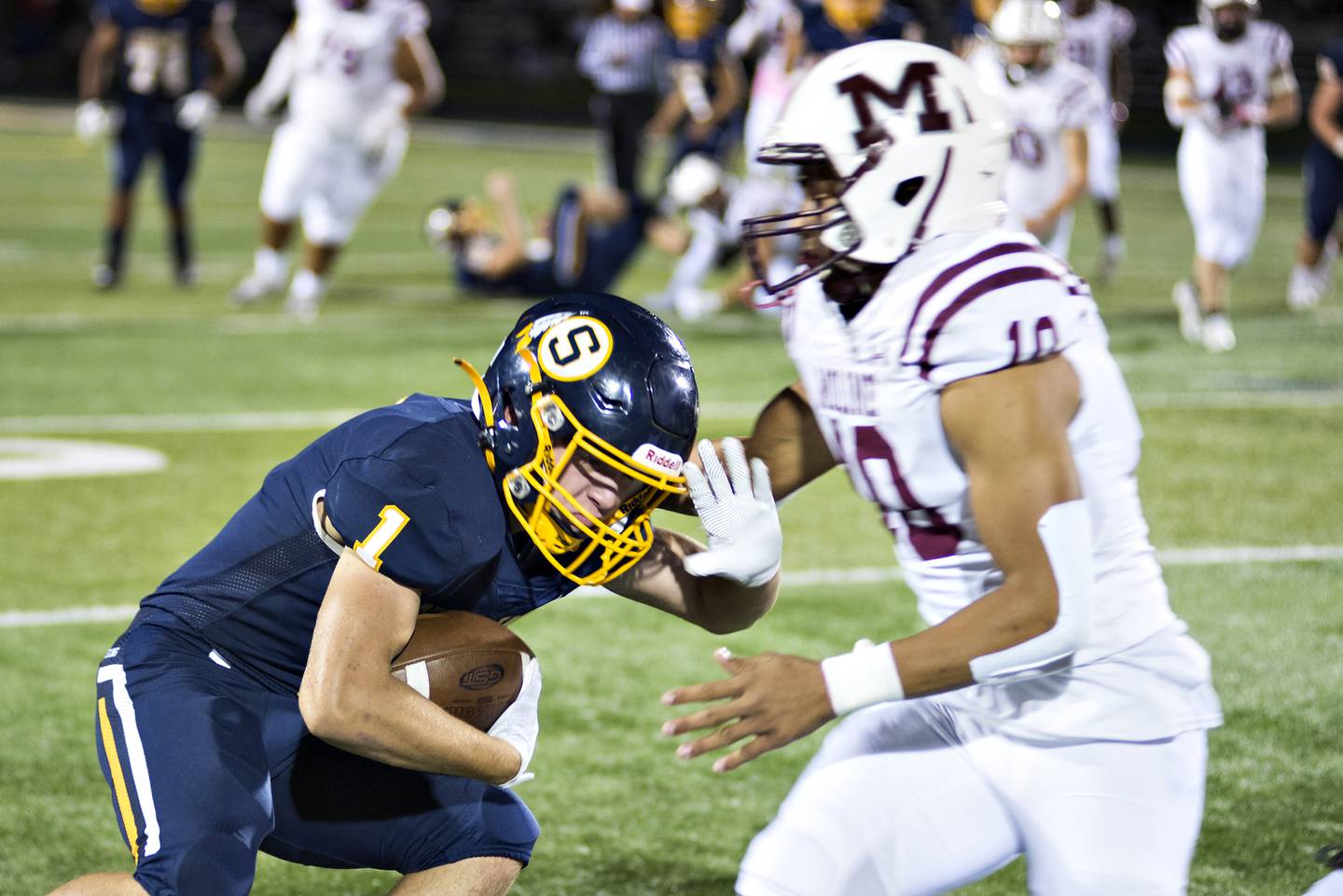 Sterling's offense sputtered in the third quarter with only 2 yards of offense, while Moline milked the clock, taking its time to set up its offensive plays.
"Our defense has been tough all year," Morrissey said. "Our defensive coaching staff has been incredible, and our kids have bought into everything we've taught them, and our guys made plays and created turnovers, especially in the second half when we were able to capitalize on those."
Caroline Hazen capped Moline's scoring with a 23-yard field goal with 4:19 to play in the game.
The Maroons posted a lopsided total of 412 yards of offense against the Golden Warriors' 143. Riley Fuller led Moline with 88 yards on 11 carries, most of them in the second half; Perez finished with 72 yards on 22 carries. Ponder was 11-for-18 in passing for 230 yards.
Tablante led Sterling with 66 yards on 18 carries.
The final answer to the conference championship claim will be determined next week, when Sterling travels to United Township and Moline hosts Geneseo. The Maroons can claim the title to themselves with a Week 9 win. The Golden Warriors can claim a share of the title if they win and Moline loses next week.
"When we look back on film, I thought our kids made great effort, but sometimes you've got to be a little bit better and do things extraordinary sometimes," Schlemmer said. "It is what it is, and we got to learn from it."