OSWEGO – Mark Melton took off his helmet and led Oswego in the postgame handshake line, and spun around to celebrate at midfield.
Crosstown supremacy is back on familiar ground.
Melton ran for 203 yards and two touchdowns on 23 carries to lead a dominant rushing attack, and Cameron Grays' pick-six highlighted Oswego's three interceptions. The Panthers, after losing to crosstown rival Oswego East for the first time in the spring, regained the upper hand with a convincing 38-14 win at Ken Pickerill Stadium.
Oswego (6-2, 4-0 Southwest Prairie West), in winning the crosstown game for the 16th time in 17 years, also continued two more streaks.
The Panthers won their sixth straight game after an 0-2 start, and clinched at least a share of the SPC West title for their 10th league title in 11 seasons.
"It feels really good," Melton said. "We lost this last year, they took our trophy, it was the first time in 16 years. Getting it back on this field, Ken Pick, it feels good right here. It feels great."
Melton and the Oswego running game is feeling great these days, after struggling at times to get off the ground earlier this season.
He ran for 241 yards three weeks ago against Minooka, and 176 against West Aurora last Friday when Oswego was without its two quarterbacks.
Melton was at it again Friday. His 21-yard TD run on a sweep around right end gave Oswego a 14-0 lead with 7:03 left in the second quarter. He capped off his night with a 75-yard TD run in the last minute of the third quarter, making it 31-14.
"It starts with Monday through Thursday practice and bringing it out on Friday, all of that is just good practice and preparation," Melton said. "We think we can run the ball on anyone. Their defense is great but we have to do what we have to do. That [75-yard run], it was an outside zone play, my linemen, receivers, fullback [Jacob] Sergen going out there laying their bodies out for me. That's how I was able to make it happen."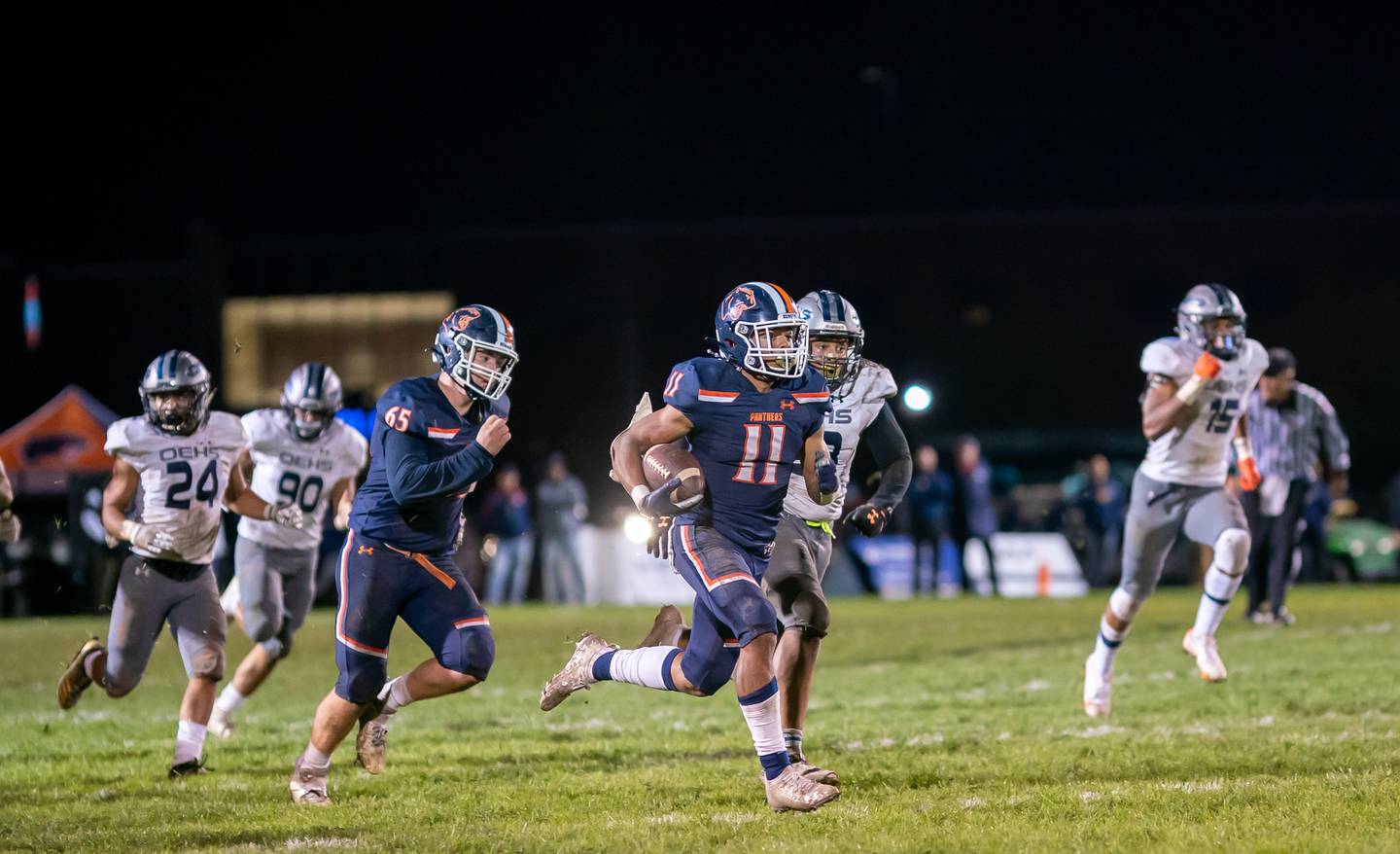 Oswego is making it happen on the ground, and did so Friday with 291 rushing yards. Sergen had several hard runs early, moving the pile, and Braedon Hellinger finished off the scoring with a 6-yard TD run in the final minutes.
Oswego out-rushed Oswego East 154-28 in the first half in taking a commanding 24-7 halftime lead.
"As a defensive guy, it's frustrating when teams can consistently run the ball on you and our guys have been able do that as of late," Oswego coach Brian Cooney said. "Last week we committed to the gameplan, we went back to old-school Panther football, we learned that we were able to do that and it translated to today."
"We know Mark Melton is a tough dude, they're physical up front," Oswego East coach Tyson LeBlanc said. "We knew what they were going to do."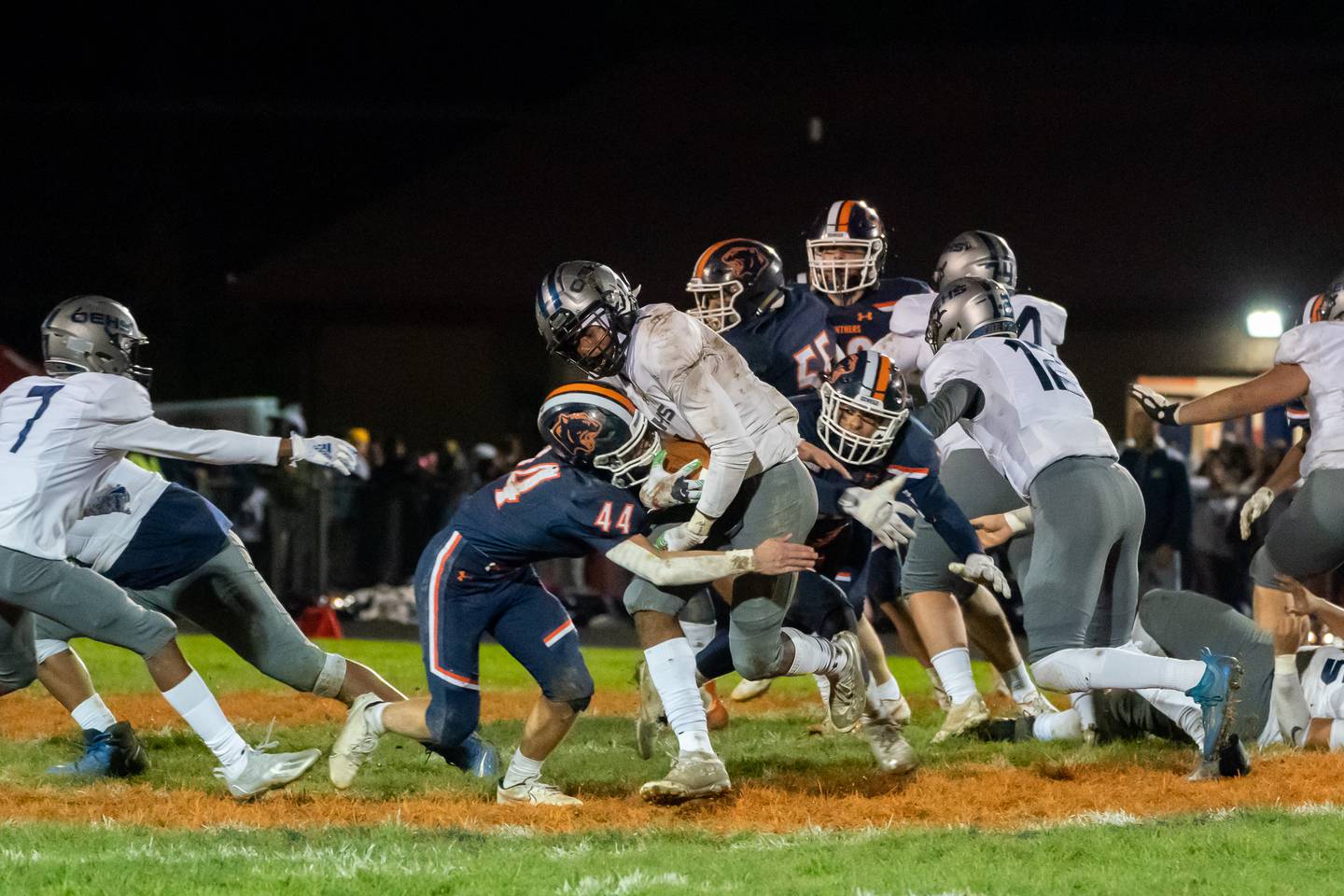 As if the loss, the second in three weeks for the Wolves (6-2, 2-2), didn't sting enough, they left the field Friday banged up physically.
Junior quarterback Tre Jones took a shot to the chest late in the first half, and did not return. Ty Carlson had his knee twisted and Darquel Sanders rolled an ankle, but LeBlanc thought the latter two should be OK.
"Both [losing and the injuries] aren't very good," LeBlanc said. "Hopefully we can get guys back and guys get healthy because we have another tough one next week [at home against Plainfield North]. A couple turnovers hurt us, things we got to clean up. With injuries you go to your backups, it condenses the playbook a little bit."
Grays got Oswego rolling early, reading a screen pass perfectly and returning an interception 19 yards for a TD for the game's first score with 7:58 left in the first quarter.
"I just read my keys, that's all I did," Grays said. "I knew what was coming that backside, came and made a play. We needed it."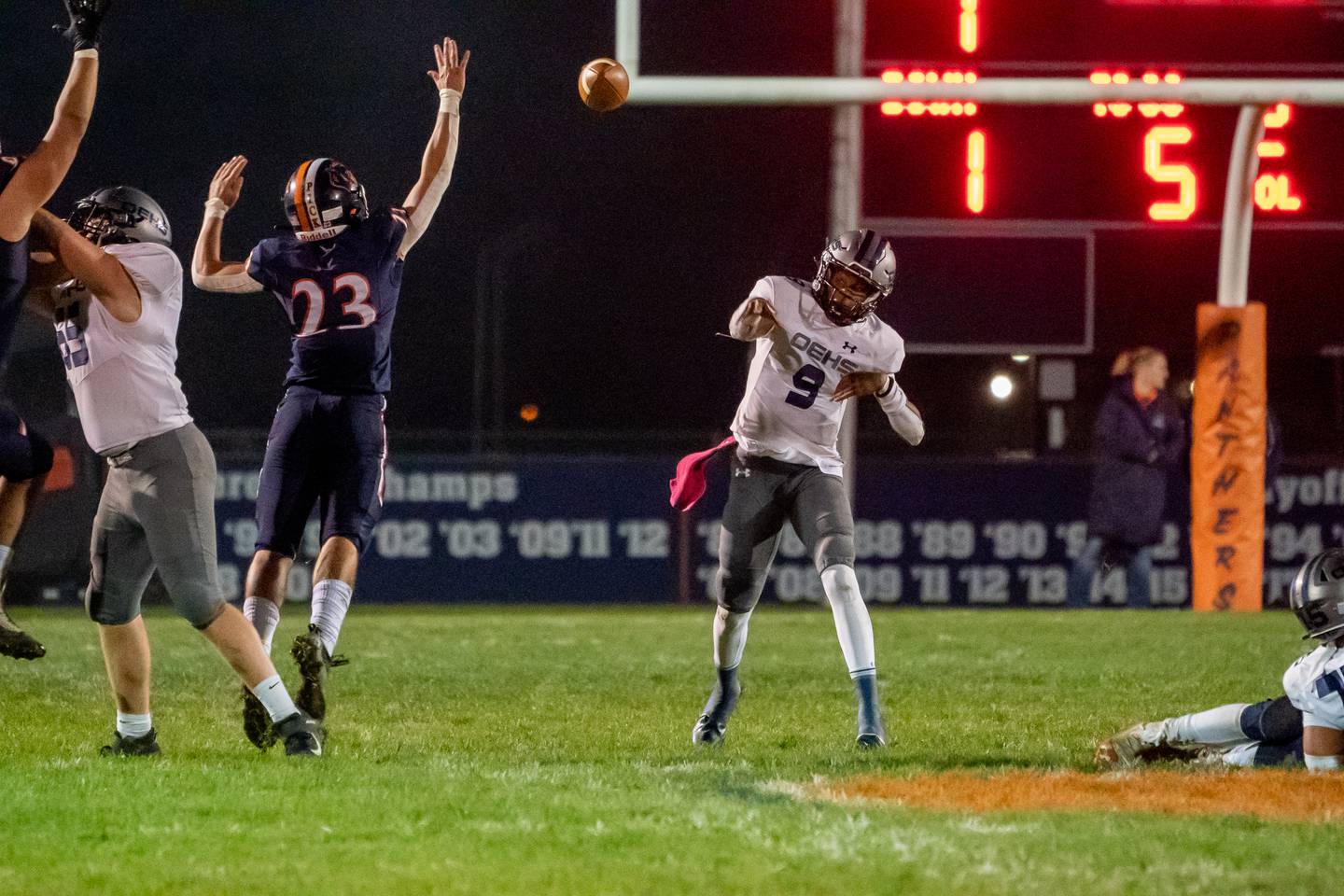 Oswego East, like it has all year, utilized the big play to generate offense.
Jones threw a 67-yard TD pass to Carlson a play after Melton's first TD to cut the Oswego lead to 14-7. It was 24-7 at half after Austin King's 22-yard field goal and a 45-yard TD pass from Cruz Ibarra to Connor Deal, but Sanders broke off a 54-yard TD run on the first play of scrimmage in the third quarter.
Both were one-play scoring drives, but the Wolves' other 11 possessions resulted in three turnovers, three punts, four turnovers on downs and time running out in the game. Emery Vera and Triston August also had picks and sophomore defensive end Taiden Thomas two sacks for Oswego.
"One of our goals was no big plays, and we gave up two, but our guys were hat on hat, linemen doing the dirty work up front," Cooney said.
Ibarra threw for 122 yards, 118 coming in the first half. Jones was 5-for-9 for 127 yards before leaving with his injury. Juny Almeida and Mike Polubinski had interceptions for the Wolves.