DIXON – Against the top team in the Big Northern Conference standings, the Dixon football team knew it needed to play a clean game Friday night at A.C. Bowers Field.
But Byron turned three fumbles into touchdowns, and the Dukes never completely caught back up from an early deficit in a 52-35 loss to the Tigers.
Dixon didn't go quietly, though. Coming out of the locker room at halftime facing a 35-14 deficit, the Dukes (5-3) got a 41-yard touchdown run from Jacob Gaither on their first drive, then recovered an onside kick and capitalized on that with a 40-yard TD pass from Gaither to Jacob Gusse to cut the deficit to 35-28 just 4:05 into the second half.
"We were high in our energy," Gaither said. "We went down the field and scored, then we got the onside kick and went down and scored again, so we were all fired up. Then the defense was picking it up, holding them a little bit, forcing them into a field goal. We were just high on energy at that point."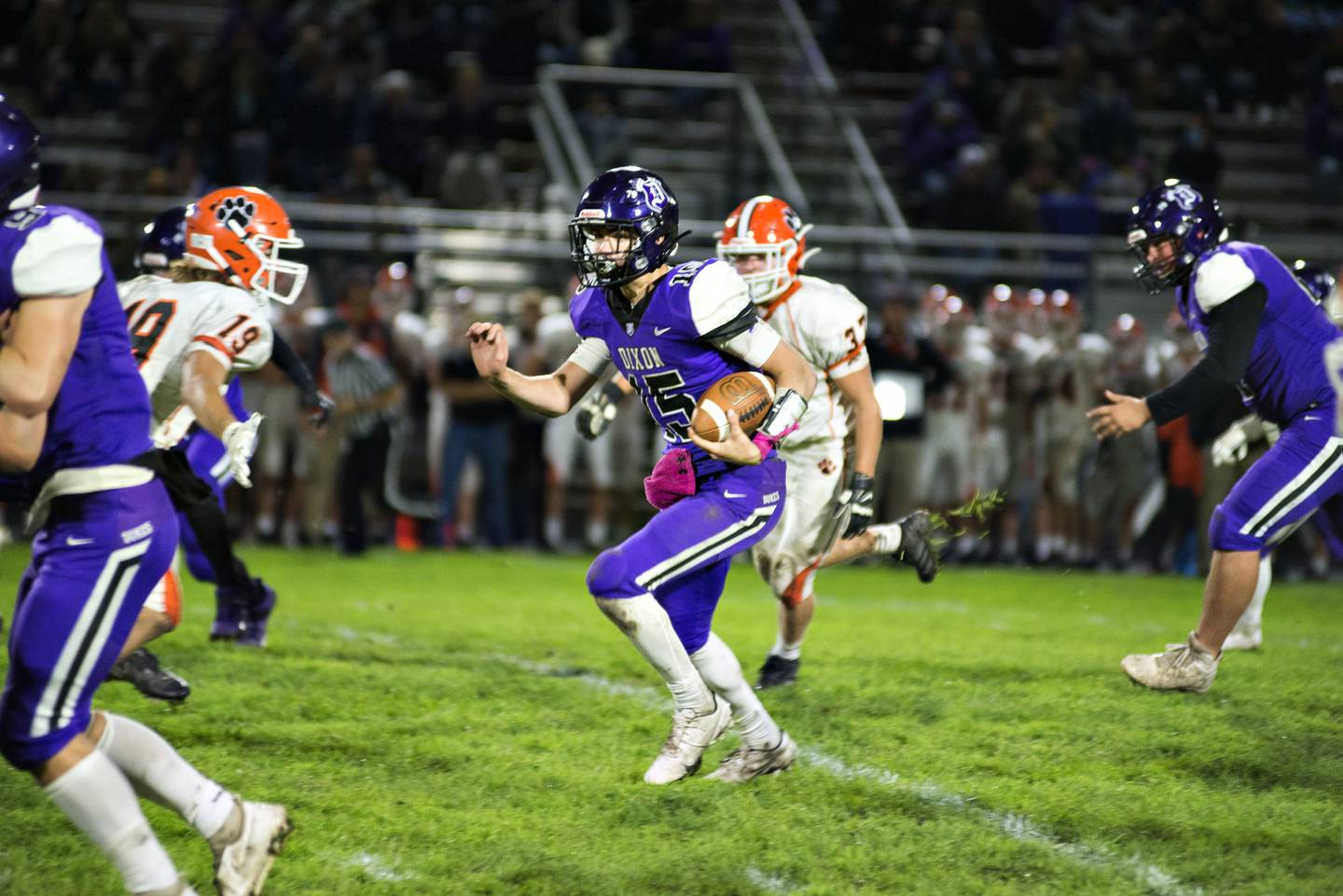 Byron answered with a 16-play, 63-yard drive that took 7:30 off the clock and ended in a Nick Drake 38-yard field goal for a 38-28 lead. Then the Tigers (8-0) recovered another Dixon fumble two plays later and covered 36 yards in six plays, with Ethan Palzkill scoring from 5 yards out for a 45-28 lead with 9:08 to play.
"That's been killing us all year, turnovers and penalties," Gaither said. "We turned the ball over and put them in good field position, and they just get a free score, basically."
The Tigers scored on all but one of their drives, with seven touchdowns and the field goal.
"The turnovers were huge, and our kids did a good job capitalizing on that," Byron coach Jeff Boyer said. "I know the third drive we kind of stalled out, but I thought we played pretty clean offensively most of the night."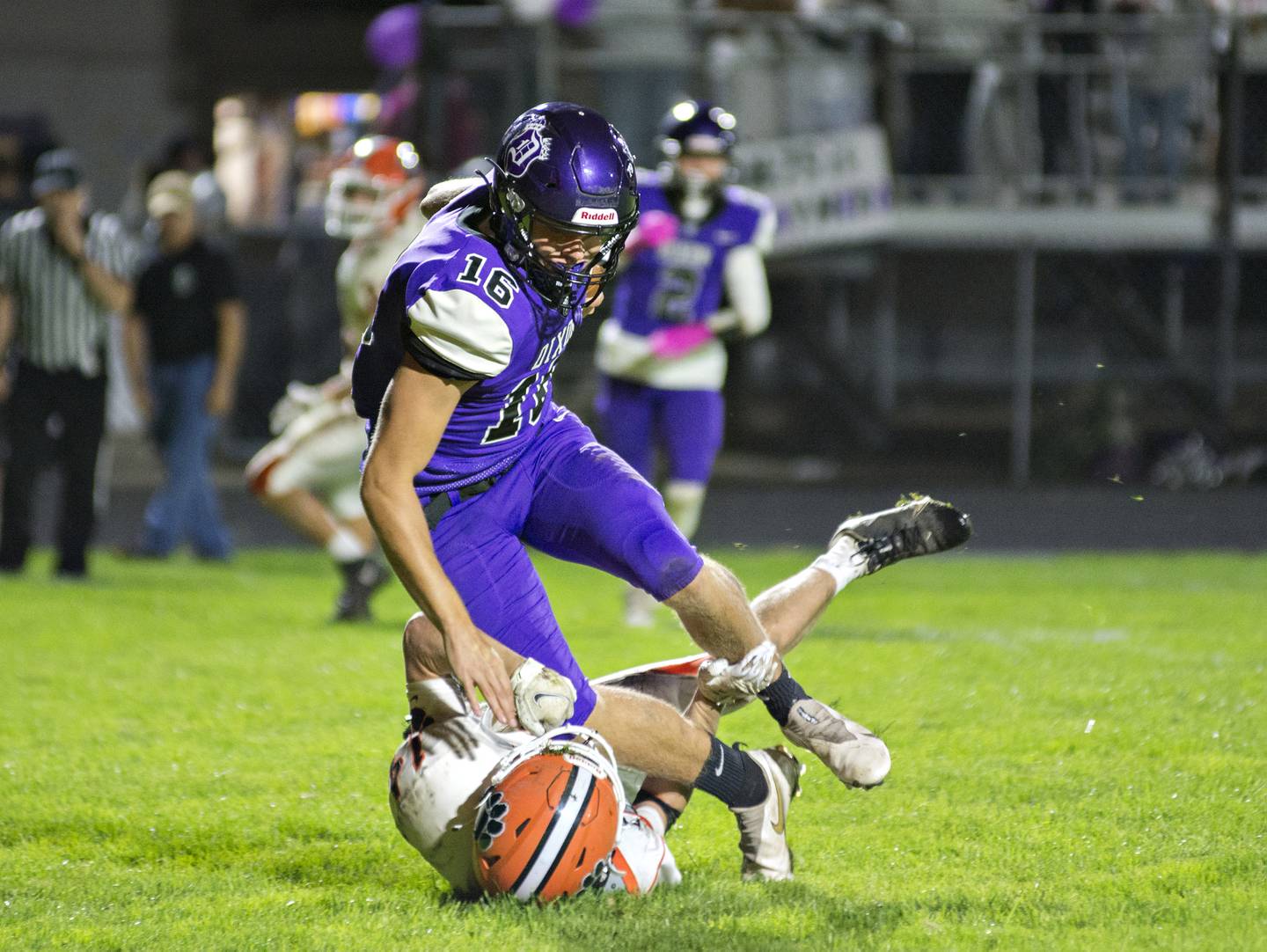 Gaither then lofted a 19-yard TD pass that Gusse outleaped a defender to catch, getting back within 45-35 with 4:26 to play. But Palzkill sprinted in from 44 yards out on Byron's next drive, sealing the win.
Gaither, making his first start at quarterback for the Dukes after returning from surgery to repair a broken and dislocated finger on his throwing hand, had 120 yards rushing and a touchdown on 19 carries, and threw for 202 yards and three scores on 14-for-20 passing. Zavion Johnson added 50 yards and a touchdown on the ground, and Mason Randick had seven catches for 120 yards, while Gusse added four catches for 67 yards and three scores.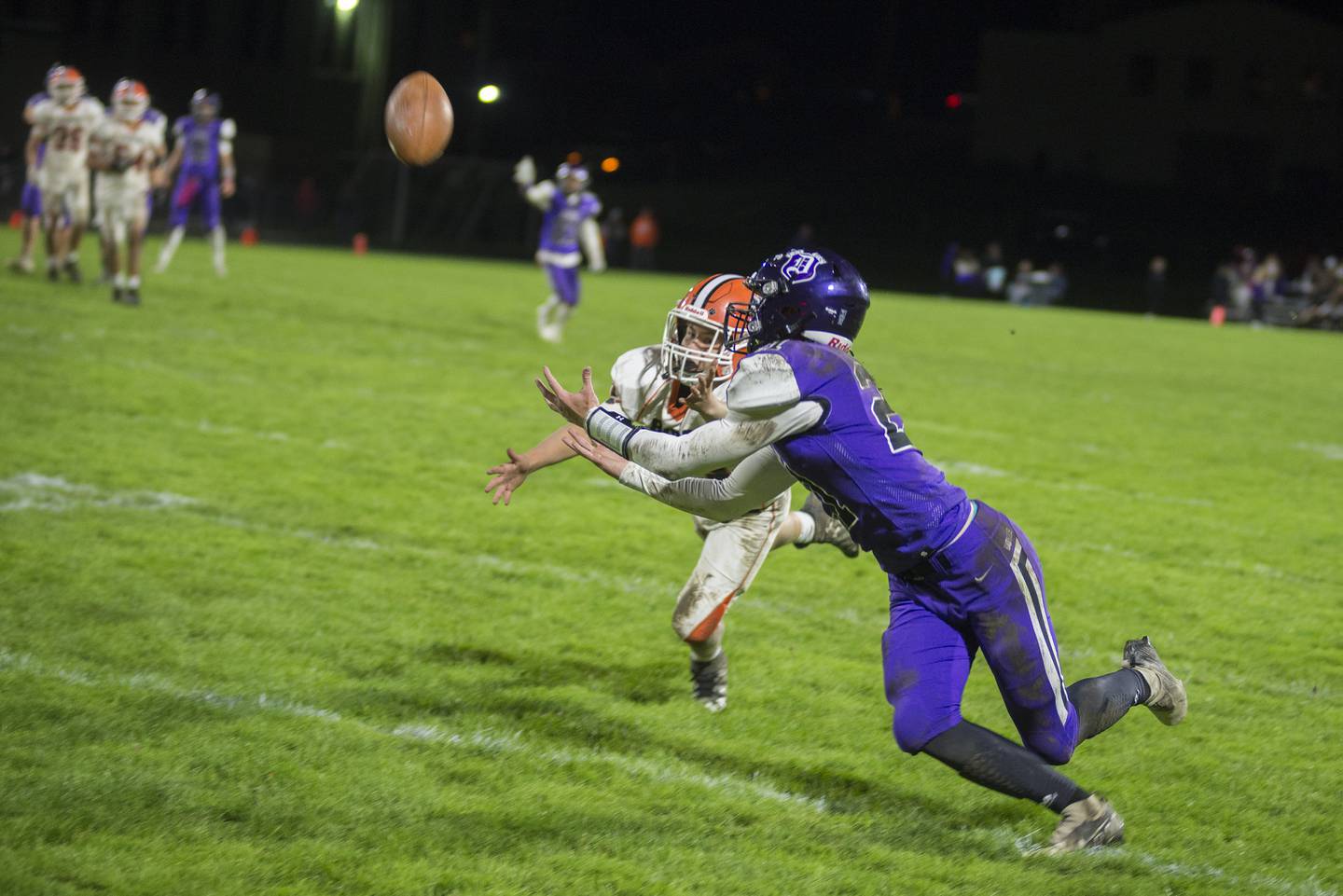 "We've got to hold onto the ball a little better. But I'm proud of my guys, because we fought," Dixon coach Jared Shaner said. "We got down early again, fought back, came out of halftime and got a score right away, onside kick recovery, then another score.
"It's hard when you look up at the scoreboard and see the final number, but our defense did fight, they played hard. Byron's a very good football team, they're going to make another deep playoff run this year, and there's things we can build off of from this game, for sure."
Chandler Binkley ran for 104 yards and a touchdown on 15 carries, and added 78 yards and a score on four catches for Byron. Palzkill had 162 yards and three TDs on 17 rushes, and Andrew Claunch ran 18 times for 69 yards and a TD. Quarterback Braden Smith ran for a score, and completed 4 of 6 passes for 78 yards and another score.
The Tigers clinched at least a share of the Big Northern title with the win, and can claim it outright with a win over Rockford Christian next week.
"You've got to tip your hat to Dixon, they did a great job," Boyer said. "They came out in the second half and got two scores right away to cut it to a one-score game, but then I felt like once we got the ball in our hands, we had a good, long Byron drive. We didn't finish with a touchdown, but the kicker came in and punched one through, and that was big to get it back to two scores. We chewed some clock, got a field goal, then got a turnover and another score."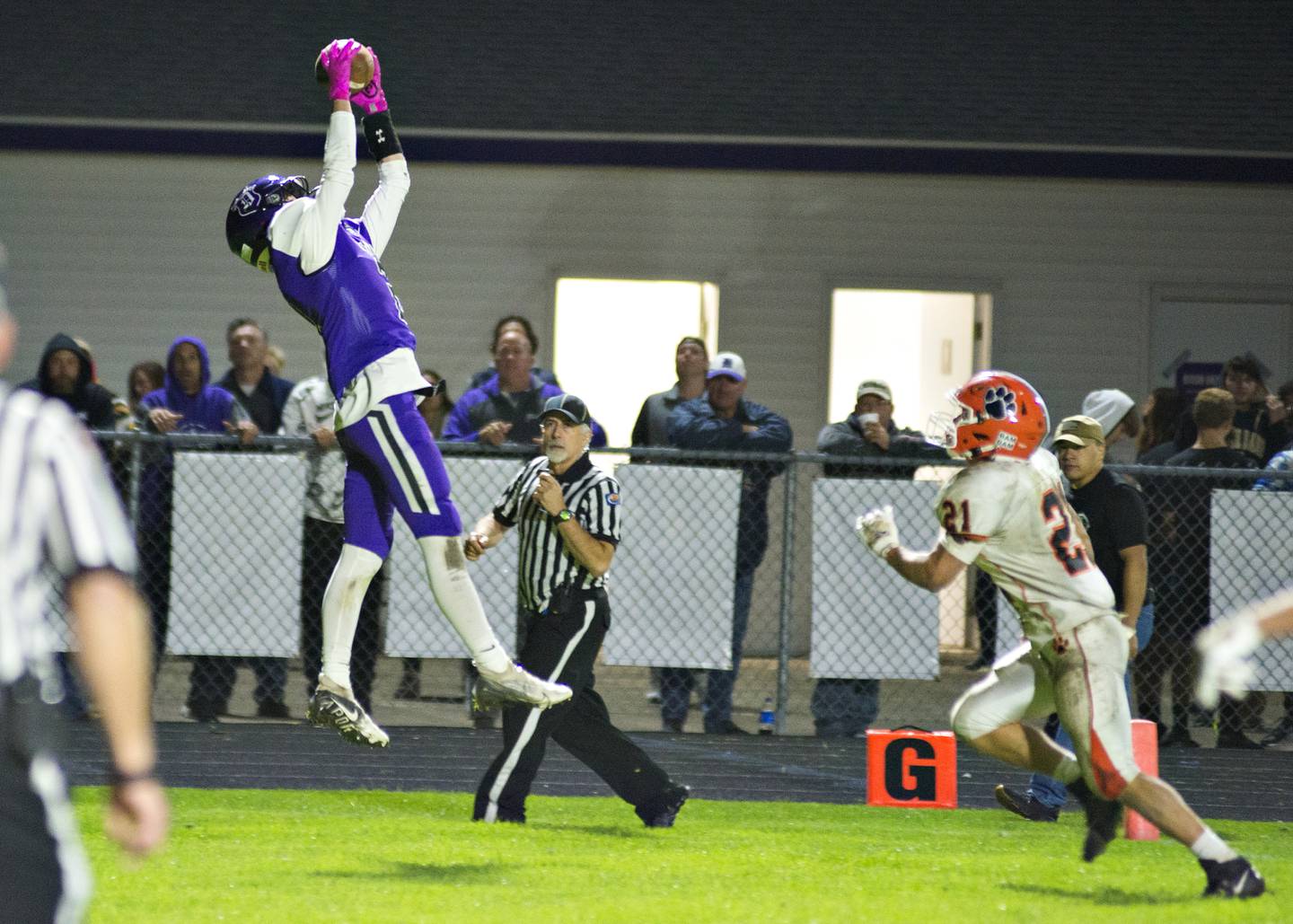 Palzkill capped Byron's opening drive with a 27-yard touchdown run, then after Dixon fumbled the kickoff, Binkley scored four plays later from 2 yards out for a 14-0 lead less than four minutes into the game.
After the teams traded punts, Dixon drove 80 yards in 10 plays, capped by Johnson's 15-yard sprint to the end zone. But Byron answered, as a 49-yard pass from Smith to Binkley led to a 2-yard touchdown run by Claunch.
Dixon then fumbled the ball on its second play, and Byron cashed in again, as Smith scored an a 1-yard quarterback sneak for a 28-7 lead with 6:37 left in the second quarter.
The Dukes answered this time, covering 75 yards in nine plays, with Gaither hitting Gusse down the far sideline on a 35-yard scoring strike with 3:17 left in the half.
Byron then went 63 yards on 10 plays in 3:04 to end the half, as Smith threw to Binkley on a rollout pass for a 35-14 lead with 10.6 seconds before the break.