JOLIET - Things have not gone according to plan for the Joliet West football team this season.
After starting 0-2 in a rigorous nonconference schedule, the Tigers were forced into a two-week shutdown to COVID concerns, and then had limited time to prepare for its eventual Week 5 loss to Plainfield Central.
So Saturday afternoon's 41-6 victory over district rival Joliet Central proved to be rather cathartic for the the Tigers as the win showcased how Joliet West had hoped the season might go.
"It feels good to finally be able to get on the field and just do it," said Joliet West running back Dante Morrow. "It's been very rough, we lost two games to COVID that we know we could have won. The record we've got we have to deal with it and just move on."
Joliet West (2-6, 2-2 Southwest Prairie East) wasted no time in establishing how they expected the contest to go.
The Tigers forced a quick three-and-out and then blocked the Steelmen punt, recovered the block and ran the ball inside the Steelmen 10-yard line. Two plays later, Morrow was in the endzone for the first of his three touchdowns on the day.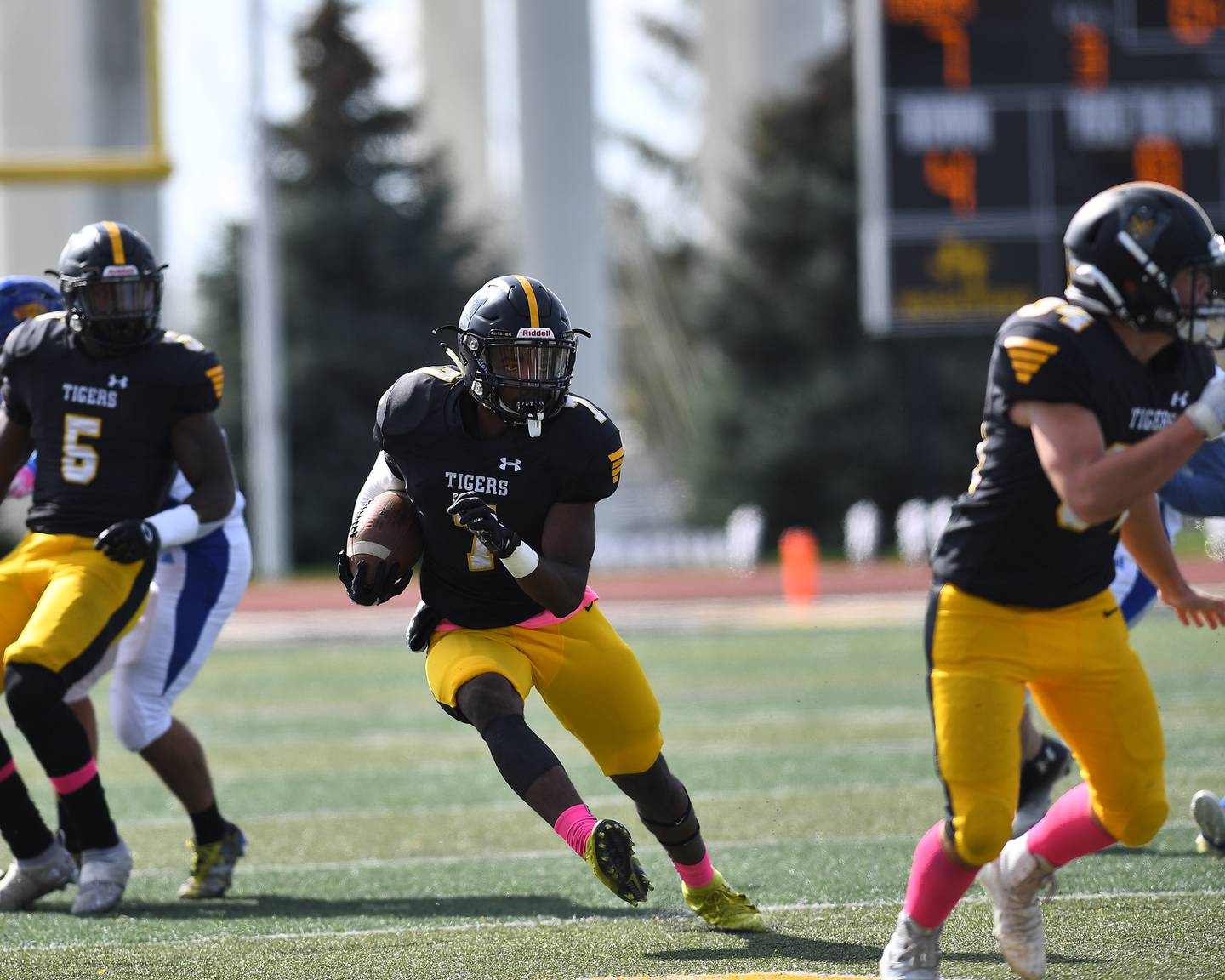 Joliet West didn't post gaudy offensive numbers despite keeping the scoreboard operator busy in the first half thanks in large part to a defensive unit that routinely gave its counterparts short fields to work with.
Only one of the Joliet West first four possession started in its own territory and all of them ended in scores. After Morrow's TD runs, Tiger quarterback Evan Gould would connect with Billy Bailey for a 10-yard score to start the second quarter and add another TD strike of 19 yards to Karson Cotton later in the quarter.
Joliet Central's inability to maintain drives continually put them deep in field position holes which allowed Robert Satterwhite to intercept a pass and return it for a score, while Morrow's third touchdown of the game just before half would insure the running clock would be in motion for the entirety of the second half.
"We've just a lot of hiccups along the way," said Joliet West coach Bill Lech. "We've finally got some momentum now, we have to put that into our last week, finish with a great week and look forward to playing Plainfield South."
"The season hasn't been without challenges. But they are kids. You just have to talk to them about sticking together. We're out here because we love it. The best part of their day should be when school's over and coming out here at 3 o'clock and that's when football starts. That's what we've been focusing on."
Joliet Central dropped to 0-8 with the loss and wraps up its season next week hosting Plainfield Central.
Carl Bew delivered the lone Steelmen score of the day in the third quarter on a 21-yard scramble from his quarterback position. Bew accounted for the few bright spots of the day for Joliet Central, also picked up 40 yards on a scramble just before half. Those two plays accounted for the lion's share of the Steelmen's offensive output on the day.