CHICAGO — It would have been hard to imagine things would have finished as well as they did on Friday for Joliet Catholic after how things started on Friday night.
In the end, the Hilltoppers emerged with a 56-49 victory over host Brother Rice in a contest that featured nearly 1,300 yards of total offense and points being posted at a rapid pace. It was also a wild diversion from how things started when the Hilltoppers found themselves in a 14-0 hole just a few minutes into the game.
The win kept Joliet Catholic's record spotless at 7-0 on the year, while Brother Rice fell to 5-2.
Brother Rice needed just three plays to hit pay dirt with Aaron Vaughn scoring from 5-yards out, which was set up by a 42-yard run by Crusaders standout quarterback Jack Lausch.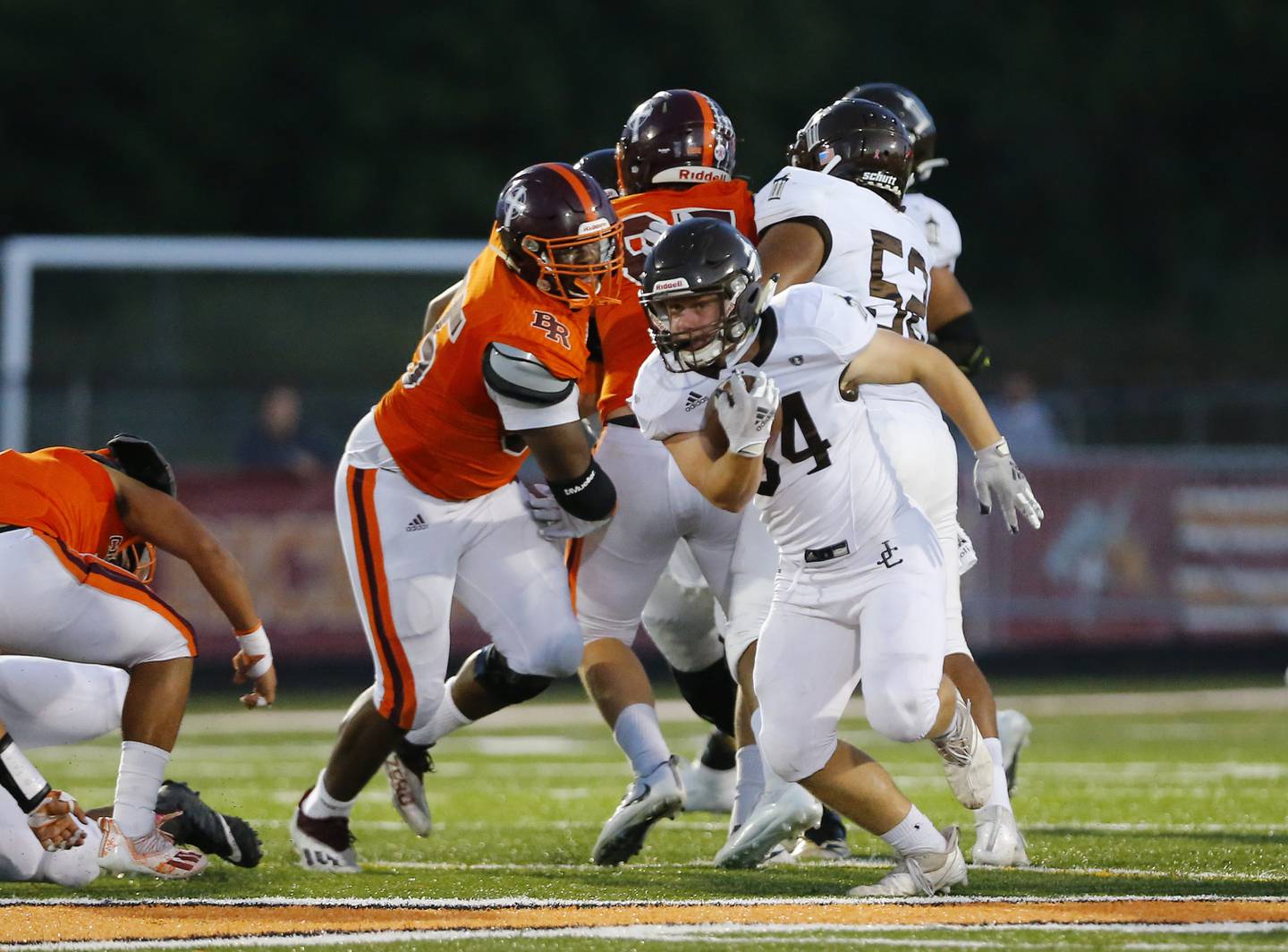 Anticipating the potential danger that Joliet Catholic provided with the ball in its hands, Brother Rice elected to onside kick, recovered it, and after what passed for a conservative and drawn out drive, Brother Rice took a 14-0 lead on a Lausch 2-yard run.
"It would have been easy for our guys to lay down after that," Joliet Catholic coach Jake Jaworski said. "They took that punch and started throwing haymakers. I told our guys I couldn't be more proud of the compete level and the will to the win. It was awesome."
Joliet Catholic had to wait a fair amount to touch the football, but knew exactly what to do when it got it. Running back Jordan Anderson capped the Hilltoppers first possession with a 2-yard touchdown score, which was just a preview of what he was about to do. Anderson finished the first half with 215 yards and four touchdowns. Aidan Voss added the other Hilltopper score in the first half on a 19-yard touchdown run to start the second quarter.
Anderson, who had only played seven quarters of football this season prior to Friday's game, tried to steal the show, but Brother Rice showed it was more than capable of trading punches with the Hilltoppers. Vaughn, a Providence transfer, would score on a pair of touchdown runs in the first quarter and scored another in the second quarter and Lausch would add a touchdown pass to Da'Kobie Wordley.
When the dust cleared, the two teams had combined for 807 total yards of offense and headed to the field for the second half in the same place they started the game, deadlocked, although this time at 35-each.
The third quarter was controlled by Joliet Catholic and it left it will a two-touchdown lead courtesy of the fifth and sixth touchdowns of the game from Anderson.
Anderson was quick to deflect praise for his efforts.
"All of us had a big game, not just me," Anderson said. "We gave everybody the hands up, the lineman, all of the receivers, Vinny (Iannantone) blocking, all of us, it's just an honor to be on this team."
Anderson and three other runs amassed well over 600 yards rushing behind an offensive line of Josh Jones, Lucas Sartori, Anthony Birsa, Niko Paolino and Paul Ragusa blowing open holes and helped keep up an offense that seemingly never misfired over the course of the game. Iannantone also finished with 143 yards rushing.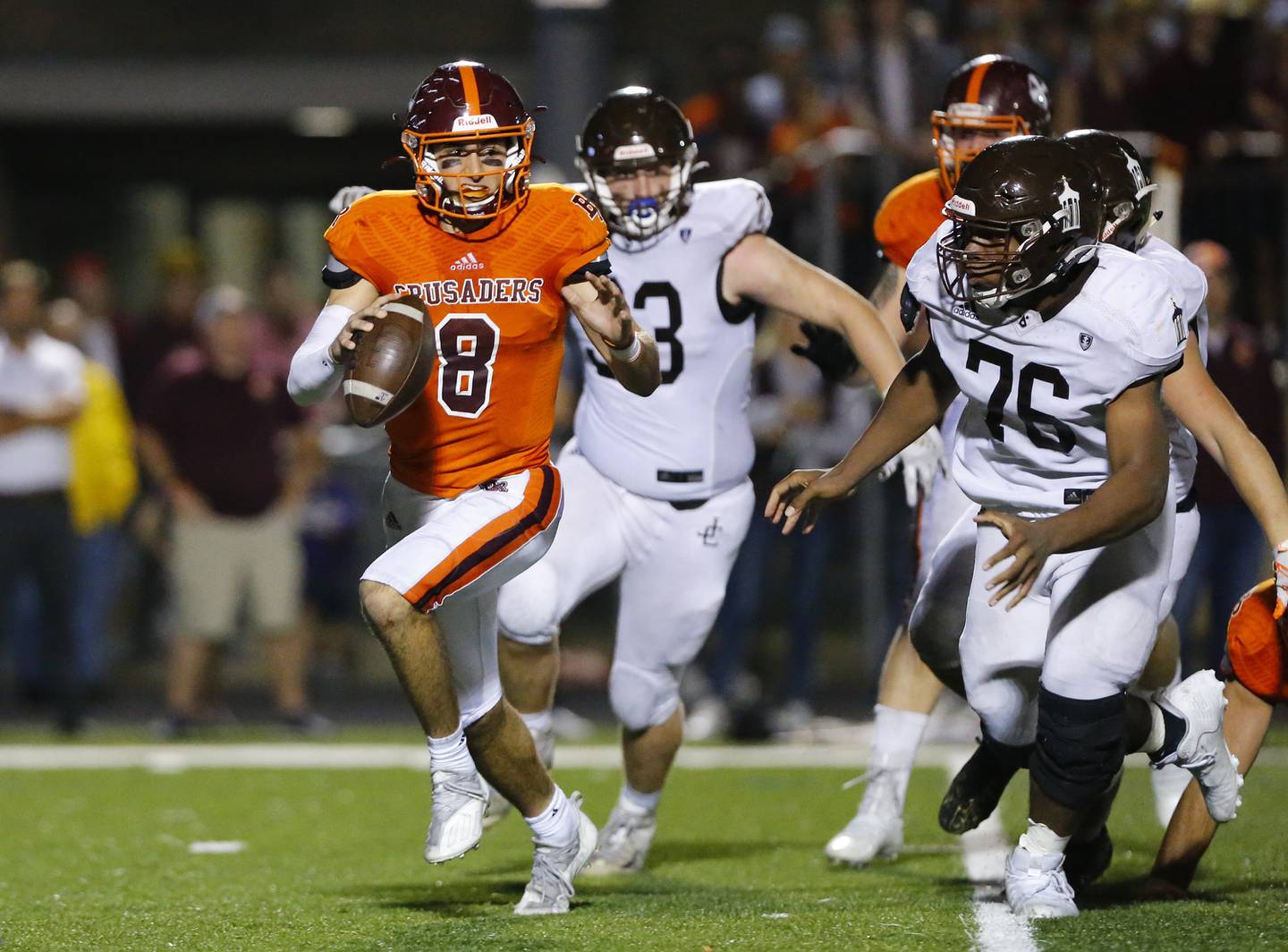 Brother Rice, however, kept charging. After Joliet Catholic missed a field goal early in the fourth quarter that would have extended its lead to three scores. Lausch, who finished with 411 yards passing and 65 rush yards, led a drive that ended with a touchdown pass to Illinois recruit Henry Boyer, their second touchdown connection of the second half that pulled Brother Rice to within 56-49 with just over two minutes to play.
But the Hilltoppers not surprisingly were able to salt away the win by generating even more yards on the ground.
"That's who we are," Jaworski said. "I think we can win games by throwing the ball, but when we can line up in double wing and rush for 600 yards, that's what we're going to do."