MORRIS – It took a little while Friday night for the Morris offense to get going in a Kishwaukee River/Interstate 8 White matchup with Ottawa.
Once it did, however, it didn't stop.
Morris (7-0, 4-0) recovered from a fumble inside Ottawa's 5-yard line on its opening drive and rebounded to overpower the Pirates, 49-0. Four of Morris' seven touchdown drives lasted only one play, as Ottawa held a nearly 3-1 advantage in time of possession.
Efficiency was the name of the game for Morris on offense, and smothering was the best way to describe its defense, which limited Ottawa to 152 total yards and forced three turnovers.
"The defense definitely responded to the challenge we gave them this week," Morris coach Alan Thorson said. "We weren't happy with the yards and points we gave up last week [a 49-35 win over Kaneland], and the kids stepped it up tonight."
Linebacker Jorge Loza led the Morris defense with eight tackles, including a sack, while Justin Hemmersbach had three tackles, one a sack and another a tackle for a loss. Sam Reddinger forced and recovered a fumble, while Cameron Hatcher and Aidan Romak each had an interception.
Reddinger sparked the Morris outburst when he stripped Levi Sheehan of the ball early in the first quarter and returned it to the Ottawa 16. On Morris' first play after that, Ashton Yard burst through the middle for 16 yards and a touchdown, and Morris led, 7-0, after the first of Henry Hansen's seven extra-point kicks. On Ottawa's second play on the ensuing drive, Hatcher picked off a Braiden Miller pass at the Ottawa 38 and returned it 13 yards to the 25. Again, it took one play, as Yard went over the left side for a 25-yard score. The two scoring plays occurred only 23 seconds apart, and Morris had a 14-0 lead with 5:31 to play in the first quarter.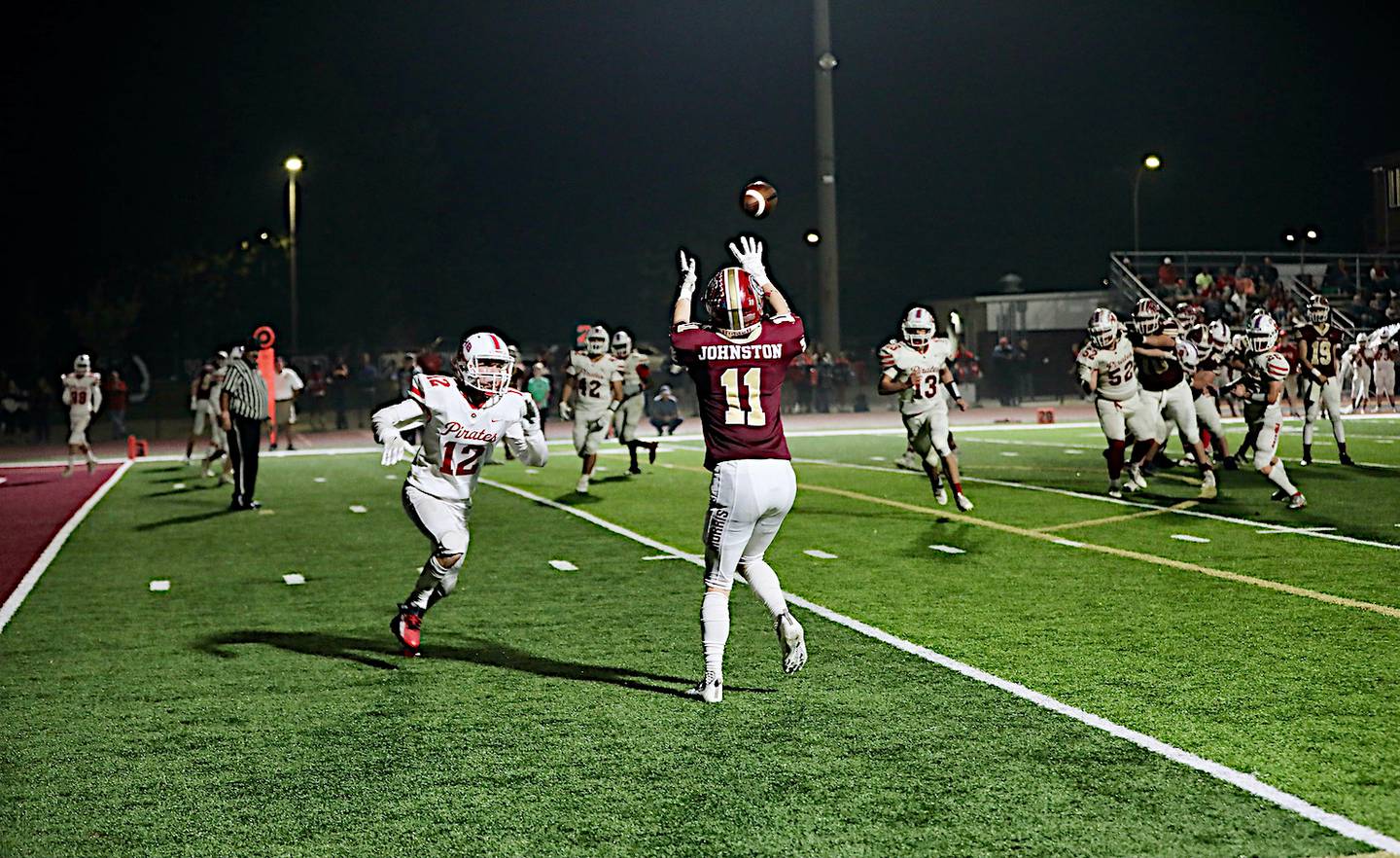 Ottawa then drove to the Morris 18, helped by a 29-yard pass from Miller to Sheehan and a 15-yard run by Sheehan from the wildcat formation. Hemmersbach sacked Miller for an 8-yard loss, then Romak picked off a pass. A personal foul on Morris after the play put Morris at its own 7-yard line.
Zach Romak then ran for a gain of 14 yards and hit Hatcher for a 17-yard pass before A.J. Zweeres ripped off a 28-yard run. After a false start, Romak hit Myles Johnston for a 16-yard gain before scoring on a 17-yard TD run of his own for a 21-0 lead with 10:48 to play until halftime.
"Coach [Thorson] said we only had the ball for about 10 minutes," Romak said. "But when you score on one play, you don't have the ball very long. We wanted to throw the ball a little more tonight. We knew teams would look at what we did last week and want to stop the run, so we wanted to loosen things up a little with the pass.
"Our offensive line did a great job. There was no pressure on me, and I can just relax with all the weapons we have."
The Morris defense then forced a punt and took over at midfield. Romak then hit Johnston for a 50-yard scoring pass on the first play. Romak finished 5 of 7 for 119 yards and two touchdowns through the air, while Johnston caught three passes for 75 yards and two scores. Yard finished with 178 yards on 10 carries and scored three times.
Ottawa (2-5, 1-4) went three-and-out on its next possession, and Morris took over at its own 37. A run of 18 yards by Yard and 32 yards by Romak out the ball at the Ottawa 13. After a four-yard run by Yard, Romak hit Johnston for a 9-yard TD pass and a 35-0 lead with 4:48 to go until halftime.
Ottawa followed with its best drive of the game, reaching the Morris 15 before Sheehan was stopped for a 4-yard loss by Loza and Hemmersbach. After an incompletion, a field-goal attempt sailed wide left, and Morris took over at its own 20 with 21 seconds left in the first half.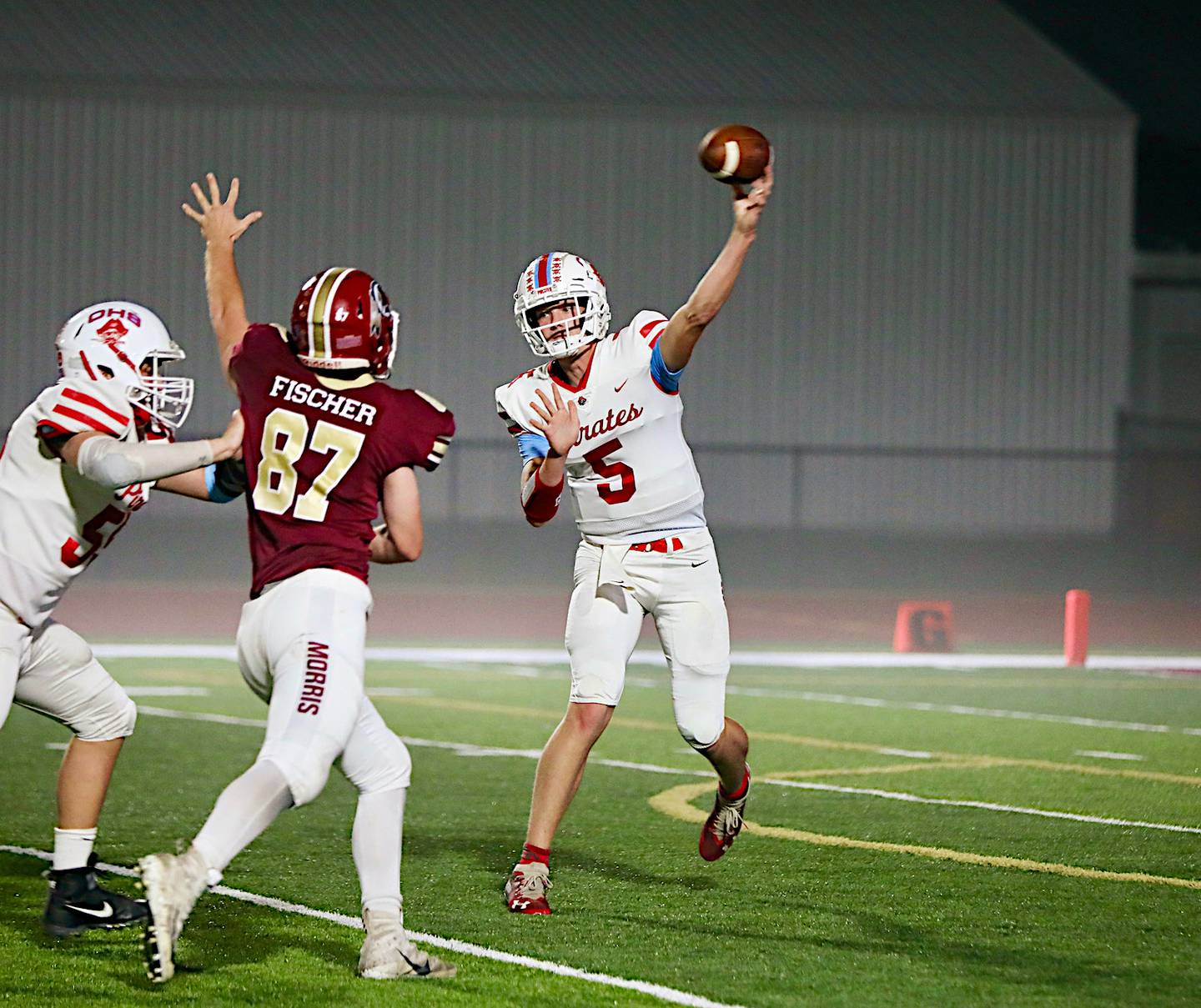 Morris was content to run the clock out with a running play, but Yard broke loose and went 80 yards for a touchdown to go ahead, 42-0, with :08 left in the first half. Morris capped the scoring with a 15-yard run by Reddinger in the fourth quarter.
"A lot of it was self-inflicted," Ottawa coach Chad Gross said. "We were happy with the way we moved the ball at times, but Morris made a lot of big plays. It kind of got away from us there late in the second quarter.
"These are the teams we want to play. I think it was a bit of an eye-opener for some of our kids to see what it takes to be one of the top teams in this conference like Morris is. They were very physical and you can tell they put a lot of work into it."
Miller finished 11 of 21 through the air for 120 yards, while Sheehan and Jevarius Whitfield each ran for 31 yards. Morris had three sacks in the contest, as well.
"We wanted to bring some pressure," Hemmersbach said. "I usually play defensive end, but I moved to tackle tonight so our other ends could get pressure. The defensive line was excellent tonight. And, offensively, we were a little flat coming out, but we picked it up.
"During the summer, we knew we had good players at the skill positions on offense and that our defense would be good. The offensive line was the biggest question mark, but we have been working hard all year and we have had a lot of chances to flex."