FULTON – Nursing a three-point lead most of the second half, Fulton's defense made stop after stop to hold off Forreston 24-14 on Friday, making the Steamers playoff eligible.
The Cardinals got the ball first in the second half, taking over at their own 31, and got the ball to the Fulton 46 before the Steamers' defense stuffed a fourth-and-2 play for a turnover on downs.
The next Forreston drive started at the Cardinals' 4 after Noah Johnson intercepted a pass in the end zone.
From there, the Cardinals got out to the 26, but back-to-back incomplete passes forced a punt.
Forreston turned the ball over on downs again with 6:38 to go in the game. A second-down pass down the field to Matthew Beltran was just a bit out of his reach, and the Steamers stopped runs on third and fourth down.
"Our defense just played well all four quarters," Fulton coach Patrick Lower said. "When we had Du-Pec come in here [Week 3], we gave up quite a few yards rushing. When Lena came to town [Week 5], we gave up quite a few yards rushing. Tonight we knew we were going to give up some yards. We really concentrated on first down, owning our first down and making them earn everything, and I believe every yard they got tonight, including both scores, they earned every bit of it."
Fulton got an insurance score with 3:38 left in the game on a halfback pass. Jacob Jones took a pitch from Steamers quarterback Brayden Dykstra and, rolling right, found a wide-open Brock Mason in the end zone for a 23-yard score.
"That ball's been slippery all day, it's been tough to hold onto," Jones said. "I got the reverse, and we've been practicing for a time like this. I saw [Mason] beat his guy, and the rest was history."
Jones then came through with a defensive play on the ensuing drive. With Forreston looking at a last-ditch effort in the waning minutes, Jones came off the edge to sack Cardinals quarterback Logan Dyson.
"I thought it was the play they'd been running really well all day," Jones said. "They had to pass, I just saw it, and you have to make a play to win games."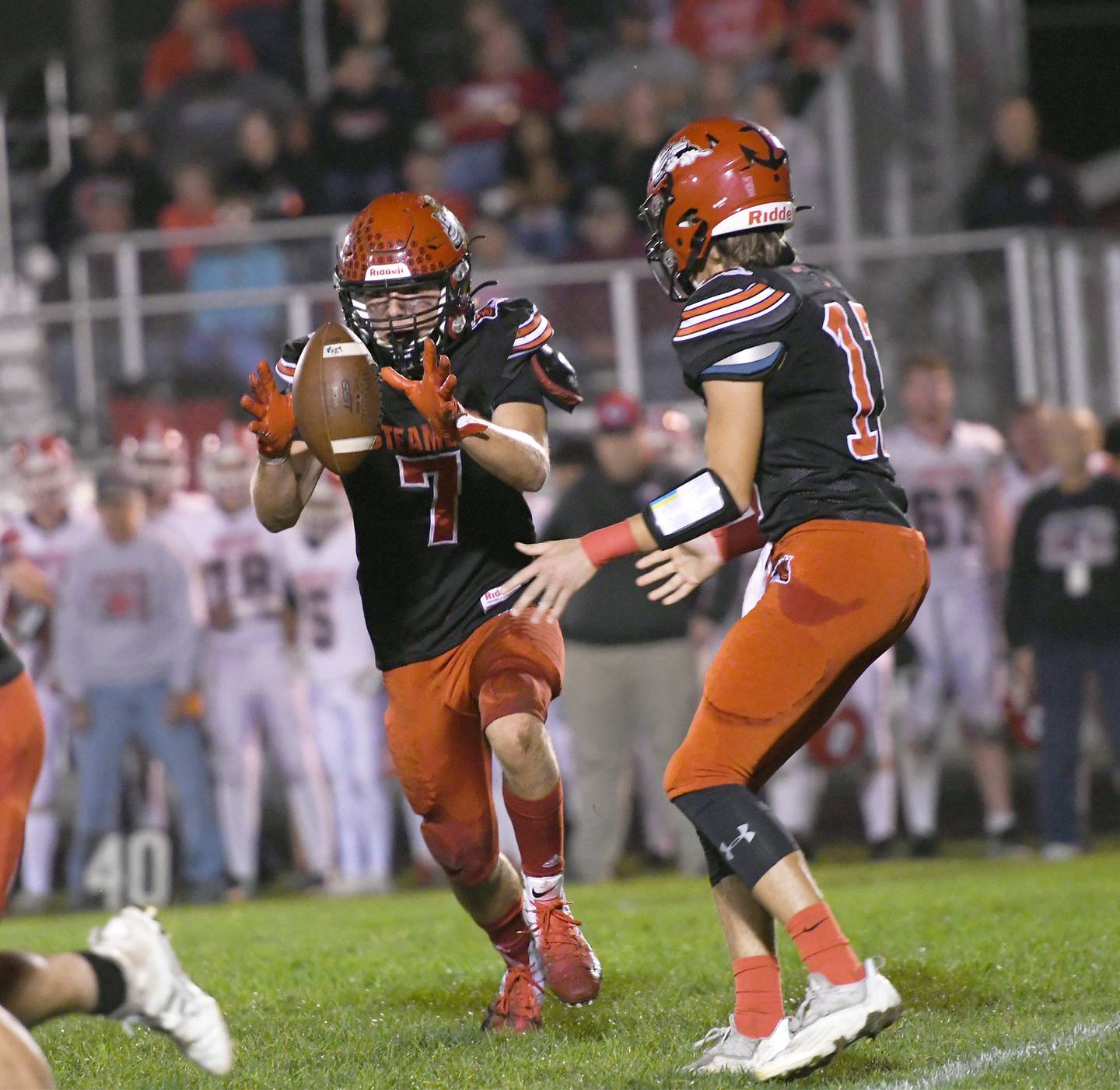 But Forreston's defense came through with big plays as well. The Cardinals stopped Fulton for a three-and-out on the game's opening drive, Fulton gaining just one yard on the series. Forreston then ended the half with a sack near midfield as time ran out on the second quarter as Fulton had gotten into position to attempt a Hail Mary.
In the second half, after Johnson's end zone interception, the Cardinals defense forced a turnover on downs at their own 21.
"Our effort was absolutely there. We're not doubting our guys there," Forreston coach Keynon Janicke said. "They gave it everything they had, there were just a couple of plays they got behind us, and corners, safeties, we can't let guys get behind us."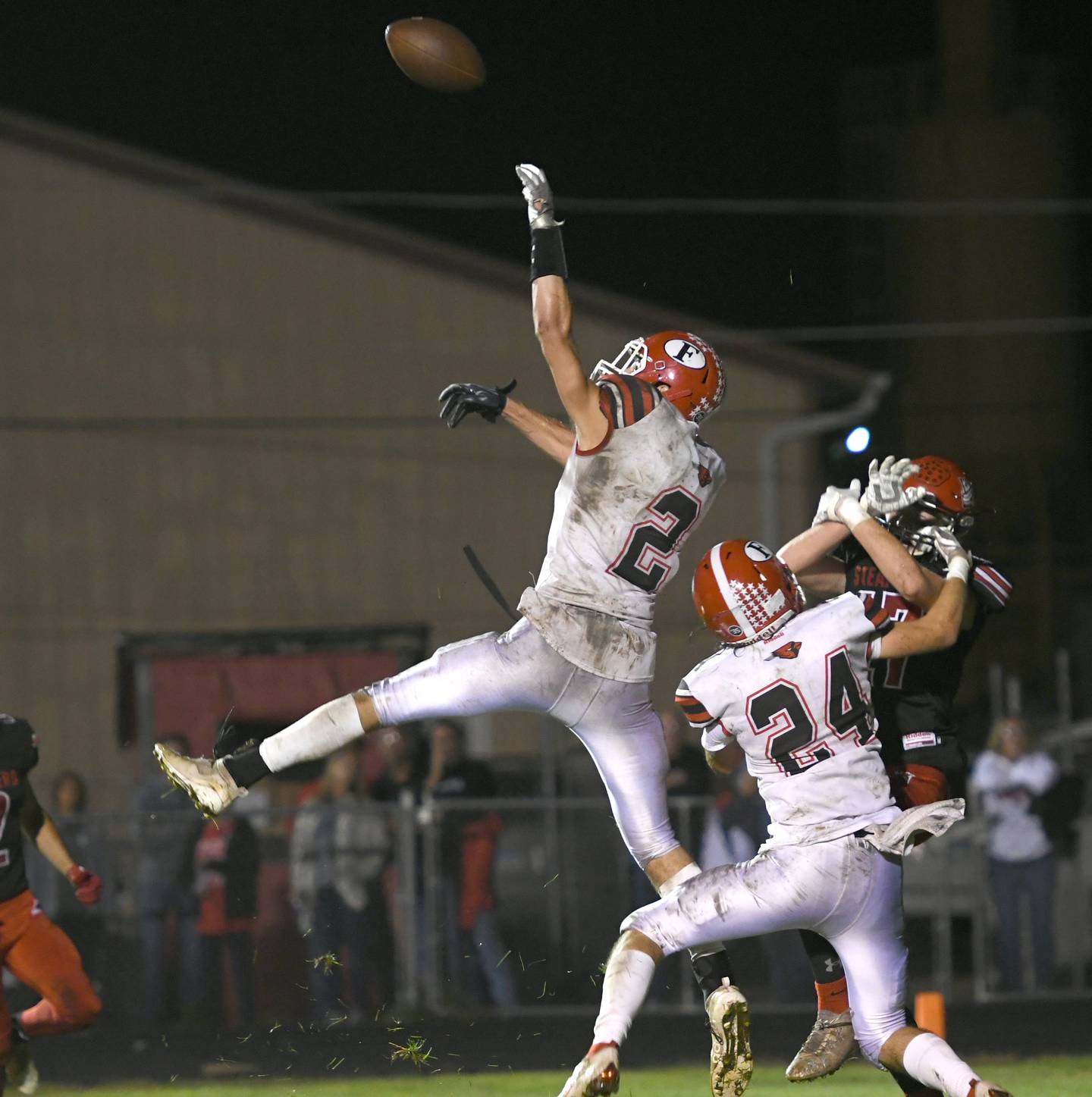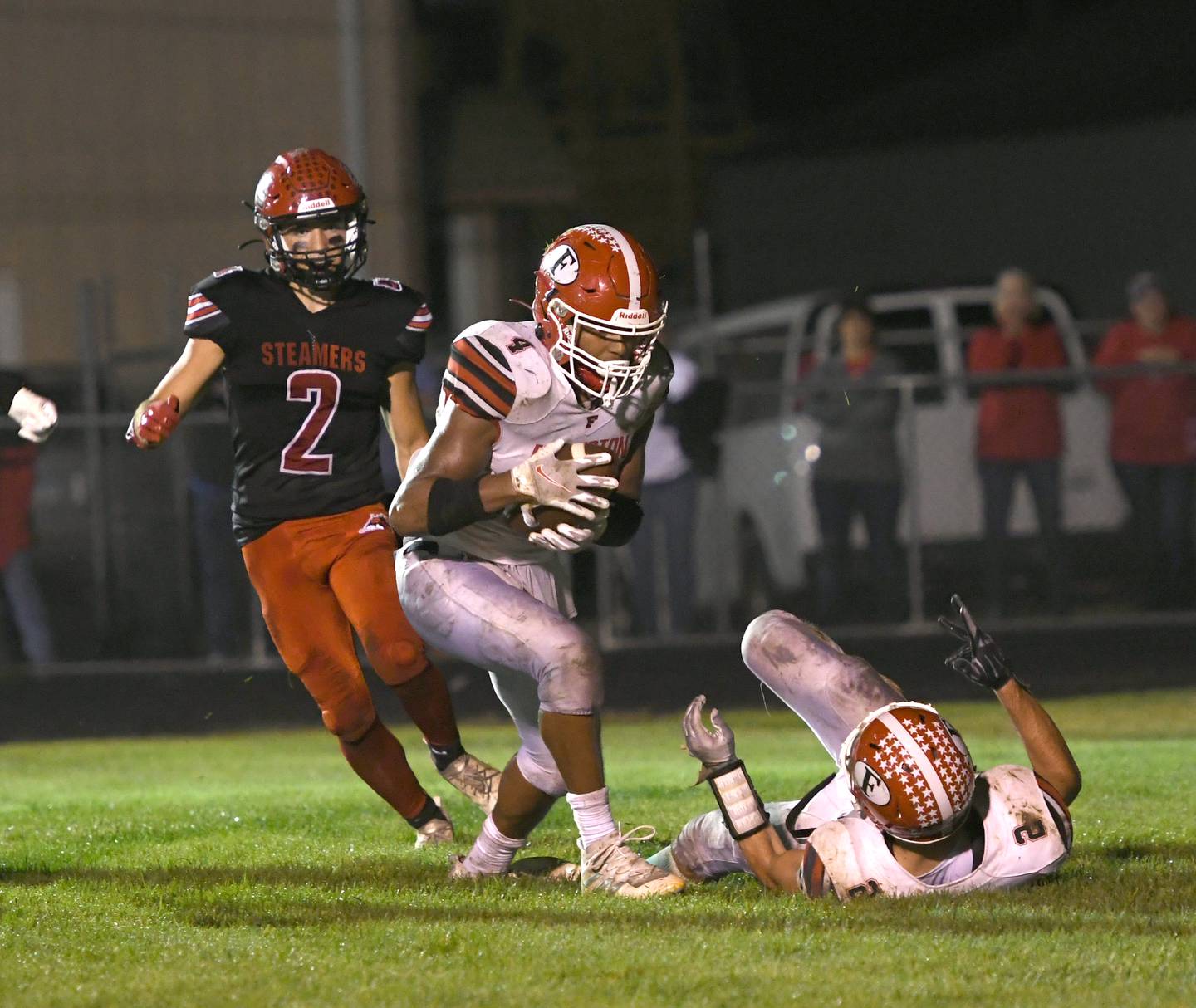 The Steamers scored the first 10 points of the game. Dykstra hit Mason for a 23-yard score on Fulton's second drive, then Endi Qunaj capped off the next drive with a 37-yard field goal.
Forreston answered with 8:37 left in the first half. A 13-play, 64-yard drive burned four minutes off the clock, with Dyson finding Matthew Beltran for a 12-yard touchdown pass.
Fulton answered with another touchdown pass. One play after Mason made a toe-tapping catch on the sideline for a first down, Dykstra found Keegan VanKampen for a 42-yard score to make it 17-8.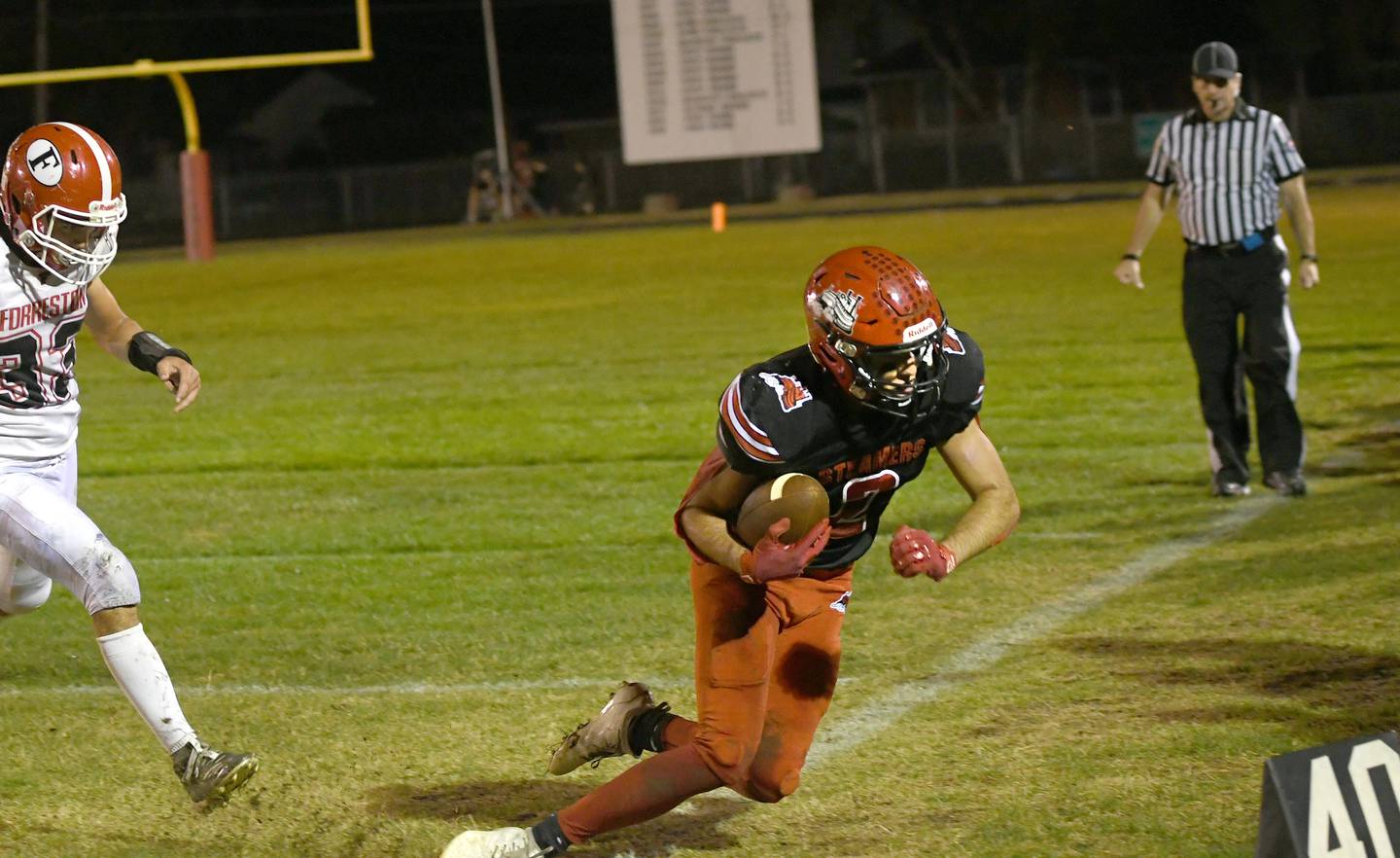 Forreston put together another long drive at the end of the half. A 14-play, 50-yard drive led to Beltran plunging in from 3 yards out on fourth down, cutting Fulton's lead to 17-14 with 21 seconds left in the half.
VanKampen carried 19 times for 96 yards for the Steamers. Jones added 66 rushing yards, 23 passing yards and 53 receiving yards. Mason made three catches for 64 yards.
Nine different Cardinals carried the ball, with Beltran gaining 72 yards on 14 carries.