SouthWest Suburban Conference
Homewood-Flossmoor (4-2) at Lincoln-Way East (4-2)
When: 7 p.m. Friday
Last matchup: Lincoln-Way East 31, Homewood-Flossmoor 0 (spring 2021)
About the Vikings: The Vikings have been up and down this season and haven't fared well against the better teams in the SouthWest Suburban Conference. That doesn't bode well for the Vikings, considering they are running into a conference stalwart stinging from a surprise loss in Week 6. Wide receiver Myles Walton continues to be dangerous, but he could use some help to ease some of the pressure he's had in carrying the offense.
About the Griffins: Lincoln-Way East doesn't have much time to lick its wounds after a surprising loss to Sandburg in Week 6. The Griffins have been running the ball with authority, having developed a potent running tandem of James Kwiecinski and Trey Johnson. The defense will have to bounce back from a rough outing in the Sandburg loss.
Friday Night Drive pick: Lincoln-Way East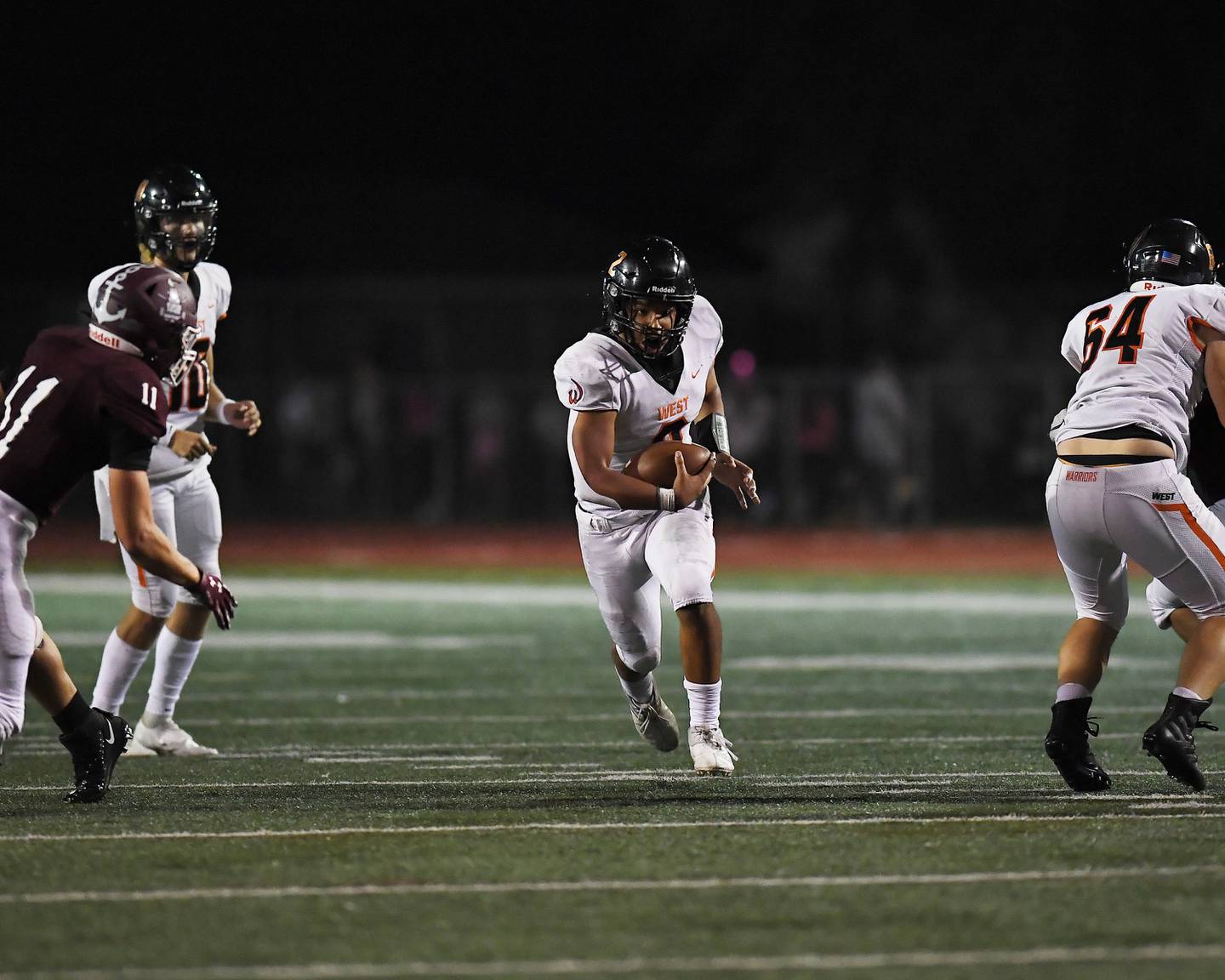 Lincoln-Way Central (2-4) at Lincoln-Way West (2-4)
When: 7:30 p.m. Friday
Last matchup: Lincoln-Way West 20, Lincoln-Way Central 16 (spring 2021)
About the Knights: Lincoln-Way Central has dropped two games in a row and is struggling to post points on a regular basis. More troubling, however, has been the recent defensive woes that have made it tough for the Knights to hang in games. This rivalry game, however, might provide an opportunity for Lincoln-Way Central to turn the tide. The game has been a spirited and highly competitive one over the past few seasons.
About the Warriors: Lincoln-Way West showed a lot of fire in a strong effort against an undefeated Lockport team before succumbing, but now the Warriors have painted themselves into a bit of a corner regarding their playoff hopes. They have to run the table just to become playoff eligible, although if the Warriors can't do it, the strength of schedule would make them a leading contender to be a four-win at-large team. The Warriors continue to do a solid job defensively and are getting a big season from RB Justin Harris.
FND pick: Lincoln-Way West
Lockport (6-0) at Bolingbrook (5-1)
When: 6 p.m. Friday
Last matchup: Lockport 42, Bolingbrook 14 (spring 2021)
About the Porters: Lockport got its first serious challenge of the season in a Week 6 win over Lincoln-Way West, 20-13. It once again leaned on its defense to get the job done. The Porters weren't as dominant on defense as they had been through five weeks, but it still required two pin-point plays by West to find the end zone. The offense hasn't been asked to be prolific this season, but it will need to step up its game against Bolingbrook.
About the Raiders: Bolingbrook's small roster continues to soldier together to turn in impressive results. This is another game where the opponent likely has substantially more depth to lean on, but the Raiders continue to hold their own. The offense has done pretty solid work for most of the season, but the defense continues to shine, hemming in most opponents pretty easily. Passing against Bolingbrook is a risky proposition with safety Damon Walters seemingly in the mix on every play and CB Anthony Harris capable of making electric plays at any time.
FND pick: Lockport
Southwest Prairie Conference
Joliet West (1-5) at Plainfield East (2-4)
When: 7 p.m. Friday
Last matchup: Joliet West 36, Plainfield East 30 (spring 2021)
About the Tigers: The Tigers put forth a solid effort in their first win of the season, beating Romeoville last week. They also slowed the Plainfield Central offense to a crawl in a Week 5 loss. Joliet West's only hope for a playoff berth would be as an automatic bid that would go to a conference champion, the same route it took to a 2019 berth. But West is going to have to not only win out, but get additional help.
About the Bengals: Plainfield East has yet to put it all together. The Bengals have had a lot of trouble keeping possession of the football, turning it over five times in a defensive scrap with Plainfield Central in Week 6. Junior QB Quinn Callaghan has demonstrated a solid ability to move the ball with his legs, but the Bengals would be well served to find more ways to get the ball in the hands of explosive WR Michael Morgan.
FND pick: Joliet West
Minooka (3-3) at Plainfield North (4-2)
When: 7 p.m. Friday
Last matchup: Plainfield North 19, Minooka 9 (spring 2021)
About the Indians: The Indians managed to keep themselves out of the playoff danger zone by putting it all together last week in a 33-10 win over Oswego East, which came in undefeated. The win got Minooka back to .500 and gives it a little bit more breathing room. Northern Illinois-bound Malik Armstrong seems to have found a new home in Minooka's backfield, having totaled more than 100 rushing yards in the Oswego East win. The defense seems to have shored up a bit, something it will need to continue with more difficult matchups on the horizon.
About the Tigers: It appeared on the surface that everything was going well for Plainfield North in its Week 6 matchup with Oswego. Yardage was piling up, and the Tigers opened up an early lead. But things slowly unraveled, and despite outgaining the Panthers almost 2-to-1, the Tigers ended up losing in overtime. QB Harrison Klein has done a nice job of making plays, but the Tigers either need to get a few more key plays on offense or a few big defensive stops when the game hangs in the balance late against quality opponents.
FND pick: Plainfield North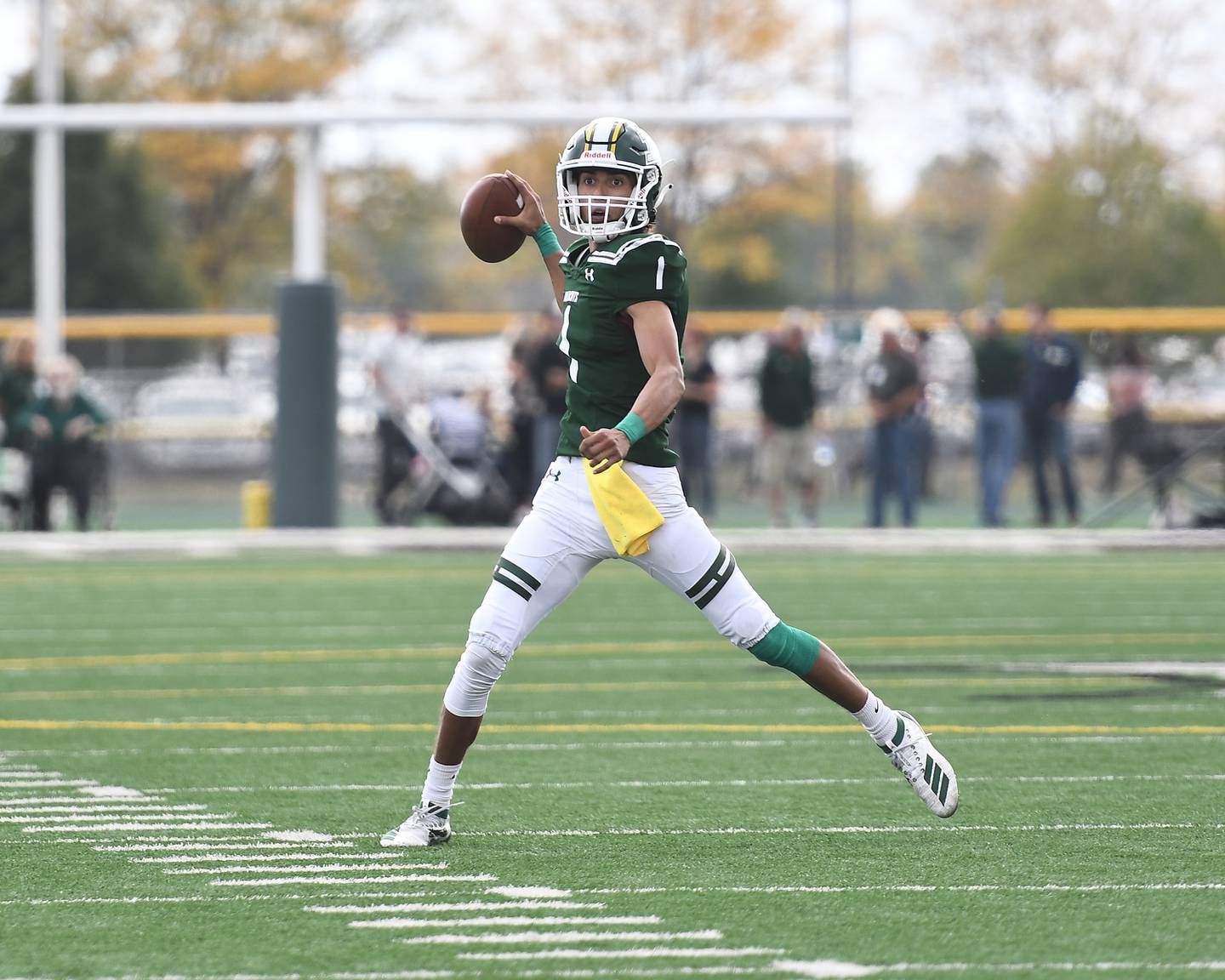 Plainfield Central (5-1) at Plainfield South (3-3)
When: 7 p.m. Friday
Last matchup: Plainfield South 37, Plainfield Central 10 (spring 2021)
About the Wildcats: Plainfield Central already is playoff eligible, but the Wildcats have bigger things in mind. They continue to get a productive season out of RB Aaron Larkins. and the offensive line consistently seems to be a bedrock the team can rely on. The defense also deserves some kudos and continually comes up with a play when needed.
About the Cougars: Momentum finally seems to be in Plainfield South's camp. The Cougars have pieced together a pair of wins to get back to the .500 mark. RB Brian Stanton continues to post big numbers, and the defense finally is rounding into the form that the program tends to be known for. This game is crucial for Plainfield South, as a loss would put it on the brink of not being in the playoff mix.
FND pick: Plainfield Central
Romeoville (0-6) at Joliet Central (0-6)
When: 6:30 p.m. Friday
Last matchup: Romeoville 37, Joliet Central 9 (spring 2021)
About the Spartans: Romeoville has fairly consistently put up points in the five games it has been able to contest, but defensively, the Spartans have had all sorts of problems keeping opponents in check. Odds are they might bring that points-allowed average down some in this contest, but that's a problem that needs to be corrected moving forward whether there's a victory in the offing or not.
About the Steelmen: The progress is hard to see, but the Steelmen are making some strides. This might be the only chance they have to find an opponent in their competitive zone in the rigorous Southwest Prairie. Like Romeoville, the defense has struggled. Offensively, Joliet Central simply hopes to show a few more flashes of success.
FND pick: Romeoville
CCL/ESCC
Joliet Catholic (6-0) at Brother Rice (5-1)
When: 6 p.m. Friday
Last matchup: Brother Rice 28, Joliet Catholic 20 (2019)
About the Hilltoppers: Joliet Catholic's demolition crew kept rolling in Week 6, beating St. Laurence, 41-7. The Hilltoppers still haven't been pushed all season. That streak almost certainly ends here. In Week 6, RB Jordan Anderson returned from injury and scored three quick touchdowns before the Hilltoppers took their foot off the accelerator. The offense has received plenty of accolades, but it is hard to ignore the defensive effort.
About the Crusaders: Brother Rice has endured one of the most difficult schedules in the state, and this game adds yet another impressive chapter. The Crusaders appeared to have a defense, led by lineman Roderick Pierce, that might be stout enough to give Joliet Catholic some trouble, but they really struggled in putting away Mount Carmel in Week 6, nearly squandering a large late lead. Offensively, QB Jack Lausch anchors a productive attack, while former Providence RB Aaron Vaughn figures into the backfield mix.
FND pick: Joliet Catholic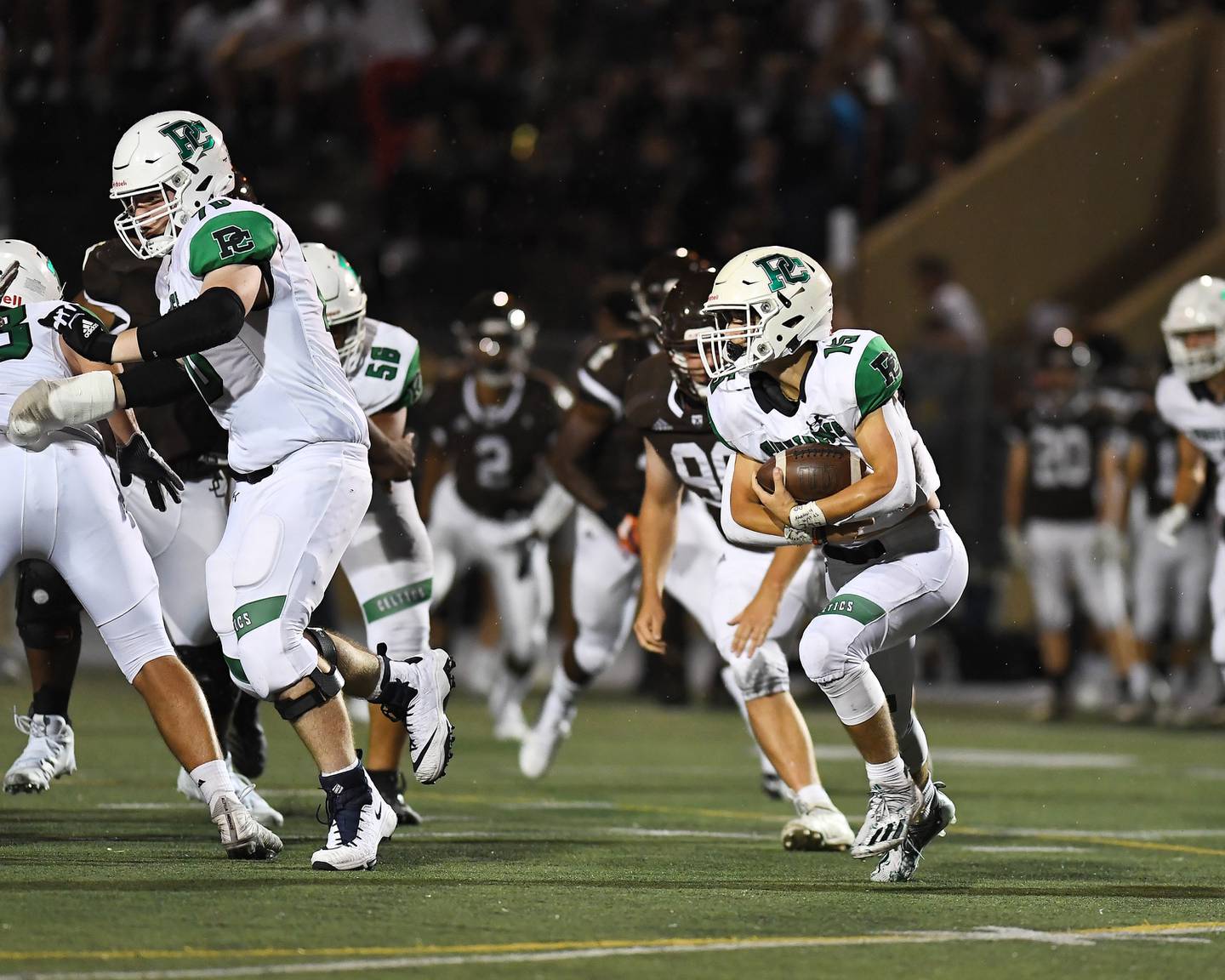 Providence (3-3) at Loyola (6-0)
When: 1:30 p.m. Saturday
Last matchup: Loyola 28, Providence 7 (2018)
About the Celtics: Providence has been one of the more difficult teams to figure out, but before beginning any discussion of the Celtics, the unbelievably rigorous schedule must be addressed. Providence could end up with as many as 60 opponent victories on its schedule when all is said and done, which is an absolutely crazy amount. Providence will be challenged to move above the .500 mark with this game, as Loyola's defense might be too tough a challenge for an offense that sputtered quite a bit in a Week 6 loss to Montini.
About the Ramblers: Loyola has had a few close calls this season, but the Ramblers have a lot of weaponry at their disposal. The defense has been great for much of the season, particularly in the front seven. But the offense has had to do some adjusting recently, as standout RB Marco Maldonado has been sidelined with a collarbone injury. QB Jack Stearney has been a consistent standout all season.
FND pick: Loyola
South Suburban Conference
Lemont (6-0) at Tinley Park (1-5)
When: 7 p.m. Friday
Last matchup: Lemont 49, Tinley Park 6 (2019)
About Lemont: Lemont has outscored its conference foes 200-41 in four league contests. Back-to-back 61-point efforts have come from its offense. Most of that damage has been done before halftime in runaway wins. The rest of the regular season doesn't appear to have many hurdles for Lemont to struggle with, either.
About the Titans: Tinley Park is in the midst of a three-game losing streak, including dropping a one-point heartbreaker to Oak Lawn in Week 6. The Titans' only win came over T.F. North in a close contest, the same T.F. North squad that Lemont routed in Week 5.
FND pick: Lemont
Illinois Central Eight Conference
Peotone (4-2) at Coal City (4-2)
When: 7 p.m. Friday
Last matchup: Coal City 20, Peotone 0 (2019)
About the Blue Devils: Peotone's season has been a little uneven to this point. The Blue Devils have consistently relied on their ground attack. It has worked for the most part, but the inability to diversify much has shown itself as a problem against elite opponents. More perplexing is a defense that did yeoman's work to limit a powerhouse like Wilmington to 10 points in Week 4 before surrendering a total of 67 points over the past two weeks.
About the Coalers: Coal City has found its groove after starting the season an uncharacteristic 1-2. During its current three-game winning streak, Coal City has discovered a multipronged rushing attack, led by Ashton Harvey. Harvey also is putting his individual stamp on the defense, where he frequently is one of the team's leaders in tackles.
FND pick: Coal City
Reed-Custer (5-1) at Streator (3-3)
When: 7 p.m. Friday
Last matchup: Streator 30, Reed-Custer 13 (2019)
About the Comets: Reed-Custer is in the midst of one of its best seasons as a program, fighting Wilmington tooth and nail until falling in Week 6, 21-14, for its first loss of the season. How Reed-Custer bounces back from that disappointment will be interesting to watch. The Comets continue to get huge offensive numbers both through the air and on the ground and could take advantage of a Streator defense that hasn't exactly been stingy/
About the Bulldogs: Streator still resides near the bottom of the Illinois Central Eight standings, but the Bulldogs have put up a much better fight in most of their league contests this season. They nearly pulled a rabbit out of their hat in Week 6 but lost in overtime to Peotone. Sophomore QB Christian Benning continues to develop into a solid threat, but he'll likely find himself under pressure from an experienced Reed-Custer defense.
FND pick: Reed-Custer
Wilmington (6-0) vs Lisle (4-2) at Benedictine
When: 7 p.m. Friday
Last matchup: Wilmington 35, Lisle 21 (spring 2021)
About the Wildcats: Wilmington continues to grind opponents into submission, although it had to work much harder to get past Reed-Custer than it had in decades in a 21-14 win in Week 6. The running tandem of Colin James and Jacob Friddle has been potent.
About the Lions: Lisle went into true grinder mode to collect a 7-0 win over Herscher in Week 6, a process that this weekend's opponent can appreciate. But the Lions won't likely be able to get away with that again.
FND pick: Wilmington
Interstate 8 Conference
Ottawa (2-4) at Morris (6-0)
When: 7 p.m. Friday
Last matchup: Morris 35, Ottawa 6 (spring 2021)
About the Pirates: Ottawa has played better this season than in the recent past, but it has to be disconcerting for the Pirates that they dropped a Week 6 decision to Woodstock by a narrow margin and now are playing a team that walloped Woodstock by 50 points earlier in the season. RB Javarius Whitfield has emerged as a solid option, but he'll need a massive game here to give the Pirates much hope.
About Morris: Anyone still questioning the legitimacy of the Morris offense need look no further than its showing against Kaneland in Week 6. Morris stacked up almost 700 yards of total offense against a perennial playoff team. RB Ashton Yard led the onslaught with 352 rushing yards.
FND pick: Morris
Vermilion Valley Conference
Watseka (1-5) at Dwight (1-5)
Watseka has ended its varsity football season. Dwight will receive a forfeit victory.
Seneca (2-4) at Momence (4-2)
When: 7 p.m. Friday
Last matchup: Momence 32, Seneca 26 (spring 2021)
About Momence: Momence has been a high-powered offense for much of the season, showing its explosiveness in a Week 6 win over Iroquois West as QB Kud-de Bertram scored six touchdowns. But Momence also has had a fair share of issues on defense, so it has to be careful to avoid putting too much pressure on its offense.
About the Fighting Irish: Seneca could have taken a freebie win in Week 6 as it was scheduled to play Watseka, which recently made the decision to end its varsity football season. But with a little more than a day to prepare, the Irish added Clinton, an opponent that had its scheduled opponent cancel for COVID-19-related reasons. Seneca proceeded to roll to a 50-10 win.
FND pick: Momence