MAPLE PARK – Behind a bruising rushing attack, the Morris football team secured a playoff spot Friday night with a 49-35 Kishwaukee River/Interstate 8 White win over Kaneland.
Morris (6-0, 3-0) picked up yardage in chunks on the ground all night, as Ashton Yard ran for an eye-popping 352 yards and three touchdowns on 35 carries, and quarterback Zach Romak ran 22 times for 192 yards and three TDs. Jorge Loza added Morris' other touchdown (three yards, three carries), and Sam Reddinger had nine yards on two attempts. In all, Morris finished with 556 rushing yards on 62 attempts. Romak was also 7 of 11 through the air for 123 yards, giving Morris 679 yards of total offense.
And they needed every one.
That's because Kaneland quarterback Troyer Carlson threw for 320 yards and four touchdowns and ran for the other Knights' score. Carlson finished 19 of 31 through the air and was intercepted once. Aric Johnson caught two of Kaneland's TD passes, one for 82 yards and another for 35, and finished with four catches for 130 yards. Sam Gagne had a 76-yard TD reception and caught four passes for 107 yards, while Dom DeBlasio caught a 16-yard TD pass among his seven catches for 79 yards.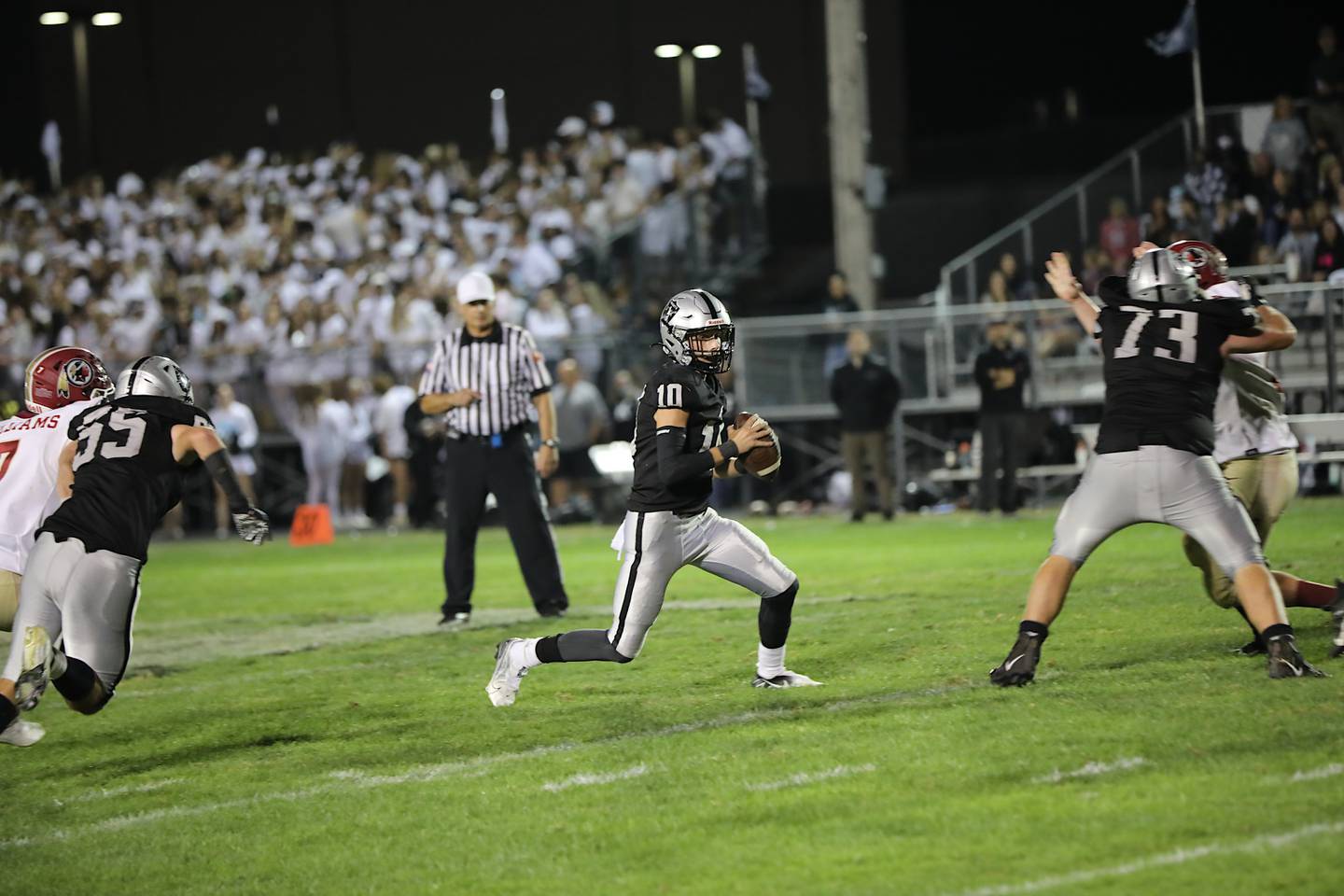 "This was like a heavyweight fight," Kaneland coach Patrick Ryan said. "It was back and forth, back and forth. I am proud of the way our kids fought tonight. It's always a battle when we play Morris. That's a good football team.
"We could never get ahead. We scored quick at times, but we have to get better on defense. We did a lot of good things. We forced some turnovers and we played well on special teams, but any time you give up 49 points there are some things you need to clean up."
Morris scored first in the first quarter when Yard scored on a 5-yard run. Kaneland answered with a 12-yard run by Carlson. Morris then scored early in the second quarter on a 2-yard run by Romak, and Kaneland countered with a 76-yard pass from Carlson to Gagne only 16 seconds later. Morris then got a 56-yard TD run by Romak to take a 21-14 lead and cap a stretch that saw three touchdowns in 56 seconds of game time. Morris then forced a punt, but missed a field goal on its ensuing drive. Morris stopped Kaneland on 4th and one, and Yard delivered a 27-yard TD run on the next play for a 28-14 Morris lead with 4:10 to play until hafltime.
Morris forced a punt, but Kaneland's Johnny Spallasso was able to intercept a Romak pass and give the Knights the ball at midfield. After a 31-yard pass from Carlson to DeBlasio, the tandem teamed up again for a 16-yard TD pass with 1:10 to go in the first half to make it 28-21.
Morris was driving to start the second half, but Kaneland's Chris Ruchaj recovered a fumble at the Knights' 15. After a 3-yard run by Cory Phillips (9 carries, 29 yards), Carlson connected with Johnson for an 82-yard scoring strike to tie the game at 28.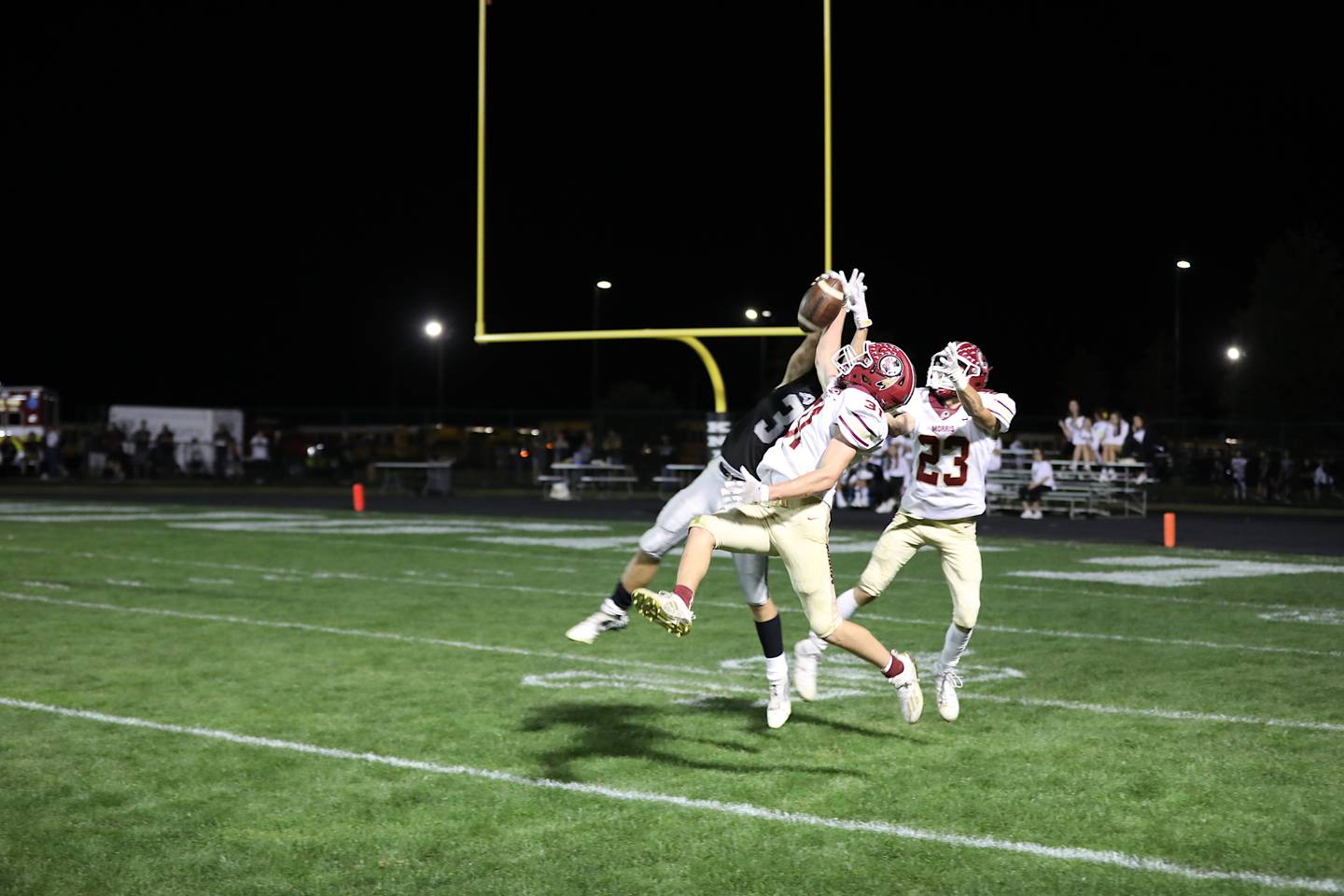 Morris turned the ball over on downs at the Kaneland 30, but the Morris defense forced a punt and the offense took over at its own 28. Yard then burst through the defense for a 72-yard TD run to put Morris ahead, 35-28.
"I told the coaches that we could run that play," Yard said. "When we went trips on one side, they moved their safeties over, and all I had to do was beat the linebackers. The line did a great job, and I was full speed by the time I got to the linebackers.
"I've never carried the ball 35 times in a game before. I'm not tired. I feel like I could go play another game."
Most of the damage Morris did on the ground was straight up the middle, behind left guard Aidan King (6-4, 325), center Parker Pierce (6-1, 230) and right guard Nick Perry (6-1, 300). When they did run outside, tackles Justin Newman (6-6, 287) and Justin Hemmersbach (6-2, 260) cleared the way.
"Most of the night was right up the middle," Pierce said. "We have some mean, nasty guys up front, and it's nice to know that when we do our job the backs like Ashton and Zach are going to do theirs.
"The coaches were hard on us at the start of the season because they know how good we can be. We aren't there yet, but we are getting closer every time out. It's nice to have the six wins and clinch a playoff spot, but we aren't done yet. We want to win a lot more than six."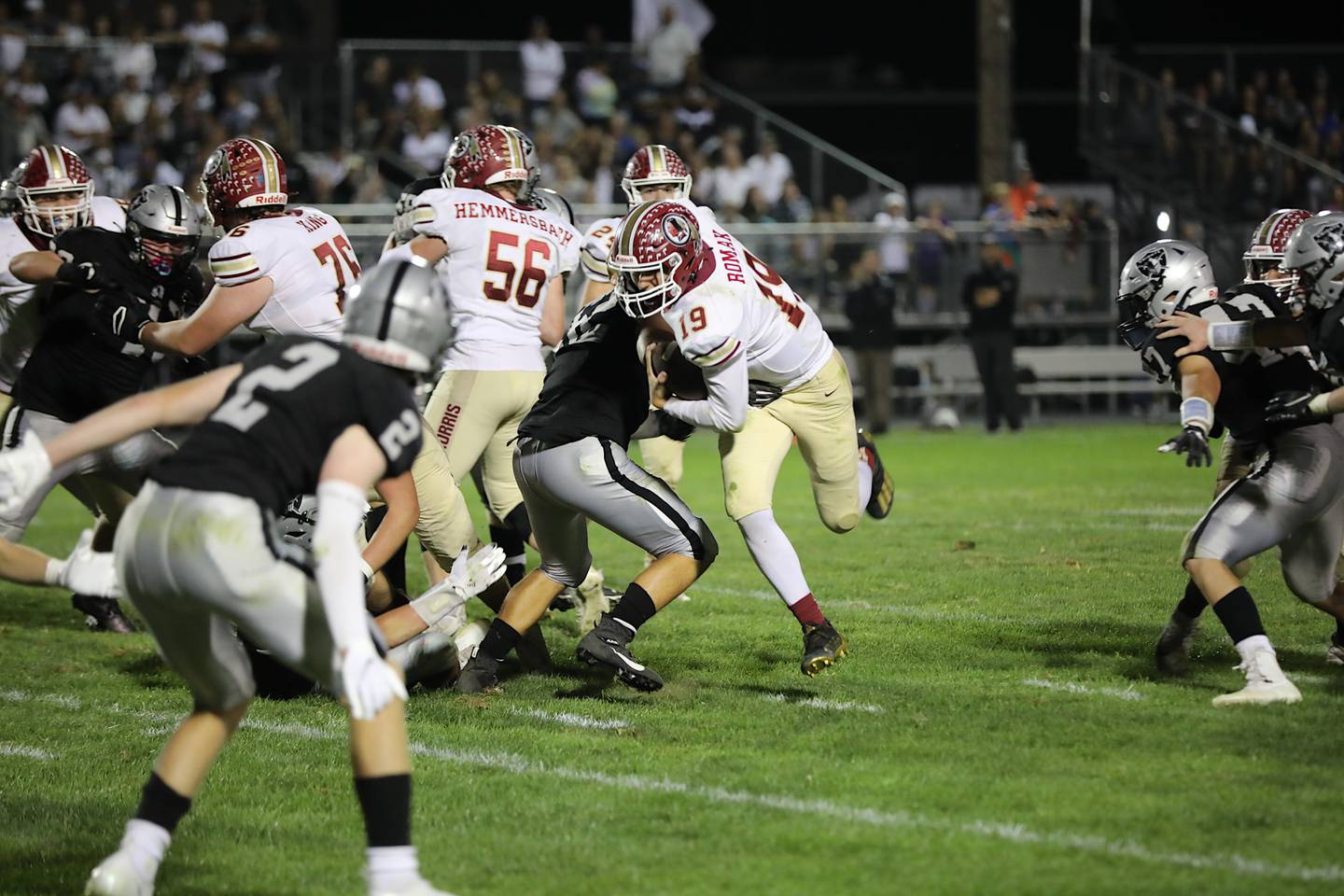 After Yard's long TD run, Kaneland got a big kick return from Johnson to the Morris 48. On 3rd and 13 from the Morris 35, Carlson scrambled to his right and hit Johnson in the corner of the end zone to tie the game at 35.
The Knights then surprised Morris with an onside kick and recovered it, but Morris' A.J. Zweeres made a leaping, one-handed interception at the Morris 11 to thwart Kaneland's bid to take the lead. Morris then embarked on an 89-yard drive, helped by runs of 18, 30 and 18 yards by Yard and a 27-yard run by Romak. Romak did the honors from a yard out and Morris took a 42-35 lead on the second play of the fourth quarter.
The Morris defense forced a punt, which was downed at the Morris 12. Morris used 13 plays, all on the ground, to drive 88 yards. Yard had a 34-yard burst on the march, and Loza went in from a yard out with 3:16 remaining to cap the drive, which took 6:22 off the clock.
"This is a great win," Morris coach Alan Thorson said. "Kaneland is a tough place to play. In my 12 years as a head coach this is probably the toughest place to play that I have seen. Kaneland is always well-coached, and they have a lot of great athletes.
"This is as good as I have ever seen our offense move the ball. Our O-line was just unreal. They were loading the box on us, and we still ran for over 500 yards. And it was good for us, we needed a fight to see how the kids respond to adversity, and they responded well. We gave up 35 points, but we got some big stops when we needed them."