Dixon avenged one of its narrow losses from the spring season by beating Rockford Lutheran 26-7 on Friday in Rockford.
Just as they had when the two teams met in April in a 7-2 win, Lutheran struck first, this time a 4-yard Jamyr Pitts touchdown run.
But the Dukes answered with three touchdown passes from Tyler Shaner to Mason Randick to jump in front, and Zavion Johnson added a 16-yard rushing score.
Shaner was 12-of-17 passing for 135 yards. Johnson carried four times for 113 yards.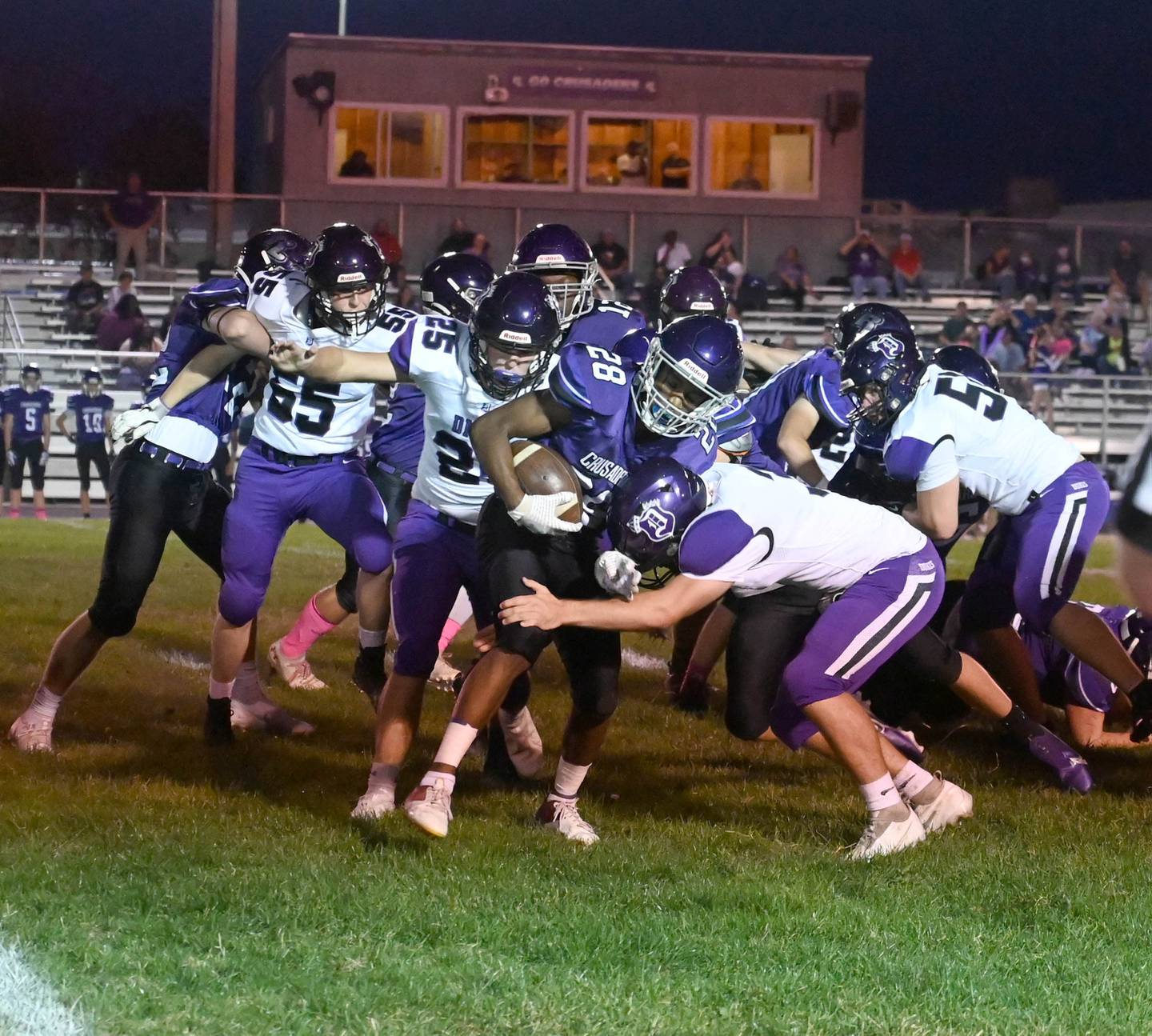 Genoa-Kingston 47, Oregon 0: The Cogs shut out the Hawks behind seven rushing touchdowns by six different rushers.
Daniel Dominguez led Oregon's offense with 14 carries for 76 yards.
Chase Engel had 17 carries for 127 yards for the Cogs.
Rockridge 27, Morrison 8: Carson Strating had 30 carries for 122 yards, but the Mustangs fell to the Rockets.
Trey Strating got Morrison on the board with a 14-yard touchdown reception from Danny Mouw, with Chase Newman's two-point conversion cutting the deficit to 13-8 in the first quarter, but Rockridge added a pair of second-half scores, including Brayden Deem scoring on a 68-yard run.
Mouw completed 4 of 9 passes for 86 yards. Newman had two catches for 73 yards.
Galena 41, Eastland-Pearl City 40, 2OT: It took two overtimes, but the Pirates knocked off the Wildcatz.
Carsen Heeren caught a touchdown pass from Kellen Henze to lead off the first overtime, but Galena answered. After Galena scored in its possession of the second overtime and made the extra point, Maddux Hayden answered with the touchdown for EPC, but the point after was no good.
EPC took a 28-14 lead on a pair of rushing scores from Hayden, a touchdown run by Henze, and a score by Riley Schauer. Galena scored 14 points in the fourth quarter to force a 28-28 tie at the end of regulation.
Hayden rushed 27 times for 181 yards. Henze added 15 carries for 83 yards and was 10-of-18 passing for 141 yards.
Fulton 42, Stockton 14: Keegan VanKampen rushed for 172 yards and Jacob Jones ran for 108 as the Steamers beat the Blackhawks.
Patrick Lower attempted four passes, and completed all of them for 116 yards, three of those went to Peyton Curley for 87 yards.
Stockton got on the board first when Ian Broushous returned the opening kickoff 85 yards for a score, but Fulton got a pair of touchdowns by Jones in the first quarter, and VanKampen added scores from 13, 6, 14 and 4 yards.
Milledgeville 56, Orangeville 26: The Missiles stretched their winning streak to five with a win over the Broncos.
Though Orangeville struck first in the game, Milledgeville responded for a 10-6 lead after one, then led 32-20 at halftime.
Amboy-LaMoille 60, Hiawatha 36: The Clippers won a high-scoring affair Friday in Kirkland to improve to 3-3 on the season.