SYCAMORE – Joe Miller and his arm helped Richmond-Burton jump out to a three-score lead at Sycamore, and Brock Wood and his legs helped stave off a Spartans rally in a 42-20 win Friday.
"Over the past couple games we haven't been able to throw as much," said Miller, who threw for 161 yards and three touchdowns to lead the Rockets to their 26th straight win. "Coach has been telling me as soon as we get better competition we're just going to sling the ball. That's what we did tonight and we executed it perfectly."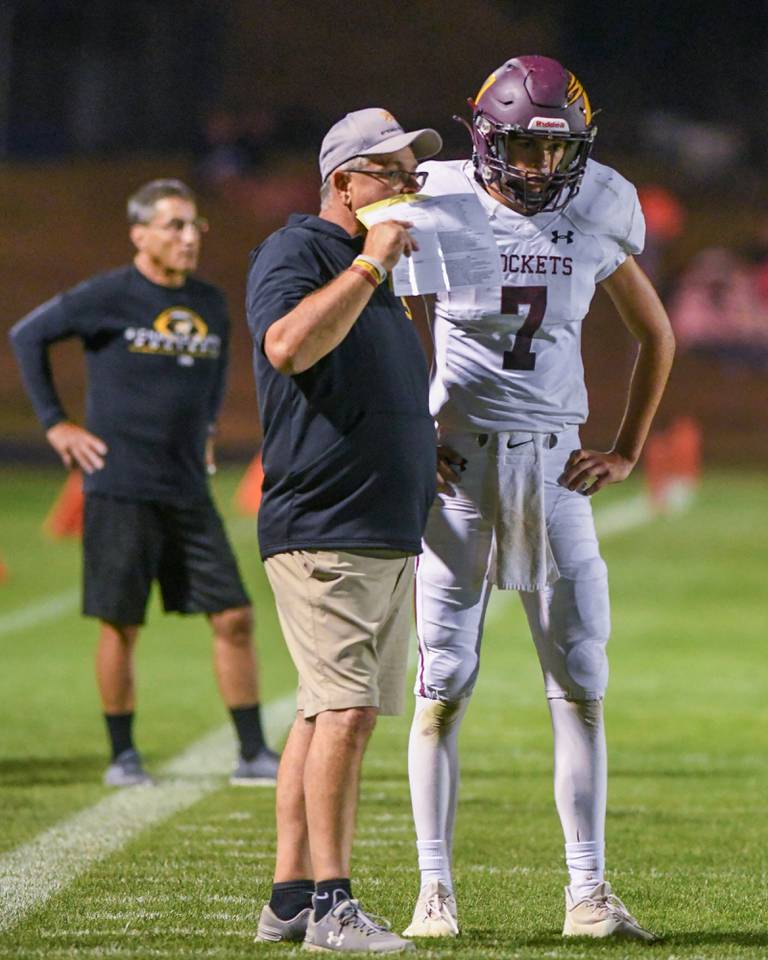 The Rockets (6-0) jumped out to a 21-0 lead, but Sycamore (4-2) got to within 21-20 in the third with a three-play scoring drive to start the second half, capped on a 48-yard run by quarterback Eli Meier down the left sideline.
But the Rockets answered right back with a long drive of their own, capped by Wood's first touchdown of the game.
On the second play of the next drive, Meier tried to find Jacob O'Donnell. The ball went off his hands and was intercepted by Coleman McDonough.
"We were our worst enemy in some situations, but they also put us in those situations," Sycamore coach Joe Ryan said. "There were some good things we did, but there were a lot of things we didn't do very well. And it's because they exploited it."
On a fourth-and-5 on the next possession, Miller found Caleb Uhwat for a score for the second time in the game and a 35-20 lead.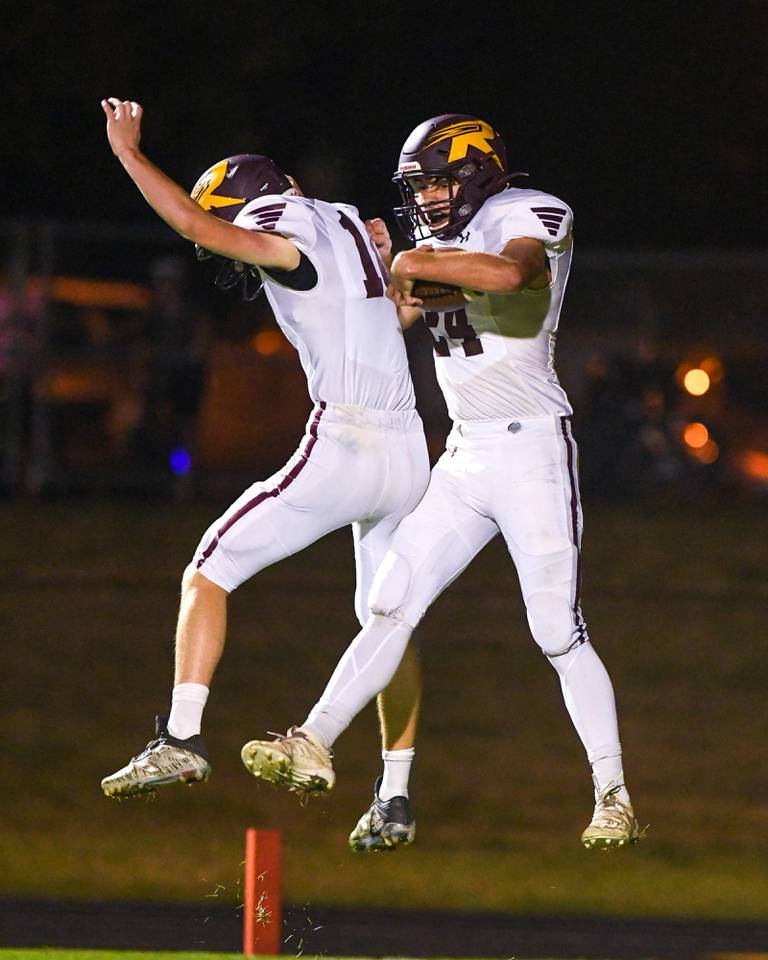 "That was huge," Richmond-Burton coach Mike Noll said. "We had a fourth-and-5, we threw the ball into the end zone, and both guys made the play. The kids really executed the game plan. I couldn't be prouder."
Miller completed 8 of his 9 attempts in the game. While Wood had 60 yards and no scores at halftime, he finished with 170 yards on 25 carries and two scores.
Meier threw for 172 yards and a score for the Spartans, but threw three interceptions. He also ran for 111 yards and a touchdown.
Uhwat had four catches for 87 yards and a touchdown, while Jacob Nelson had three catches for 71 yards and a touchdown against a Spartan defense missing linebacker Kiefer Tarnoki, who is fourth on the team in tackles and led the team in sacks and fumble recoveries.
"We have a great fan section to come down here an hour to support us," Miller said. "Our sideline was just great energy. We just support each other. Great energy, great town."
The Rockets needed just seven plays to score their first two touchdowns, the first when Miller found Nelson from 34-yards out. On a short field after an interception off Meier, Landon Jacoby punched it in from 4-yards out.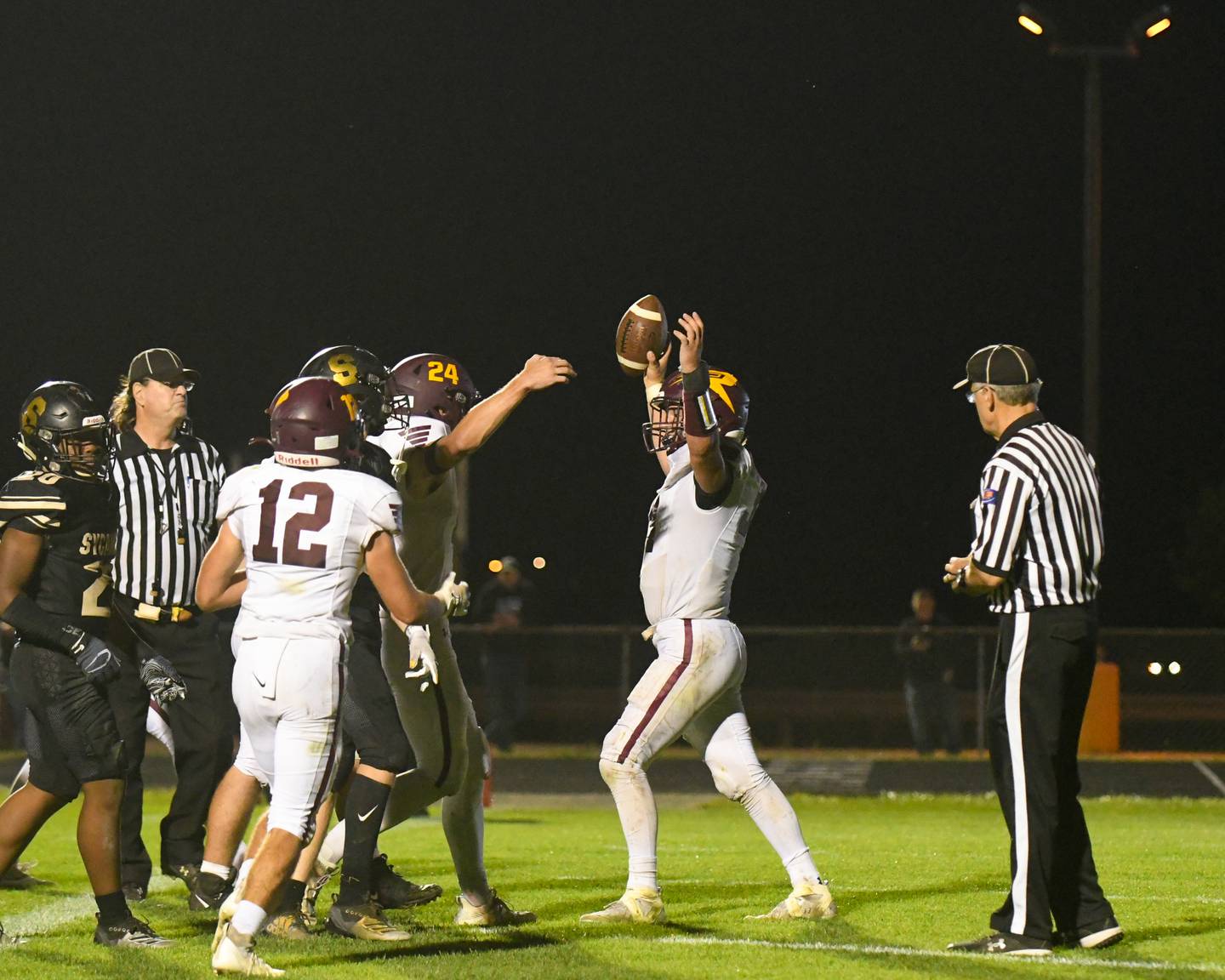 The lead grew to 21-0 on the second play of the second quarter when Miller launched a deep ball hauled in by Uhwat for a 41-yard score.
"I don't think we did some things particularly well at times, but I though their kids played well," Ryan said. "Coach Noll had a great game plan and they executed it. That Wood kid is a heck of a runner. They fed him the rock and they hit that jet pass early. Every little nuance they did a little different, they hit against us, and that's the sign of a good team."
Sycamore got on the board with pair of big plays on the next drive. Meier converted a third-and-11, finding Kayden Galto, who caught the ball short of the marker but did a step-back spin move to gain about 15 extra yards. On the next play, Meier scrambled under pressure and found Nathaniel Altepeter for a first, and eventually Zack Crawford punched it in from 2-yards out to put Sycamore on the board.
Sycamore got its first stop on the next drive when William Stewart leveled Jacoby on a fourth-and-8, causing him to drop the pass. Sycamore scored when Meier again found Altepeter open in the end zone after a scramble, bringing the game into the half with Sycamore trailing, 21-14.
Ryan said when the Spartans switched to the hurry-up, things started clicking more.
"We wanted to do that, we just didn't want to do it down 21-0," Ryan said. "It got us back in the game."