OSWEGO – Cameron Grays considers himself Oswego's "emergency" running back.
It certainly was an urgent situation Friday when Grays, a senior defensive back, was thrust into the backfield after starter Mark Melton went out with cramps late in the third quarter, with Oswego pinned deep and unable to generate much of any offense against a fierce Plainfield North defense.
"Whenever they need me to go, I go," said Grays, who had five carries in four games before Friday. "It was next man up. I've been practicing all week. I'm coming in in case something happened, and I was ready for it."
He delivered, too.
Grays scored the tying touchdown in the fourth quarter, and the game-winner in double overtime – a 9-yard not-to-be-denied run on third-and-goal that proved the decisive score in Oswego's improbable 24-17 comeback win over Plainfield North in a Southwest Prairie West thriller at Ken Pickerill Stadium.
Grays' last score was redemption for his fumble inside the Plainfield North 10-yard line midway through the fourth quarter in a 14-all game, after Christopher Cosmas had forced a Tigers' fumble that Braedon Hellinger recovered that set Oswego up deep in Plainfield territory.
"He was not going to be denied," Oswego coach Brian Cooney said. "He had his mind set on getting into the end zone, and that's exactly what he did. As soon as you saw him cut, and he wasn't stopping, you thought he was getting in. I think he was a little agitated by that fumble and had something to prove."
Grays was dropped for a five-yard loss on second-and-goal in the 17-all game, but on third down got the carry up the middle and with brute force kept his legs moving and moved the pile into the end zone.
It's the second straight season Grays has played a key role in the outcome between these two teams. In the spring he made a critical stop on the goal line in the fourth quarter to turn away a go-ahead TD.
His determination showed this time with the ball in his hands.
"I kept driving my feet, and it was that willingness to get it done for my teammates. Plainfield is a well-coached team, and this is a big game for us," Grays said. "We got to overtime, we couldn't stop now."
Plainfield North (4-2, 1-1), seeking its first win at Oswego (4-2, 2-0) since 2010, led, 14-7, into the fourth quarter – and it probably should have been a much bigger margin.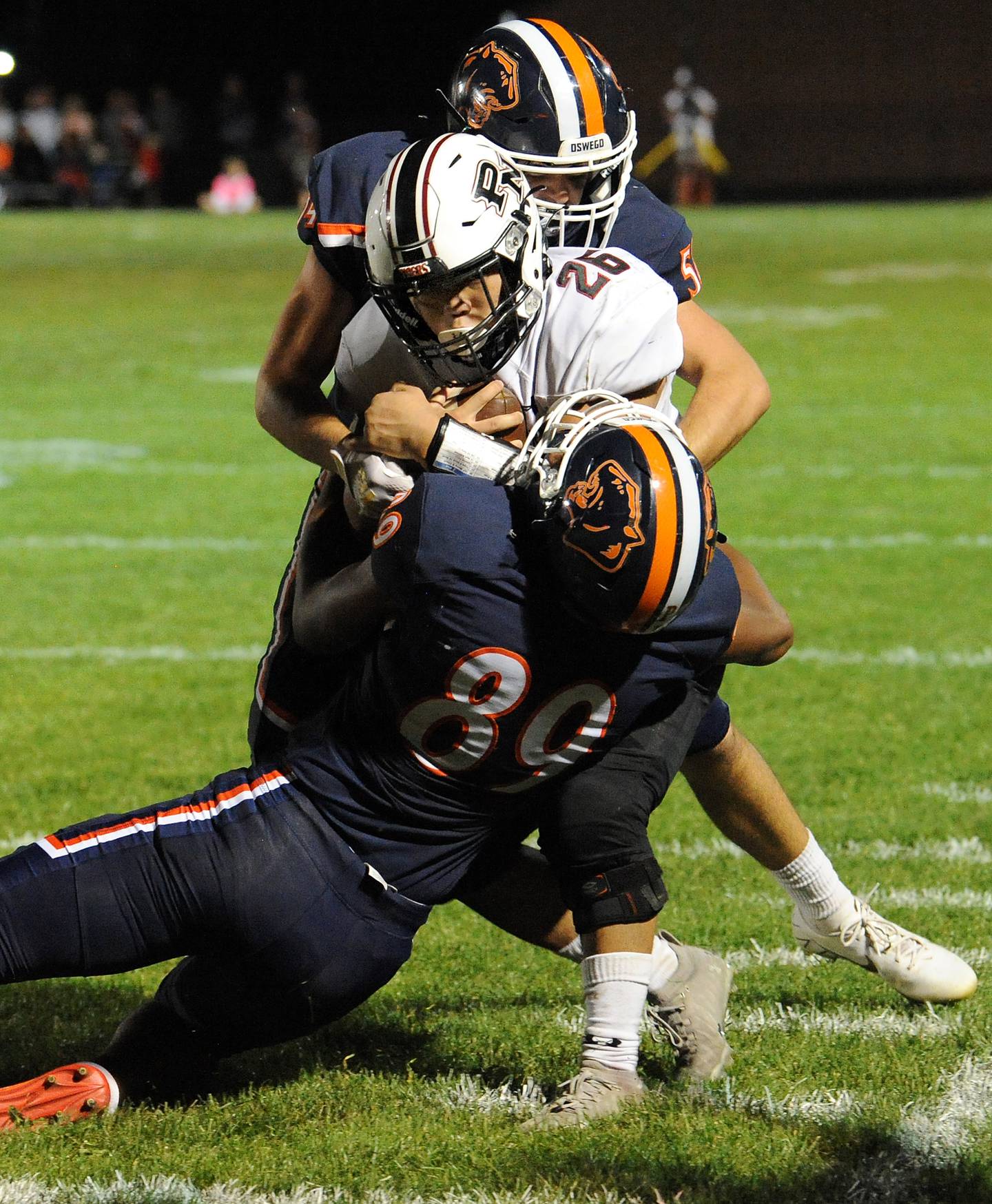 The Tigers out-gained Oswego, 354-153, for the game in yardage and took a 14-7 lead with 5:09 left in the second quarter on Jared Gumila's 60-yard TD run. Harrison Klein earlier threw a 37-yard TD pass to Grant Zak, but Oswego tied it on Cruz Ibarra's 10-yard TD pass to Deakon Tonielli.
Plainfield North three times had drives stall around the Oswego 20-yard line and three times missed field goals that would have increased the margin.
It came back to haunt the Tigers when Oswego's Nate Perry tackled the Plainfield North ballcarrier after a low punt snap inside the 10 early in the fourth quarter, setting up Grays' 6-yard TD run that tied it at 14 with 11:20 left.
"Oswego is a good football team, and their guys fight," Tigers coach Anthony Imbordino said. "You can't make even the slightest mistakes here and get away with a 'W' here. We had three drives finish inside the 20. Can't do that. We have to get better for sure."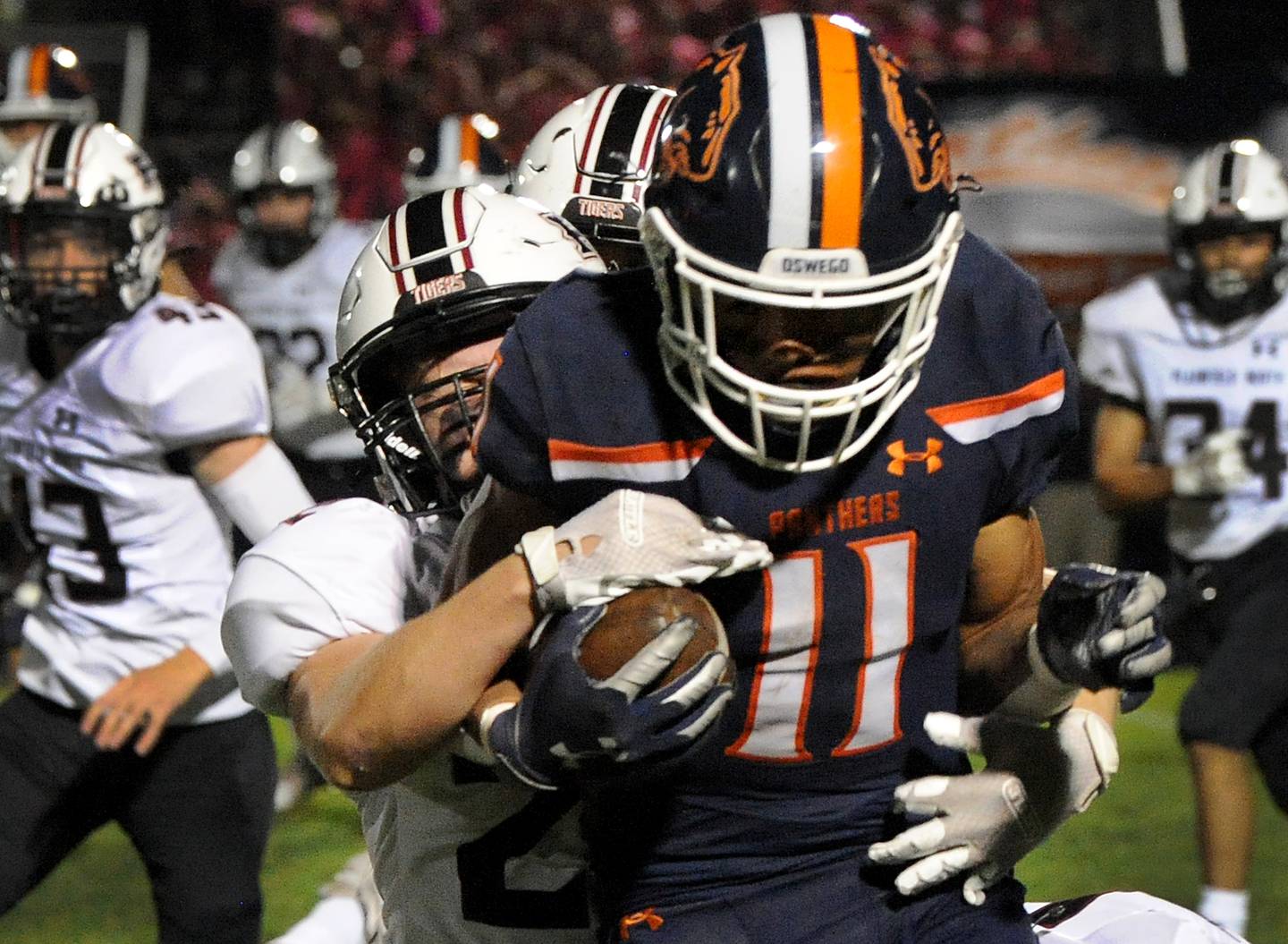 Plainfield North scored first in overtime, on Devin Collier's 28-yard field goal, but Oswego's Austin King tied it with a 32-yard field goal, his first of the season.
"It's a spot where you had to do it. Austin is a soccer player, and he's got exponentially better," Cooney said. "Good time for his first."
Grays scored first in the second overtime after an Oswego defensive pass interference on a fourth-down incomplete pass into the end zone gave the Tigers one last chance. Hellinger and the Panthers' defense gang-tackled the Plainfield North runner for a loss on fourth down to end it.
"It was a great feeling. A moment of relief knowing how we played against them all game, knowing we could stop them," Hellinger said.
Klein was 13 for 25 for 173 yards and Gumila ran for 143 yards on 20 carries for Plainfield North, which had its three-game winning streak snapped.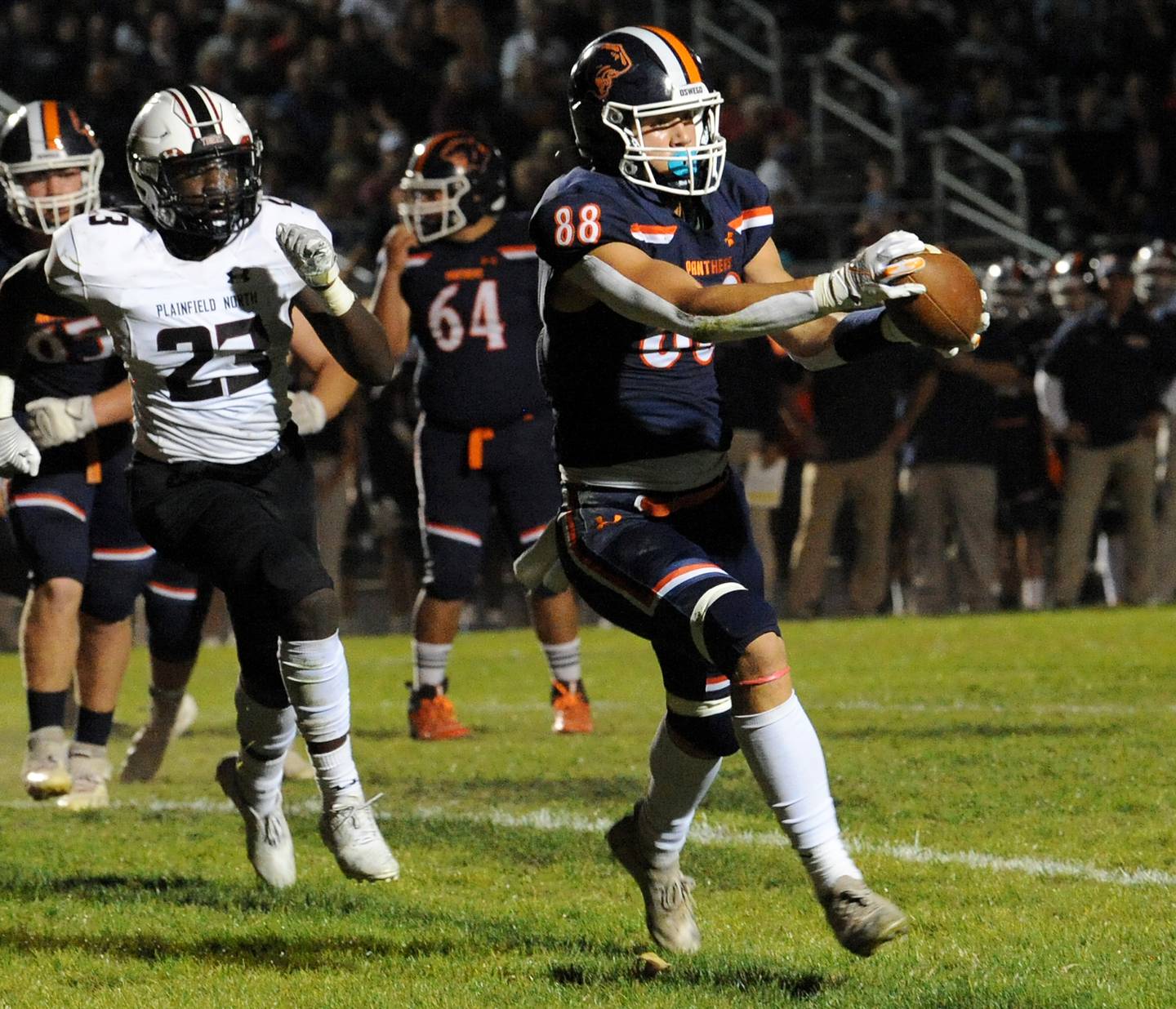 Gerald Floyd intercepted two passes for the Tigers, the second coming after a Plainfield North shanked punt in the fourth quarter had set up Oswego with prime field position. The Tigers' defense had given up 33 points coming into Friday's game.
Oswego, which won its fourth straight game, ran for only 90 yards, led by Melton's 51, and quarterbacks Ibarra and Julian Toma, who relieved him in the fourth quarter, threw for a combined 64.
"The defense has kind of been the heart of this team," Imbordino said. "They've played extremely well all year."