West Suburban Conference
York (5-0, 3-0) at Glenbard West (5-0, 2-0)
When: 1:30 p.m. Saturday
Last matchup: Glenbard West 21, York 0 (Spring 2021)
About the Dukes: York's program has taken significant strides under head coach Mike Fitzgerald, and it's continued this season with the Dukes' best start since 2010. York is already playoff eligible and headed to the postseason for the first time in a decade after last Friday's 14-7 win over Lyons. A game at Duchon Field is a true test on just how far the Dukes have progressed and if they're ready to be included in the elite of the West Suburban Silver. Kelly Watson leads the York running game and junior quarterback Matt Vezza has played well the last two weeks after called into action. But the strength of the Dukes is junior linebacker David Loch and a defense that's allowed just 24 points.
About the Hilltoppers: Glenbard West has dominated all comers this season, outscoring opponents 278-40 with three shutouts, the latest 56-0 over Addison Trail last week. The Hilltoppers appear to have no shortage of skill position talent, with Nick D'Argento recently coming back from injury to join Joey Pope and sophomore receiver Julius Ellens. A defense led by linebacker Pat Shadid isn't too shabby, either. Glenbard West has held the upper hand in the rivalry with York in a big way since Chad Hetlet came aboard as head coach, winning 13 meetings by an average margin of over 33 points. Glenbard West is ranked No. 3 in the latest Associated Press Class 8A poll.
FND Pick: Glenbard West
Downers Grove North (4-1, 1-1) at Hinsdale Central (4-1, 2-0)
When: 7 p.m. Friday
Last matchup: Hinsdale Central 35, Downers Grove North 26 (2019)
About the Trojans: Downers Grove North bounced back from its first loss of the season to beat Proviso West 42-0 last week, but the schedule stiffens considerably with Hinsdale Central and Glenbard West the next two weeks. Ethan Thulin is a playmaker for the Trojans in multiple phases. Downers Grove North's defense has risen to the occasion in wins over Downers Grove South and Willowbrook, in particular, and will need to again against a Hinsdale Central team that doesn't give up much in terms of points.
About the Red Devils: The Red Devils ran their winning streak to four straight games last week, a 38-20 win at Oak Park-River Forest. Sean Allison had a stellar two-way game, eight tackles defensively and 86 yards on 14 carries. Quarterback Billy Cernugel was 13-for-20 for 203 yards and a TD, and ran for 48 yards and three TDs. Thomas Skokna had five catches for 125 yards and a TD. Hinsdale Central has won the last 13 meetings dating back to 2007 in the Battle for the Old Oaken Bucket.
FND Pick: Hinsdale Central
Proviso West (0-5, 0-3) at Lyons Township (2-3, 1-2)
When: 1:30 p.m. Saturday
Last matchup: Lyons 48, Proviso West 0 (2019)
About the Panthers: It's been a rough go for it, to say the least, for the Panthers. Proviso West has been outscored by a combined 259-0 coming off its fifth shutout loss, 42-0 to Downers Grove North.
About the Lions: Lyons has traded wins and losses over the first five weeks, and is coming off a 14-7 loss at York. That trend is likely to continue this Saturday, Homecoming week at Lyons. The Lions will want to get their offense back on track. Lyons quarterbacks threw for just 19 yards and were intercepted twice at York. The Lions also committed 11 penalties for 95 yards, so they'll want to clean that up.
FND Pick: Lyons
Addison Trail (0-5, 0-2) at Willowbrook (3-2, 3-0)
When: 7 p.m. Friday
Last matchup: Willowbrook 48, Addison Trail 13 (spring 2021)
About the Blazers: It's been a difficult fall season for the Blazers, outscored in five games to the tune of 245-37 and coming off a 56-0 loss to Glenbard West. It doesn't get much easier at Willowbrook, although perhaps the energy of the District 88 rivalry will motivate Addison Trail to rise to the occasion.
About the Warriors: Willowbrook's West Suburban Gold win streak is at 25 games after a 36-7 win over Leyden last Friday. The Warriors' offense, which struggled during an 0-2 start to the season, has averaged 36.7 points during a three-game winning streak since starting Gold play. Joey Tumilty ran for 213 yards and three TDs on just nine carries and had two tackles and an interception last week. Willowbrook has won its last five meetings with District 88 rival Addison Trail and done so in dominant fashion.
FND Pick: Willowbrook
Hinsdale South (2-3, 2-0) at Downers Grove South (1-4, 1-1)
When: 6:30 p.m. Friday
Last matchup: Hinsdale South 32, Downers Grove South 27 (2019)
About the Hornets: Hinsdale South comes off a 24-14 win over Morton, on the strength of a stellar performance by the Hornets' defense. Griffin Carr and the Hornets shut out Morton in the second half, holding the Mustangs to minus 23 yards of offense. Cassidy Whitaker ran for TDs of 11 and 37 yards. Given Hinsdale South's remaining schedule – Willowbrook followed by Proviso East and Addison Trail – this shapes up as a huge game for the Hornets' playoff chances.
About the Mustangs: Downers Grove South finally broke into the win column in a big way, a 37-14 win over Proviso East last Friday. The scoring output, in particular, was noteworthy, when considering that the Mustangs had scored just seven points over their first four games. Like Hinsdale South, this has the potential to be a make-or-break game for Downers Grove South's playoff prospects with three very winnable games left.
FND Pick: Downers Grove South
Oak Park-River Forest (1-4) at Morton (2-3)
When: 6:30 p.m. Friday
Last matchup: Oak Park-River Forest 49, Morton 9 (2019)
About the Huskies: It's been a tough go of it for the Huskies in West Suburban Silver play, a three-game losing streak in which they've allowed 44.3 points per game. The Huskies have played a rather difficult schedule, namely Wheaton Warrenville South, Hinsdale Central and Glenbard West. A crossover matchup could be the breakout opportunity the Huskies need.
About the Mustangs: Morton had its two-game winning streak snapped in a 24-14 loss to Hinsdale South last Friday. David Arana ran for 128 yards and TDs of 53 and 38 yards, but was injured later in the game. Morton's defense did hold its own, holding Hinsdale South to 46 second-half yards until the final drive. A crossover with a Silver opponent provides a big challenge
FND Pick: Oak Park-River Forest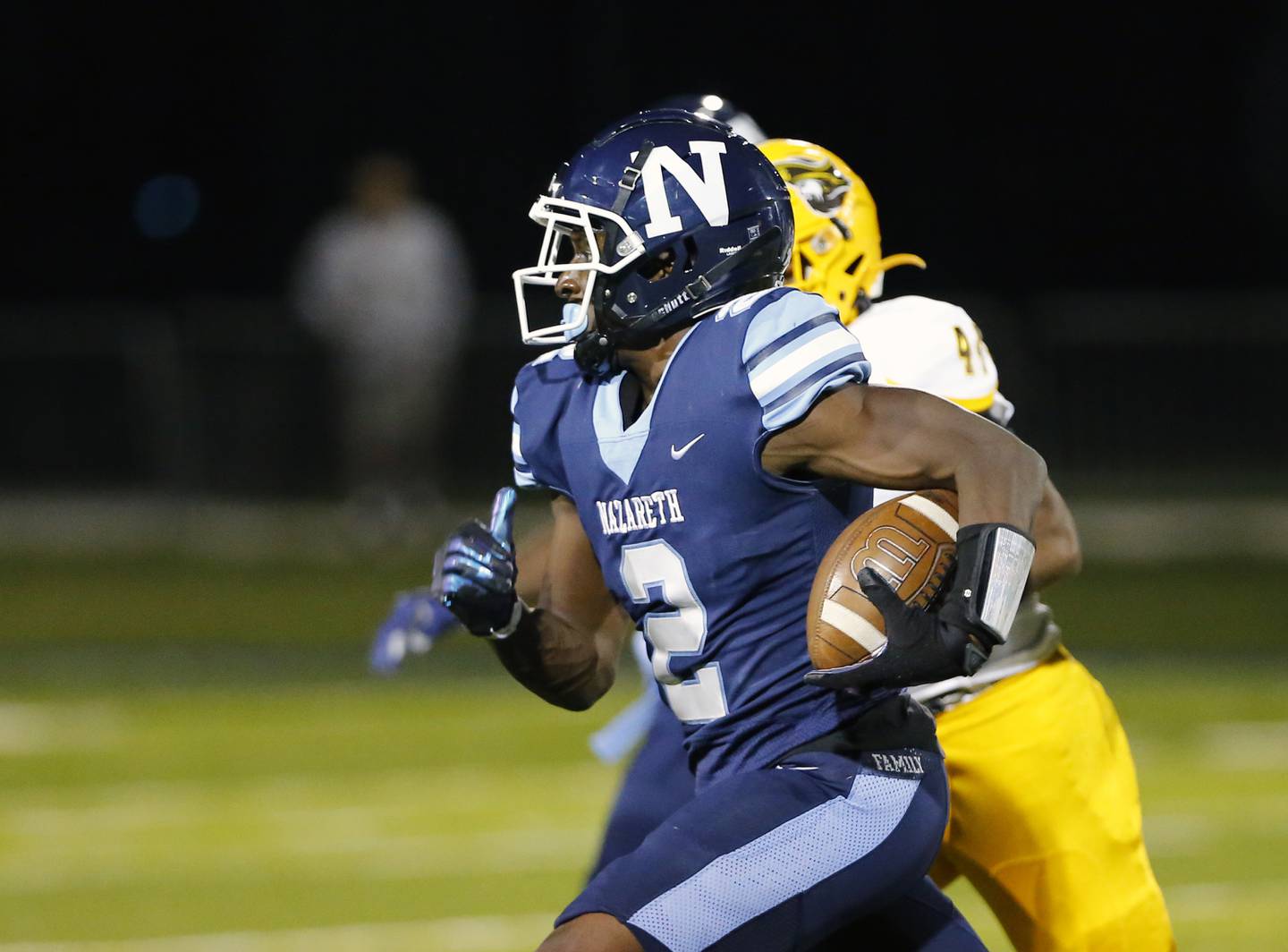 DuKane Conference
Wheaton North (4-1, 2-1) at Glenbard North (4-1, 2-1)
When: 7:30 p.m. Friday
Last matchup: Wheaton North 37, Glenbard North 0 (Spring 2021)
About the Falcons: Wheaton North has responded well to its only loss at Batavia with back-to-back blowout wins, 41-7 last Friday against Lake Park. A visit to Carol Stream should provide a significant step up in competition. The Falcons can become playoff eligible for the first time since a 2017 playoff appearance with a win. Wheaton North's offensive line has been tremendous protecting quarterback Mark Forcucci and opening holes for Brayton Maske. Wheaton North is ranked No. 4 in the latest Associated Press Class 7A poll.
About the Panthers: Glenbard North, like Wheaton North, came up at the short end of a razor-thin loss to Batavia, 21-20 last Friday. Damarion Elliston's two-point conversion try for the win with two minutes remaining was turned away. Ellison scored a TD and Justin Bland threw a TD to David Petty in the loss. Both Glenbard North and Wheaton North likely need a win here to keep their DuKane Conference title hopes alive, with Batavia still unbeaten.
FND Pick: Wheaton North
Batavia (5-0, 3-0) at Wheaton Warrenville South (3-2, 2-1)
When: 7:30 p.m. Friday
Last matchup: Wheaton Warrenville South 30, Batavia 7 (Spring 2021)
About the Bulldogs: Batavia once again showed itself capable of making the plays necessary to win close games, Ryan Whitwell coming up with a clutch stop of Glenbard North's two-point conversion try in the final minutes of last Friday's 21-20 win. Whitwell is the latest unsung hero to come through for the Bulldogs, also returning a fumble 48 yards for a TD. Junior linebacker Tyler Jansey, who holds an offer from Wisconsin, had 14 tackles, five of them for loss, for a Batavia defense that allowed just 31 rushing yards on 26 attempts against Glenbard North. Batavia is ranked No. 2 in the latest Associated Press Class 7A poll. The Bulldogs no doubt still remember a blowout loss to the Tigers in the spring.
About the Tigers: WW South bounced back from a tough one-point loss to Geneva with a tidy 24-7 win over St. Charles East last Friday. Charlie Hoover had two of the Tigers' four sacks and WW South also had three interceptions, shutting out the Saints for the final 46 minutes. Offensively, Quentin Spencer had 112 all-purpose yards and scored two TDs. The toughest stretch of WW South's schedule remains, home games with Batavia, Wheaton North next week and then Glenbard North in Week 9 – and the Tigers will need to get at least one of those to become playoff eligible. WW South is ranked No. 10 in the latest Associated Press Class 7A poll.
FND Pick: Batavia
CCL/ESCC
Nazareth (2-3, 1-0) at St. Rita (3-2, 1-0)
When: 7:30 p.m. Friday
Last matchup: First known meeting
About the Roadrunners: Nazareth appears to have found its stride after an 0-3 start, a 41-0 win over Carmel its second straight win. Freshman quarterback Logan Malachuk opened eyes, going 9-for-9 through the air for 215 yards and four TDs, all in the first half. Quentrell Harris caught two TDs and Justin Taylor one, Harris and Taylor also returning punts for scores. A visit to St. Rita is no walk in the park, but the Roadrunners appear to be making it at the right time.
About the Mustangs: St. Rita has ridden an impressive defense to back-to-back wins, shutouts of Benet and St. Patrick, 34-0 over St. Patrick last week. The Mustangs have played a very difficult schedule, with losses to Mount Carmel and Loyola, and have been without Ohio State recruit Kaleb Brown for much of the season because of injury – but are still a force to be reckoned with. St. Rita is ranked No. 5 in the latest Associated Press Class 7A poll.
FND Pick: St. Rita
Montini (2-3) at Providence (3-2)
When: 7:30 p.m. Friday
Last matchup: Providence 44, Montini 7 (Spring 2021)
About the Broncos: Montini has played one of the most difficult schedules in the state, especially for a school that will be in Class 3A for the postseason. While there have been good moments, such as a comfortable win over Sterling, there also have been moments of pause, including a Week 5 struggle to separate itself from Leo, an improving but still lower-tier team. Montini's schedule might be strong enough for it to qualify for the playoffs with four wins, but it's hard to tell if the Broncos will scuffle to get to four wins or possibly not make it at all.
About the Celtics: Almost everything Providence does turns into an adventure right now. Week 5 was no different. Providence appeared well on its way to an easy victory over Marian Central, carrying a 28-7 lead into halftime. But Marian stormed back within a 2-point conversion failing at the end of the game to help Providence secure a 35-33 win. It was the second time this season Providence won after a late, failed conversion attempt by an opponent.
FND Pick: Providence
-- Steve Soucie
Notre Dame (1-4, 0-1) at Benet (2-3, 0-1)
When: 6:30 p.m. Thursday
Last matchup: Notre Dame 24, Benet 7 (2018)
About the Dons: Notre Dame notched its first win of the season last Friday, 13-7 over St. Viator in an overtime thriller. Colin Randazzo's 1-yard TD run in OT was the difference. Junior defensive tackle Frank Salvage made the play of the game defensively with a big stop for a loss when St. Viator was driving for the potential game-winning score in the fourth quarter.
About the Redwings: Benet's offense broke out in a big way, a 47-28 win over Marian Catholic to snap a two-game losing streak. Senior receiver Jack Kane had a long TD run in the win, among the offensive highlights. With a Week 8 game against unbeaten Joliet Catholic remaining, Benet could use a win here to keep its playoff hopes alive.
FND Pick: Benet
Marmion (3-2, 0-1) at Fenwick (3-2, 1-0)
When: 7:30 p.m. Friday, at Triton
Last matchup: Marmion 20, Fenwick 19 (Spring 2021)
About the Cadets: Marmion has lost back-to-back games after a 3-0 start, dropping a Week 5 game to Marist 38-13. Quarterback Dan Chung threw for 155 yards and a TD to Anthony Kuceba, who had three catches for 59 yards. Wide receiver Dane Pardridge, an NIU recruit, is a player to watch.
About the Friars: Fenwick's record may not be quite an indication of how strong the Friars have played this season. No. 1-ranked Loyola needed a last-second field goal to beat Fenwick 27-24 last week, and the Friars' only other loss came by one point to Providence. Eastern Michigan recruit Max Reese caught a 37-yard tying TD from Ball State commit Kaden Cobb in the fourth quarter against Loyola and earlier threw a 65-yard TD to Bryan Hunt on a double pass. Danny Kent had a 70-yard TD run. Fenwick is ranked No. 2 in the latest Associated Press Class 5A poll.
FND Pick: Fenwick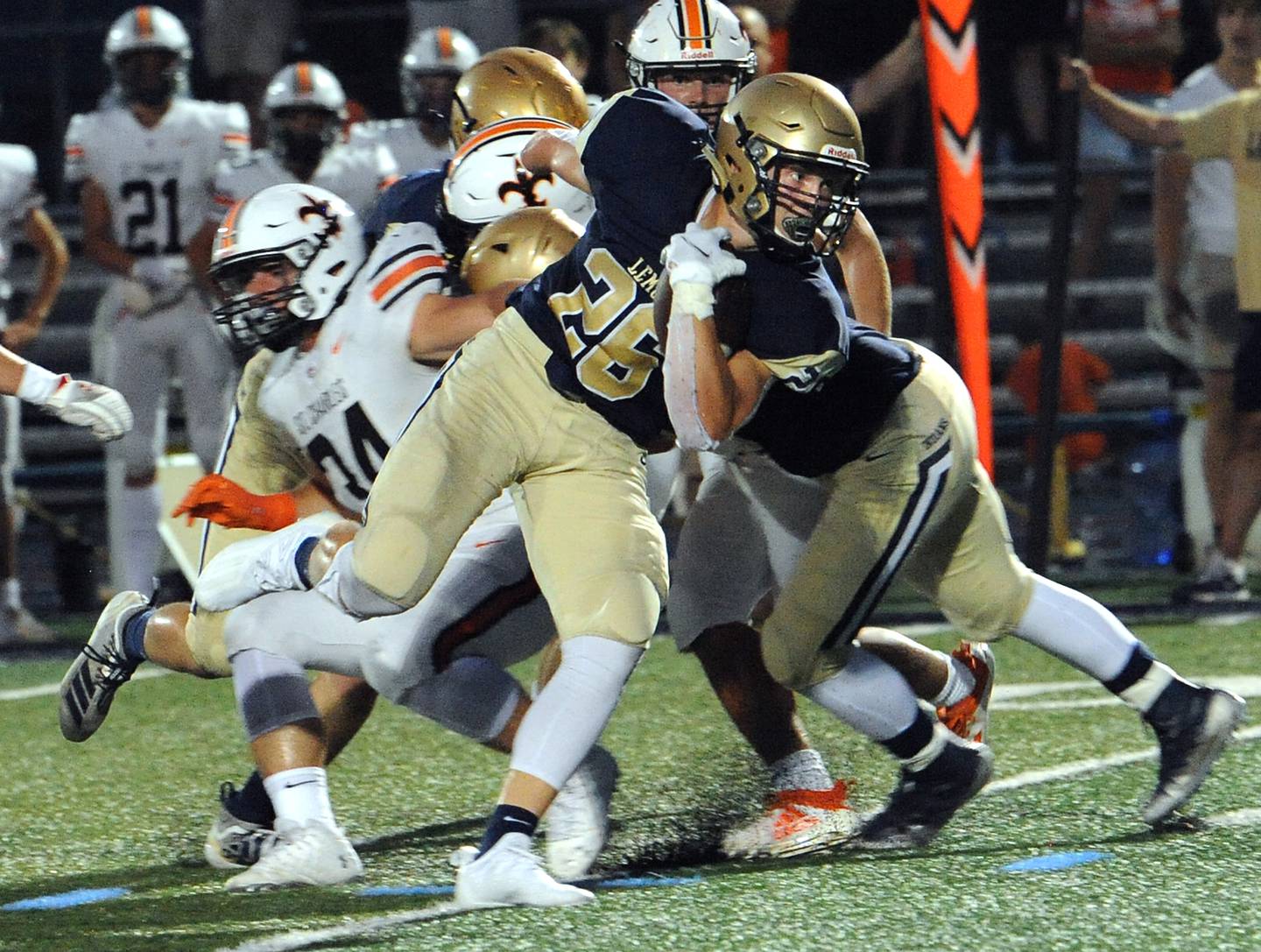 South Suburban Conference
Bremen (3-2) at Lemont (5-0)
When: 7 p.m. Friday
Last matchup: Lemont 45, Bremen 14 (2019)
About the Braves: Bremen might be one of the better second-tier teams in the South Suburban, but a matchup against Lemont is a significant step up. The two teams don't have any common opponents, but Bremen has squeaked out two league wins. They were handled pretty easily by T.F. South, while Lemont's South Suburban slate has been a breeze to this point.
About Lemont: Lemont hasn't played a game until now where the opponent entered with a winning record. But that doesn't mean Lemont is playing down to the level of its competition. Lemont has outscored its past three opponents, 139-19.
FND pick: Lemont
-- Steve Soucie
Metro Suburban Conference
St. Francis (4-1, 2-0) at Aurora Christian (4-1, 2-1)
When: 7 p.m. Friday
Last matchup: St. Francis 48, Aurora Christian 6 (Spring 2021)
About the Spartans: St. Francis has had a relatively stress-free couple weeks after playing a tough non-conference schedule, a forfeit win over Chicago Christian followed by a 51-0 victory over Thornridge in a game in which the Spartans' starters did not play much. A road game at Metro Suburban Red contender could provide a stiffer challenge, although that wasn't the case in the spring. Adam Criter and Tyler Bishop are among the skill-position standouts for a St. Francis offense that's averaged 40 points per game. St. Francis is ranked No. 4 in the latest Associated Press Class 4A poll.
About the Eagles: Aurora Christian bounced back from its only loss in Week 4 to Riverside-Brookfield with a 48-0 win over Chicago Christian. The Eagles have averaged just under 54 points per game in its four wins, but St. Francis provides a significant step up in class and certainly Aurora Christian's toughest test to date.
FND Pick: St. Francis
IC Catholic Prep (5-0, 3-0) at Wheaton Academy (4-1, 3-0)
When: 7:30 p.m. Friday
Last matchup: IC Catholic 43, Wheaton Academy 7 (2019)
About the Knights: The Knights are back in action after getting a forfeit win last week against Aurora Central Catholic. IC Catholic this week petitioned the IHSA to play up in Class 3A for the playoffs. This particular game should provide the Knights' toughest test in the Metro Suburban Blue, and likely decide who wins the division. Sophomore QB Dennis Mandala has thrown for 472 yards and six TDs on the season, completing 65.4% of his passes. Malik Gray has rushed for 342 yards and five TDs at 7.1 yards per carry. IC Catholic is ranked No. 3 in the latest Class 3A Associated Press poll.
About the Warriors: Wheaton Academy won its fourth straight game last week, 47-0 over Ridgewood. Peter Johanik, Ethan Brunner and Donovan Meeters all scored defensive TDs as the Warriors held Ridgewood to seven yards of total offense. Wheaton Academy last beat IC Catholic in 2009 while members of the Suburban Christian Gold.
FND Pick: IC Catholic
Westmont (0-5, 0-2) at Riverside-Brookfield (4-1, 3-0)
When: 7:15 p.m. Friday
Last matchup: First known meeting
About the Sentinels: Westmont forfeited its Week 5 game with St. Francis after dropping its first four games on the field. The Sentinels dropped those games by a combined margin of 152-22. It doesn't get any easier with a game at Riverside-Brookfield.
About the Bulldogs: Riverside-Brookfield has won three straight games after beating St. Edward 35-17 last week. Junior running back Ryan Novak ran for four TDs. The Bulldogs have averaged 34.3 points per game since being shut out by Wauconda in Week 2. A difficult closing schedule remains – games against IC Catholic, St. Francis and Bishop McNamara – but the Bulldogs can become playoff eligible with a win here.
FND Pick: Riverside-Brookfield
Upstate Eight Conference
Glenbard East (4-1, 4-1) at West Chicago (0-5, 0-5)
When: 7:30 p.m. Friday
Last matchup: Glenbard East 42, West Chicago 15 (2019)
About the Rams: The Rams had a rough go of it in a matchup of Upstate Eight Conference unbeatens, dropping a 41-7 loss to South Elgin. Glenbard East managed just six first downs and committed two turnovers, its lone TD coming on Demontay Mack's fumble return. A conference title is likely out the window now, but the Rams can become playoff eligible by taking care of business against winless West Chicago.
About the Wildcats: It's been a struggle in West Chicago this fall. The Wildcats have been outscored 240-13 and are coming off a 41-0 loss to Elgin.
FND Pick: Glenbard East
Glenbard South (4-1, 4-1) at East Aurora (3-2, 3-2)
When: 6:30 p.m. Friday
Last matchup: Glenbard South 34, East Aurora 21 (2019)
About the Raiders: Glenbard South is coming off a 34-7 win over Larkin. Sophomore receiver Cam Williams, who recently received his fifth scholarship offer from Illinois, had six catches for 104 yards and two TDs. Sophomore QB Michael Champagne also threw TD passes to Zach Blazek and Trevor Burnett, and Burnett also ran for a TD. Dominic D'Ambra is a stellar two-way standout for the Raiders, who can become playoff eligible with a win.
About the Tomcats: East Aurora has traded wins and losses this season, and is coming off a 24-17 win over Streamwood. The Tomcats with a win can match their win total from 2019, which was the program's most wins since the 2000 season.
FND Pick: Glenbard South