Cary-Grove quarterback Jameson Sheehan may not put up gaudy numbers every game, but his direction of the Trojans' triple-option offense has been remarkable.
The senior almost always makes the correct reads while spreading the ball around to backfield mates Nick Hissong, Wade Abrams and Drew Magel.
On Saturday, it was Sheehan's turn as he kept the ball himself more often and went to the air in the Trojans' 42-7 Fox Valley Conference victory over Prairie Ridge.
[ Cary-Grove's offense unstoppable again in win over Prairie Ridge ]
Sheehan's mastery demonstrated just how tough C-G, ranked No. 2 in The Associated Press Class 6A poll, can be.
Sheehan ran 10 times for 144 yards and three touchdowns and completed 6 of 8 passes for 108 yards and two touchdowns. The Trojans (5-0, 5-0 FVC) racked up 513 total yards against the No. 5 team in Class 6A.
"I feel like I've improved a lot at knowing the offense, knowing when to check out of plays and what play's good against what defense they're in," Sheehan said. "I feel like it's just confidence. I gained a lot more confidence. The mental side of the game. One of my goals is to gain coach [Brad] Seaburg's trust and have him know we're thinking alike."
The COVID-19 pandemic disrupted life in the spring of 2020 and brought sports to a halt for several months. While it was a hardship, Seaburg said many of his players used it as an opportunity, with Sheehan as one of the leaders.
"He came out of COVID a different player," Seaburg said. "Some guys went into COVID, people who were quarantined, and maybe took a step back and were looking for what they should do. Jameson had a mission, and he wanted to get better."
Sheehan and many of his teammates worked out hard and went outside for agility drills and offensive work.
"As a team, we all found ways to get ourselves better, to get on the field and work like our passing routes and O-line technique," Sheehan said. "We never made excuses. It was tough with the circumstances. We had the mentality of we still had a job to do, we have to execute."
Sheehan also worked with Jeff Christiansen's Throw It Deep Academy to improve his throwing skills. That work is evident with Sheehan's 78.3% completion rate (18 of 23).
Prairie Ridge coach Chris Schremp was impressed with what he saw from Sheehan on Saturday.
"He's a good-sized kid (6-foot-3, 190 pounds) who's a good, straight-ahead runner and can make something happen," Schremp said. "He can throw the ball, too. He's putting the ball into places where he didn't before. He's just gotten better. You expect that out of kids in programs like ours [and C-G's]."
Tight end Noah Riley has been Sheehan's favorite target and often can get open with so much attention paid to Hissong, the fullback, going up the middle, along with the outside threats Abrams and Magel present.
""Jame-O has so much power and accuracy in his arm," Riley said. "Whenever I turn around, the ball's always there. That's always good."
Seaburg rests easy knowing the offense is in good hands with Sheehan.
"He's a great player, and he deserves anything that he gets in the game," Seaburg said. "He's a hard worker. He's improved himself immensely in the offseason and he just had a great game."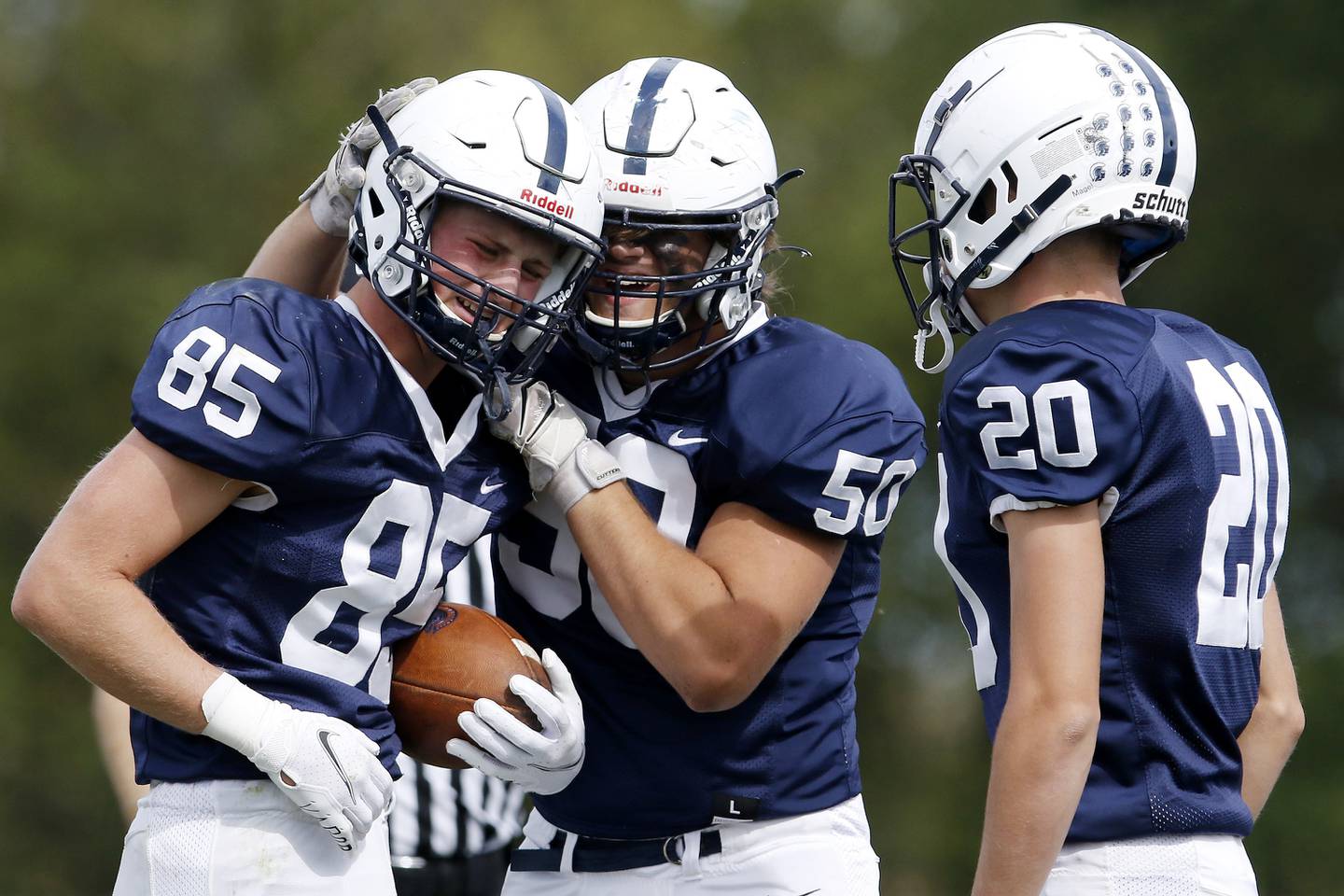 Unstoppable: For the record, C-G's No. 1 offense has scored on 17 of its past 19 possessions, counting one in which the Trojans got the ball on their own 39-yard line with 23 seconds remaining in the first half against Prairie Ridge.
The only other possession during that stretch when C-G did not score was its first second-half possession against Crystal Lake Central.
That is how efficient and devastating the Trojans' offense has been.
Better spot: Jacobs and Crystal Lake South each took a huge step to better their playoff chances by winning battles of 2-2 teams Friday.
Jacobs rallied in the second half for a 27-17 win over Huntley; South led all the way and beat Burlington Central, 44-26. Being 3-2 rather than 2-3 with four games remaining in a balanced conference feels a lot better.
[ Jacobs uses big fourth quarter to take down Huntley ]
"It keeps the momentum going," Jacobs coach Brian Zimmerman said. "Our goal is the playoffs. I told them we have to win this game, otherwise we're facing down some pretty tough competition coming up in the next few weeks.
"There's no identifiable team right now, everybody's kind of in that middle. Obviously, Cary's doing what Cary's doing, but I told them we have to separate ourselves from that [middle] pack."
Six FVC teams were tied for third heading into the weekend at 2-2. Hampshire and Crystal Lake Central were the others to move to 3-2.
Making progress: Huntley suffered a tough loss to fall to 2-3, but the Red Raiders could appreciate one aspect of their loss to Jacobs: the running game.
Running back Ryder Hunkins carried 23 times for 150 yards, the first 100-yard rusher the Raiders have had this season.
"We found our offensive line," Huntley coach Matt Zimolzak said. "Those guys are starting to work together. We've had them two weeks together. We got one senior in the group and two sophomores. They're young, but they're getting better. The last two weeks they've done really well for us."
The Raiders now have Luke Griskey, Vinny Tiberi, Josh Cornett, Jack Crudele, Ben Wiley and Eric Bower starting on the offensive line. Cornett and Crudele rotate at center; Crudele and Tiberi are sophomores.
Huntley has little room for error to become playoff-eligible at 5-4. The Raiders host C-G next week, then finish with Hampshire, Dundee-Crown and Crystal Lake South.
"We have to win," Zimolzak said. "We can't lose any more games. We have to get to the playoffs and do what we're supposed to be doing here."
Playing for pride: With his team eliminated from playoff possibilities, McHenry coach Jon Niemic exhorted his squad to finish the season strong after its 28-14 loss to Hampshire on Friday.
"The first thing we have to do is keep this [season] in perspective," Niemic said. "Football is the greatest game, and I want to make sure these kids remember that. Considering everything we dealt with during COVID, I don't want them to take the rest of the season for granted.
"We have four more weeks to play football together, and I want them to finish strong."
More than meets the eye: At 6-0, 170 pounds, Hampshire quarterback Tyler Fikis isn't exactly the most awe-inspiring physical specimen.
But Whips coach Jake Brosman just smiles when talking about his junior leader as he realizes the gem he has in his backfield.
"No, he's not big," Brosman said. "But ... he's a great player in all three facets. He's fast, he has great vision, and he's amazing at breaking tackles."
Fikis carried the ball 24 times for 182 yards in Hampshire's victory and took more than his share of hard hits from the McHenry defense. He credited his offensive line - Michael Freeman, Patryk Barnas, Ryan Miedema, Jackson Mitchell, Christopher Abihudi – along with tight end Nathan Vo, and the downfield blocking of running backs James Borgardt and David Kenny for making his job easier.
• Sam Natrop contributed to this report.