MENDOTA – Coming out of halftime, the Hall football team grabbed momentum in a big way.
The Red Devils intercepted passes on Mendota's first two drives, capitalizing on short fields both times to take a two touchdown lead.
However, the Trojans turned to their run game and scored on their next four drives to rally for a 43-34 victory Saturday in the first game between the rivals in a decade.
"Our guys played hard," Mendota coach Keegan Hill said. "The guys responded to adversity and stepped up when things weren't going our way. I think we grew as a football team."
Trailing, 14-12, at halftime, Hall's Denzel Sobin intercepted a pass on Mendota's second play of the third quarter to give the Red Devils the ball at the Trojan 17-yard line.
Hall converted the turnover into points when Mac Resetich plunged into the end zone from a yard out with 10:15 left in the third.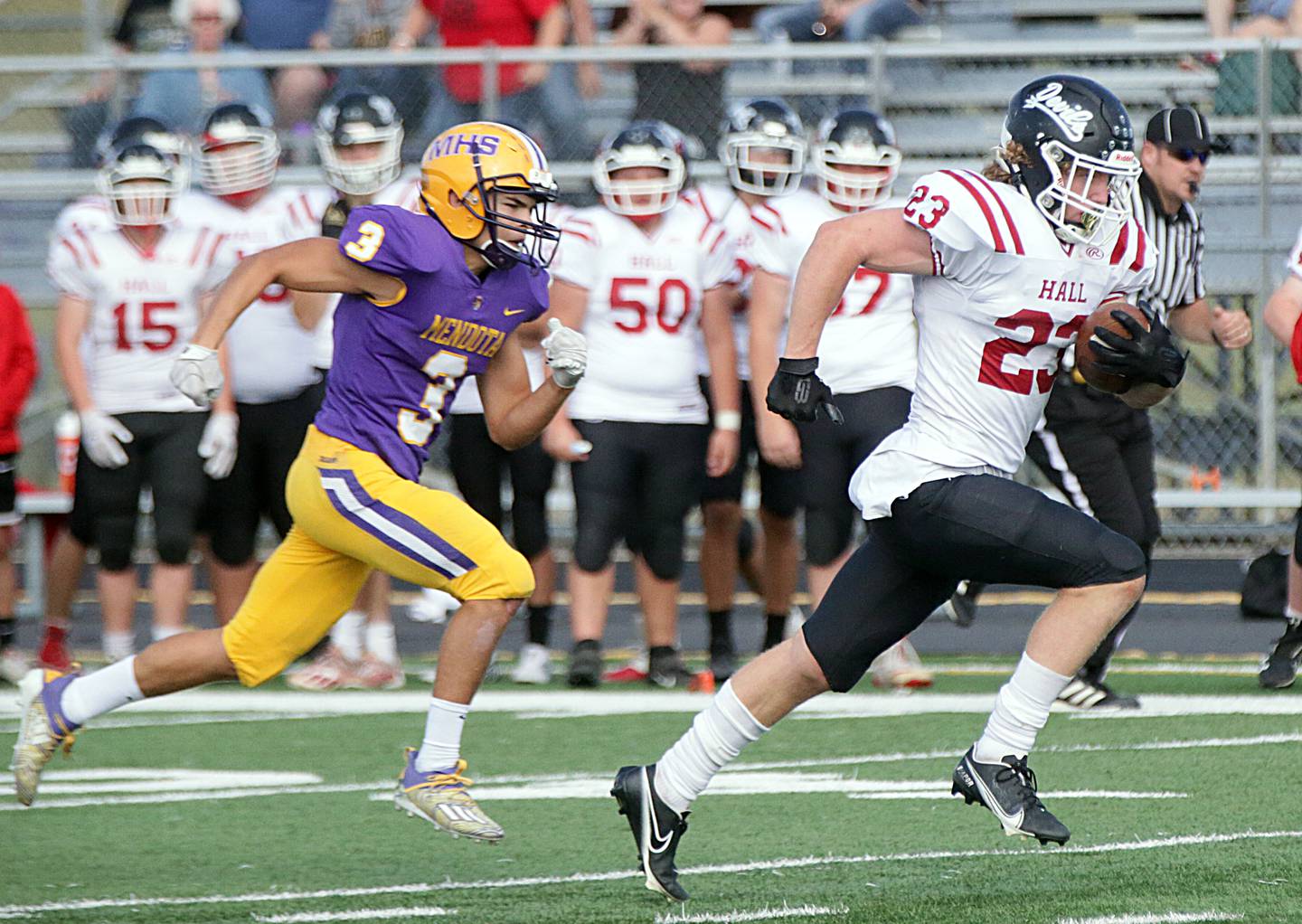 The Red Devils did it again on Mendota's next drive with Resetich picking off a pass at the Hall 5 and returning it to the Mendota 47 with a 15-yard penalty setting Hall up at the 32.
Six plays later, Gianni Guerrini scored on a 2-yard run to put Hall ahead 28-14.
"We have to do better with momentum," Hall coach Nick Guerrini said. "Good teams will go up like that. Great teams turn the afterburners on and go after it. I don't think we consistently go after it enough."
After back-to-back interceptions, Mendota (4-1, 2-1 Three Rivers East) abandoned its passing game and went after Hall on the ground.
After Emilio Perez returned the kickoff to the Hall 23, quarterback Ted Landgraf ran on all five plays, scoring on a 1-yard run with 3:35 left in the third.
Following a three-and-out, Uzi Angulo and Damien Magallanes ran the Trojans down the field with Angulo scoring from a yard out with 3.3 seconds left in the third to tie the game.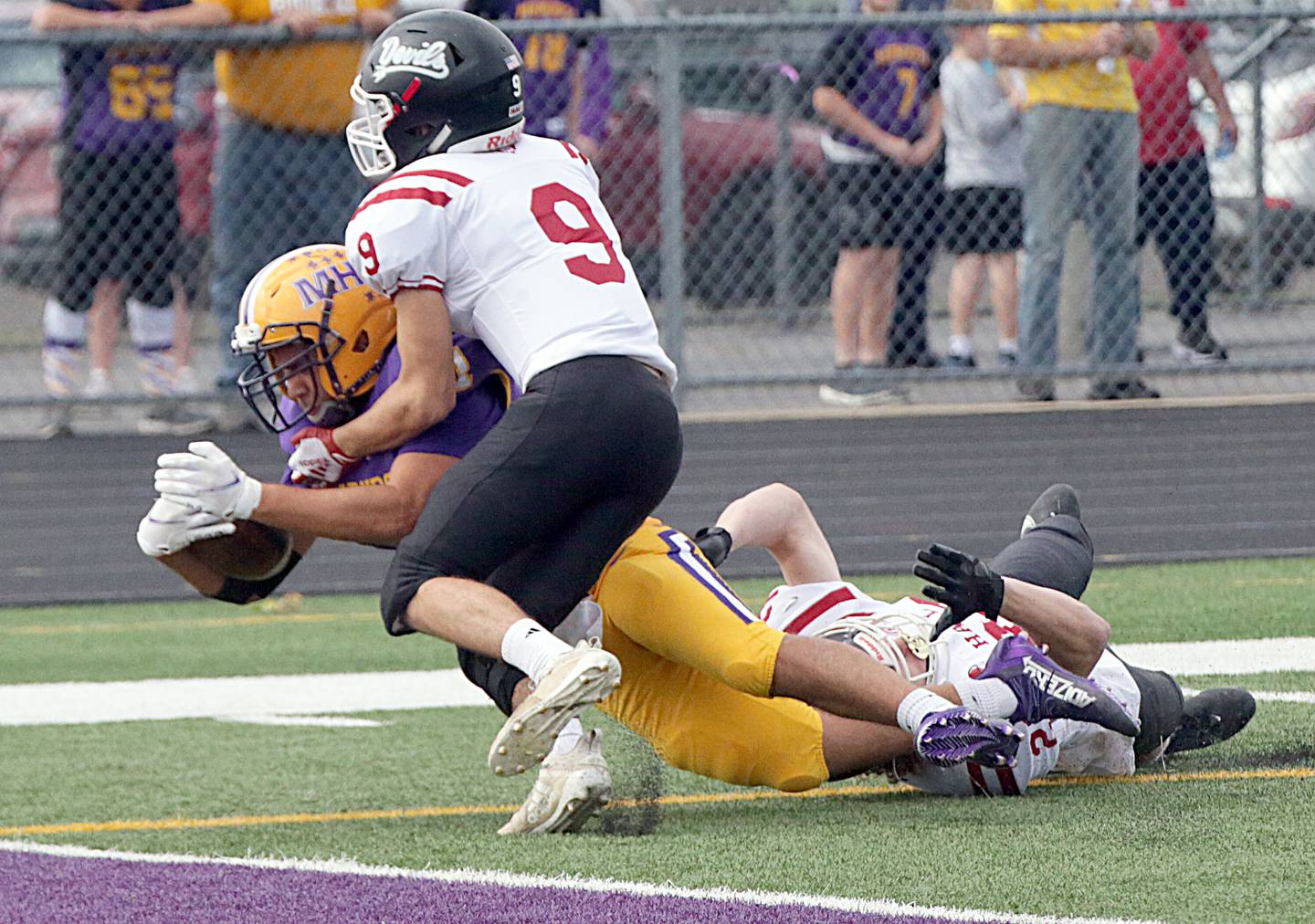 Hall botched the snap on the first play of the fourth quarter, and Mendota recovered to set up a 3-yard TD run by Magallanes to give the Trojans the lead for good at 35-28.
"We didn't get down on ourselves," Magallanes said. "At halftime, I've never seen the guys on this team more motivated to do something ever. I'm so proud of how everyone played the second half."
Resetich burst up then middle for a 49-yard touchdown to pull the Red Devils within a point with eight minutes remaining, but the Trojans stuffed the 2-point conversion.
Then the Mendota offense put the game away.
The Trojans marched 76 yards on 12 plays, draining about seven minutes off the clock, with Landraf scoring on a 1-yard run with 1:23 left. He then ran in the conversion to put MHS up nine.
Perez intercepted a pass on Hall's first play of the ensuing drive to secure the win.
"We just played ball control football," Magallanes said. "We didn't get our heads down. We needed to waste time and we did. We drove down the field really slow, we wasted a ton of time and punched it in at the end too. I love how that drive went. I don't think it could have went better."
After the two interceptions, Mendota did not attempt another pass while rushing for 226 yards.
Landgraf ran for 101 yards in the second half and finished with 162 yards and three touchdowns on 17 carries.
Angulo ran for 85 yards and a TD on 18 carries, while Magallanes finished with 84 yards and a pair of scores on 14 attempts, including several out of the Wildcat.
"We had an extra lead blocker in there to pick up the guy who was making the tackle every play," Magallanes said of Landgraf and the Wildcat. "It would give a big gap, and that's why we'd get so many big gains."
The first half was full of momentum swinging plays.
Mendota opened the game with an onside kick then scored on a 9-yard run by Magallanes.
Hall responded with a 61-yard TD run by Resetich – who finished with 157 yards and three TDs – before Dominic Guerrini intercepted a pass on Mendota's next drive to set up his own 1-yard TD.
The Red Devils (1-4, 0-2 TRC East) blocked a punt but their ensuing drive was stopped on fourth and goal.
Mendota then drove 95 yards on 12 plays with Landgraf scoring on an 8-yard run with 38.5 seconds left in the half.