OTTAWA – The Marquette Academy football team is a runaway train right now, and Tom Durdan is the engineer.
The junior tailback was as unstoppable as the rest of the MA offense, himself rolling up over 400 yards of total offense and five touchdowns to lead the red-hot Crusaders to a 62-42 victory over Chicago Hope Academy in their return to Gould Stadium in Ottawa on Friday night.
Durdan finished the night with a whopping 28 carries for 291 yards rushing and two TDs, added another 114 yards and three scores receiving, and defensively intercepted two passes and recovered an onside kick. That is what most anyone would consider a career night, but he was not alone in shining for the Marquette attack that led to their fourth win in five contests.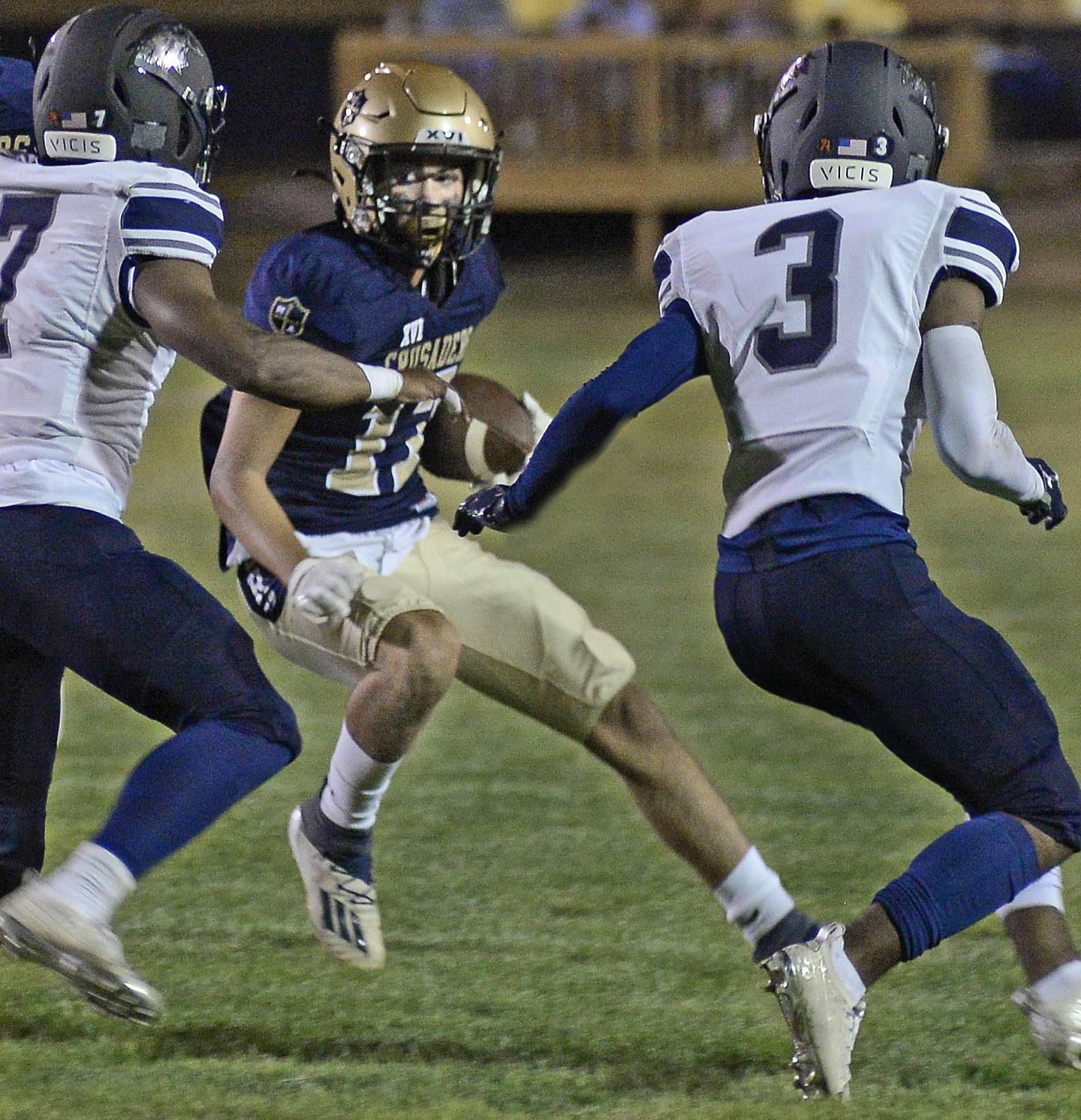 Freshman Julian Alexander finished with nine attempts for 126 yards and three scores and junior Jurnee Reed contributed 15 tries for 104 yards as the Cru covered 513 yards overland on the night. Junior quarterback Alex Graham added another 143 yards through the air for the rest of the home team's 656 yards of offense against a bigger, faster and every bit as young now 3-2 Hope squad.
"It was a good night for Tommy, the backs did a good job, the line did a good job. It was a good night for everybody," said Marquette coach Tom Jobst. "The kids played hard and neither one gave up, going back and forth. We knew Hope would break something, they're a great team and they never quit, but we made a couple of big plays and that made the difference.
"Against a team that's beaten some really big schools, for us to come out and play the way we did tonight really says something about us."
While the Eagles would never quit, practically matching the Cru score for score until a Durdan pick set up back-to-back Marquette scores early in the fourth quarter. But every time the hosts needed a few yards to keep a drive going to answer touchdowns or run out the clock, it was Durdan time.
"There were a lot of good blocks, a lot of good holes, a lot of green grass in front of me, but you get so wound up in the plays, you don't really know what you're doing overall. You just take one play, then another," said Durdan, who also had a five TD game in Week 2 against Palos Heights Chicago Christian. "Jurnee, Julian and Alex had good nights, too, so all the credit goes to the offensive line. They set the tone up front and kept it going all night."
After a fumble recovery by Brady Ewers, Durdan and Graham opened the scoring with an 11-yard TD strike and Sam Mitre added one of his six PAT kicks on the night.
True to form, Hope answered with a 20-yard run by quarterback Eddie Jenkins, then followed up a five-yard Durdan score with a 70-yard kickoff return by Tavaris Harris. But Durdan's first pick of the game with 57.2 seconds left in the half set up his own 20-yard scoring catch from Graham with just 12 seconds left for a 21-13 MA edge.
The Eagles got scores from Jamari West and JaMarkus Lofton in response to two TDs by Alexander, a 29-yard catch and a 33-yard run to make it 33-28 MA through three quarters. But in the fourth, Durdan was at his best.
His finger-tip grab of a 51-yard strike from Graham widened the gap, then after his second INT of the game, Graham drove in from four yards away to make it 48-28 Cru.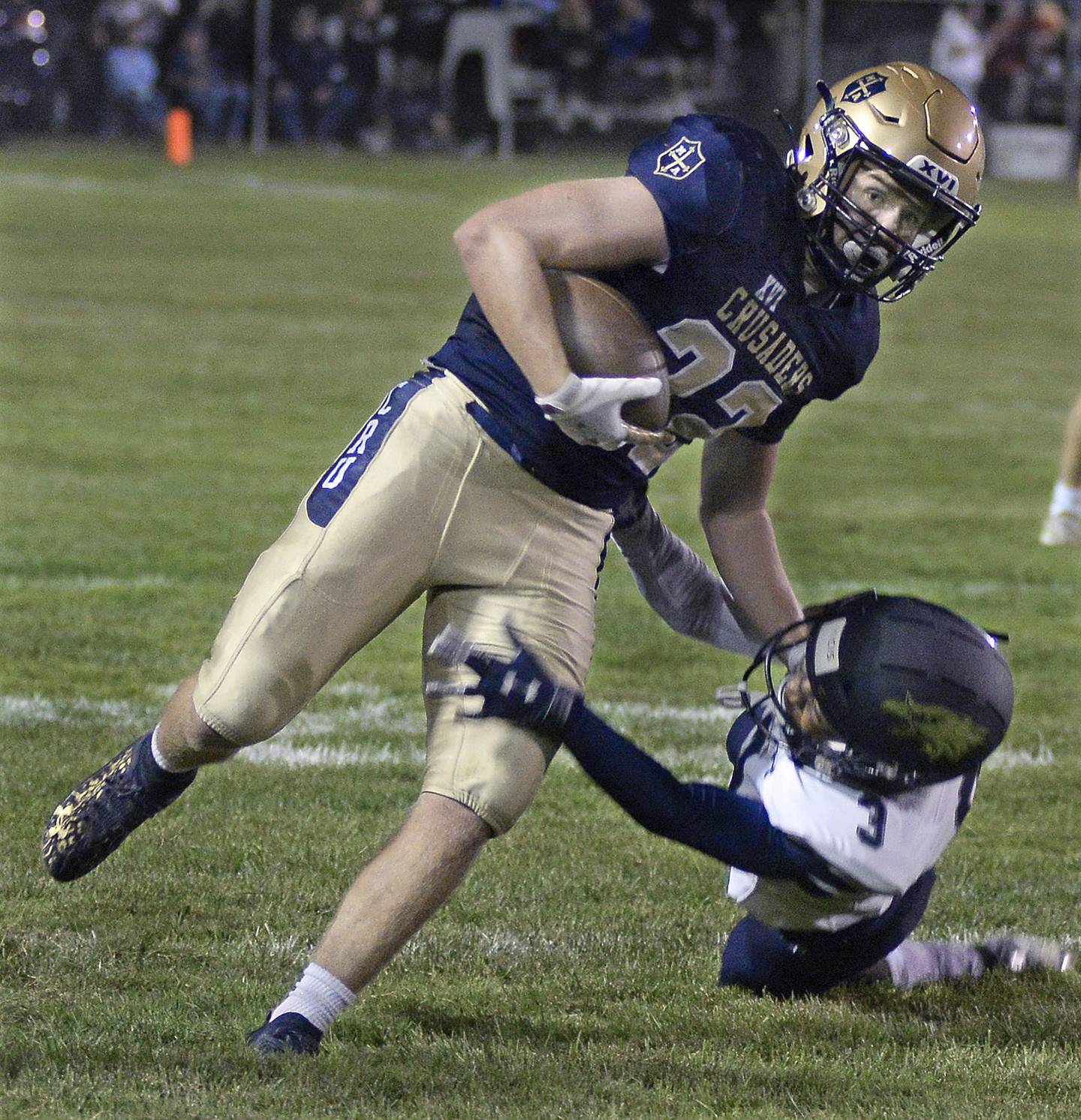 Though Hope would add two more scores, a 40-yard touchdown by Durdan and another 33-yard jaunt from Alexander capped the Marquette scoring.
"That No. 5 (Durdan), he's a really good player. I could see him playing at the next level one day," said Hope coach Chris Mallette. "Our kids fought hard, didn't give up and I know they're a little disappointed right now, but that's why we play the game. We had a lot of mistakes from the get-go, but we knew this would be tough. I don't care if people are saying Marquette is down or whatever, I don't understand how that is not a top 10 team in 1A. It's a great football program in a great football town."