STERLING – Newman's defense kept coming up with stops, with the exception of a quick-strike Bureau Valley drive in the fourth quarter and a drive on a short field in the first quarter as the Comets beat the Storm 26-14 on Friday.
Newman held the Storm to 15 or fewer yards on seven consecutive drives in between, building a three-score lead in the process.
"Defensively we did pretty good," Newman's Ethan VanLanduit said. "Our punter pinned them deep twice and our defense really stepped up, filled holes, did our responsibilities and played physical."
Bureau Valley's defense made a few early stops as well, holding the Comets on the first drive, recovering a fumble on the third, and forcing a three-and-out late in the second quarter.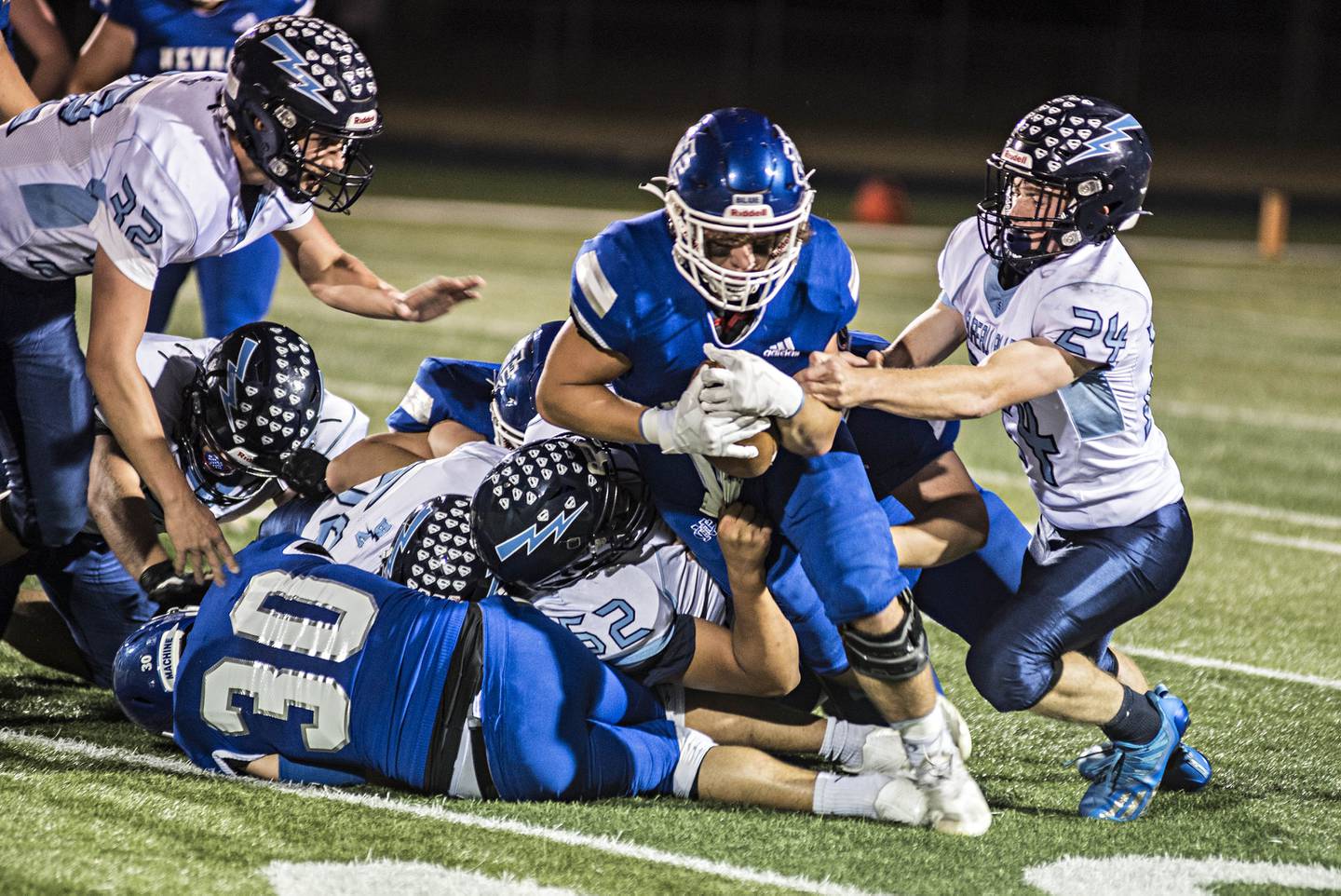 But Newman (3-2) also put together some classic Blue Machine drives. A 15-play, 65-yard drive ate up much of the first quarter, and much of the fourth involved a 12-play scoring drive which started in Storm territory.
"We took a couple hits, but after that we regained our focus," VanLanduit said. "Our line blocked their [butts] off and our backs hit the hole hard and we were able to drive the ball down the field.
"We've been preaching that all year. We've had a couple the first few weeks, but nothing like that and I'm proud of my guys for being able to do that."
The Storm (2-3) took advantage of a bad snap on a punt to score first. The snap sailed over the head of Comets punter Jacob Donald and he was able to cover the loose ball, but it went for a turnover on downs at the Newman 10. Two plays later, Levi Hardy dove into the end zone from a yard out.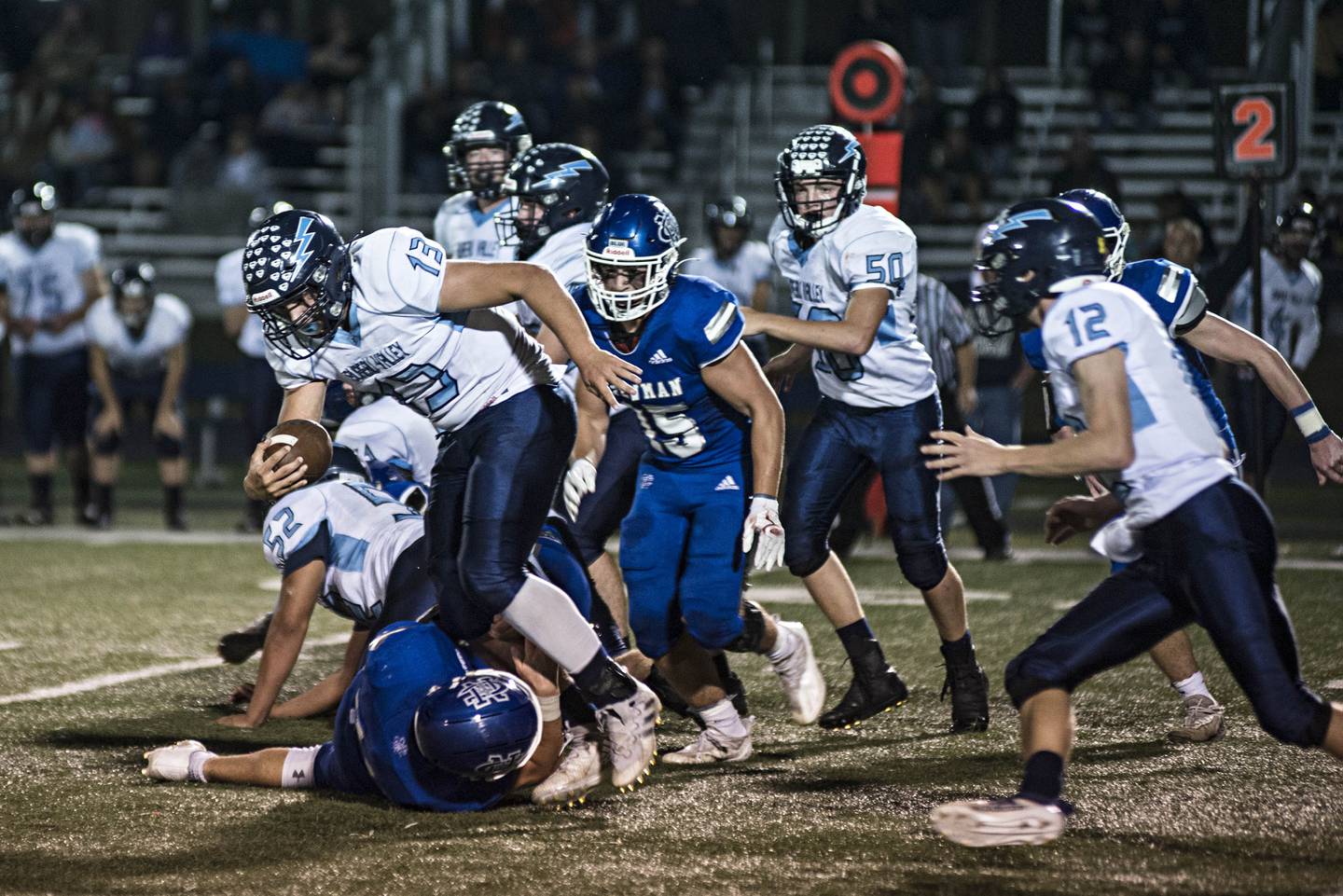 "You always want to come out and do something early that really lights a fire underneath everybody," Bureau Valley coach Mat Pistole said. "But credit to Newman for coming back and not letting that get them down."
The Comets answered with a drive lasting 8 minutes and 45 seconds, capped off by Hunter Luyando's touchdown.
Newman took the lead in the second quarter after a short Bureau Valley punt gave the Comets the ball in Storm territory, and two plays later Luyando raced up the middle for a 32-yard score to make it 14-7 Newman.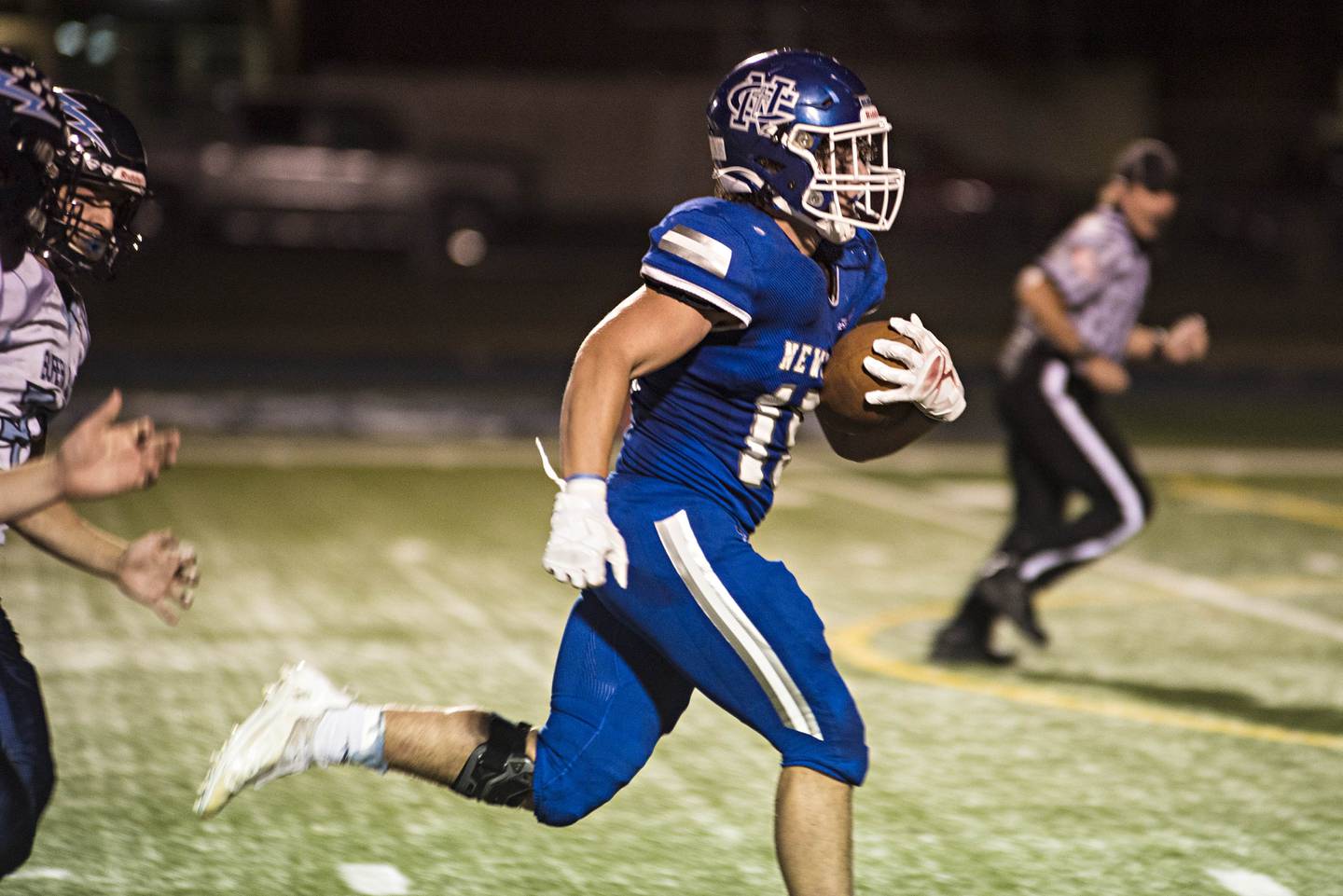 "It was just open field," he said. "Our line did a great job, and I think it was Nolan Britt lead-blocking for me and he caught one of the defenders really well and it was just a straight shot up the middle."
Newman added to the lead in the second half with an eight-play, 40-yard drive capped off by a 7-yard Gabe Padilla touchdown.
VanLanduit then capped the Comets' scoring with a 1-yard plunge to finish a drive which burned more than seven minutes off the clock.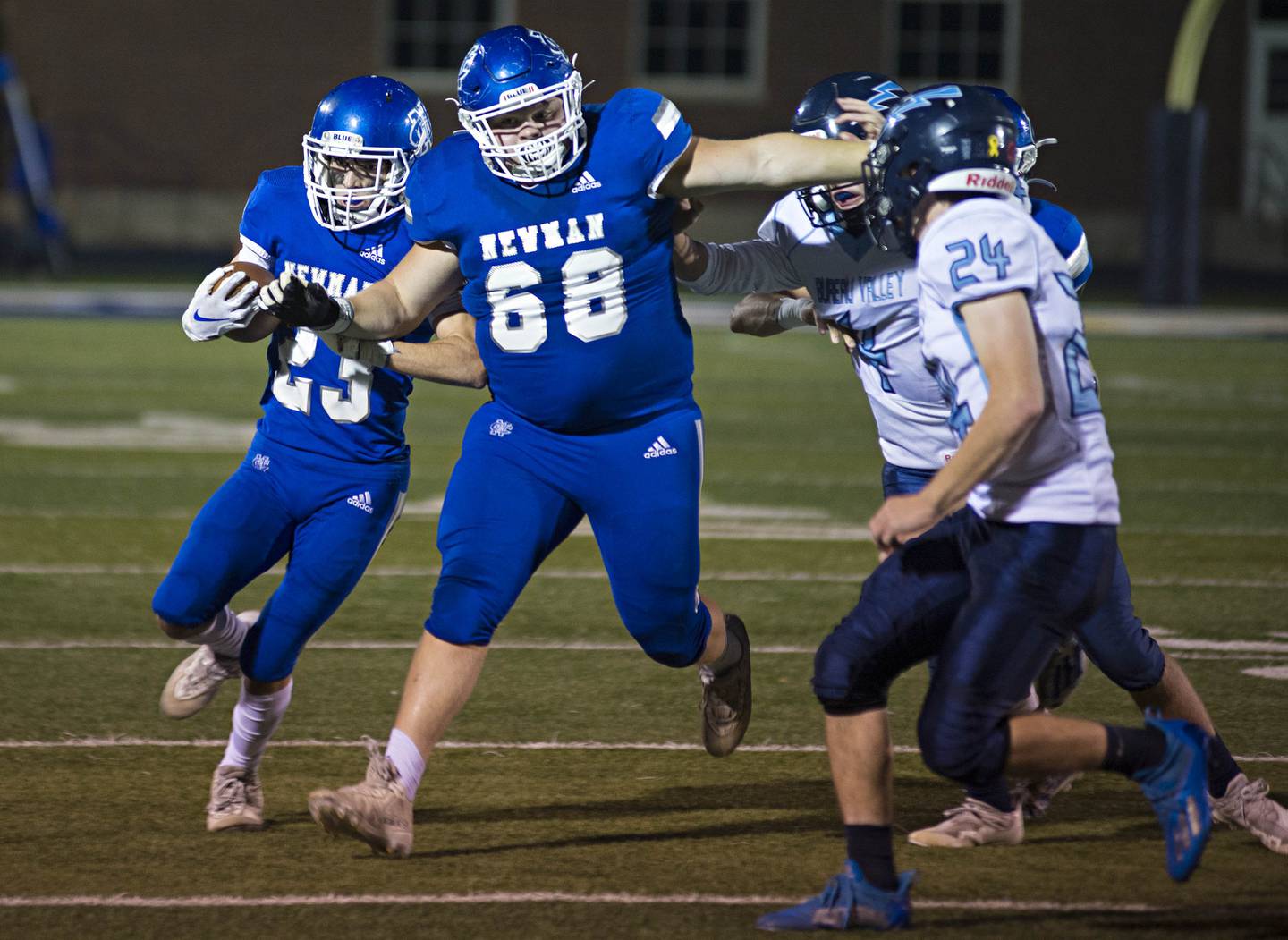 Bureau Valley answered with a quick two-play drive, Adam Johnson hitting Jaden Michlig and Isaac Attig on back-to-back passes, the one to Attig going for a 17-yard touchdown.
Bureau Valley had a chance to add to it on the final drive as Johnson hit a quick pass to Attig for a first down, then scrambled for another. But a fumbled snap, a penalty and a sack by VanLanduit pushed the Storm backward and ran out the rest of the clock.
"They're really good players, they're well-coached and they do things the right way," Pistole said. "They executed better than we did, and that was the difference. We felt we had a good game plan. The kids played their rear ends off defensively. We just didn't execute well enough offensively to hang with a well-coached team like that."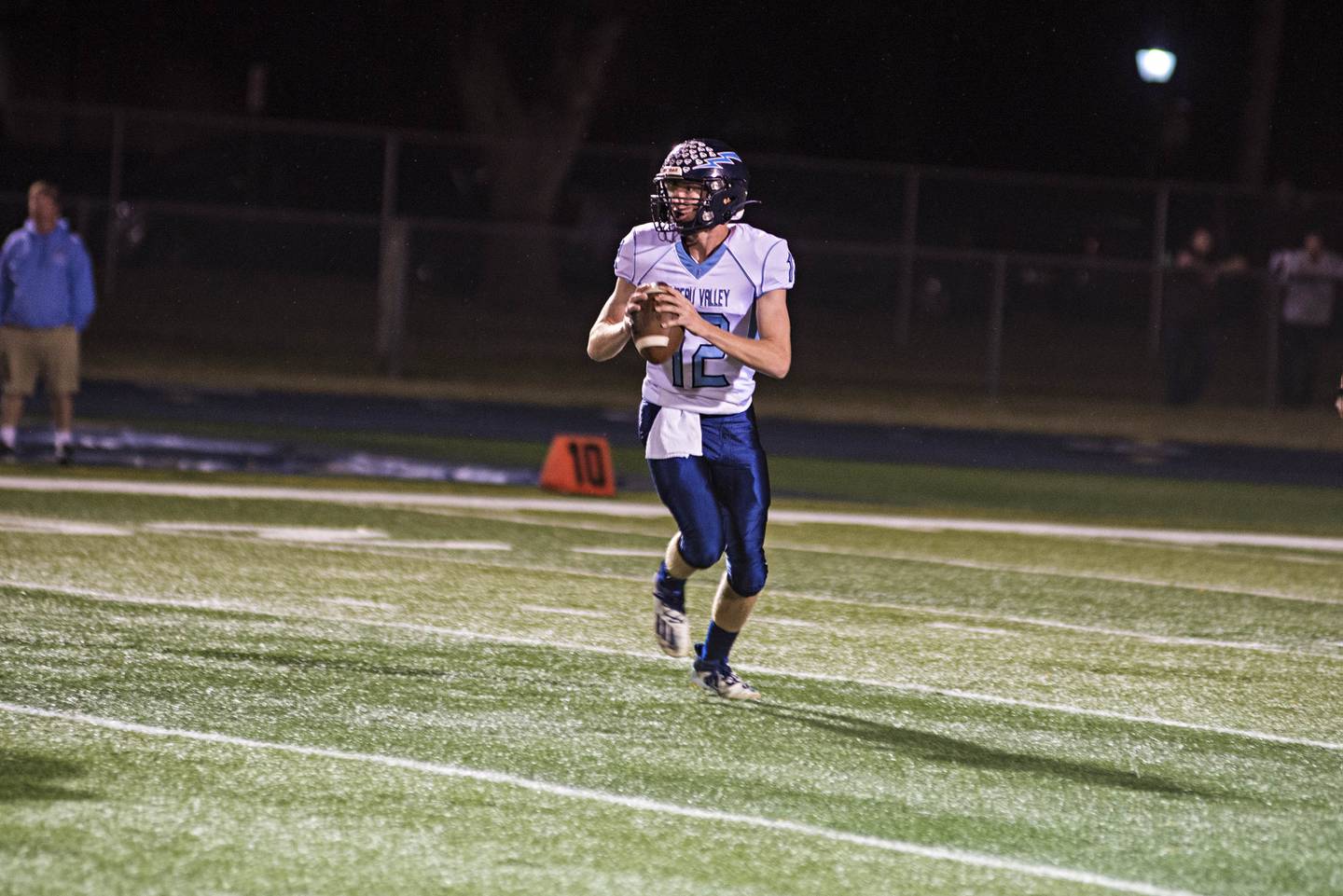 Both teams had missed chances in the first half. Newman got into Bureau Valley territory on its third drive but fumbled, with Bureau Valley's Nevin Bolin recovering.
The Storm, going for it on fourth-and-inches in the second quarter, got stopped for a loss. Through two quarters of football, Bureau Valley had 43 yards of total offense, all on the ground.