MILLEDGEVILLE – The points have been racking up quite a bit lately for the Milledgeville Missiles, and they continued their offensive onslaught Friday evening at a wet and slippery Floyd Daub Field.
Alden-Hebron was no match for the Missiles, who cruised to a 46-16 win.
Milledgeville (4-1) led 46-0 at halftime. They held the Giants to 16 yards of offense in the first half while amassing 215 of their own in that span. In their last four games, the Missiles have outscored their opponents 194-36.
Hebron's first drive went backward, as Eric Ebersole took down Thomas Webber on first down and Blake Schurman stopped Webber for a third-down loss. After the Giants punted away, Bryce Aude took the return 39 yards into the red zone, and Connor Nye punched in a score from a yard out with 8:11 to play for a 8-0 lead.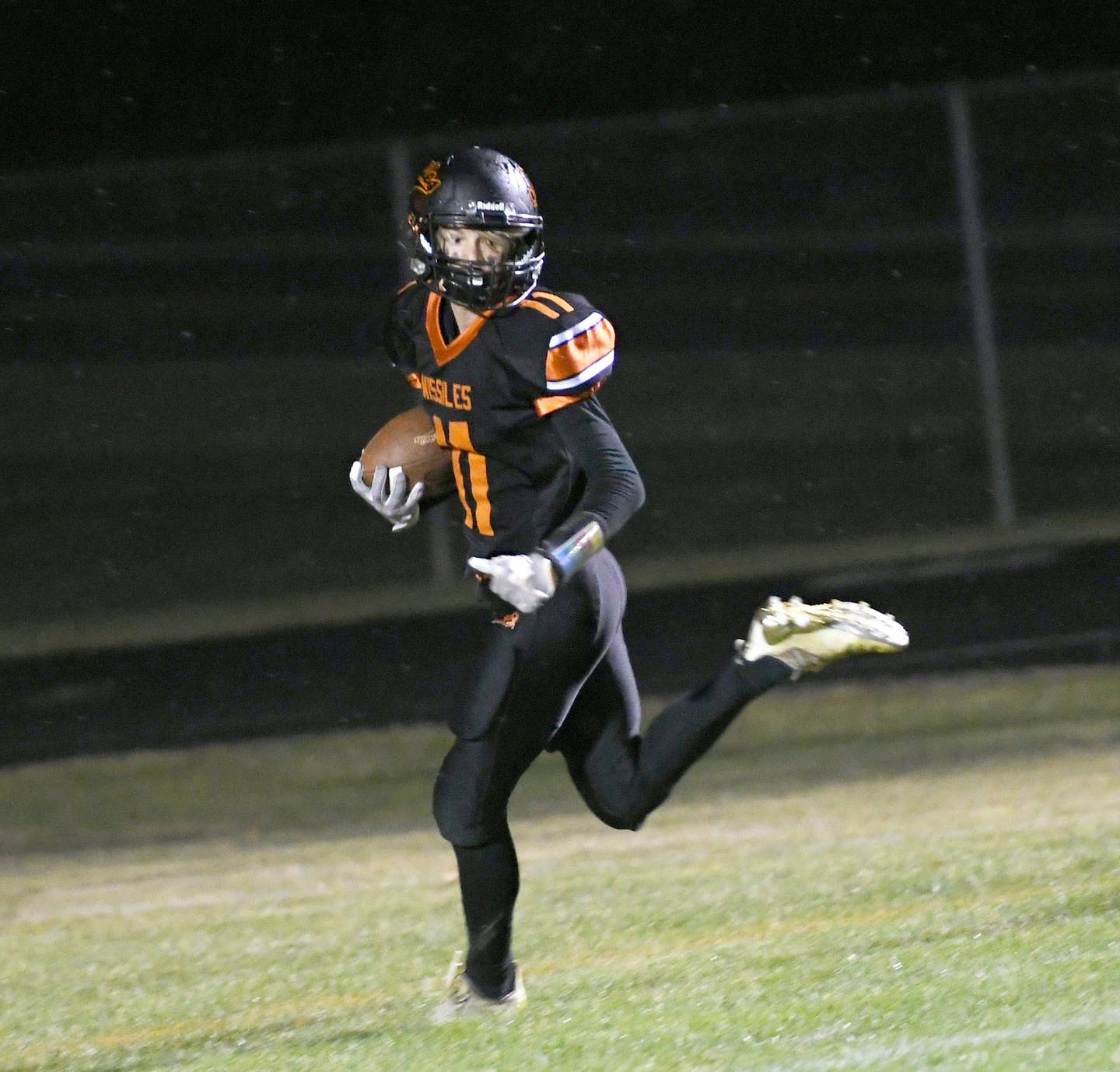 The opening score was Nye's first of four TDs in the first half. The Missile sophomore threw a 52-yard scoring strike to Aude for the second touchdown, and he worked with Izaac Toms-Smith for a bit of trickery for the fourth TD. On that play, Nye pitched to Toms-Smith, who then threw back to Nye for an 8-yard score.
"We accomplished everything we wanted to," Nye said. "We tackled hard. We did everything we wanted to do. We did really well tonight. I'm proud of our guys."
Nye added a 1-yard score in the second quarter. Ashton Nobis added first-half scores from 11 and 32 yards out, and Aude returned a punt 99 yards for another score. The game was a chance for the Missiles to find and make any tweaks before a tough second half of the season.
"We picked up on the little things," Ebersole said. "The last couple of weeks we had some easy wins, and we could develop some bad habits. It's important to fix those things before going into a bigger week."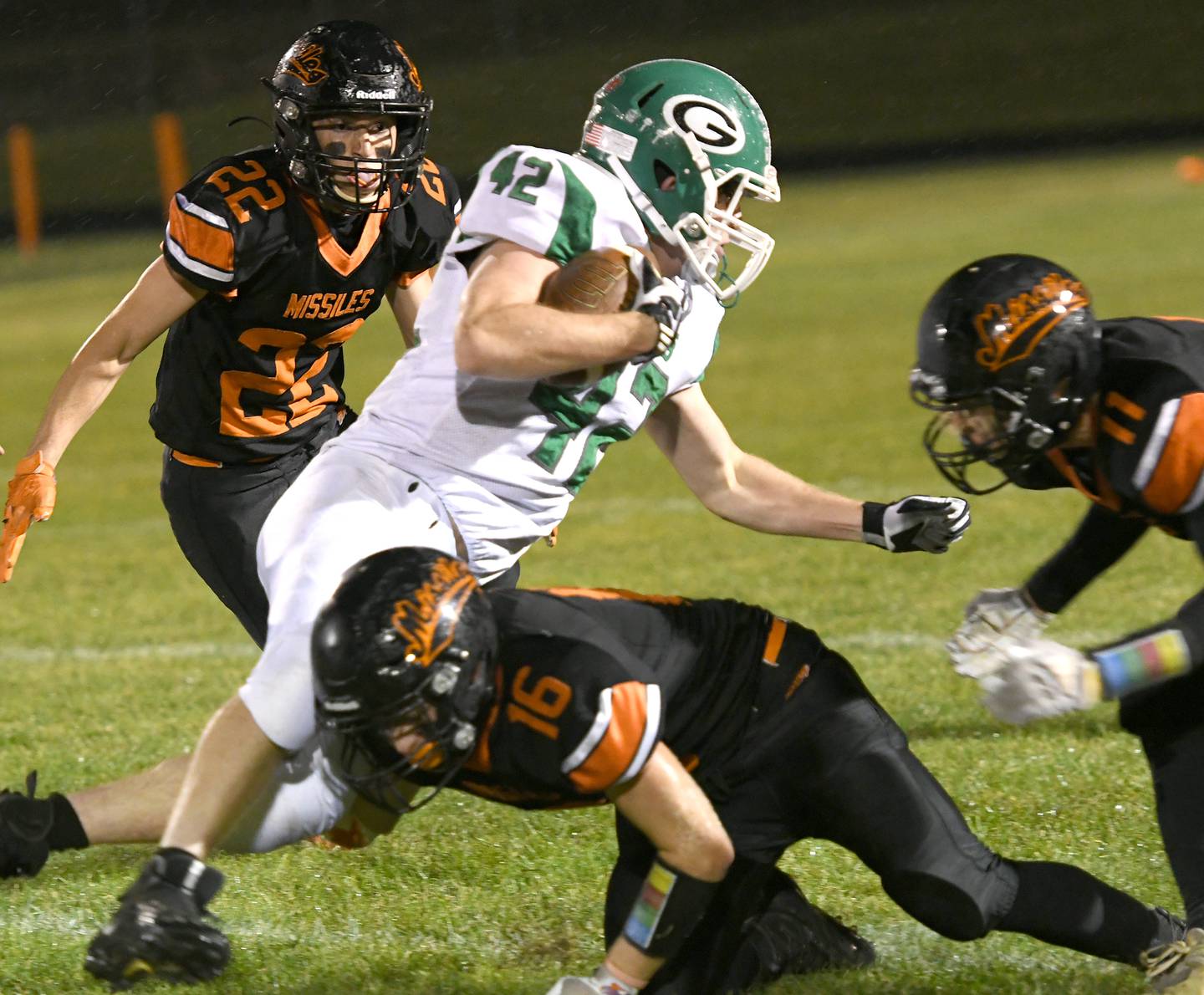 Alden-Hebron (1-4), a week removed from its first win of the season against Sciota West Prairie, tacked on its touchdowns during a running-clock fourth quarter. Tyler Cunningham scored from a yard out with 6:35 left in the game, then Giants quarterback Ben Vole connected with Elijah Vogrinc for an 87-yard TD completion in the final minute.
"We're a young team," Alden-Hebron coach Tim Oman said. "We've got two seniors and five sophomores that start, and one junior that starts, so it's tough when you've got a young team to play a good team like this. Jason [Wroble] does a great job with the program here, and Milledgeville has a history of being a great program. They're a strong team."
The Missiles have won four in a row since a close season-opening setback against rival Polo, and enter the second half of the season against tough competition. Three of their next four opponents came into Friday with a 10-2 record; the other team is winless AFC, whom Alden-Hebron takes on next week. The Missiles host unbeaten Orangeville next week; the Broncos play their Week 5 game against South Beloit (3-1) on Saturday.
"I thought we did a nice job on all phases of the ball against them," Missiles coach Wroble said. "We've had good punt returns this week, and that put us in a good position. Our offense, when they had the opportunity, they made some nice plays.
"We've got Orangeville and Aquin with two tough weeks coming up. We want to see how many steps up we've taken."