KEWANEE – Princeton senior Logan Glancy and a few teammates stood on the field and solemnly watched Kewanee celebrate its 49-21 win over the Tigers on Friday night.
The Tigers wanted to soak it in and watch the Boilermakers' celebration, because they don't want to let it happen again.
"It definitely was [important to watch]. Put some light [on things]," Glancy said. "Obviously being 4-0, we thought we were top dogs. 4-0 and 4-0 clash, thinking we were going to come in here and beat them. Shed some light."
Kewanee improved to 5-0 for the first time since 1999, while the Tigers, ranked No. 2 in Class 3A, lost for the first time this season.
"Hats off to Kewanee. They played a heckuva football game. They earned the win," PHS coach Ryan Pearson said. "We knew Kewanee was going to be a heckuva football team. But when you play a good team, you can't shoot yourself in the foot as many times as we did.
"You can't give up a blocked punt, you can't give up as many turnovers as we did. I could go down the list. You just can't do that against a good football team, and they made us pay."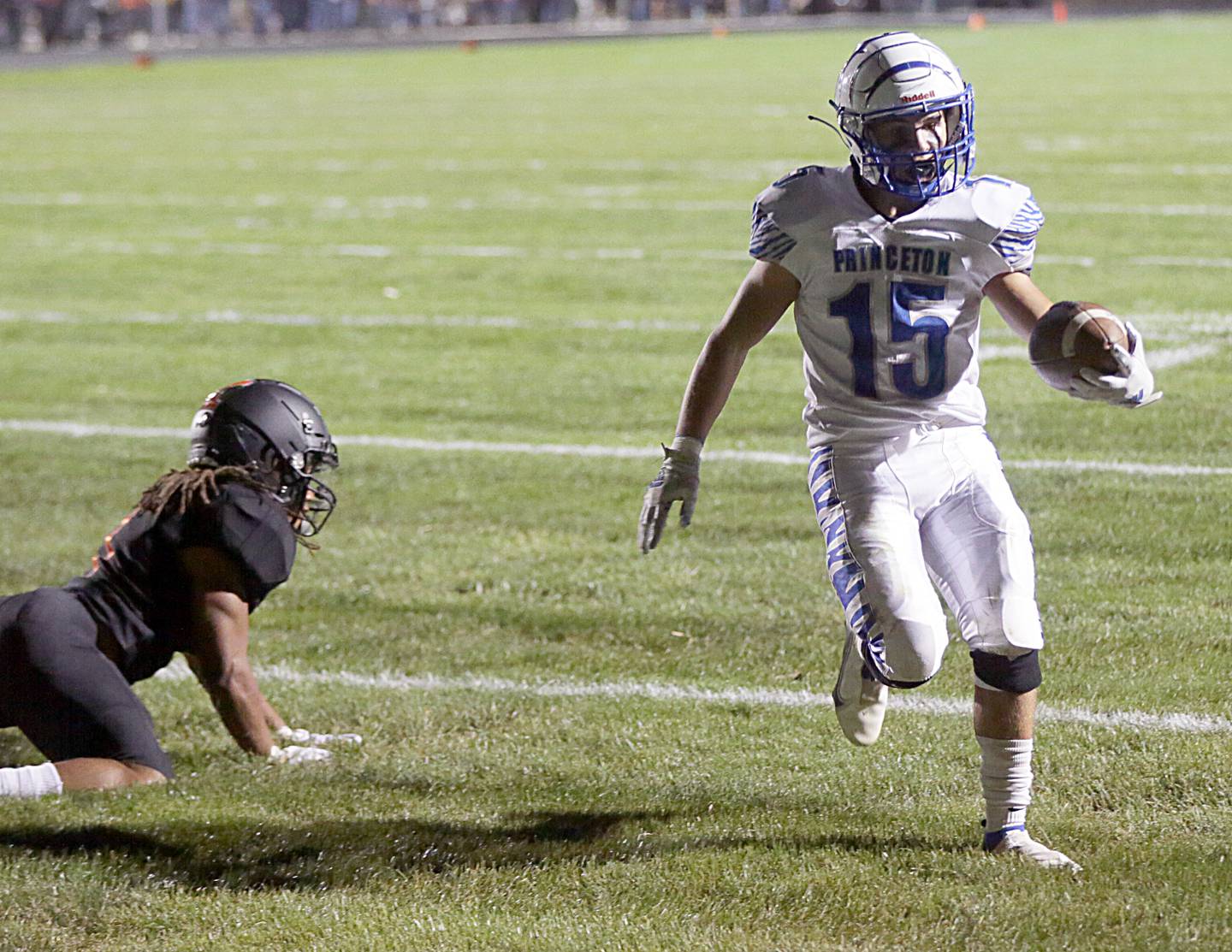 The Boilermakers scored two touchdowns in the final two minutes of the second quarter to go up, 28-21, at halftime, the first time the Tigers have trailed at the half this season.
Kewanee simply dominated in the second half, scoring on a 16-yard touchdown pass from Will Bruno to Jordan Johnson and going on to outscore the Tigers 21-0 the rest of the way.
"Coming out of halftime, that was really stunning when they scored that quick touchdown, that fade touchdown," Glancy said. "When a play like that happens, it hits crazy. The momentum starts sweeping to the other team, and it's hard to come back from that.
"It's really, really shocking for those plays to happen. To see the [final] score, it was the shock we need to move forward."
Pearson told his team it would have to learn from its failures.
"You learn more from your failures than you ever do your successes," he said. "All we can do is regroup and come back Monday and work to correct the mistakes we made tonight, and now we go right into another good football team, Sterling (Newman) at home.
"I think our kids are extremely resilient. They've very hardworking kids. I fully anticipate these guys coming in with a new focus on Monday and going right back to work."
Glancy said it's important for the Tigers to learn from the loss if they want to move forward.
"We just have to fix our mistakes and go from there. Hit the film board on Monday and just see everything that we did," he said. "We didn't execute at all. It's not just on one person, it's on everybody. And going forward, we're going to learn a lot from this failure. Sometimes it's better to fail than win.
"This reminds me of my sophomore year when we lost to Newman second game. That made us an entirely better team. I think this is the same scenario. We're going to come out of this (ticked) off, ready to go and get ready for a Newman home game."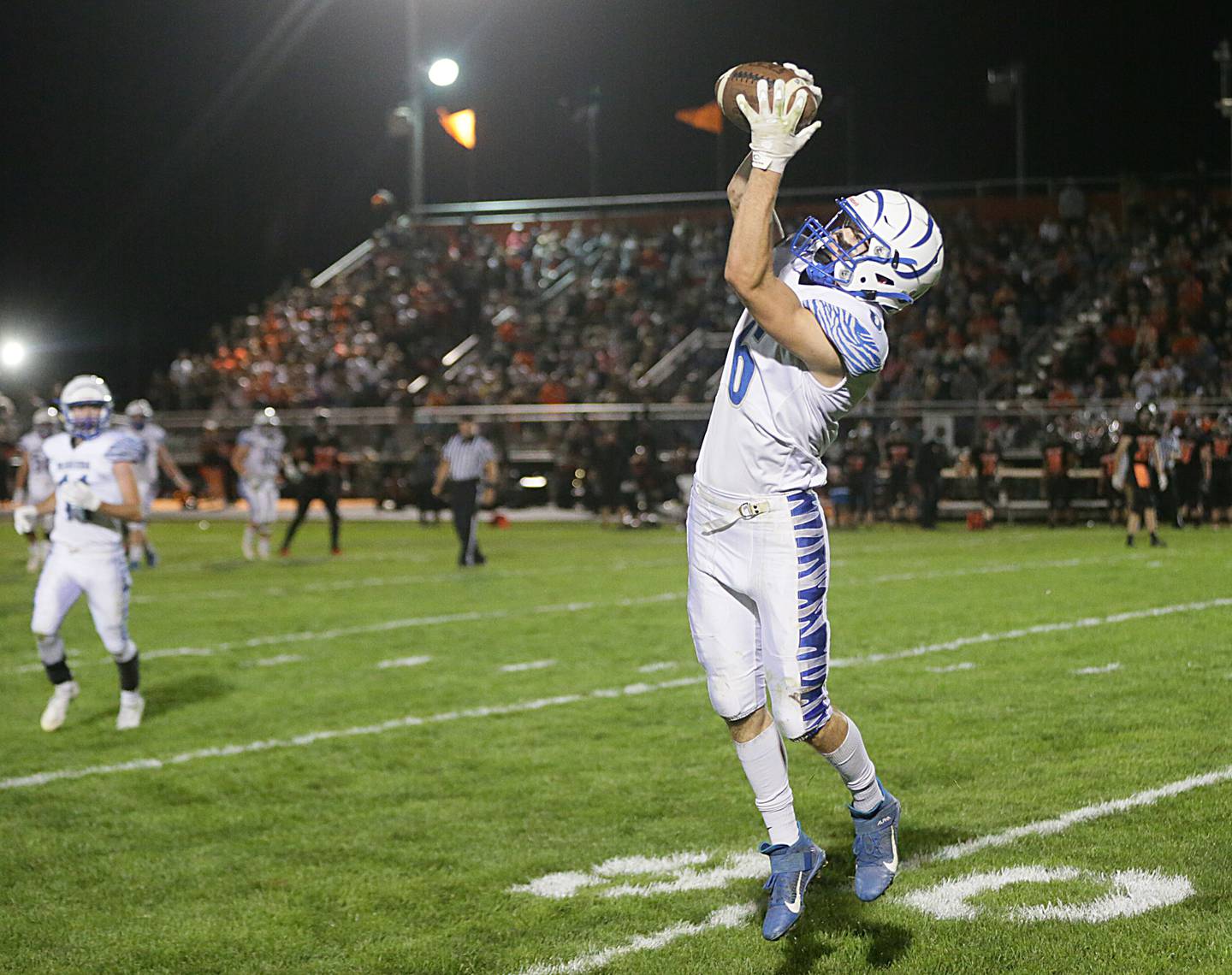 The first half was a real shootout, with the longtime rivals trading blows.
The Tigers struck first with a 72-yard touchdown pass from Teegan Davis to Bennett Sierens on the second play of the game. Augie Christiansen scored on a 2-yard run to the left edge to give the Tigers a 14-7 lead at the end of the first quarter.
Niko Powe, whose father was on Kewanee's 5-0 team in 1999, scored on a scoop and score off a block punt for a 17-yard touchdown return to tie the score at 14 at the 9:55 mark in the second quarter. Keyontiss Patterson scored his second touchdown of the half, a 1-yard run with 1:42 to play to put Kewanee ahead, 21-14. The Davis-Sierens duo hooked up again for a 49-yard score with 1:15 left in the half to tie the game at 21.
Kewanee got that score right back on a 2-yard TD pass to Johnson with just 26.5 left in the half.
Davis and Sierens came up about 5 yards short of the end zone on a reception as time expired in the half. They would connect for six receptions and more than 170 yards.
Patterson and Johnson each had two touchdowns for Kewanee.