AURORA – The Southwest Prairie Conference West football game Friday, Sept. 24, between Oswego East and West Aurora was irreversibly altered by a single second-quarter play.
West Aurora seemingly was on the verge of breaking a scoreless tie as it called its second-and-goal play from the Oswego East 7-yard line.
But the Oswego East defense would put its ultimate stamp on a 27-7 victory in Aurora moments later, as Juny Almeida scooped up a fumble of an attempted lateral pass and raced 78 yards for the first of two team defensive scores.
"I had a pick six two weeks ago (against Plainfield East) but it was called back," Almeida said. "Our coaches called some nice blitzes."
The Wolves' front three, anchored by nose guard Dylan Crawford and ends Roman DelaRosa and Mekhi Fikremariam, caused havoc all night for West Aurora junior breakout quarterback Gino Martino and his offensive teammates.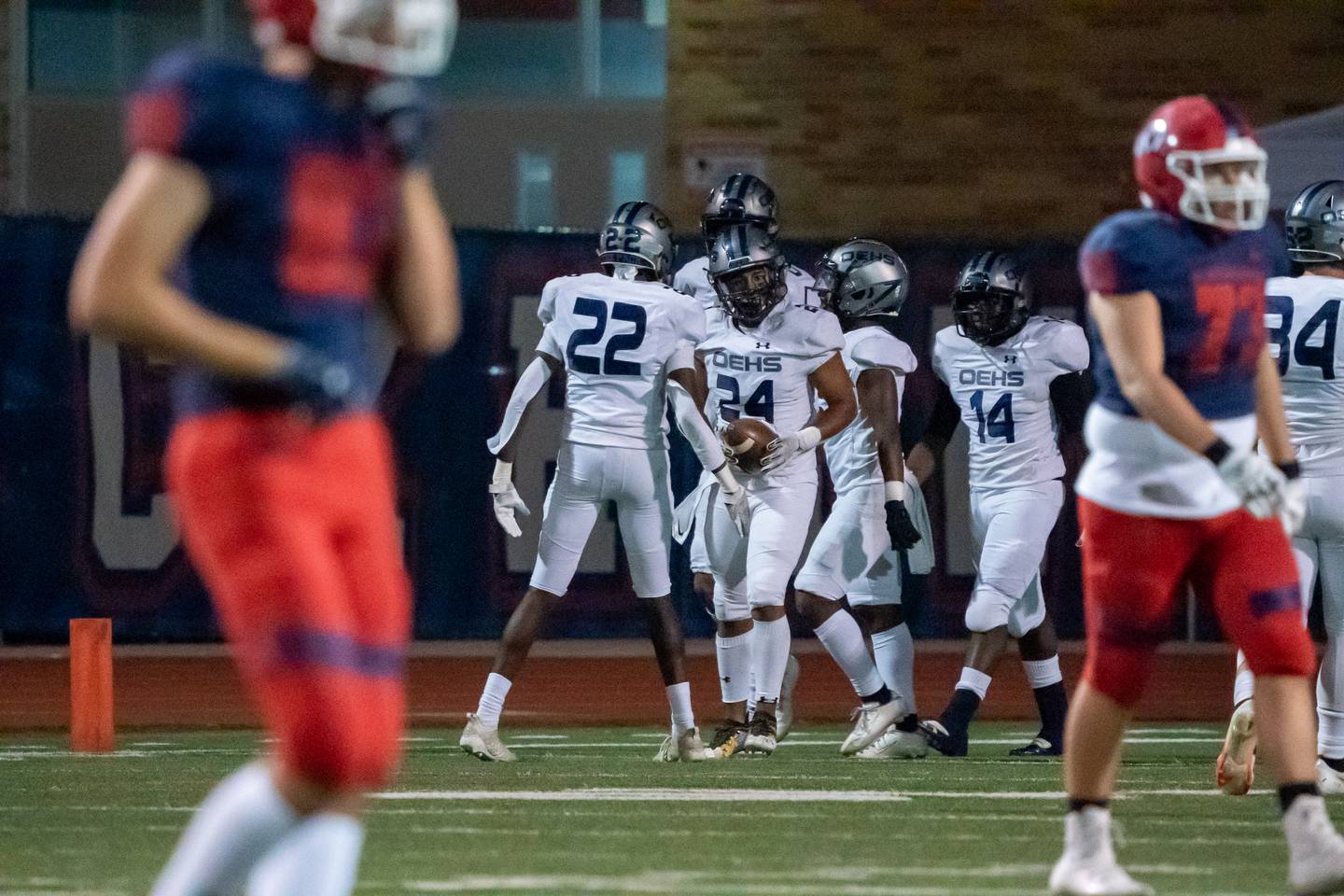 The destructive force of the Wolves' swarming defense never wavered as Jared Badie, Jack Benson and Mark Chapas all recorded tackles for losses on the Blackhawks' final last-ditch drive.
"We used our speed to blitz their quarterback," Crawford said. "That's what changed the game. I would say that it was the best second half we have had all year."
West Aurora (3-2, 0-1) has won only league crossover games since joining the conference at the start of the 2019 season.
Oswego East (5-0, 1-0) not only extended its season-opening winning streak to five games but also became playoff eligible in the process.
"We're 0-10 in the SPC West," West Aurora coach Nate Eimer said. "That's something we have to change if we are to turn the corner."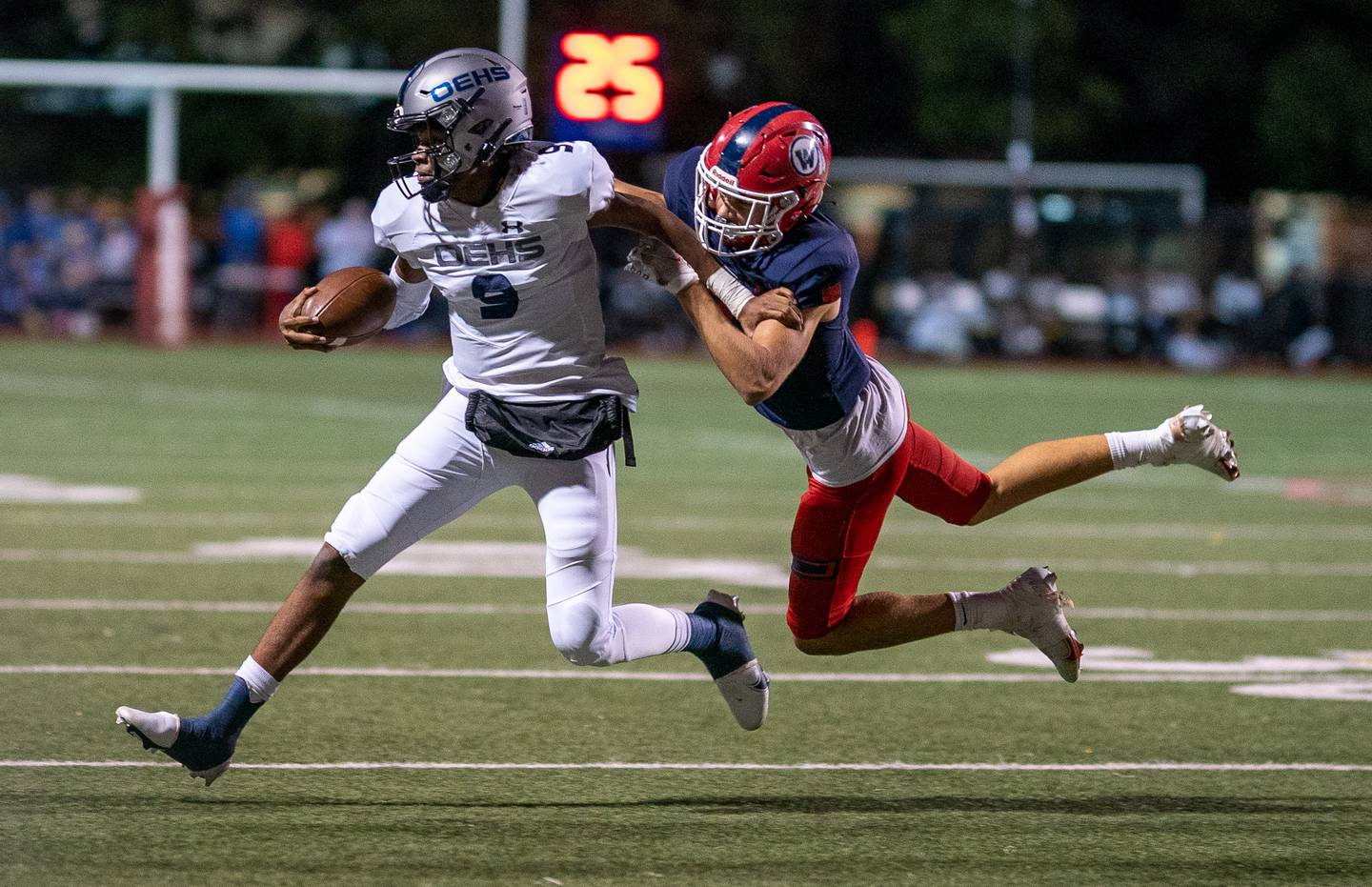 The Blackhawks' defense played equally admirably in complementing its offense that ran 70 plays from scrimmage to the Wolves' 43.
West Aurora had nine more first downs (21-12) than the Wolves and actually finished with a 279-272 advantage in total yards.
But turnover differential defines the sport at virtually every level.
The Wolves enjoyed a 4-1 advantage in the seismically important category.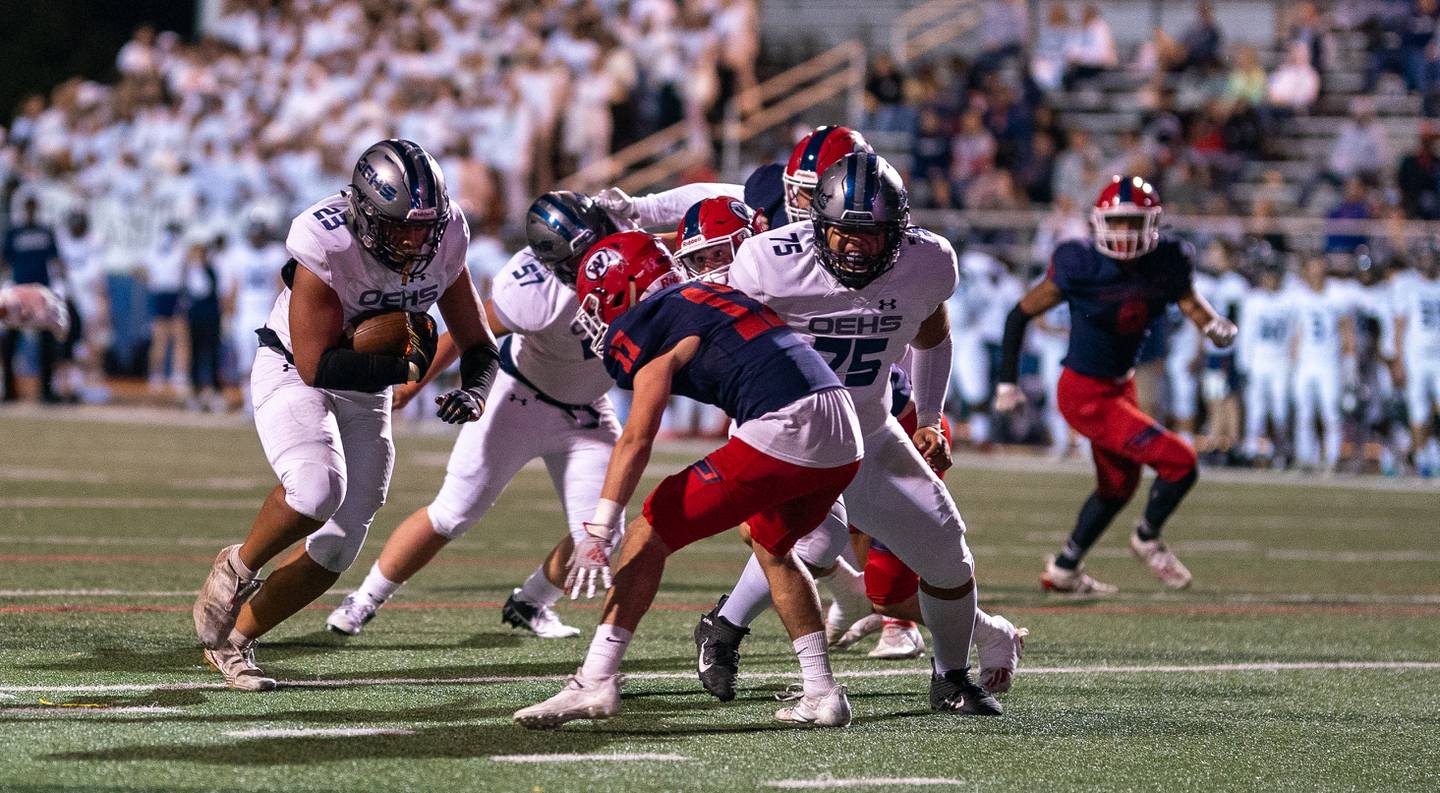 Oswego East junior linebacker Oshobi Odior would have had a second first-half fumble return for a score had a defensive teammate not committed a foul on a completely unnecessary block attempt.
But Odior was rewarded moments later from his fullback position when he plunged into the end zone from 2 yards out to give Oswego East a 14-0 lead at the break.
Oswego East feature back Darquel Sanders gained 57 of his game-high 111 yards on the Wolves' first play from scrimmage.
Starting quarterback Tre Jones' 68 rushing yards largely was the product of his 40-yard, third-quarter burst that extended the Wolves' lead to 21-0.
West Aurora consistently moved the ball between the 20s, only to be sabotaged by punitive penalties and crushing turnovers.
"We did not have a lot of breaks go our way," Eimer said. "We got dominated field positionwise."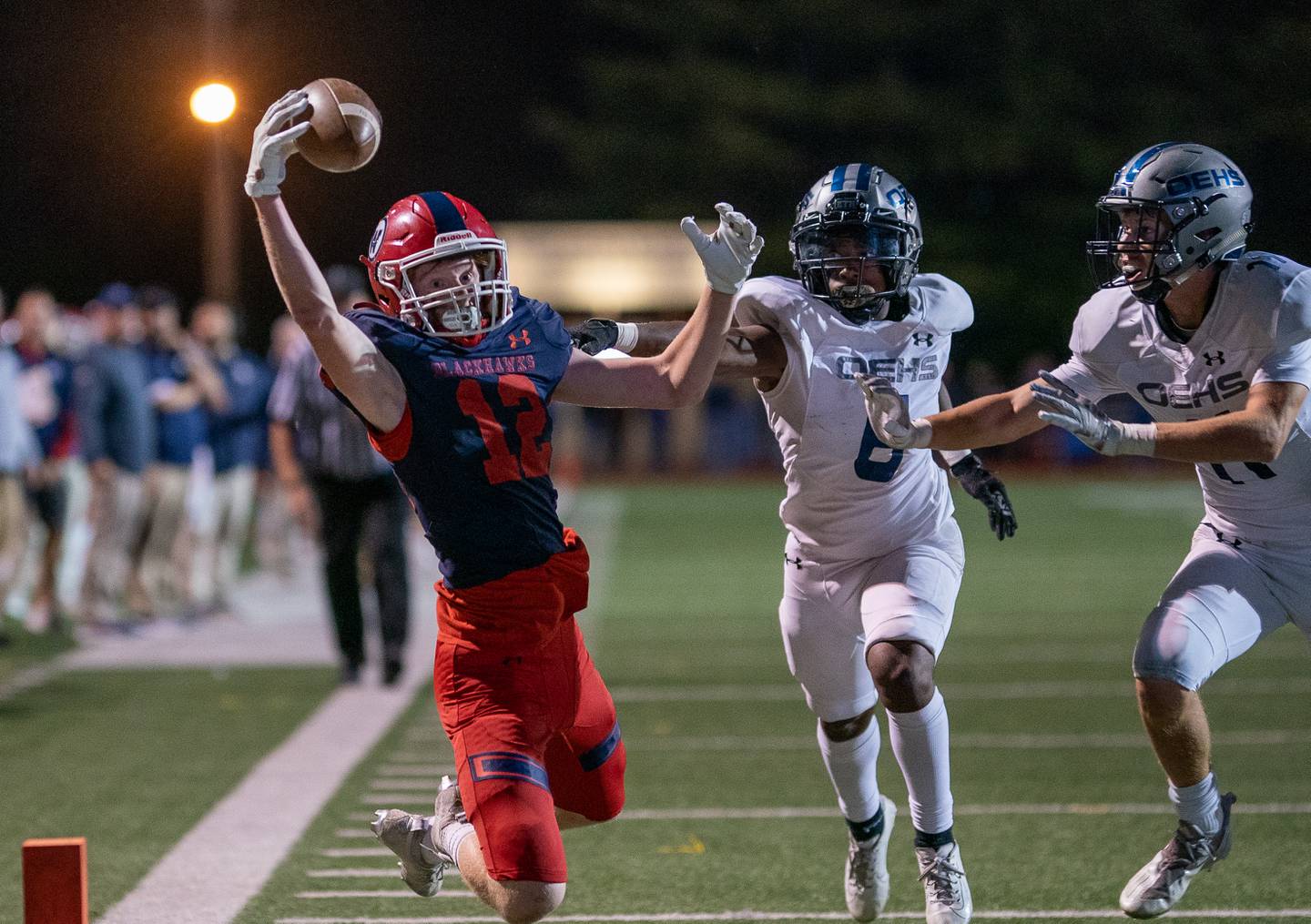 The Blackhawks' lone score came when Andrew Kolich hauled in a brilliant one-handed touchdown pass from 24 yards away.
Martino was 14 of 28 for 152 yards, and Jeremiah Johnson fueled the Blackhawks' ball-control offense with 106 yards on 21 carries.
Mike Polubinski ended all suspense with a fourth-quarter, 47-yard interception return for the Wolves' second defensive touchdown.
"When your defense scores more points than the offense, you're in a good position to win," Oswego East coach Tyson LeBlanc said.