Fulton became the first team since Eastland-Pearl City in the second quarter of Week 2 to score against Lena-Winslow, but the Class 1A top-ranked Panthers scored a lot more in a 54-7 win over the Steamers in the NUIC battle.
The Panthers jumped out to a 16-0 lead with scores from Brady Eilders and Ethan Fye before Keegan VanKampen punched in a 2-yard score in the second quarter. But Marey Roby added a pair of scores, including a 44-yard run, Eilders found the end zone again, and Jake Zeal and Nate Noller scored in the fourth quarter as Le-Win pulled away.
Fulton had five first downs in the game and gained 108 yards of total offense.
Lena-Winslow rushed for 398 yards as a team on 56 carries.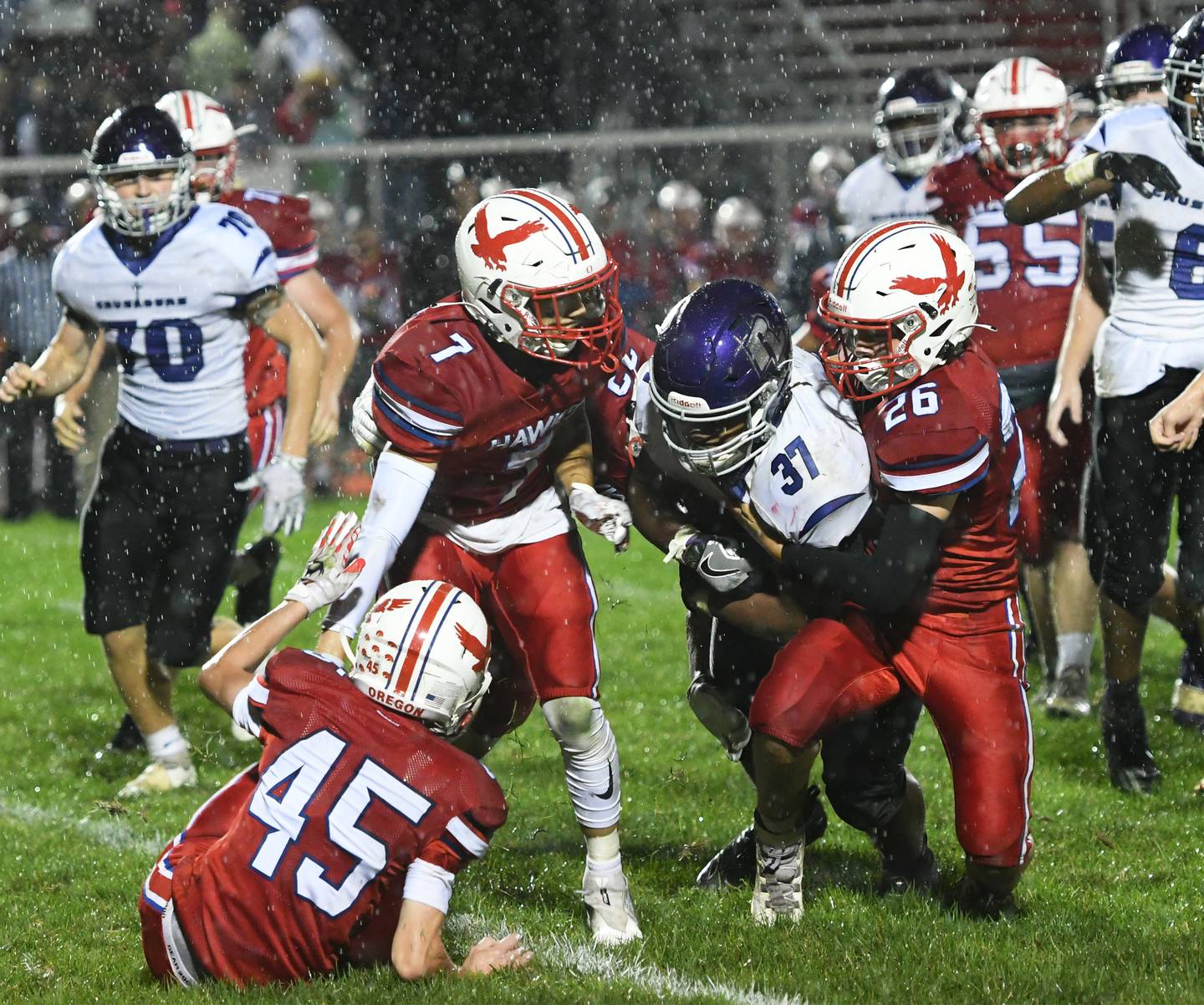 Rockford Lutheran 13, Oregon 6: Oregon fell in a rainy, defensive battle with the Crusaders.
After Rockford Lutheran scored in the second quarter to take a 7-0 lead into halftime, both teams scored in the second half.
Oregon was held to 28 rushing yards and 12 passing yards and did not convert a first down until late in the game. But the Hawks were in it until the end, as Lutheran lost a pair of fumbles in the red zone and had a field goal attempt hit the post.
Lutheran gained 256 rushing yards as a team.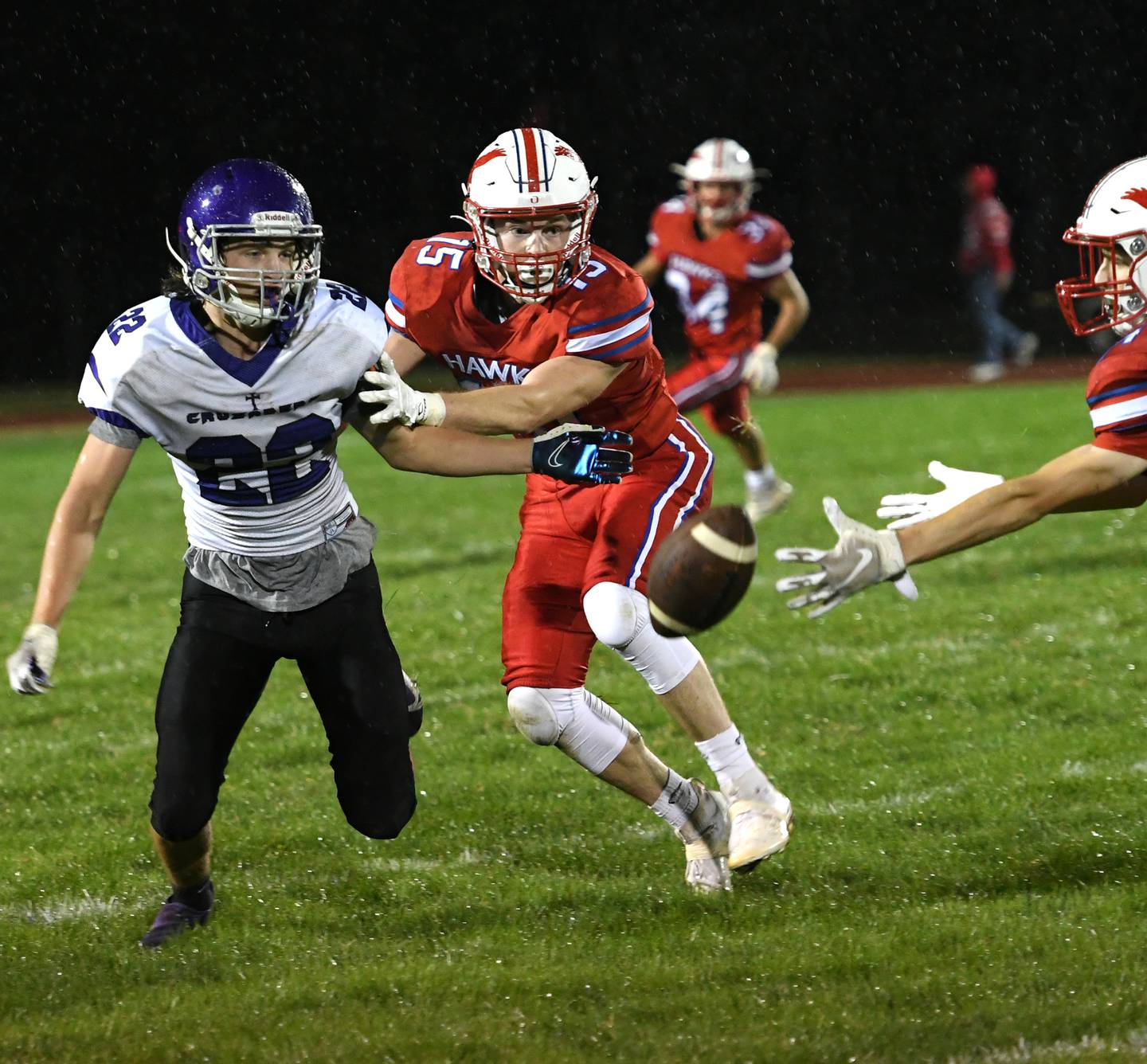 Morrison 12, Sherrard 6: The Mustangs notched their first victory of the season, winning on the road in Three Rivers West play as Sherrard remained winless.
Dakota 16, Eastland-Pearl City 8: A touchdown with 8:41 left in the game broke an 8-8 tie and lifted the Indians over the Wildcatz.
EPC scored in the second quarter when Riley Schauer recovered a blocked punt.
Kellen Henze completed 7-of-13 passes for 59 yards and rushed 19 times for 83 yards. Maddux Hayden added 32 rushing yards for EPC.
Forreston 52, Galena 20: The Cardinals picked up a road win behind 107 rushing yards on six carries from Matthew Beltran, and 80 rushing yards on 11 carries from Kaleb Sanders. As a team, the Cardinals gained 311 yards on the ground.
Jacob Fiorello returned the opening kickoff 91 yards for a touchdown and, after a Galena score to answer, Beltran made it 24-8 with a pair of touchdowns on an 81-yard run and a 75-yard interception return.
Sanders had a pair of rushing touchdowns in the second quarter, and Devonte King-Black and Logan Dyson scored in the second half.
Hiawatha 56, AFC 0: Cole Brantley scored three defensive touchdowns in the win for the Hawks.
Brantley had all three defensive scores for Hiawatha, including a scoop-and-score before the offense ever took the field. He added another fumble recovery when Cole Chambers stripped an AFC runner, then he intercepted a pass and took it back for the score.
The Hawks (3-2) had lost two straight, allowing more than 50 points in both losses. They had won their first two games of the year, scoring more than 50 points in each win.
AFC (0-5) has been outscored 217-22 this season.