DIXON – In a shootout at A.C. Bowers Field Friday night, the Dixon Dukes truned three Winnebago turnovers into touchdowns and pulled away for a 53-26 win.
Dixon (4-1) scored on seven of its first eight possessions, and only halftime stopped the non-scoring drive.
"I think the execution of the offense, for the most part we were happy with," Dixon coach Jared Shaner said. "I think our line did a nice job, we were able to run the ball with Tyler as well as the running backs, and we got it out on the perimeter a few times as well."
Tyler Shaner threw for 200 yards and a pair of touchdowns, and also ran for 70 yards and three scores. Zavion Johnson added 92 yards and a touchdown on nine rushes, Rylan Ramsdell ran for 50 yards, and Mitchell White had a pair of TD runs. Mason Randick had nine catches for 111 yards and two scores.
"Sustaining blocks was big tonight," Tyler Shaner said. "It was a wet game, the ball was going to be a little bit slippery, and then it started raining harder in the second half. In the first half, we just needed to sustain blocks, and I think that was one of the big keys to our success running it and throwing it."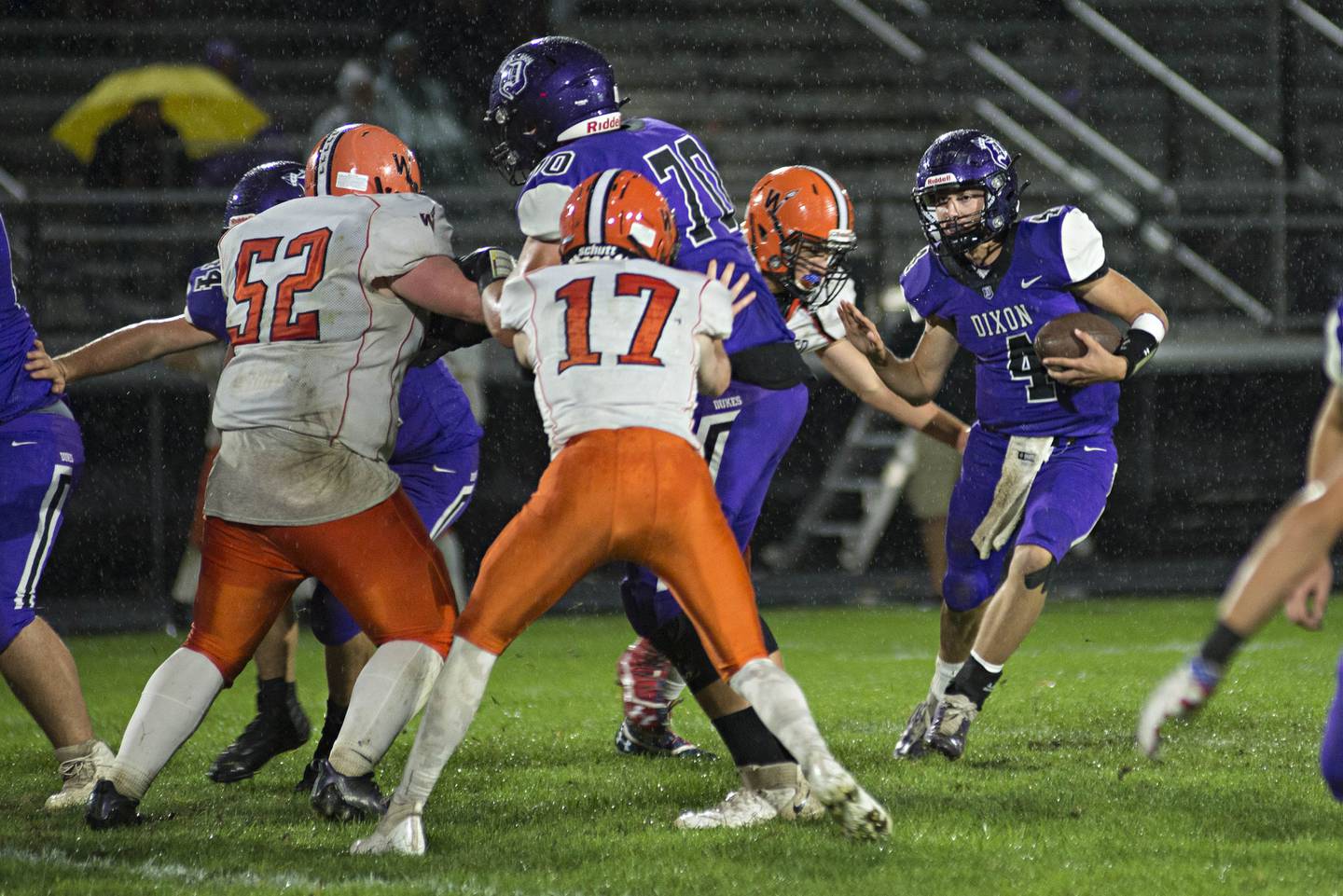 Dixon scored on its first five possessions, and almost made it 6-for-6 in the first half before running out of time before the break.
After a fourth-down stop on Winnebago's opening drive, the Dukes went 62 yards in eight plays before Shaner ran in from 1 yard out. The touchdown was set up by a 38-yard pass from Shaner to Randick.
Dixon's next two TDs came after interceptions by Johnson and Jath St. Pier. Shaner ran in from 17 yards out one play after Johnson's INT, then after St. Pier's touchdown return was called back, the Dukes went 55 yards in seven plays, capped by Shaner's 3-yard TD pass to Randick for a 20-0 lead.
Michael Cunningham scored a 5-yard TD on Winnebago's next series, then Dixon answered with a nine-play, 70-yard scoring drive, as Johnson's 23-yard run set up Shaner's 7-yard scoring scamper for a 26-7 lead.
Cunningham struck again for Bago. this time from 11 yards out, but Dixon marched 80 yards in eight plays, opening the drive with a 20-yard pass from Shaner to Randick and a 26-yard run by Johnson. Mitchell White capped the drive with a 7-yard touchdown run for a 32-14 lead.
Cunnigham caught a 44-yard touchdown pass from Alec Weavel, but Dixon blocked the PAT kick for a 32-20 lead. The Dukes then drove all the way to the Bago 16 in 17 seconds, but a pass to the end zone was knocked away at the halftime buzzer.
"We have a lot of playmakers, and no matter how much time we've got, we're going to get the ball down the field and have a chance to score," Johnson said. "With the rain coming down, it's hard to pass the ball, so we needed to sustain our blocks and open holes. I'm proud of my O-line for that, and I thanked them on the sideline. When I get through the first line, it's beautiful. It's just one-on-one out in space with a defender, and I can just take it and go. I really like that."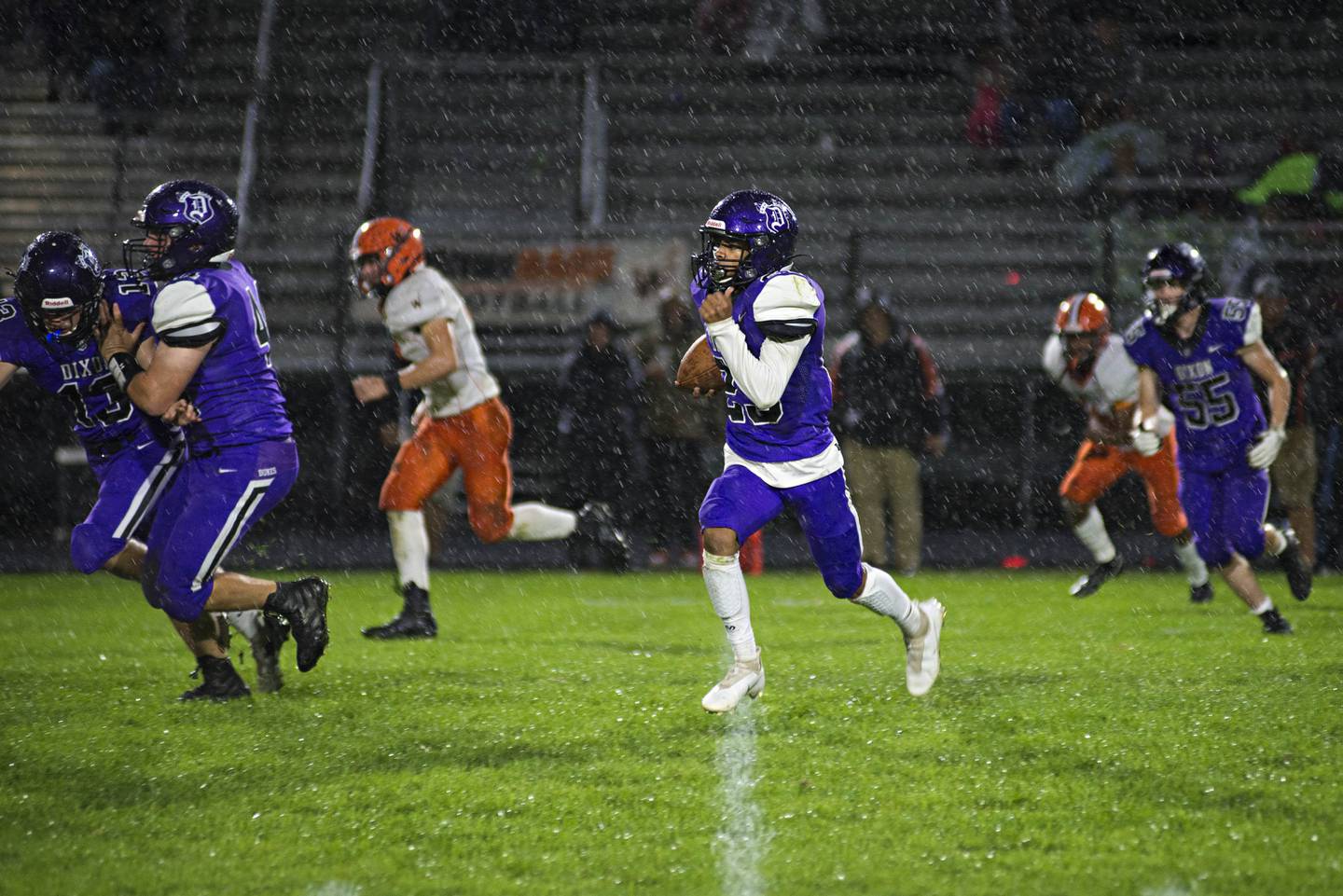 Dixon opened the second half with a nine-play, 40-yard TD drive, set up by Johnson's 50-yard kickoff return to open the half; he capped the drive with a 3-yard TD run. After Brody Potter sacked Weavel and forced a fumble that St. Pier recovered, the offense scored again on another 40-yard drive, this one taking eight plays and capped with Shaner's 3-yard TD pass to a sliding Randick.
Weavel hit Willem Speltz on a 10-yard touchdown pass to cut the Bago deficit to 46-26, then both defenses forced a stop on downs. Dixon then took over again on the Winnebago 40-yard line and found the end zone three plays later. White ran for 10 yards, then Shaner connected with St. Pier for 14 yards, then White ran right up the middle virtually untouched until he got to the goal line from 16 yards out to cap the scoring.
"I like our offense because of the read option. It's so easy for a defense to get caught up in focusing on one thing and us doing another," Tyler Shaner said. "If the defense focuses on the pass, we run it well. If they start to focus on the run, then we pass it. It's trippy in the defense's mind, and that helps a lot in keeping the momentum going on drives."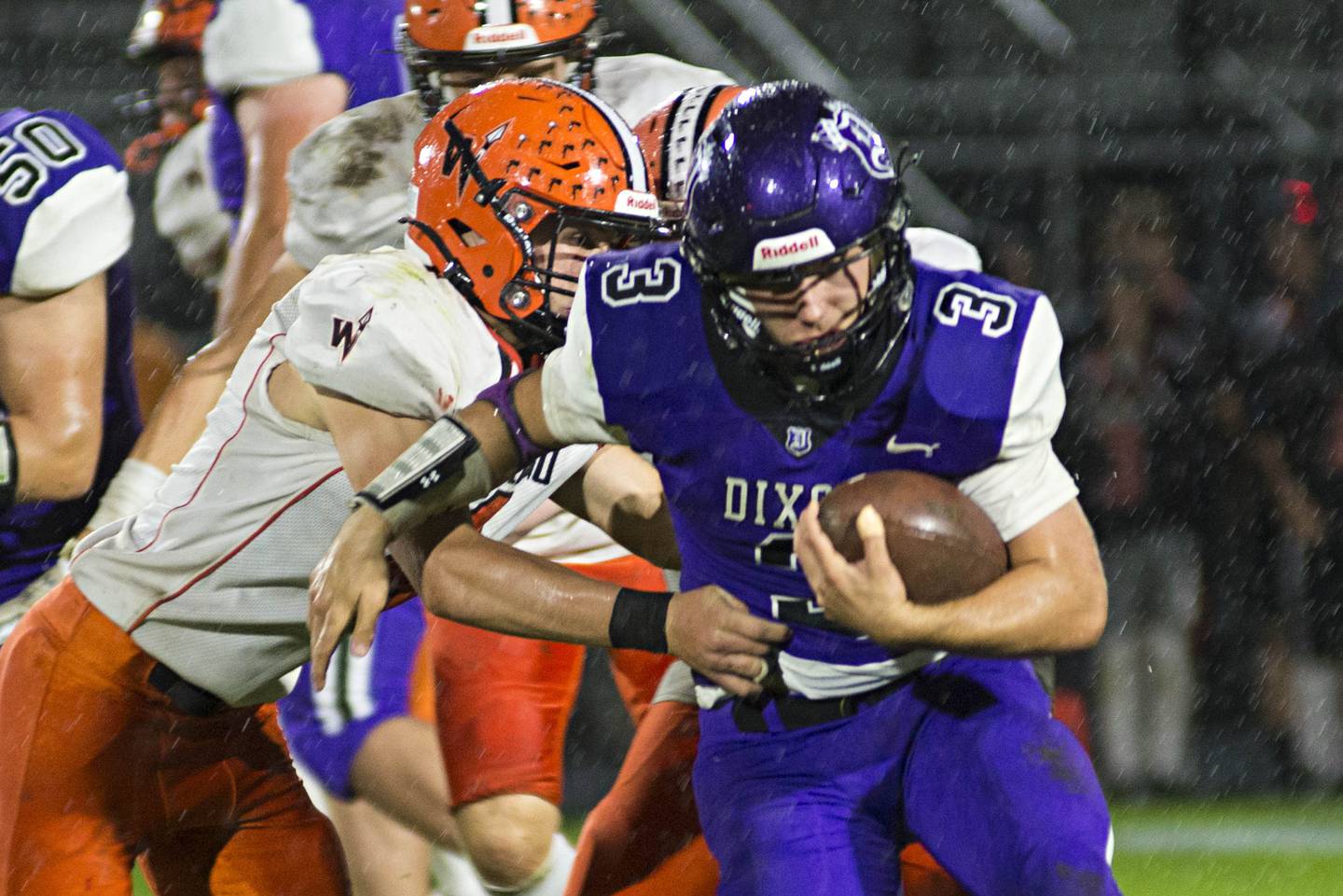 Cunningham led Winnebago with 158 yards and two touchdowns on 20 carries, and also caught the TD pass. Weavel threw for 127 yards, and Speltz had five catches for 63 yards and a score.
But while the defense gave up some yards and big plays, it also forced the three turnovers and got three fourth-down stops, setting up the offense in good field position most of the night.
"It's amazing if we get turnovers and we're already at their 20, that makes us feel like it's easy touchdowns for our offense," St. Pier said. "I think Coach [Tyler] Matteson is the best around. He puts us where we need to be, he tells us the reads, and it's precise. He watches a lot of film, he knows everything about the team we're playing, and he always has us well-prepared."
As thrilled as coach Shaner is with the Homecoming victory, he knows there is still work to do for the Dukes as they get ready to face Rockford Lutheran, Genoa-Kingston and Byron the next three weeks.
"I'm happy that we won, I'm happy for our kids to get a Homecoming win, but I told them not to be satisfied," he said. "I know we're going to go back and watch the game film and find things to fix. We put the ball on the ground a few times and were fortunate to get it back. Defensively we were not happy with our effort in the first half; I think the kids did come out and respond in the second half a little bit. Overall, it's definitely good to get a victory at home on Homecoming weekend, but we'll learn from this and try to get better."