WOODSTOCK – When asked about a big play he made Friday night against Woodstock North, Ottawa's Javarius Whitfield had the proper response.
"Which one? Was that the third touchdown?"
It's a legitimate question, considering the 36-21 win over Woodstock North was loaded with big plays on both sides of the ball for the Pirates.
It just seemed like they all came from Whitfield, who rushed for 292 yards on 30 carries with four touchdowns as Ottawa snapped a 30-game conference losing streak and moved to 2-3 overall (1-2 in the I-8/KR White).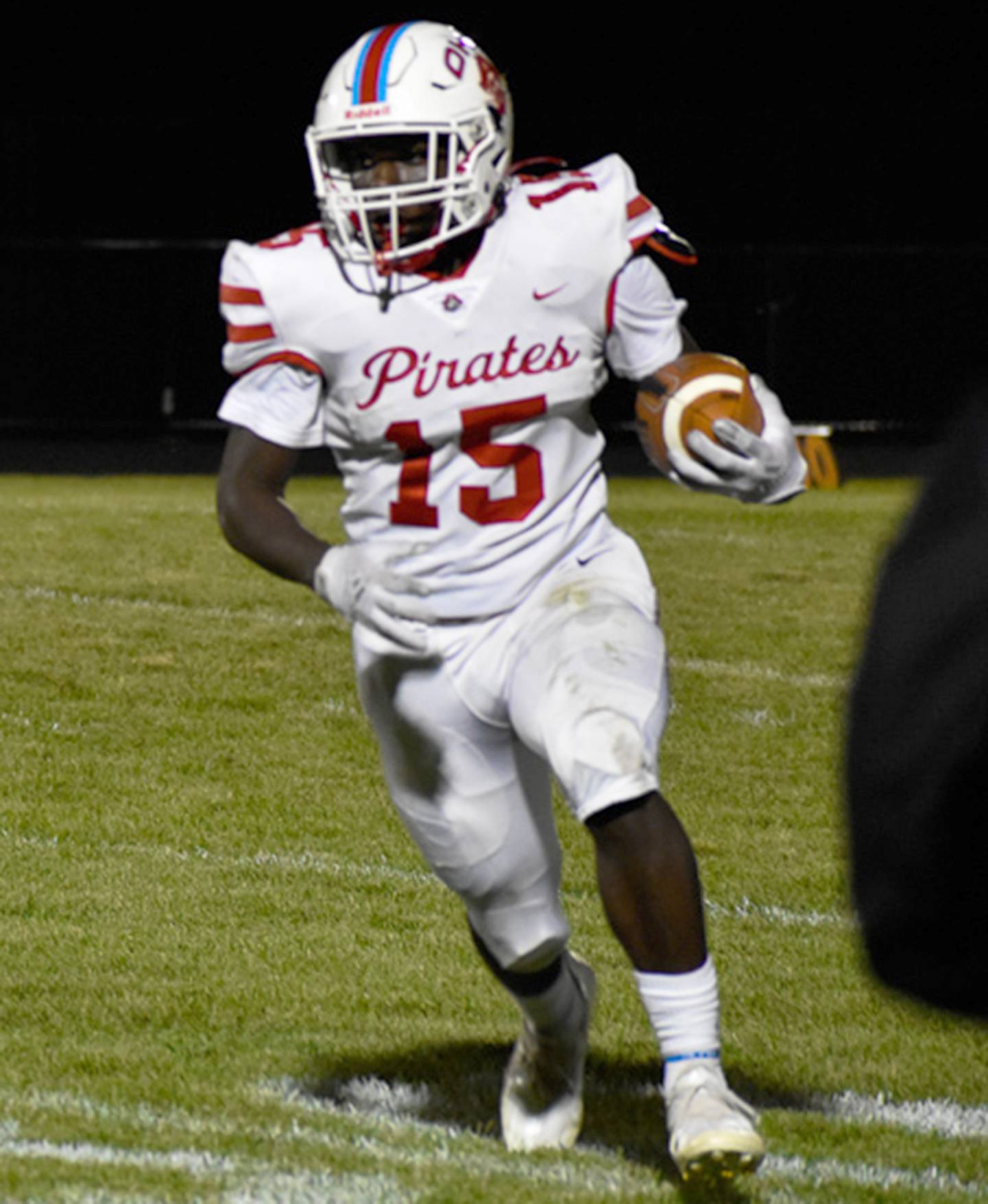 Whitfield's game was the fifth-best single-game total in Ottawa history, and included touchdown runs of 23, 66, 32 and 30 yards.
The play in particular Whitfield was asked about was his third touchdown of the day, which provided a huge shift in what was a close game to that point. Up only 15-13 late in the third quarter, Whitfield broke through a hole, made a slick move to make a man miss, and scooted 32 yards for a touchdown to make it a two-possession game (22-13) for the first time with only 43 seconds left in the third quarter.
"The guys up front just did a really good job like they did against Sandwich (in Week 1)," he said.
"We had the lead, so we had to just continue to play hard and do what we were doing in the first half. We made a couple of mistakes in the first half because of mental things, but once we got that cleared up, it was smooth sailing after that."
Whitfield later put the nail in the coffin with a 30-yard touchdown run on fourth down with 4:00 left to make it 29-13, and a 45-yard scoring run by Levi Sheehan made it 36-13 less than a minute later.
Of course, those last two touchdowns may not have happened without some important plays from the Pirates defense.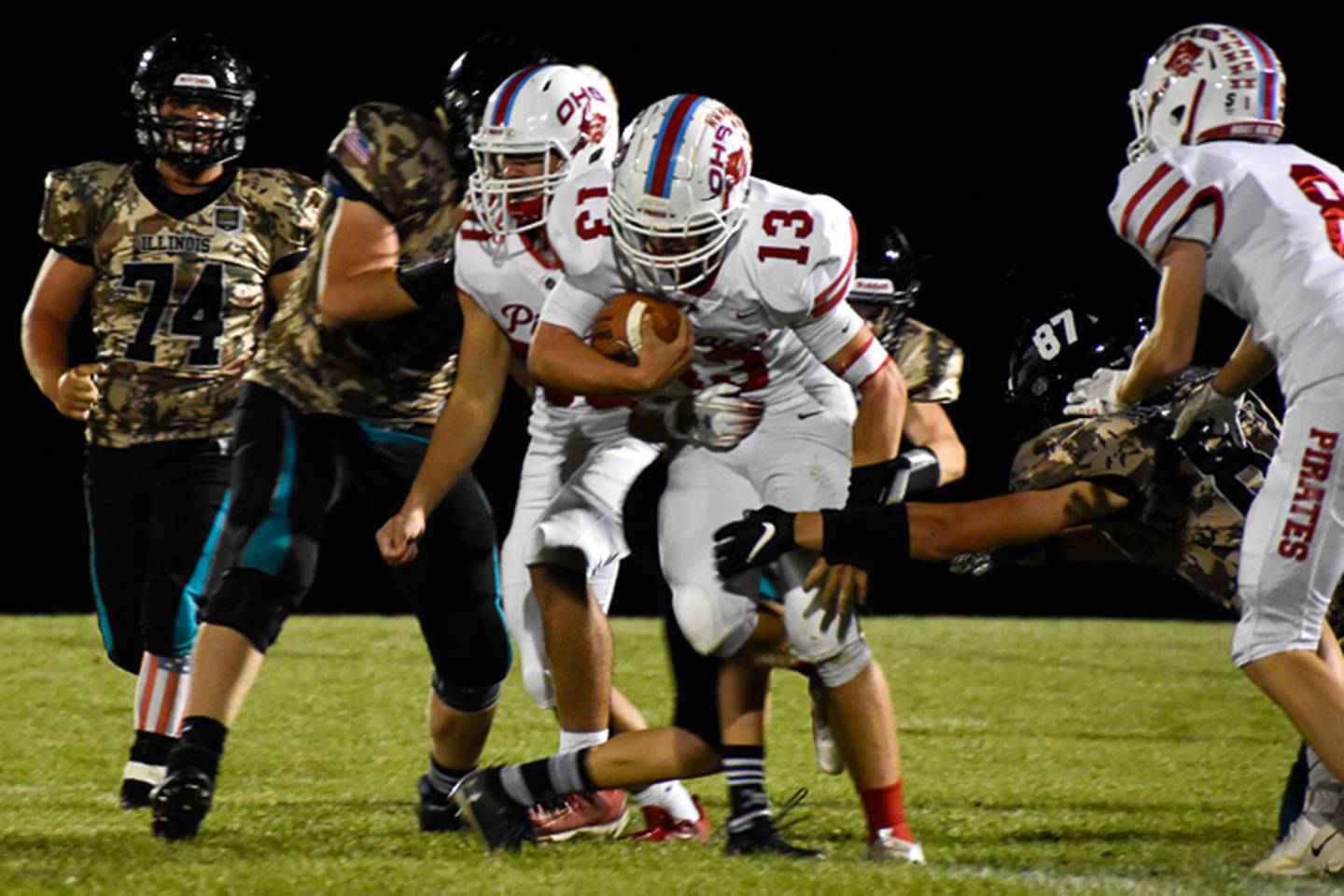 Woodstock North (0-5, 0-3), which controlled the clock well in the first half and had a big 33-yard touchdown run from Henry Goetz to start the second half, committed two turnovers on its next three drives, the other being a key fourth-down stop at the Ottawa 41.
The Thunder, which also turned the ball over at the end of a strong 15-play drive early in the first quarter, had three turnovers for the game and committed nine penalties for 55 yards.
"It's just kind of been the story of our season," said Woodstock North coach Jeff Schroeder. "We have turnovers at inopportune times, or penalties. We're just working on it, working on discipline and ball security the best we can."
Goetz had another solid night with 190 yards on 19 carries. That included a 79-yard touchdown run in the first half to tie the game at 7-7. Quarterback Jay Zinnen connected with Landan Creighton on a 19-yard touchdown pass in the final 1:19 of the game.
But the Thunder just did not have the ball control in the second half like they did in the first, when they held onto the ball for 15 minutes, 40 seconds.
"The defense did a great job tonight taking the ball away," said Ottawa coach Chad Gross. "Those are things that we preach, and it's the focus of our program. We give them stickers for touchdowns and turnovers."
Needless to say, Ottawa will be giving out plenty of stickers after this Friday night win.