Nazareth junior Kaleb Miller has experienced extreme highs and lows in his three-year varsity career.
He's been a consistent contributor all over the field for Tim Racki's program, playing running back, wide receiver, linebacker, cornerback and strong safety.
As a freshman, Miller shifted from cornerback to strong safety. On a veteran laden team full of college-bound players, Miller made an immediate impact. He intercepted a pass and raced 65 yards for a touchdown to give Nazareth a 7-0 lead in the first quarter of the Class 7A state title game in DeKalb. Miller also tallied three tackles in the 37-13 defeat to Mt. Carmel.
So, in a way, it was fitting that Miller jolted the Roadrunners out of their current doldrums, rushing for 105 yards and two touchdowns in a 24-12 comeback win over Notre Dame on Saturday.
The Roadrunners entered the game with three straight losses to start the season.
"We've all been working really hard to get a win and be a better version of ourselves as a team, so to see the effort and passion everyone put into bringing home that 'W' felt really good," Miller said. "I was just doing anything I could do to contribute to the team effort."
Racki said it wasn't a surprise that Miller was a big factor in the win.
"Two years ago, we knew Kaleb was going to be special right away," He said. "He's got a little Tyreek Hill in him, at least on the high school level. He's shifty and runs low to the ground and has got excellent skills. That's why we like to move him around."
Miller credited the blocking from the offensive line and wide receivers for his big game. He's been banged up due to injuries in the first three games. Miller said his remaining goals for the season are to rush for over 1,000 yards and be a team leader.
"The line did a great job," Miller said. "The wide receivers were blocking upfield, and it was (great) being 100% healthy. It feels good to be back at 100%."
Racki, who has won seven state championships in his decorated coaching career, said it was enjoyable to get a victory.
"It was great to finally have that breakthrough," Racki said. "You are what your record says you are, but as a coach, you see your team improving week to week. We had all close games, and were right on the edge. We really wanted to get that breakthrough.
"It was great seeing the kids celebrate after the game, on the bus and in the locker room. It was really special for me. I like this group. We don't have the numbers that we've had in the past, but they have that legacy leaning over them. The kids have to understand they have to have their own identity. They're building off that. They're starting to realize you can't just go (here) and get a state championship. They have to keep the outside noise out. It's fun seeing the team grow."
The Roadrunners (1-3, 1-0 East Suburban Catholic Green) host Carmel on Friday.
Another win for Morton
Morton doubled its fun in a matter of eight days. After winning just one game in six of the last nine seasons dating back to 2013, the Mustangs captured two straight wins for a rare two-game winning streak.
In Week 3, Morton defeated Addison Trail 41-13. The Mustangs beat Leyden 38-0 on Friday to run their record to 2-2 over the first four games.
For most teams, that's nothing out of the ordinary, but it's certainly a special time to be a member of the Mustangs' football team. The Mustangs play at Hinsdale South on Friday.
Senior quarterback Jovan Butts said it was special to experience another win so early in the season.
"I remember the flashing lights, the crowd cheering and the awesome music," Butts said. "Everyone was hyped and happy that we took care of business. The fans were jumping out of their seats just having a great time. It was special to sing our fight song. It was a great experience."
Butts said the Mustangs (2-2, 2-0 West Suburban Gold) have focused on limiting mistakes and giving 100% in practices in order to execute in games.
"We did everything right, and everything heading up to those (two) games we had full focus and we played hard and fast, and believed in ourselves that we could compete with anybody," Butts said. "It's all a mentality."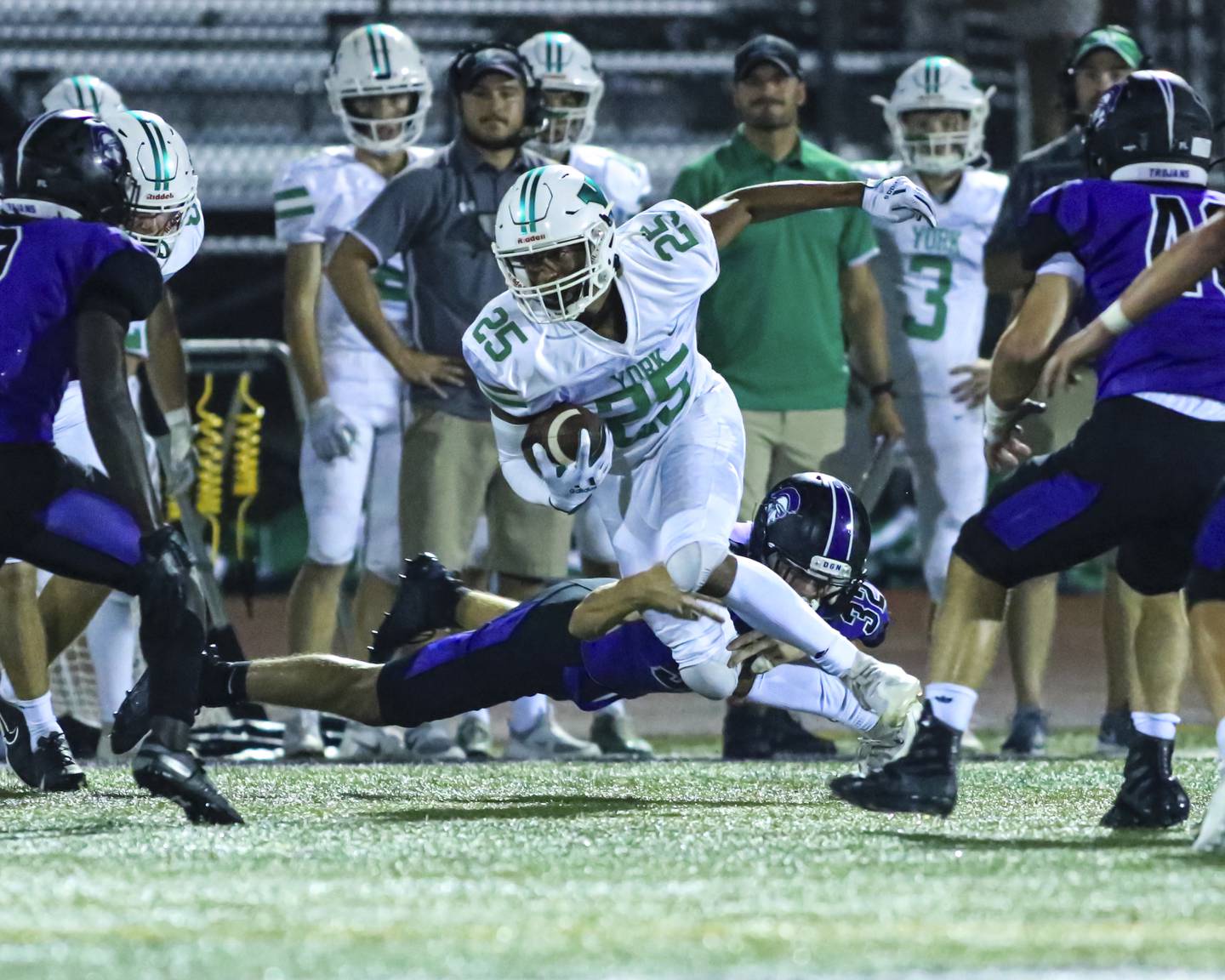 "Wipe it"
The York football team has adopted a motto for its 2021 season that's slightly different than the normal slogan of encouragement that most programs adopt for motivation purposes.
"Wipe it."
The two-word slogan has served the Dukes well during the first half of the regular season. At 4-0 and 2-0 in the West Suburban Silver, the Dukes certainly don't want to wipe away their record, though the slogan has helped the team not dwell on bad plays or moments this fall.
That was evident in Friday's 28-10 victory over Downers Grove North. The Dukes had a miserable first quarter — two interceptions, three bad snaps, a lost fumble — but overcame those series of mistakes to notch a big road victory.
"We just kept going and stayed resilient and our defense stopped them every time," York senior linebacker Jeff Coglianese said. "We didn't even let their long pass for a touchdown right after halftime bother us. We wiped it. That's our saying. We kept coming back harder and harder.
"Our motto is 'wipe it' whenever something bad happens, we wipe it. The offense wiped it, then got it going and it got rolling. That was a great win."
York and Glenbard West are the two remaining undefeated teams left in the West Suburban Silver. The Dukes, who host Lyons (2-2, 1-1) on Friday at 7 p.m., need two more wins to match the program's 6-0 start in 2010.