ROCK FALLS – Through 4 weeks of football, the Rock Falls Rockets looked at Saturday afternoon's Big Northern Conference game with Rockford Lutheran as a chance to break even in the record columns.
Instead, there were more ups and downs as the game went on, and the Rockets came a few yards shy of their second win, falling to the Crusaders 14-8 at Hinders Field.
While the game had its polar points, emotions also were heavy and deep for the Rockets squad. Senior lineman Brock Parker was seriously injured in an automobile accident Friday and was taken to a hospital in Iowa City. Brock's father, head coach Kevin Parker, is with him this weekend, leaving assistant coaches Bob Mitton and Alex Leaf in charge of the Rockets for now.
A large poster which read "Prayers for the Parkers" leaned along the Rockets' bench during the game, and his game uniform, No. 55, was fixed to a small post near the Rockets' field entrance near their locker room.
The Rockets (1-3, 1-3 BNC) came close to winning a game for their coach and teammate. They reached the red zone with a handful of seconds left in the game behind a pair of successful first-down pass completions by senior quarterback Jordan Jones, but an 8-yard tackle for loss by Lutheran senior Kevin Tillman on third down and an incomplete pass just out of Austin Castaneda's reach turned the ball over.
"They were playing good defense," Jones said. "They were blitzing, and it was hard to block them, and I had to roll out every time. That last drive of the game, we had a few good plays. We got to the end, but that stop [by Tillman] just ran down the clock and made it really hard."
Rock Falls nearly scored an early touchdown, but coughed up a fumble toward the end of the first quarter in the Crusader red zone. The opening quarter ended scoreless before Tillman scored the first Crusader touchdown with 6:20 left in the half from 1 yard out for a 6-0 lead.
Rocket senior Booker Cross finally punched one in for his team just 40 seconds later, weaving around a pair of Crusader linemen and breaking a tackle to sprint 50 yards to tie the game. Cross also made the two-point run for an 8-6 advantage that would remain into the fourth quarter. Lutheran had a chance to go ahead late in the third quarter, but a Baraka Boards interception on the left side of the end zone preserved the small Rockets lead.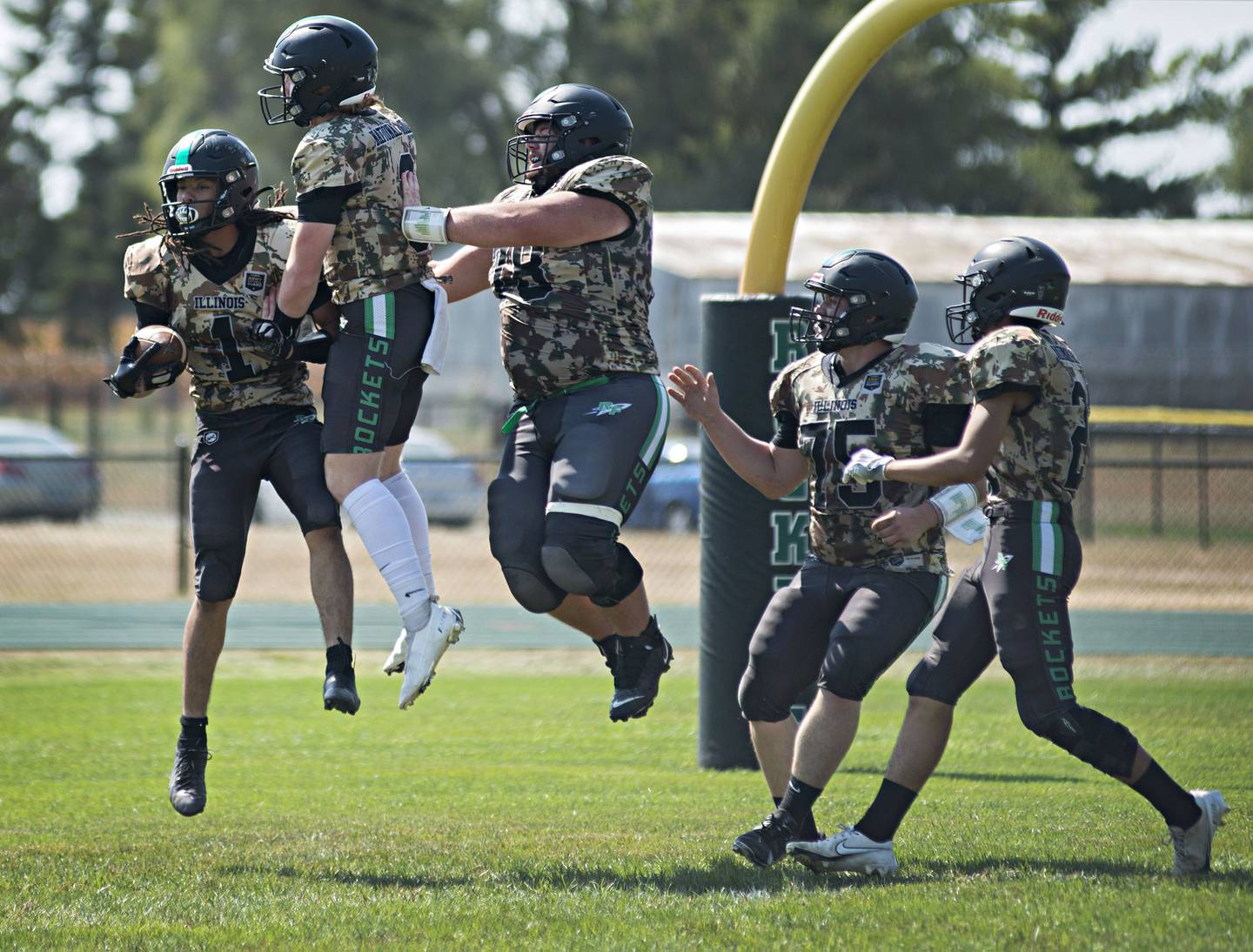 While both teams looked for a touchdown to gain the edge toward game's end, the Crusaders scored not not on offense, but with a safety after a Rock Falls fumble in the end zone with 11:05 to play. Jones fumbled under pressure from Crusader defenders Leo Lara, Jamyr Pitts and Jonah Miller, and after Pitts knocked the ball loose, the Rockets recovered but were swarmed under to tie the score.
"They were real close to the end zone, and nine times out of 10 teams are probably going to run it," Pitts said. "It was just awareness, knowing what they were going to do; we hit the holes and hit him."
Lutheran capitalized on their equalizer on their next drive, with Tillman scoring from 46 yards out for a 14-6 lead.
"We knew we had to do that," Lara said. "That was the game. That was it. We had to. There was no choice."
The Crusaders came close to another score, but fumbled the ball just a few yards shy of the end zone before Cross recovered. That set up the Rockets' final drive, which saw Jones throw passes to Boards for 32 yards and Castaneda for 12 yards as the clocked wound down.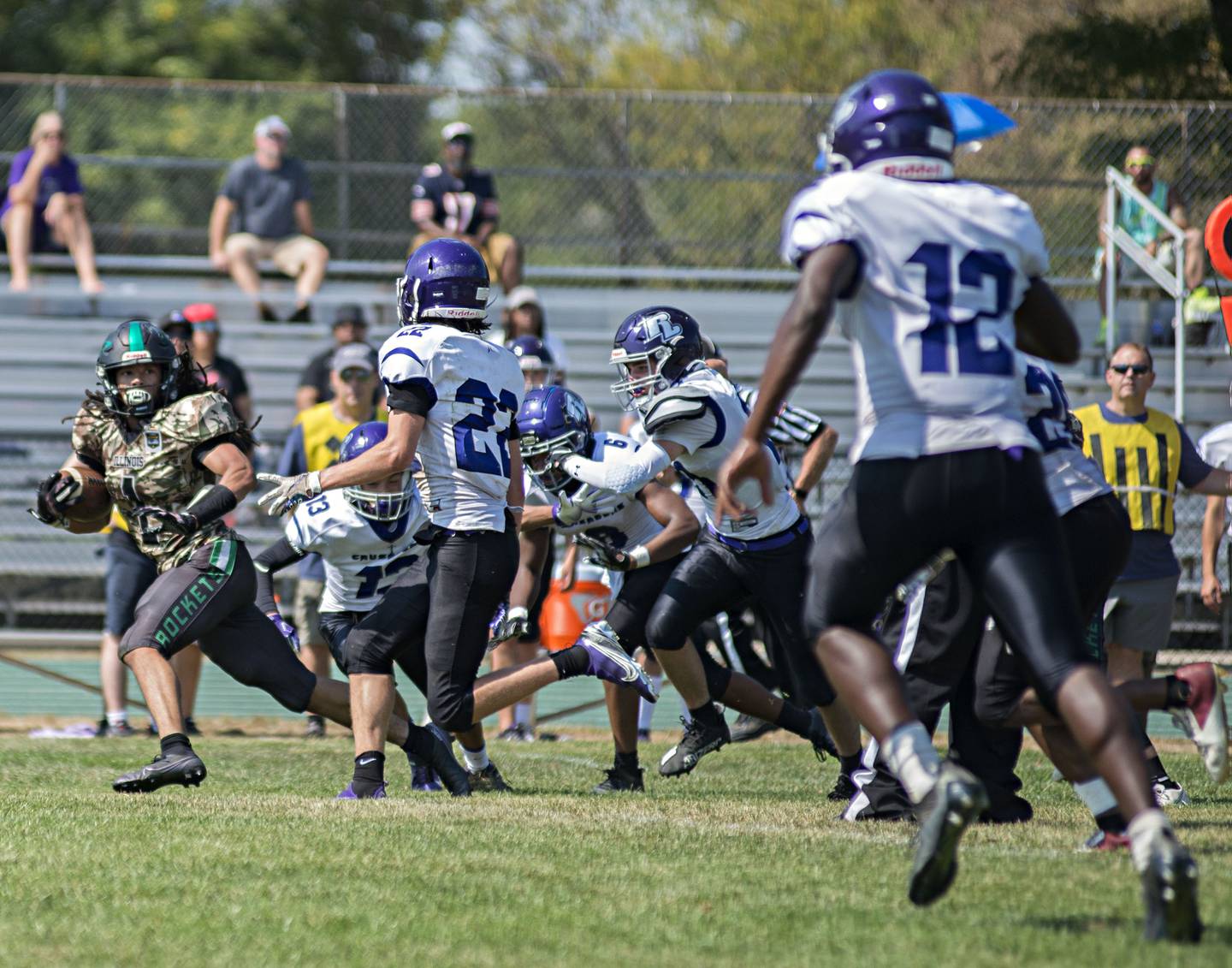 In a close and low-scoring game such as this one, mistakes can make a big difference.
"There were highs and lows," Mitton said. "We talked about this as a staff, that, all of a sudden we make a good move, and then we make a bad move. We have to have more of an even keel. It's not over 'til it's over. These guys can't have it. It'll hurt themselves.
"We did a lot of good things, but it can take one guy – a brain fart here or a screw-up there – and it destroys everything. That's what occurred out there. We did a lot of good things, but if one guys misses a block and a guy's wide open, or we can't throw it because a guy's in our face, it's little things like that. We can harp on that stuff, but the young men have got to know that team unity."
Tillman led Lutheran with 124 rushing yards on 15 carries. The Crusaders earned their first win of the season by racking up 204 total yards of offense to the Rockets' 172. Their defense also tackled Rocket runners 12 times for a loss.
"It was a rough 3 weeks, but it's a good feeling to get a win," Pitts said. "We just look to improve and get better."
Cross finished with 64 yards on 19 carries, and even tossed a 12-yard completion – the Rockets' only aerial success until the final drive. On defense, the Rockets took down Lutheran for losses on eight occasions, with Ryan McCord getting 2 1/2 tackles for loss.
Rock Falls will look to rebound Friday at Genoa-Kingston (3-1).
"We felt we had it in us," Jones said. "We did have it in us. We came out strong, but made some mistakes and it was a tough game."