OTTAWA – Since a close loss in their opener, the Sycamore Spartans have been rolling over opponents.
Since a dominating victory in Week 1, the Ottawa Pirates have had a tough time recapturing that winning momentum.
Neither of those trends changed Friday night at Ottawa's King Field.
The visiting Spartans had to punt on their first drive but scored on every one afterward until the 40-point continuous clock kicked in, ultimately notching their third straight victory, 42-6, over the Pirates in a Kishwaukee River/Interstate 8 White contest. Ottawa has lost three straight.
Sycamore (3-1, 2-0 KR/I-8 White) has a home game against La Salle-Peru (3-1, 2-0) next on the schedule.
"I felt like we were able to do the things we wanted to do tonight. …" Sycamore coach Joe Ryan said. "We're still a work in progress on getting off the field defensively, but I thought we did a lot of good things offensively.
"[L-P] is well coached, they're playing really well, and they get a week off (because of a Week 4 forfeit win over Sandwich)... but I'll worry about L-P come Sunday when we meet as coaches. You always want to enjoy victories like this one."
Ottawa falls to 1-3 (0-2) heading into next Friday's visit to Woodstock North.
"Like I told the boys after the game, unfortunate scoreboard, but we have to put this one in the rearview and move on to Woodstock North," Pirates coach Chad Gross said. "We knew [Sycamore] was a very good team, so we just have to learn from our mistakes and move forward."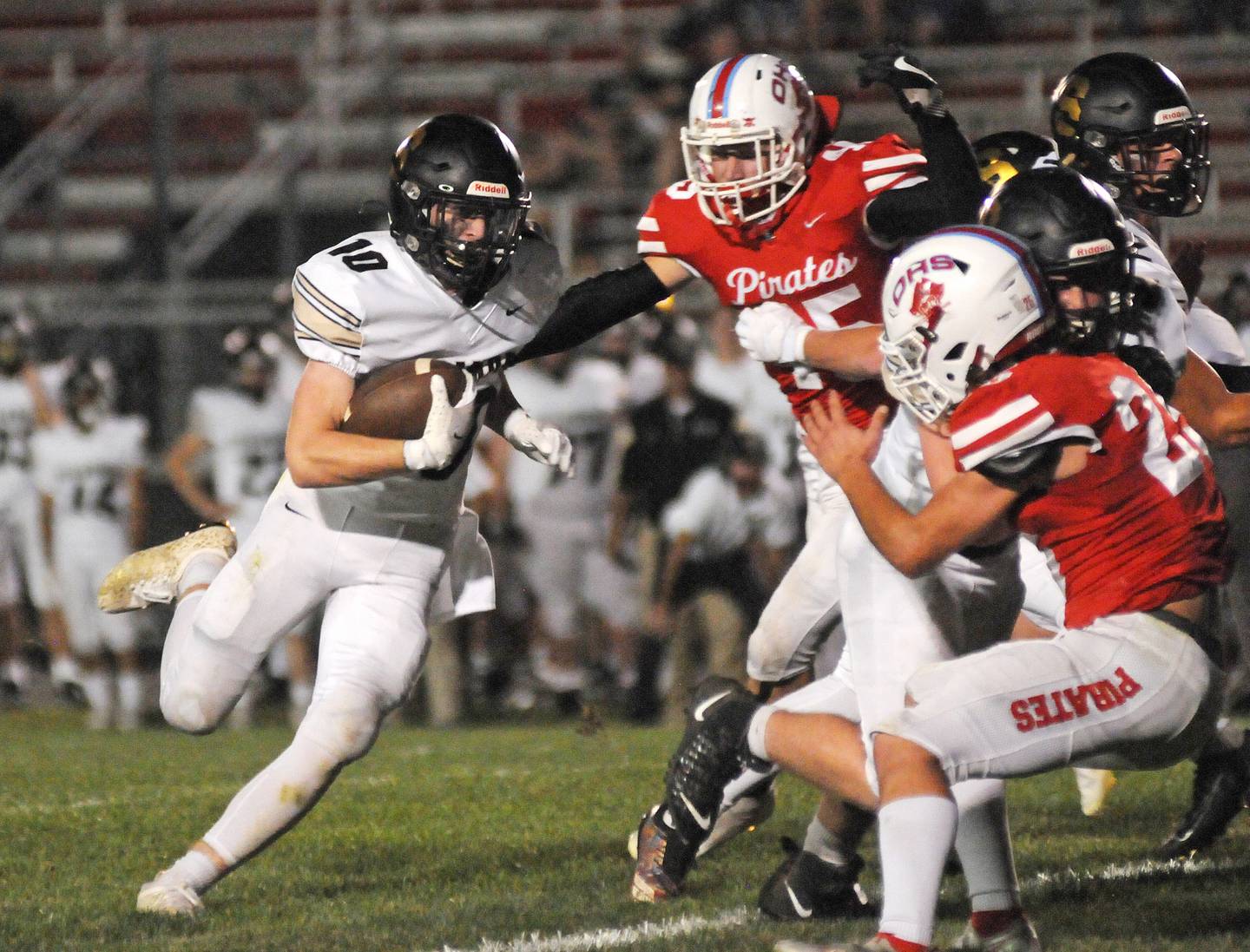 The Spartans on Friday outgained Ottawa, 332-223, in yards from scrimmage, led by Eli Meier's 14-of-14 passing for 121 yards and two touchdowns – a 23-yard, first-quarter rollout target to Bryon Blaise, who powered his way into the end zone, and a 6-yard connection with Kaden Ladas 4: 12 into the second quarter.
Nathaniel Altepeter punched in a TD from 2 yards out early on, and Meier scrambled for a weaving, juking, 45-yard score just before halftime. Followed by Ladas' fourth successful PAT kick of his six on the night, the Spartans were ahead, 28-0, at the break.
Any hopes of the Pirates climbing back into it were all but shot when the teams retook the field, as Sycamore's Sam Carlson gathered in the second-half kickoff at his own 14-yard line, burst into then out of a crowd and raced 86 yards into the end zone.
"We knew we needed a big play," Carlson said, "and we knew if we made a big score there it would most likely be the game. [The ball] got to me, I caught it clean and kind of slowed down a little bit, let the blocks happen in front of me, hit the holes as they happened, and thanks to the guys in front of me I got a big return out of it."
Carlson added a 27-yard run to paydirt later in the third to begin the continuous clock. He finished with 42 yards rushing, part of a balanced ground attack that included Zack Crawford (60 yards), Meier (55) and Altepeter (37). Kayden Galton and Jacob O'Donnell each hauled in three Meier passes – O'Donnell for 32 yards, Galto for 27.
Sycamore's defense was led by Jackson Funderburg's two tackles for loss, 1 1/2 TFLs each for Kiefer Tarnoki and Brody Armstrong, and Lincoln Cooley with a quarterback sack and fumble recovery.
As their yardage total implies, however, the Pirates did enjoy some offensive success, although most of it took place between the 20s before promising drives petered out.
"Consistent story to the year: moving it and not finishing drives," Gross said. "That's a good Sycamore team – obviously a very, very good team that'll make a long run in the playoffs. We talked about the importance of putting points on the board when given opportunities, because we're not going to get a lot of opportunities.
"Unfortunately, we weren't able to punch them in 'til the end."
Wideout Levi Sheehan had another big game, hauling in seven receptions for 134 yards and Ottawa's lone score, a 19-yard, fourth-quarter pass from Braiden Miller in the closing minutes. Miller finished 15-of-22 passing for 183 yards, with Javarius Whitfield adding five catches for 33 yards in addition to his 30 yards rushing on 18 attempts.
Linebacker Ryder Miller recorded two tackles for loss for Ottawa. DJ White had two passes defended.