STILLMAN VALLEY – Stillman Valley's rushing attack put together just enough quality drives to build a lead, then had just enough to get the final few first downs to run out the clock Friday in a 20-14 win over Dixon.
The Dukes (3-1) scored with 3:24 left in the game to get the deficit down to six points, but on the ensuing drive, the Cardinals converted a third-and-short and were able to kneel down from there.
Stillman Valley running back Jory Spain had 33 carries for 123 yards and three touchdowns. Spain carried 21 times for 87 yards in the first half alone, accounting for 21 of his teams 32 first-half offensive plays and all but 17 of the Cardinals' first-half yards. He then capped off his team's scoring with a 5-yard touchdown early in the fourth quarter and a 3-yard run with just over six minutes to play.
"It was just a matter of coming off the ball low defensively, linebackers filling," Dixon coach Jared Shaner said. "We knew it coming in, and that's what they do well. I've said it all week, the blessing and the curse of playing Stillman Valley: you know what's coming, and the curse is you have to be able to stop it."
Stillman Valley put together several long drives, but it was a long play which put the Cardinals in front for good. Owen Zitkus had an 83-yard run to get the ball from the shadow of his own end zone to the Dukes' 5, and Spain punched it in on the next play.
After Stillman made it 20-6 on a nine-play scoring drive, Dixon answered in a two-minute drill as Tyler Shaner captained an eight-play, 74-yard drive capped off by the Dukes sophomore signal-caller scoring from 2 yards out.He then hit Jacob Gusse for the two-point conversion.
"I really felt like they were going to play off a little secondary-wise, so we just made a commitment to run the ball," coach Shaner said. "We had some chunk pays, two or three 9- or 10-yard runs, kind of went up-tempo. I'm proud of the kids for that drive, we just didn't do it consistent enough."
Dixon also got a 58-yard score in the third quarter from Zavion Johnson on his first carry of the game.
"Just an athletic kid," Jared Shaner said. "Great vision, great ability to cut back. It's just a different speed. Obviously Rylan Ramsdell's been our back the first three games, and it's just a different pace. I think that kind of lulled them to sleep defensively, and you get a spark from Zabo. He did a great job."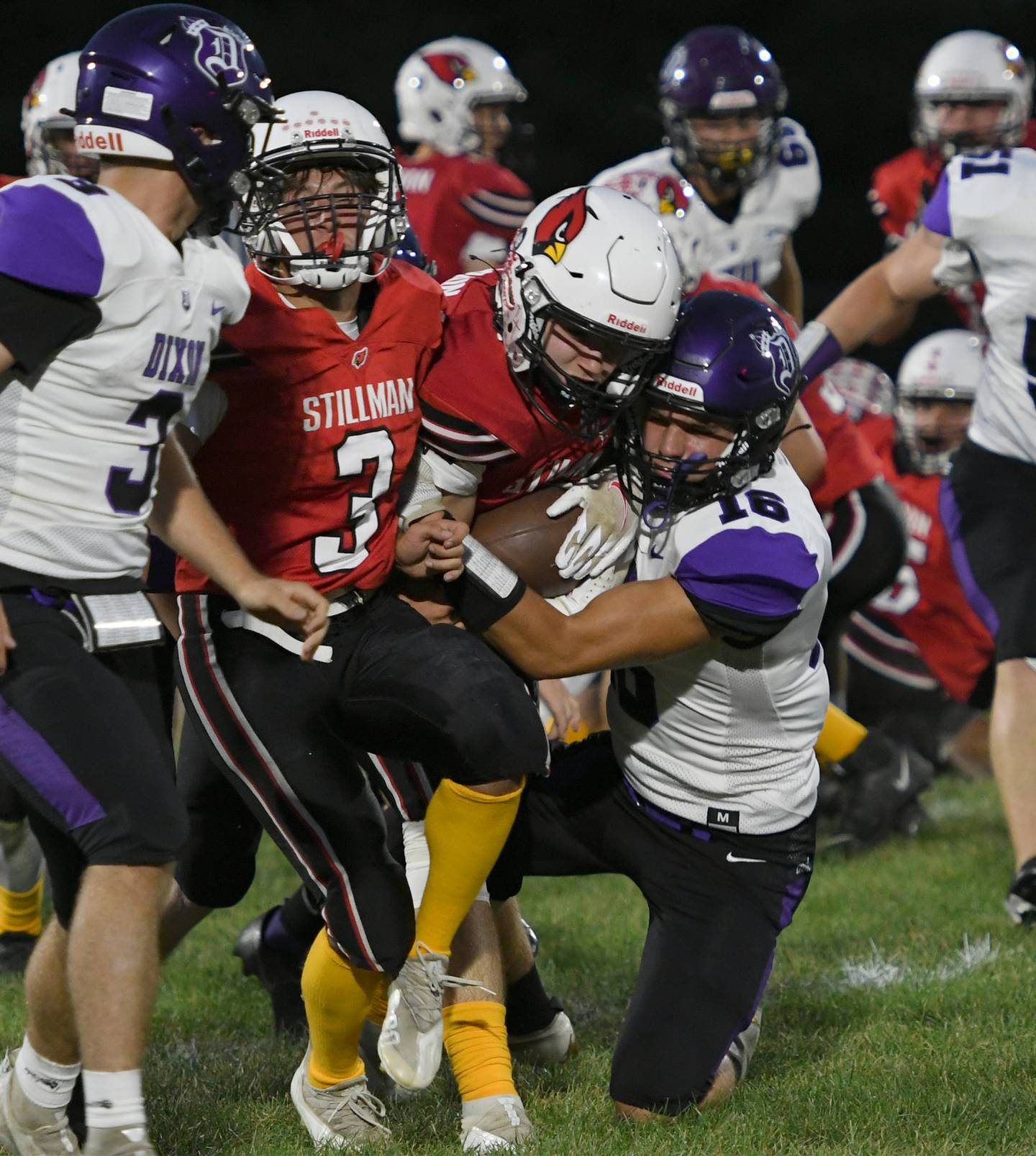 After some initial drives led to punts, Stillman Valley put together a long drive late in the first quarter. Spain carried the ball 12 times on a 13-play drive, including a 1-yard plunge up the middle for a touchdown with 9.3 seconds left in the first quarter.
Stillman initially lined up to kick the extra point, but after an offsides penalty against the Dukes pushed the ball closer to the goal line, the Cardinals elected to go for two, but Dixon stuffed Spain on the conversion attempt.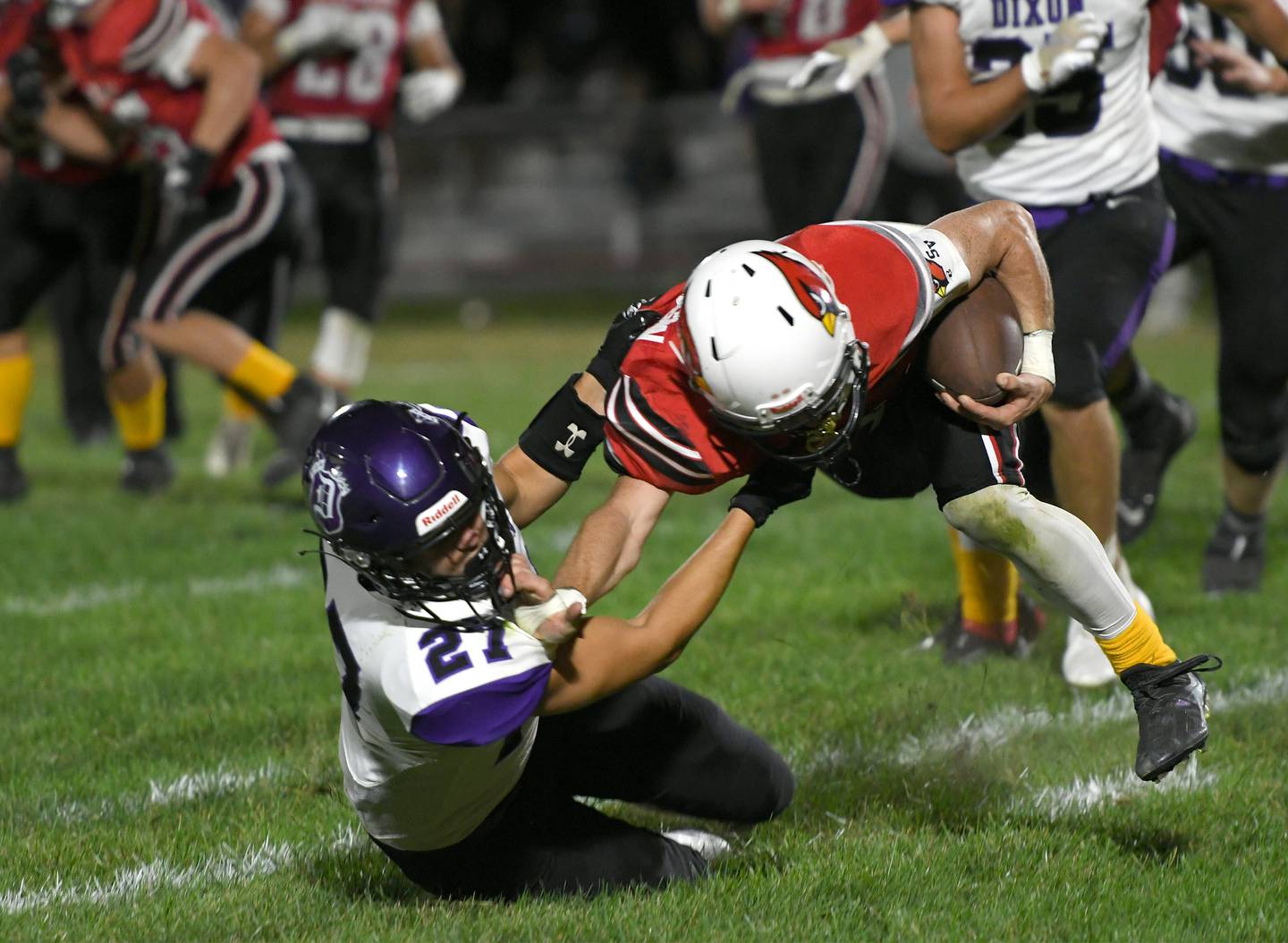 Dixon responded with a 15-play drive of its own, going from its own 17 to the Cardinals 11 before petering out.
A series of read-option runs by Shaner quickly got the ball into Stillman Valley territory, and a 12-yard pass to Mason Randick set the Dukes up with a first down at the Cardinals' 15. Shaner picked up another four yards with another read option, but three incomplete passes, the last knocked away at the goal line, led to a turnover on downs.
Stillman put together another long drive in response, but it too sputtered out. After dropping Stillman's Gage Henderson for a 5-yard loss, the Dukes defense stopped Spain and Henderson for minimal gains on the next two plays, and the Cardinals punted.
Tyler Shaner finished with 18 carries for 104 yards. Johnson had six carries for 112.