MORRIS — The Morris football team wanted to establish itself early Friday night on Homecoming in a Kishwaukee River/Interstate 8 White battle with Woodstock.
That mission was accomplished early and often as Morris scored on every possession en route to a 63-13 victory.
Morris (4-0, 2-0) received the opening kickoff and went 62 yards on six plays, all on the ground. Ashton Yard carried five times for 58 yards on the drive, capping it with a three-yard touchdown run. The first of Henry Hansen's nine extra point kicks gave Morris a 7-0 lead less than two minutes into the game.
"We wanted to make a statement," said Yard, who finished with 117 yards on 11 carries. "We wanted to make it early. I just trusted my O-line to block and they definitely got it done tonight. It feels great to have Homecoming and to get a win on Homecoming."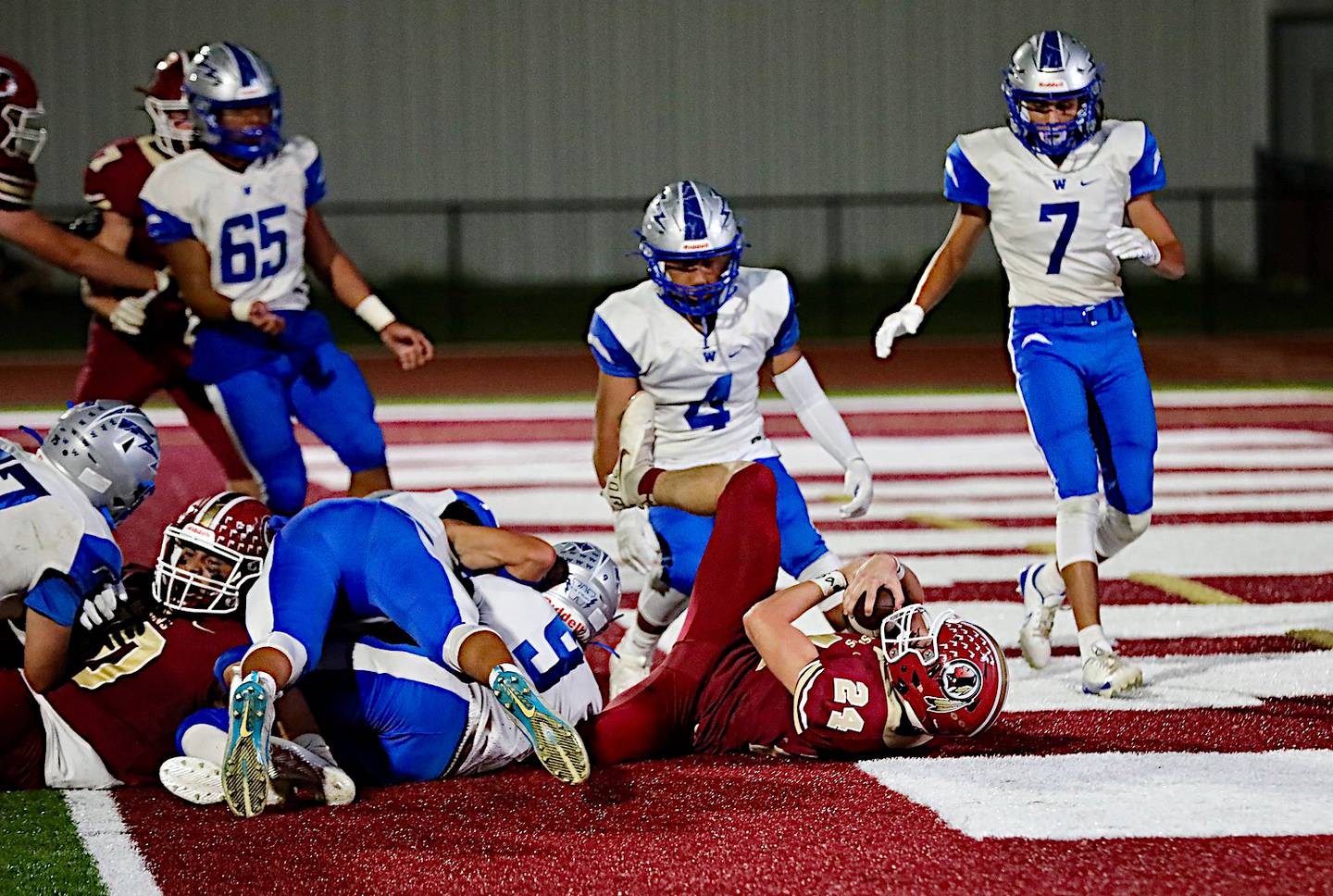 Woodstock (2-2, 0-1) answered with a six-play, 82 yard drive that ended on a 25-yard touchdown pass from Liam Mickle to Kaden Hunter. The extra point attempt failed, and Morris held a 7-6 lead with 8:45 to play in the first quarter.
Morris then needed 10 plays to travel 82 yards, ending in a 25-yard TD run by quarterback Zach Romak. Romak finished with 134 rushing yards and two touchdowns on 15 attempts and also completed 7 of 8 passes for 88 yards and two TDs.
Woodstock threatened again on its ensuing drive. Mickle hit Caden Monti with a 30-yard completion in the end zone, but the play was called back on a penalty. On the next play, Morris' Sam Reddinger recovered a fumble. Morris then went 57 yards on six plays, with Jorge Loza scoring from three yards out for a 21-6 lead with :38 to play in the first quarter.
"The line was just mowing people over," Romak said. "They just kept moving forward and the holes were huge. And, I could have taken a nap when I dropped back to pass I had so much time.
"We were just waiting for the defense to get us the ball back, because we knew we were going to score."
For Woodstock coach Mike Brasile, the sequence turned the game around.
"We gave them everything we had in the first quarter," he said. "That touchdown called back and then the fumble changed the momentum. This is a very good program we played, and that's where we want to be. We just didn't have enough bodies.
"You look at our roster and we have 10 offensive linemen. They have about 25. We can't simulate what their offensive line can do in practice. We fought hard, but when the tide turned, it was a heavy tide."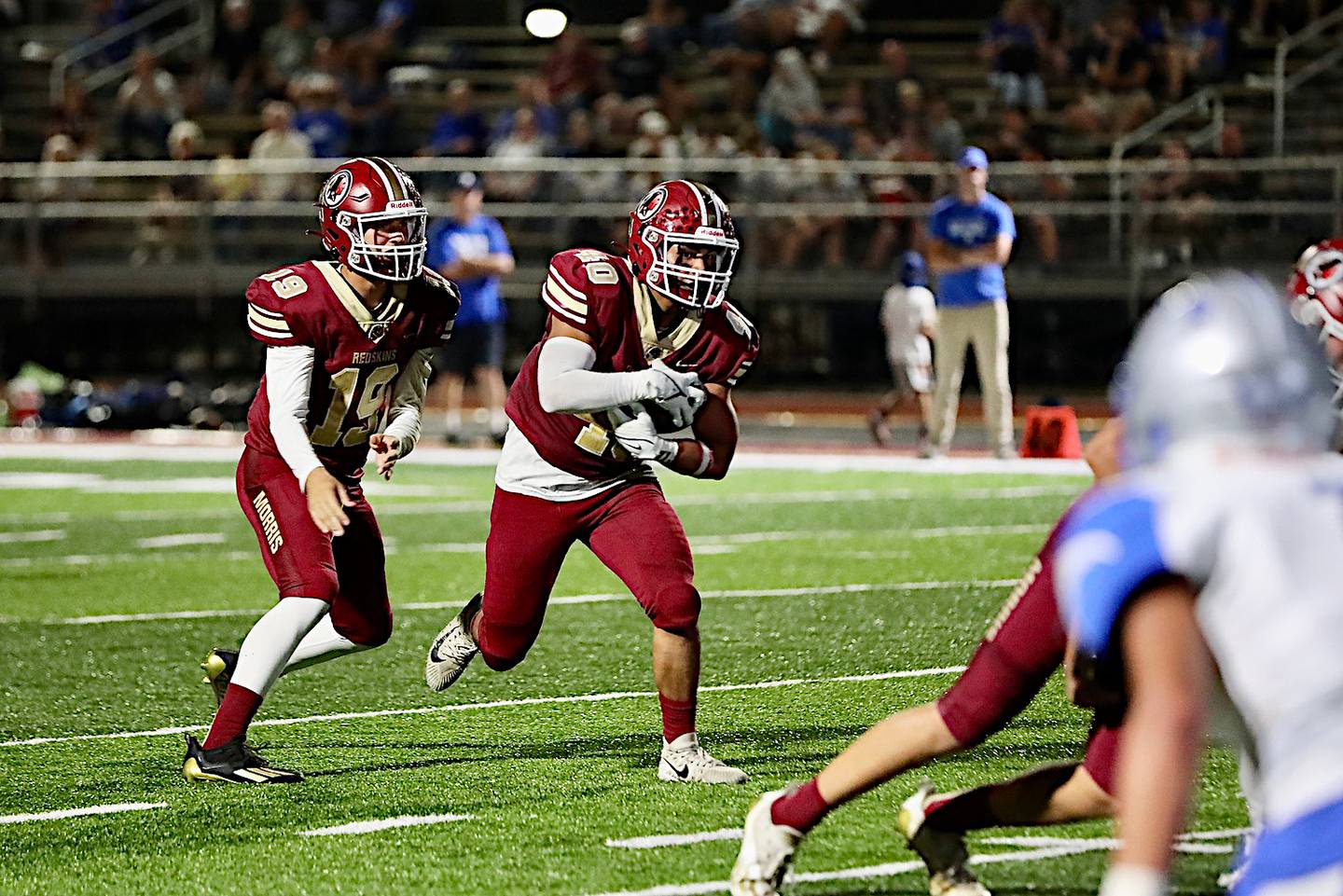 Reddinger scored on a three-yard run after Morris forced a punt and, after another Woodstock punt, Romak scored on a 15-yard run for a 35-6 Morris lead with 7:19 to go until halftime.
The Morris defense, which allowed just 229 yards, stopped Woodstock on downs, giving the ball to the offense at the Blue Streaks' 35. From there, Romak hit Myles Johnston with a 35-yard touchdown pass. Morris' Aidan Romak intercepted a pass at the Woodstock 40 and, on the seventh play of the ensuing drive, caught a 12-yard TD pass from Zach Romak to put Morris ahead, 49-6, at halftime.
Morris ran for 299 yards in the first half alone, and finished with 370 yards on the ground. In the second half, Carter Button hit Will Knapp with a 21-yard touchdown pass and ran for a 25-yard score. Woodstock's lone score in the second half came on a 10-yard pass from Mickle to Jonah Habel.
"[Morris] Coach [Alan] Thorson was hard on us in the offseason and preseason practices," Morris lineman Nick Perry said. "It's nice to see some of those rough days pay off on game night. It's also good to know that if we do our job, we have the backs that will do their job.
"We are getting better every week and that was the goal. We want to show everyone what we're made of."
Thorson was pleased with his team's performance in every aspect.
"The offensive line dominated," he said. "They deserve the credit first. They did a great job. All of our backs ran hard. Zach Romak and Ashton Yard both had great games. Really, it didn't matter who we gave the ball to. All of them ran well. And Carter Button did a nice job at quarterback in the second half, throwing and running for a touchdown.
"Aidan Romak came up big with the interception and then catching a touchdown pass. And, he is so close to breaking a punt return. He's going to score on one before too long. And, it was a great team win. This is the third game in a row where all three phases were on point."