JOLIET – Nobody expects a running clock when Joliet Catholic and Providence Catholic get together.
The 5,000 or so fans at Joliet Memorial Stadium on Friday night saw just that, with the Hilltoppers pasting Providence, 42-0, for their fourth victory in as many starts this season – and 10th in the calendar year, adding in the six from the truncated spring season.
They could run the latter total to 20 if they keep playing as they did against the Celtics. Joliet Catholic held the Celtics to 162 yards, only 43 passing. The Hilltoppers, with Aidan Voss and Jake Fieldman, passing pals since they were about 4, connecting for two touchdowns, and Voss running for a third – one of four rushing scores – dominated on offense as well.
JCA advanced to 4-0, 1-0 in the CCL/ESCC Orange, while Providence dropped to 2-2, 0-1. The Hilltoppers have outscored their opponents 175-40 in four games.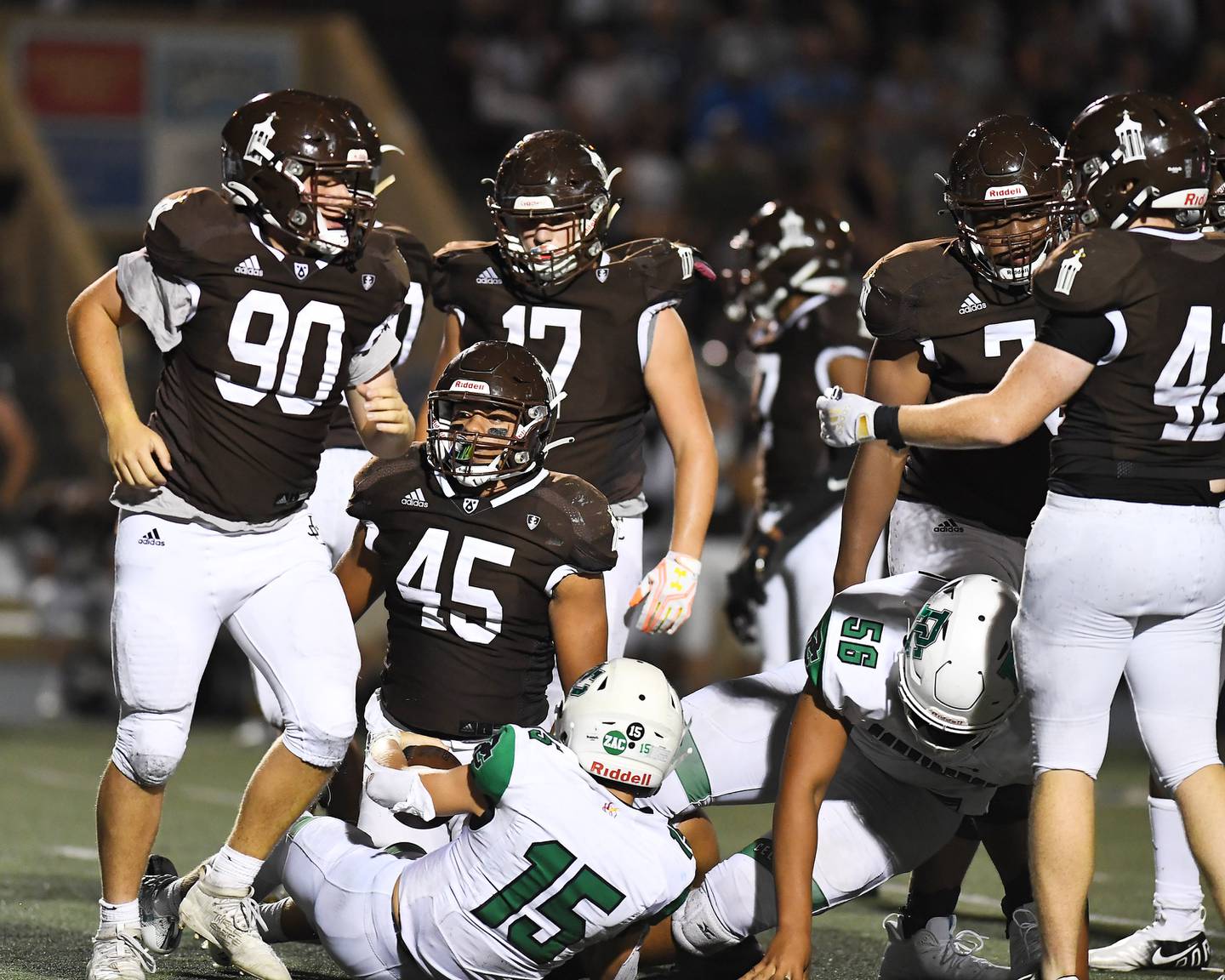 To head coach Jake Jaworski, the best number on the scoreboard was the zero.
"In this day and age, shutting our any opponent is pretty impressive, so I'll give the nod to the defense," Jaworski said.
Providence managed only 12 first downs, six on their first two series, turned the ball over three times and never got closer than the JCA 28 yard-line.
Voss was only 4 of 9 for 85 yards, largely because the Hilltoppers didn't need to pass, but found Fieldman for 15- and 25-yard touchdowns to cap short-field drives in the second quarter, when the issue was decided.
"I knew this was going to happen, to be honest," said Voss, citing his video study of Providence's defense. "I knew what this team's capable of. They weren't ready for our firepower."
Workhorse RB Vinny Iannantone ran 16 times for 114 yards and a score. Jordan Anderson showed he was in full health with 53 yards on 11 carries and a touchdown, plus a 26-yard reception. Voss opened the scoring with a 5-yard dash, and Justin Bonsu closed it with a 6-yard jaunt.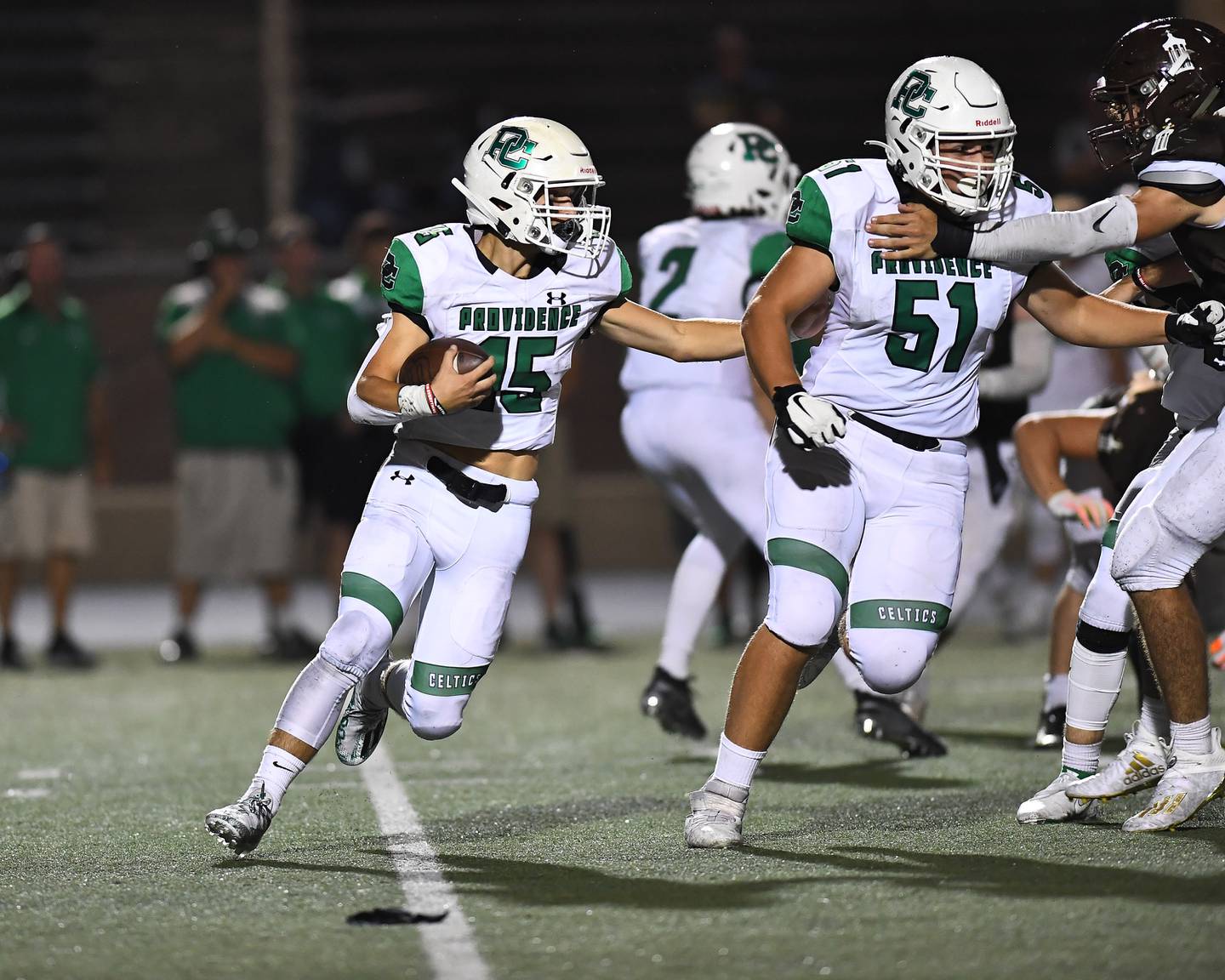 As for the Celtics, the last time they were saddled with a running clock was in a 42-7 loss at Loyola Academy on Oct. 15, 2016. Coach Mark Coglainese couldn't remember that, and wouldn't want to. Now he has to get his players ready for Marian Central Catholic next weekend.
"The first quarter, we hung right with 'em, drove it a couple of times and didn't get in the end zone," Coglianese said. "Two turnovers later, and it went to 28-0 in a few minutes. But we didn't match up physically, and they had depth.
"I know we're a little beat up, but next week we've got to get a win."
The lopsided outcome put more of a damper on the festivities than the five-minute shower in the second quarter. The big-game atmosphere for the first meeting of the traditional powers in six years was evident about two hours before kickoff, when the parking lot filled and tailgating tents sprouted like dandelions.
By halftime, JCA had expanded a 7-0 lead to 28-0 on the strength of the two Voss-Fieldman touchdowns.
The first, a 15-yard toss to a diving Fieldman, made it 14-0 with 8:11 left in the half, four plays after Providence quarterback Lucas Proudfoot fumbled. The second, in which Fieldman caught Voss's pass on a slant route and bolted to the end zone, made it 28-0 with 28.3 seconds before the intermission. That score was also set up by a Providence turnover, Charlie Soltys fumbling after catching a Proudfoot pass.
All that explained the 218-80 yardage advantage the Hilltoppers enjoyed at the half.