The Bureau Valley football team took Kewanee's best shots and managed to return fire for two quarters Friday, but the unbeaten Boilermakers kept the heat on in the second half and pulled away for a 49-21 victory in a Three Rivers Conference East Division game in Manlius.
In a first half which saw the teams combine for 536 yards of total offense, Bureau Valley (2-2) kept pace with a Kewanee offense that was able to dial up big plays all evening.
After the break, however, the Storm were able to manage just 48 total yards as the Boilermakers' numbers advantage became more pronounced.
"We ran out of gas," said Bureau Valley coach Mat Pistole. "We've got about 14 guys who play for us, and they gave it everything they had. It's hot out, and we started cramping, and we just couldn't recover."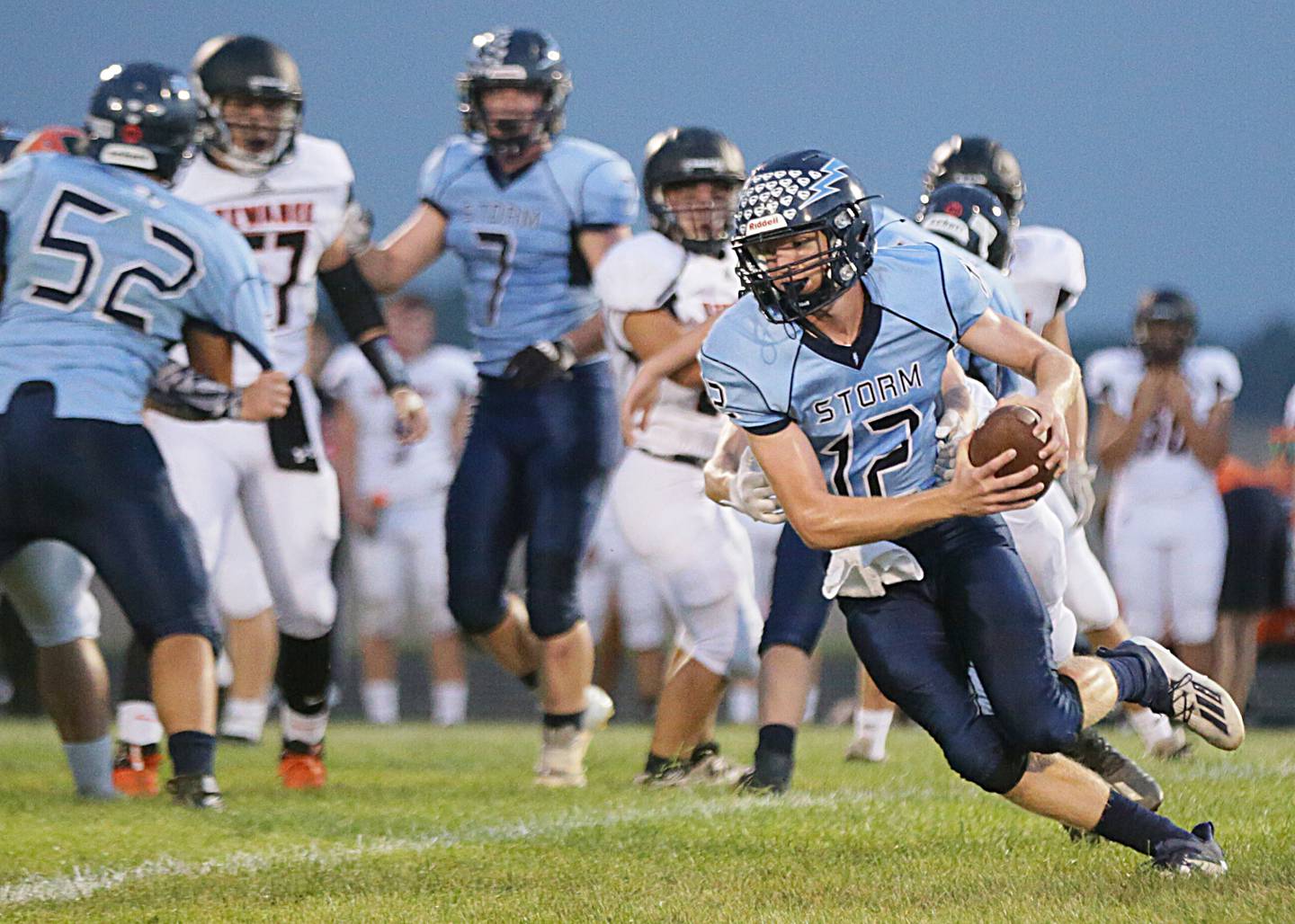 Kewanee (4-0) was aggressive on offense from the opening play from scrimmage as running back Keyontiss Patterson took a direct snap and threw a 55-yard touchdown pass to Niko Powe.
The Storm's first scoring drive got started when Isaac Attig intercepted a Kewanee pass near midfield. A 38-yard run by Jaden Michlig jumpstarted the drive and Sam Rouse leveled the score at 7-7 with a 5-yard touchdown run.
Michlig broke free for a 50-yard run on Bureau Valley's next drive before scoring from a yard out early in the second period, giving the hosts their first lead of the night at 13-7.
That lead lasted just 19 seconds, however, as Kewanee quarterback Will Bruno found Powe on a screen pass and the senior carved through the Storm defense to nudge the Boilermakers back in front, 14-13.
Patterson scored on a 48-yard run with 8:17 left in the first half, extending the visitors' advantage to 21-13.
Bureau Valley tied the game up at 21-21 with 6:03 on the clock as Layton Britt, facing third down-and-7 at the Storm 37, ran through the right side and raced to the end zone for a 63-yard scoring run. The hosts appeared headed for a go-ahead score late in the period before the Storm fumbled and the Boilermakers recovered the ball in the end zone for a touchback.
"Limiting turnovers was the biggest thing for us coming into this season," Pistole said. "If we're going to compete, we're going to have to limit the turnovers. To go in there and score before halftime would have been huge. You just can't turn the ball over, especially against a really good team."
Bruno fired a trio of touchdown passes to senior wideout Jordan Johnson in the third period to help Kewanee (4-0) pull away, completing TD passes of 55, 26 and 25 yards.
The Boilermakers gained 357 of their 423 yards through the air. Bruno completed 11-of-14 passes for 302 yards, Powe caught five passes for 160 yards, while Johnson made six grabs for 124 yards. Patterson ran for 81 yards on nine carries.
Michlig ran for 172 yards on 20 rushing attempts, while Britt ran 12 times for 79 yards and quarterback Adam Johnson completed 2-of-5 passes for 28 yards.
Bureau Valley travels to face Newman Central Catholic (2-2) on Friday.