PLAINFIELD – Ben Alvarez didn't expect his night to be so busy Friday – or even to take the field again, for that matter.
Yorkville's sophomore linebacker and the rest of the Foxes were forced to leave the field almost immediately after starting pregame warmups because of a lightning delay. Then they spent almost 90 minutes waiting it out in the Plainfield East gymnasium.
"We were sitting in the gym, throwing some balls around, we started just laying down," Alvarez said. "I thought we weren't even going to play."
Good thing for Alvarez they did.
He returned a fumble for his first varsity touchdown, and later intercepted a pass, two of five turnovers the Foxes forced. It helped visiting Yorkville overcome a good dose of adversity for a 27-6 win over Plainfield East in the Southwest Prairie Conference crossover.
Yorkville (3-1) has caused five turnovers in each of its last two games, a big reason why the Foxes are in good position going into SPC West divisional play.
"We came out here, we did our jobs, each individual did their job and we won the football game," Alvarez said. "Defensive backs and our linebackers, we're on the same page with coverages and we're just executing."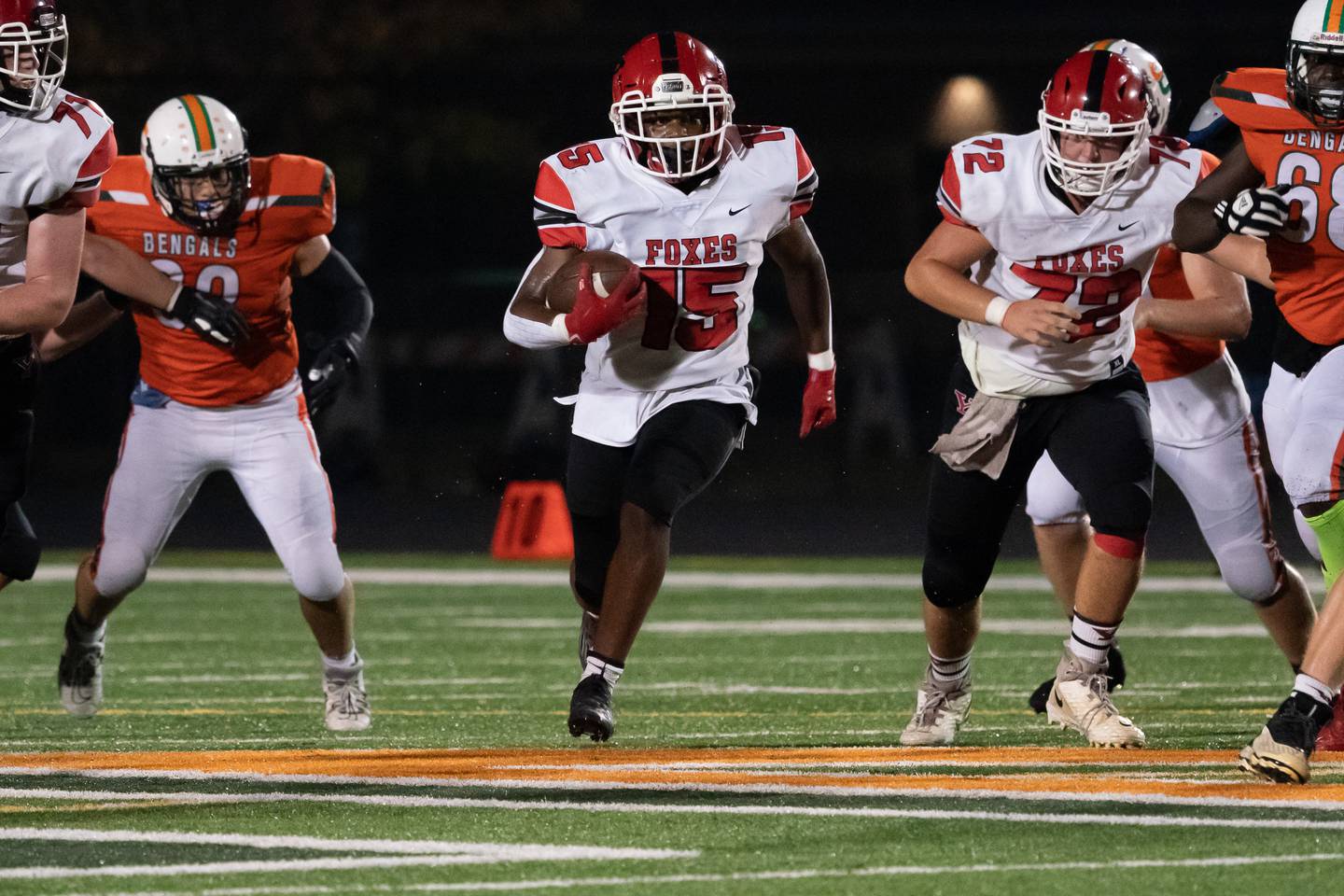 The Foxes were without running backs Deajeion Lewis and Gio Zeman, and a coaches' minibus broke down on the way to Plainfield Friday. An early penalty wiped off a Kendall Smith TD run in the first quarter, and a block in the back nullified Blake Kersting's pick-six.
Yorkville later saw running backs Anthony Zamora and Keyvon Powell go down with injuries in a rash of injury timeouts on both sides late in the game.
Foxes' coach Dan McGuire praised his kids for overcoming it all.
"That's been kind of our Achilles heel the first three weeks is how we handled ourselves in situations like that which occurred today," McGuire said. "The rain delay, the injuries, all those things. We overcame mistakes and hopefully got that monkey off our back."
Kersting's first-quarter interception set up Smith's 1-yard TD with 8:31 left in the first quarter. Two plays later, Alvarez scooped up a Plainfield East fumble and returned it 25 yards to make it 14-0.
"He made the kid fumble, I got the ball, saw the quarterback and did a little spin move," Alvarez said. "First varsity TD, thought that was pretty cool."
Alvarez later showcased his unique skill set by picking off a pass across the middle deep in coverage.
"In terms of his size and athleticism, he's pretty amazing," McGuire said. "His strength and his size and his body, a kid usually can't move as quickly as he can. He's a special player and he gets better every week."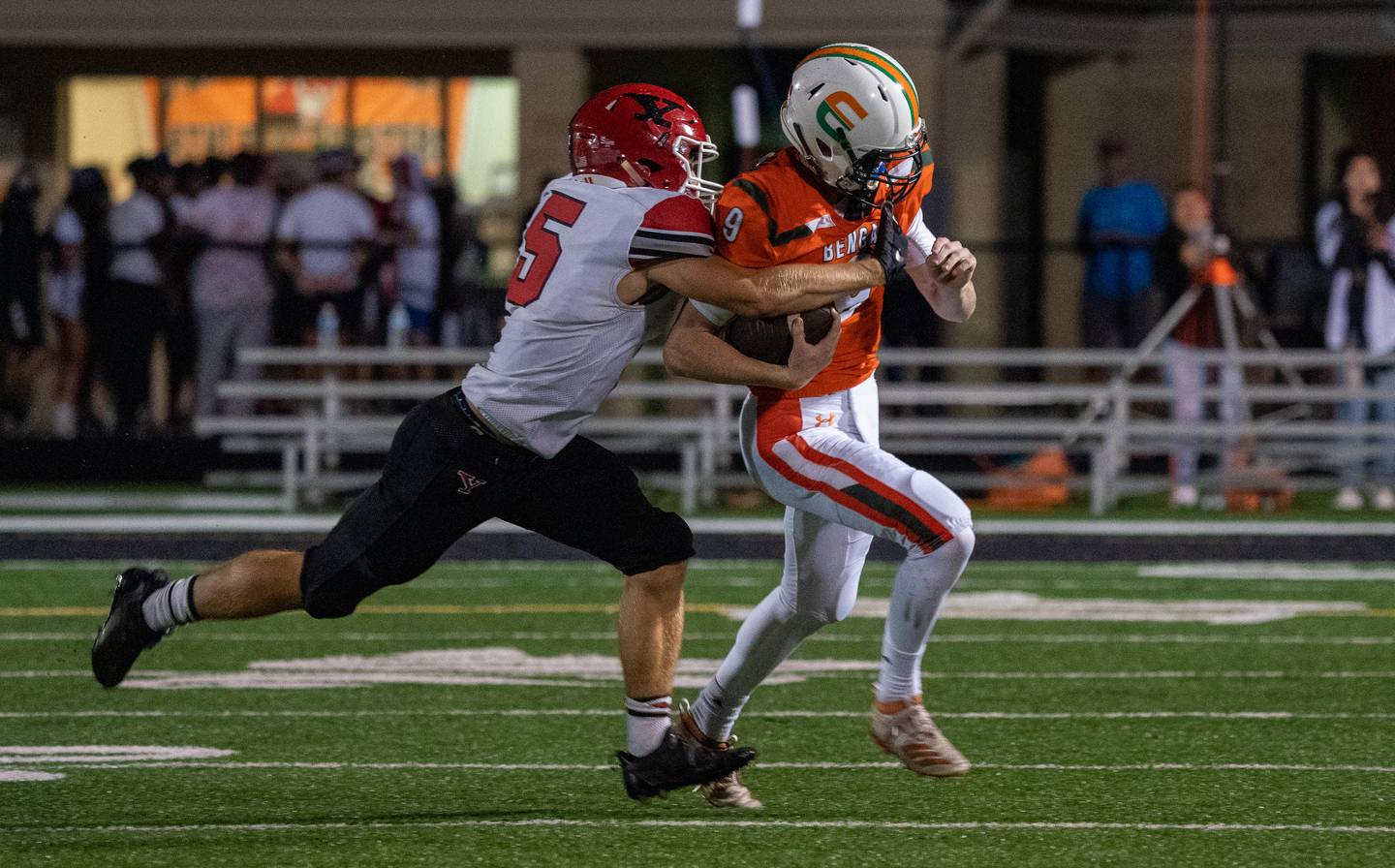 Alvarez is part of a Foxes' defense that allowed just 77 yards in the first half. Andrew Laurich, part of a talented defensive line, was in on two sacks and later scored on offense with a 6-yard TD run.
"We've always been aggressive trying to go to the ball but I feel like our defensive line really puts pressure on teams to get rid of the ball quicker than they'd like and it makes things happen faster," McGuire said. "I think our D-line deserves a lot of credit for those turnovers."
Zamora ran for 86 yards on 17 carries, his 32-yard TD run on Yorkville's first drive of the second half making it 21-0 before he left with an injury.
"He's an amazing kid," McGuire said. "He gives everything he has, all the time."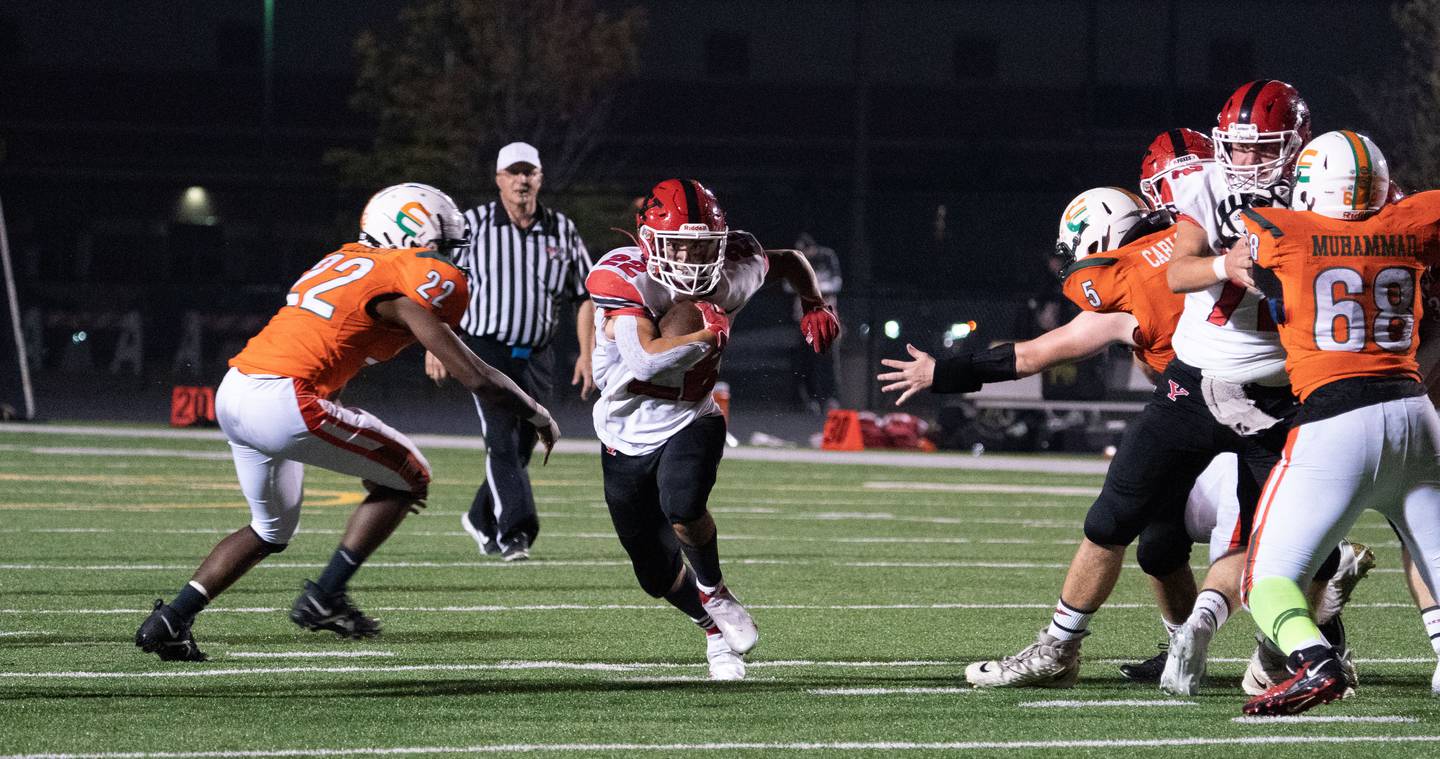 Plainfield East coach Brad Kunz can say the same for senior receiver Michael Morgan.
Morgan made a spectacular leaping grab from freshman quarterback Brandon Parades and an extra effort catch-and-run turned into a 52-yard TD for the Bengals' only points with 3:32 left in the third quarter. Morgan caught four passes for 110 yards and later intercepted a pass on defense for Plainfield East (1-3).
"He's amazing, our leader," Kunz said. "He's always working hard, helping teammates get better. He's one of the most phenomenal kids I've ever coached."
Kunz's Bengals have been bit by the turnover bug the last two weeks, 10 total, and gave up several big plays Friday. But he remains confident going into SPC East divisional play.
"We still have five here in conference," Kunz said. "There's a lot out there for us."