At this stage, Morton football coach Bob Organ will take any kind of victory.
The Mustangs entered the season with 12 victories in the past nine seasons, thus causing Organ to reflect on his team's lone win in the shortened spring season – against highly ranked Naperville Central.
The Mustangs gained a surprise win after the Illinois High School Association sanctioned the Naperville Central football team due to violations of its transfer bylaws.
"I'll take it," Organ said of the win.
Organ added the real feeling last Friday night, when the Mustangs rolled to a 41-13 victory over Addison Trail. The Mustangs (1-2, 1-0 West Suburban Gold) host Leyden on Friday.
"We executed in all phases of the game, probably the best we've done in quite a while," Organ said. "Everybody has been working hard and focusing. We've been trying to emphasize the team concept, so it was a great team win. The coaches and players did a great job. We're trying to change the culture here and instill that winning mentality."
Senior running back David Arana, one of four captains, played a big role in the blowout win. He finished with 14 carries for 191 yards and two touchdowns, including a 77-yard score. The defense tallied two interceptions and the special teams blocked a punt for a touchdown.
"It was very special and exciting because who doesn't like to win, but especially because it was our first conference game," Arana said. "This is just the beginning. Everyone was working together, so we could win that game, especially our offensive line. We started off the season with a rough start, but this game has showed us we can still power our way through to the top."
Junior wide receiver/defensive back Leon Kelsick said the victory was the perfect tonic following two frustrating losses. Riverside-Brookfield connected on a Hail Mary touchdown pass at the buzzer to knock off the Mustangs in the season opener. In Week 2, York defeated the Mustangs 54-0.
"It felt great after two rough losses that we still managed to keep our heads up and continued to work hard," Kelsick siad. "I feel like we really showed that Friday night."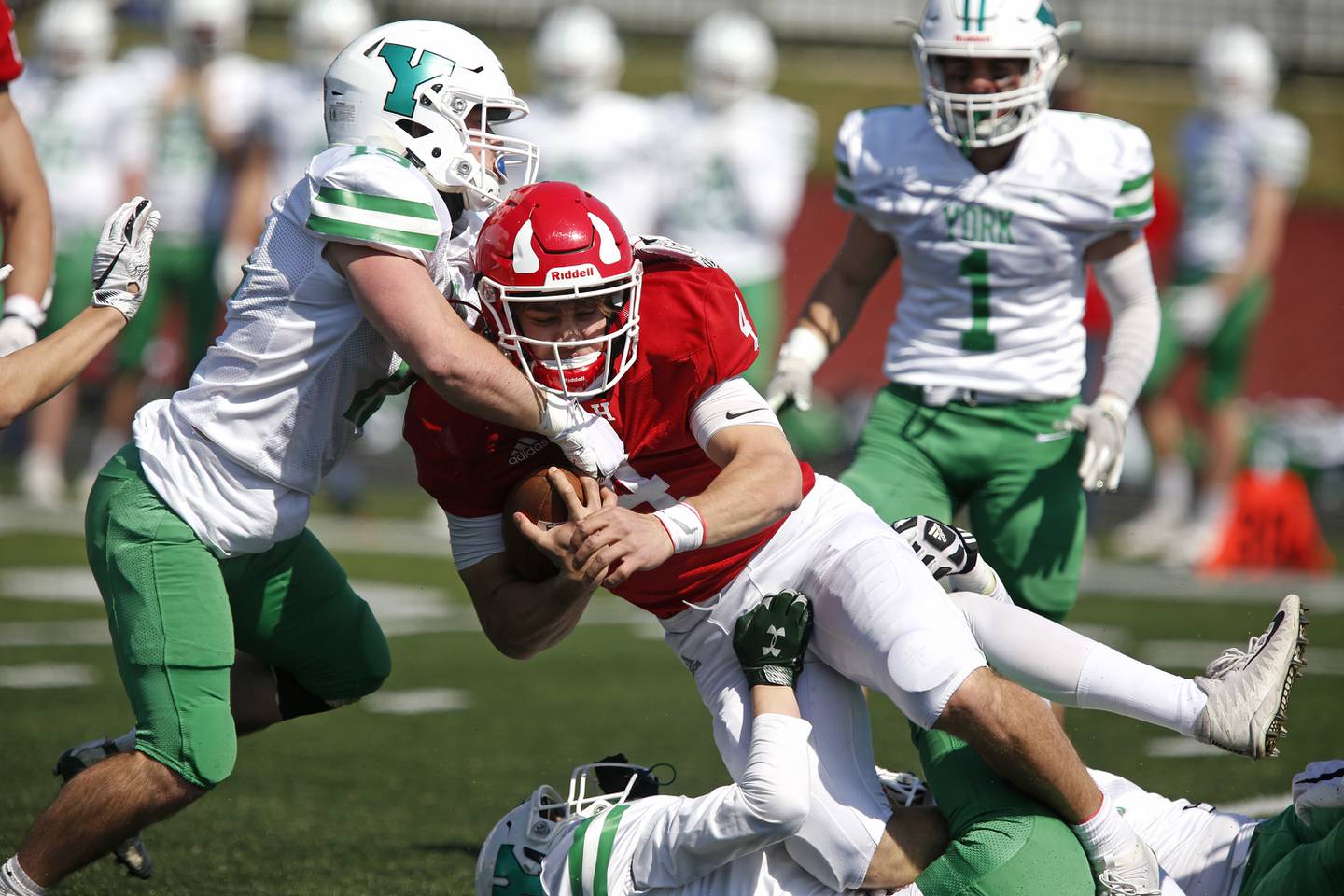 York riding high
Three games.
Three wins.
York's football team is off to one of its best starts in recent history. As one of the oldest football programs in the state dating back to 1920, the Dukes haven't experienced many double-digit winning seasons in their long history.
In total, the Dukes have won 10 or more games in a season just twice in their history, in 1995 and 2006, according to IHSA records.
Fourth-year coach Mike Fitzgerald made a point to create a positive culture and build the feeder programs, while attempting to gain community support.
The Dukes (3-0, 1-0 WSC Silver) head into Friday's road conference showdown against Downers Grove North (3-0) aiming to continue the momentum from their strong start.
"We have a great coaching staff and great parents who help align to make a great youth program in the area," Fitzgerald said. "It's a great combination of things, the administration at York has been very supportive. We're building off each year, more people pushing in the same direction, the kids hearing the same message at home as on the football field, so everybody is on the same page.
"We have some really good players. Our guys have done a great job with strength and speed and increasing their football knowledge and skills. This is deepest we've been. This year we're deep at nearly every position, just a lot of guys, Our junior varsity games are pretty good. We have kids who can play for us on Friday's, and competing for spots. Depth is huge in our conference, it's a gauntlet."
In his first three years, the Dukes have won four games in each season, including a 4-2 record in the shortened spring. Fitzgerald said it's been a steady climb building the program.
Fitzgerald said he had roughly 140 players in his entire program when he was hired. The York program is up to almost 200 players, which has created another problem.
"We still might have a couple of kids joining this week," Fitzgerald said. "The kids are having a good experience and it's been a positive influence in the community. I thought we were going to run out of helmets. That's a good problem to have, though."
In the first three weeks, the Dukes defeated Schaumburg, Morton and Proviso West, though the true tests arrives in the form of a four-week stretch against Downers Grove North, Lyons, Glenbard West and Hinsdale Central.
"We ended the spring the right way, had some good momentum and we knew we had to get off to a good start because our schedule is competitive and strong," Fitzgerald said. "We've played well in all three phases. We have a lot of depth, a lot of different guys can play. We have confidence. Our guys truly believe they can win every week. "That's the way they've prepared and we've had success on lower levels. This (senior) class was the first class when I was hired, so that's four years in the system from the offense and defense. That helps with confidence, and there's consistency there. The kids understand the plays and overall scheme, which allows them to play fast and physical."
Extra notes: Lyons quarterback Joey Antonietti is off to a fast start, accounting for eight total touchdowns in three games…Lemont junior safety Noah Taylor has made unofficial visits to Illinois and Northern Illinois the past two weekends.