STERLING – Newman's defense intercepted Orion quarterback Jared Mohr three times, held the Chargers to negative yardage in the third quarter, and, despite long touchdown plays in the first and second quarters, made plenty of stops in the Comets' 27-13 win Saturday at Roscoe Eades Stadium.
Mohr was 6-for-16 passing for 144 yards, 137 of that to Quinn Hoftender, but he also faced consistent pressure in the second half from Newman's Will Rude and Hunter Luyando, and two of his last three pass attempts wound up in the hands of Comets defensive backs Nolan Britt and Owen McBride.
"Those first two touchdowns they had were just busts on our part," Newman coach Brandon Kreczmer said. "Really, just a tale of two halves. The first half we did not play Blue Machine football, on either side of the ball, but the second half was Blue Machine football."
Both teams were able to break off big plays. Orion got on the board in the first quarter with a 37-yard Cole Kratzberg touchdown run, capping off a two-play scoring drive.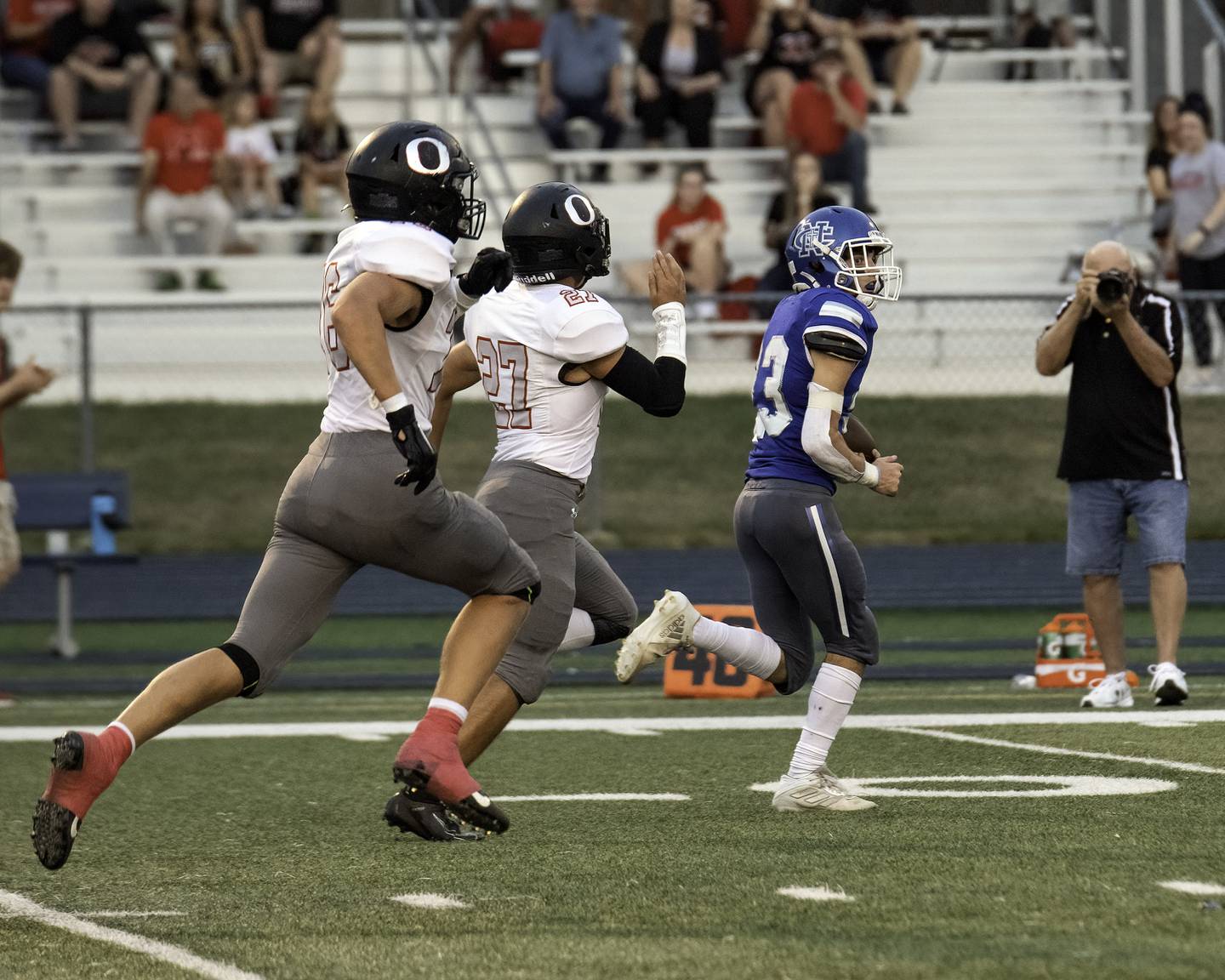 Newman (2-1) answered two plays later, with Britt going 92 yards for a score to tie the game 7-7.
Orion (1-2) got another big play in the second quarter as Mohr hit Hoftender for a 75-yard touchdown, putting the Chargers back in front.
"Those we were just doing what their coverage was dictating what we could do," Orion coach Chip Filler said. "Quinn made a great catch, Jared made some great throws. That really helped get us off and running, and I really thought that was the play that was going to help us explode there before the half, and then getting the ball to start the second half, but it didn't quite go that way."
Touchdowns late in the second quarter and early in the third put Newman in front, and Gabe Padilla came up with one more big play, a 95-yard touchdown on the play following Britt's interception.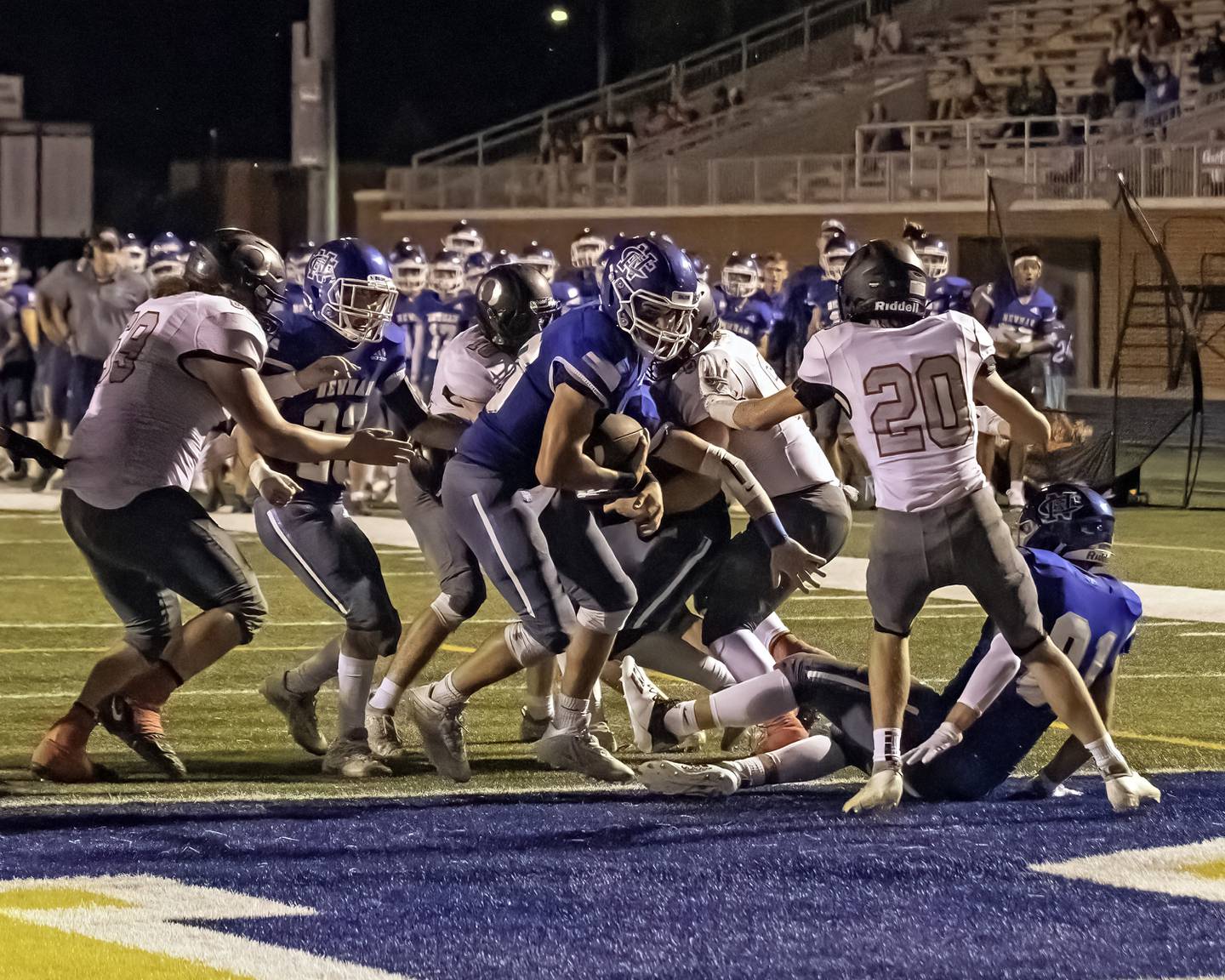 "Just blocking for four seconds. When we block for four seconds, we're pretty good," Kreczmer said. "A lot of times today we were just hitting and falling off. Credit to Orion for playing hard-nosed defense. But we've just got to sustain blocks longer."
With ballcarriers on both sides keeping their legs churning even after contact, the officials were holding off on blowing their whistles as players kept fighting for extra yardage. That came back to burn Newman once, as Brennen Cook fumbled the ball at the Orion 9 in the second quarter after his forward progress had seemingly been stopped.
But it helped Newman out soon after. With the Comets driving for a score late in the second quarter, Cook was met close to the goal line by several Orion tacklers, and the ball started to slip out of his hands. But this time teammate Ethan Van Landuit grabbed it from him and stepped into the end zone for a score, putting the Comets up 14-13 at the half.
Cook then scored again on a 1-yard run in the third quarter, capping off an eight-play drive.
"Just keeping my feet moving," Cook said. "You get caught up, just got to keep your feet moving and just keep pushing forward. If you can keep the pile moving, the refs aren't going to blow the whistle right away. If you can keep the pile moving, every single extra yard helps."
At times, Orion's defense had the Newman running game bottled up, forcing the Comets to go three-and-out twice in the first half and turn the ball over on downs in four plays with the first possession of the second half. Newman also hurt its own cause with a pair of fumbles.
But at other times, the Newman offense began to figure things out.
"The whole first half we were shooting ourselves in the foot," Cook said. "We'd get down into the red zone and fumble the ball, or we'd make stupid mistakes in the line. But the second half we cleaned that up and we played Blue Machine football."
Nine of Orion's 13 drives in the game were held to 15 yards or fewer, with four of them losing yardage.
"After that first big, long run they had, we realized we really have to not [anger] Coach, so we just made sure to do everything we could correctly," Rude said. "It was a little motivating to have Coach yell at us."
Orion's first nine plays of the second half netted a total of minus-2 yards, a stretch which included Rude sacking Mohr on one play and stopping him for a loss on a read-option the next. On Orion's next series, Rude flushed Mohr from the pocket before Mohr was able to throw it away.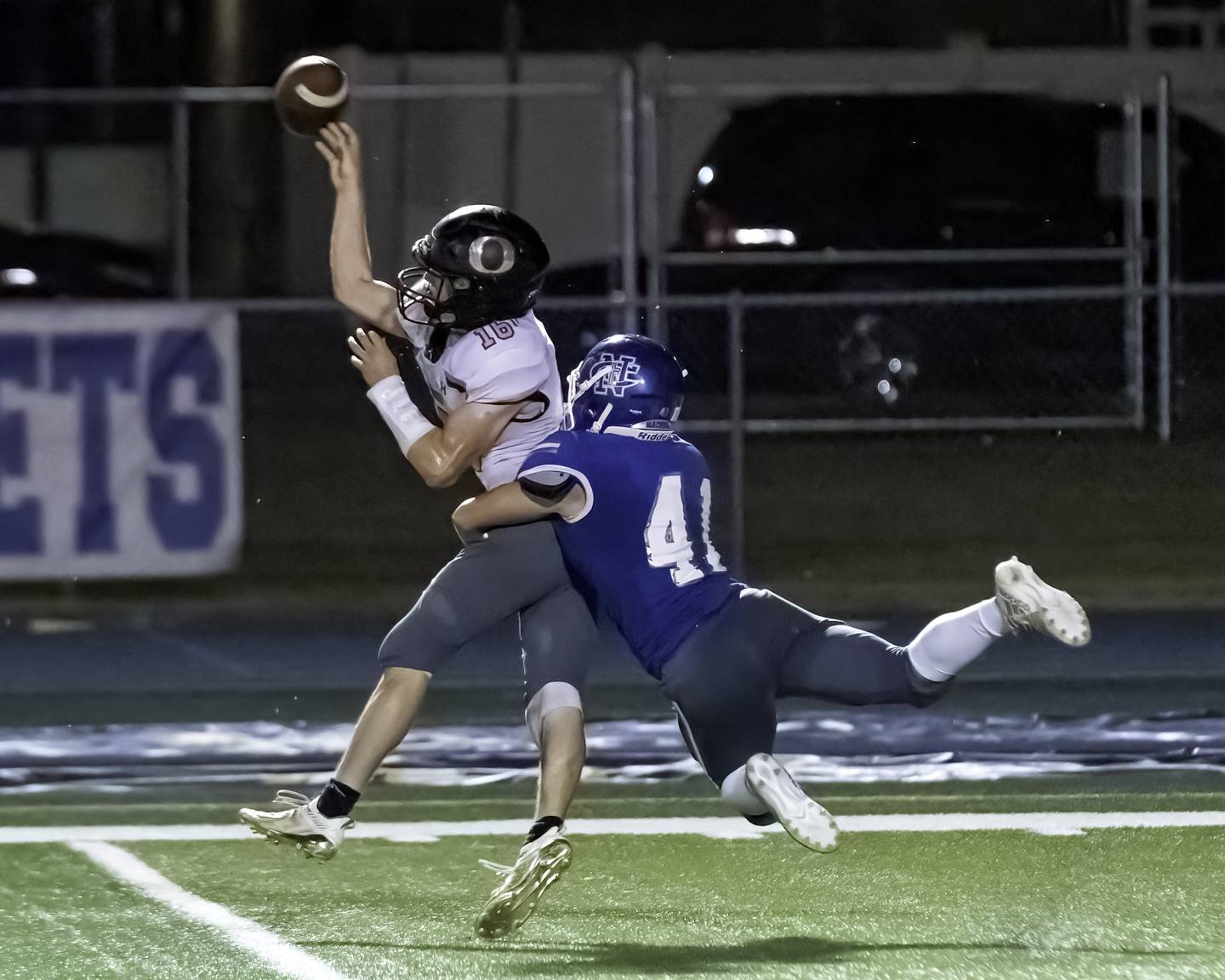 "They did a good job. Those first two plays they laid off and were seeing where we were at," Filler said. "The subsequent drives they were bringing pressure, they were bringing everybody and just made it up on the outside. Our kids have to be able to beat that."
The first play of the fourth quarter saw Orion punting away from its own end zone, but Newman was flagged for running into the snapper, giving the Chargers a first down. Orion then got it over midfield on its next play, a 34-yard pass from Mohr to Hoftender, but the Newman defense still made the stop, as Orion went backward from there and punted.
"All that adversity is is more motivation to do better," Rude said. "Every time something hard came at us, I think we did a good job of overcoming that and doing better the next few plays."
Newman's score late in the second quarter was set up by field position. The Comets were forced to punt with 2:59 left in the half, and with the ball bounding toward the goal line, McBride was able to bat it back into play, where it was downed at the 2. Orion then went three-and-out and, after the Chargers' punt, Newman was able to open its drive at the Orion 32.
Newman had 44 carries for 314 yards, as Britt carried 10 times for 127 and Padilla carried six times for 100. Cody Donna completed 4 of 6 passes for 55 yards.