STREATOR – This fall's Streator Bulldogs do not play boring games ... or short ones ... or, through three weeks, losing ones.
Streator moved to 3-0 for the first time since 2004, winning a thrilling three-hour marathon over the visiting Herscher Tigers, 45-40 at the SHS Athletic Fields. Sophomore quarterback Christian Benning completed 14 of 20 passes for 419 yards – seven of those receptions, 278 of those yards and three of those touchdowns going to junior wideout Aneefy Ford – and senior RB Darryl Gullens ran in the go-ahead touchdown with 2:03 remaining.
All that was left was for a Bulldogs (3-0, 1-0 Illinois Central Eight Conference) defensive unit that surrendered 33 first-half points but played a gutsy second half to get one final stop. It did, halting the Tigers (2-1, 0-1) at the Streator 12-yard line and taking a knee to run out the clock on another Bulldogs victory.
"It's good, man," Ford said of being 3-0. "We came into the game knowing we could win, and winning the [second] half with confidence, and we came out and got it."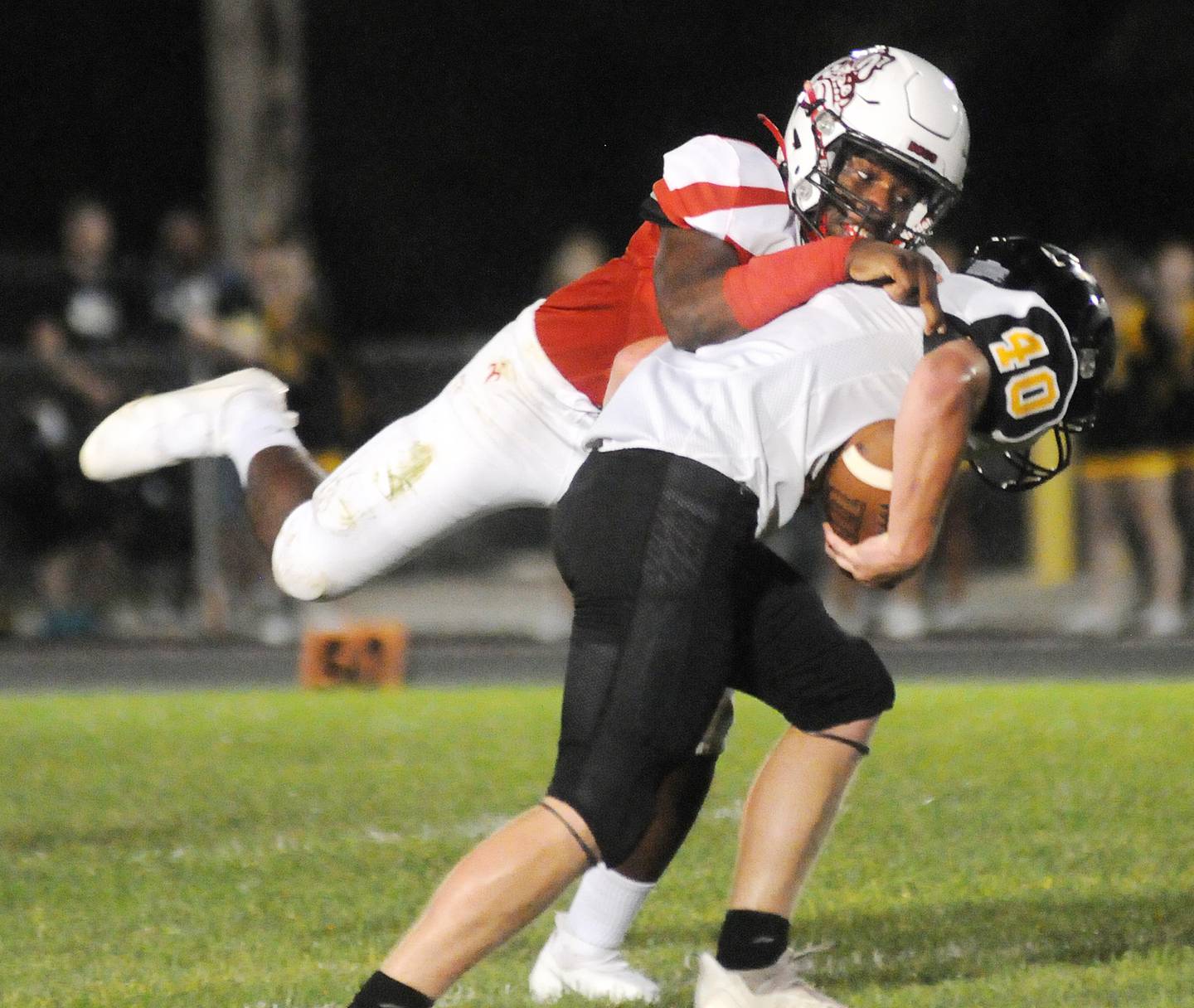 "I went in at halftime, and I said, 'Guys, this is not how we play football,' " Bulldogs coach Kyle Tutt said. "I put a lot on the offensive line. The offense, I thought, did an excellent job in the second half. Special teams really cleaned things up, and we gave guys opportunities to make plays and really stepped up on the offensive line in the second half.
"Then we did what we've done the past few weeks and put it on our defense."
The big play was again the Bulldogs' friend.
Cade Stevens for the second consecutive week ran back a kickoff for a touchdown, taking the game's opening boot 90 yards to the house to put the Bulldogs ahead, 6-0. Streator's ensuing first-half touchdowns were a 66-yard Benning-to-Ford strike and a 71-yard Benning-to-Ford connection, but the Bulldogs still found themselves trailing, 33-19, as Herscher quarterback Brock Wenzelman (22 of 36, 319 yards, five TDs) was having a pretty stellar game himself.
The Bulldogs' defense regrouped at halftime, shutting the Tigers out in the third quarter while the Streator offense inched closer on a 1-yard Benning sneak late in the period to cut the deficit to 33-25.
Herscher struck first in the fourth to return it to a two-possession game on Wenzelman's fifth scoring strike, but two immediate long Benning passes – the first to Stevens (four receptions, 99 yards) and the second to Ford – set up the first of two Gullens touchdown runs in the final quarter. Ten plays later, Benning hit a streaking Ford for a 78-yard score down the west sideline, but the conversion run failed and Streator was still behind, 40-39.
"(Those long plays) are something where we want to be a running team, and we're going to continue to be a running team, but we're going to take what the defense gives us," Tutt said. "If they're going to give us opportunities to make big plays with our quick guys, we're going to make that happen."
A quarterback sack by Seth Miles – who also recorded two tackles for loss on the night – allowed the Bulldogs to get a stop, and four plays later Gullens (47 yards on the evening) was in again, and the Bulldogs were ahead and on their way to victory.
Sergio Brown also recorded two TFLs, while Alex Ward had two passes defensed.
Herscher outgained Streator in yards from scrimmage, 479-460.
The unbeaten Bulldogs visit Lisle on Friday, with kickoff scheduled for 7 p.m.