OREGON - In Stillman Valley's 36-7 BNC win over Oregon, it was strictly a ground-and-pound affair. Midway through the third quarter, the Cardinals (2-1) had 323 yards on 49 carries and a 36-0 lead.
"I was pleased with how physical we were," said SV coach Mike Lalor, whose team did not throw a single pass.
The only thing that stymied them was penalties.
"I'm disappointed in that. We must have had 200 yards," Lalor said.
Actually, it was 10 for 95 yards, but it helped Oregon (1-2) keep early drives alive. Behind the running of Daniel Dominguez, the Hawks managed to reach Stillman Valley territory on its first two drives, but a lost fumble and interception gave the ball back.
"That turnover on the second drive changed things," Lalor said.
Jory Spain, a 220-pound junior fullback, had four touchdowns in the first half to give the Cardinals a 29-0 lead. Running a disciplined no-huddle offense, those drives were 53, 66, 90 and 70 yards.
"They've been using the same system for years and are always physical," Oregon coach Nick Schneiderman said.
Oregon only managed 62 yards of total offense in the first half. Anytime quarterback Hunter Buchanan tried to pass, he was under pressure.
After Gage Henderson scored on a 26-yard touchdown run to make it 36-0, Lalor went to his bench and Oregon began to have success moving the ball.
Dominguez (19 carries, 98 yards) capped off an 11-play, 79-yard drive with a 2-yard score to make it 36-7 in the fourth quarter. Otherwise, the Cardinals had their way with Oregon all evening.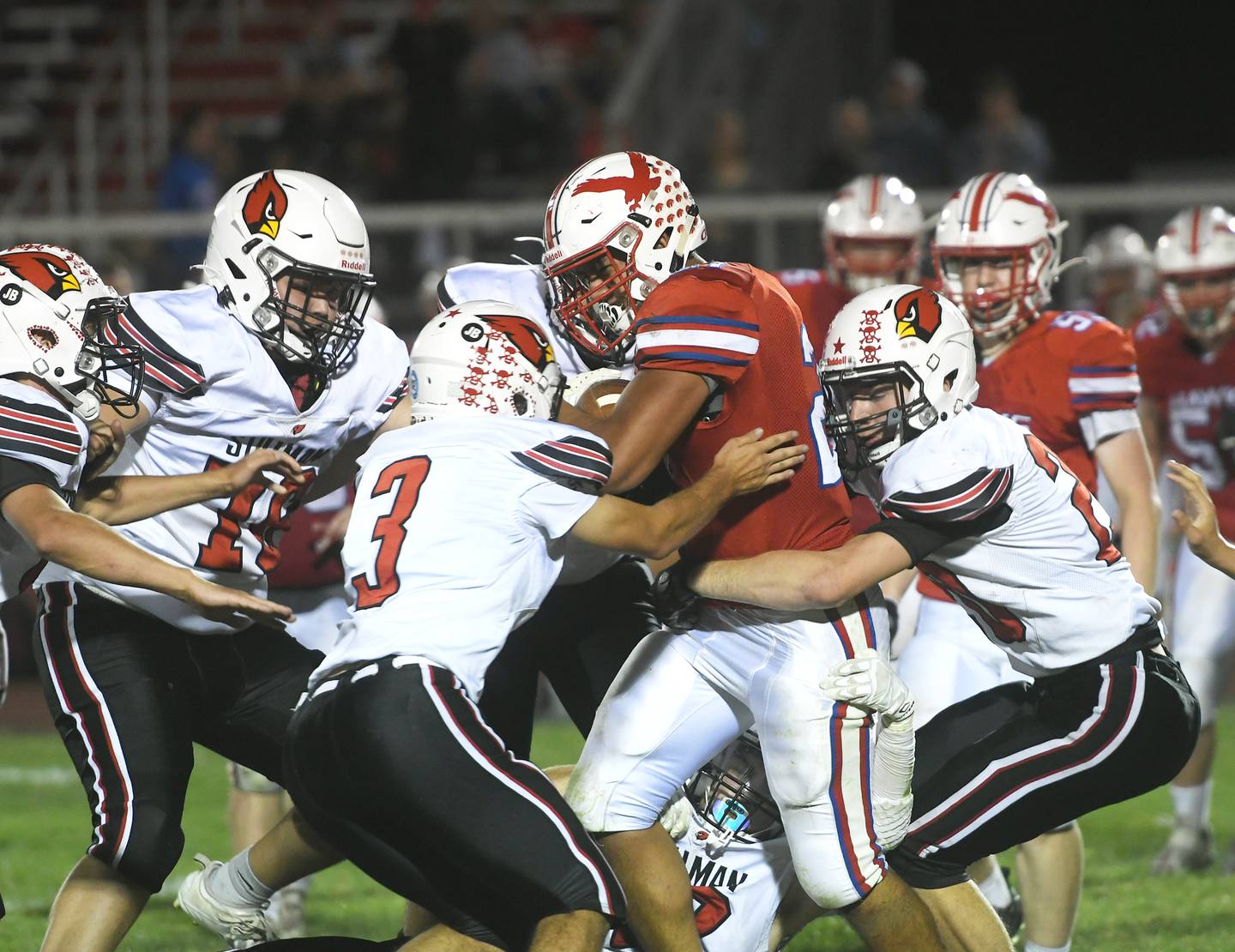 "We couldn't hold our gaps against them and they exploited it," Schneiderman said.
A highlight for Oregon was kickoff returns, with Isaac Reber and Shaun Blake with long gains.