BOLINGBROOK – When the Bolingbrook football team finds itself in a pinch, they've got a pretty good fallback plan for just about any situation.
Find a way to get the ball in I'Marion Stewart's hands.
He'll figure out the rest.
Stewart accounted for several big receptions and one substantial pass completion as Bolingbrook claimed a 23-17 victory over visiting Lincoln-Way West on Friday night.
[ Photos: Bolingbrook vs. Lincoln-Way West ]
Bolingbrook (3-0) led for the entire contest, but it appeared the momentum might be shifting late in the third quarter. On a third down, everybody in the stadium likely assumed that Bolingbrook's pass catching standout would be getting the football, but he got it an unexpected form, turning what appeared to be a jet sweep into a passing play.
It caught the Lincoln-Way West defense napping and allowed Kyan Berry-Johnson to haul in the pass and take it 67 yards down to the Warrior 15. Two plays later, Berry-Johnson made a nice adjustment on a ball in the air and nabbed it for a touchdown. That gave Bolingbrook a 23-10 lead at the time and turned a dicey situation into one with a lot more breathing room for the Raiders.
"We've been working on that all week," Stewart said of his pass connection with Berry-Johnson. "Wish he would have scored though, everybody was trying to get me on that jet sweep, but no way."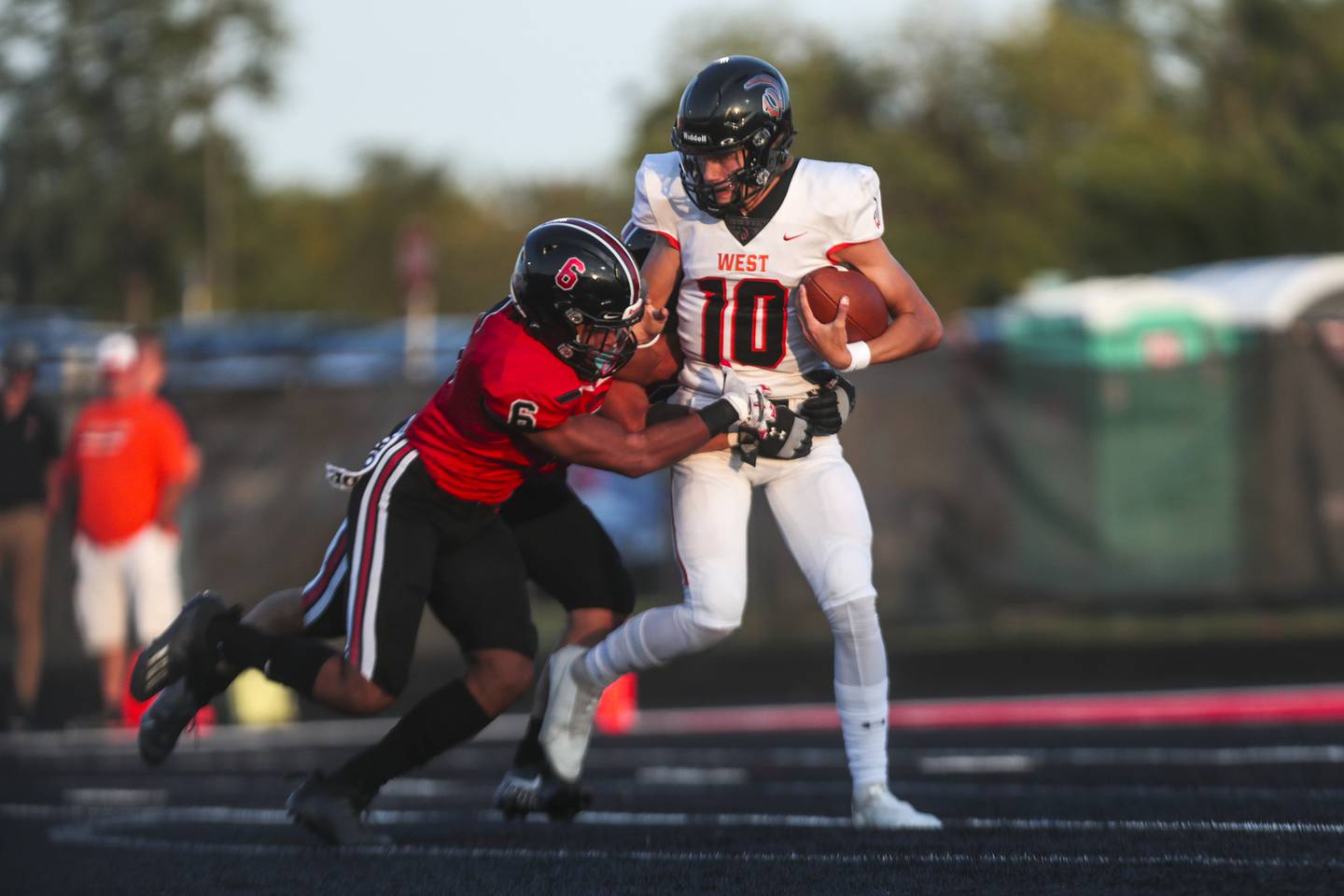 Lincoln-Way West would strike again with a touchdown from Justin Harris for 50 yards off of a screen pass from Cole Crafton. That made it 23-16 with 5:07 to play in the game.
Bolingbrook tried to drain the clock but quickly found themselves in a third-and-long situation and they leaned on Stewart again. Although he didn't catch the pass attempt, he got so much separation from the defender that he was forced to commit a penalty to keep him from making a game-ending grab. The Raiders were unable to move the ball for another first down, but it allowed them to use about all of the game clock and forced Lincoln-Way into a desperation drive that ended near midfield.
"I knew he couldn't guard me. He wasn't confident at all," Stewart said. "I just did a little move, shook him up a little bit, and I knew he wasn't covering me."
Bolingbrook wasted no time in showing that it would be the aggressor. After forcing a quick three-and-out punt from the Warriors (0-3), Bolingbrook quarterback Bobby Ervin took a few small bites out of the Lincoln-Way defense before taking a huge chunk, finding Stewart free of coverage as he sauntered into the end zone to give Bolingbrook a 7-0 lead.
Later, Stewart would make an adjustment to a ball thrown by Ervin. Under-thrown and wide of his intended target by at least five yards. Stewart planted, cut and simply raced to where the ball would end up for a 30-yard gain. A few plays later, Jaquan Howard burst through the line and ran away from the Warriors' defense for a 53-yard score and a 14-0 Bolingbrook lead.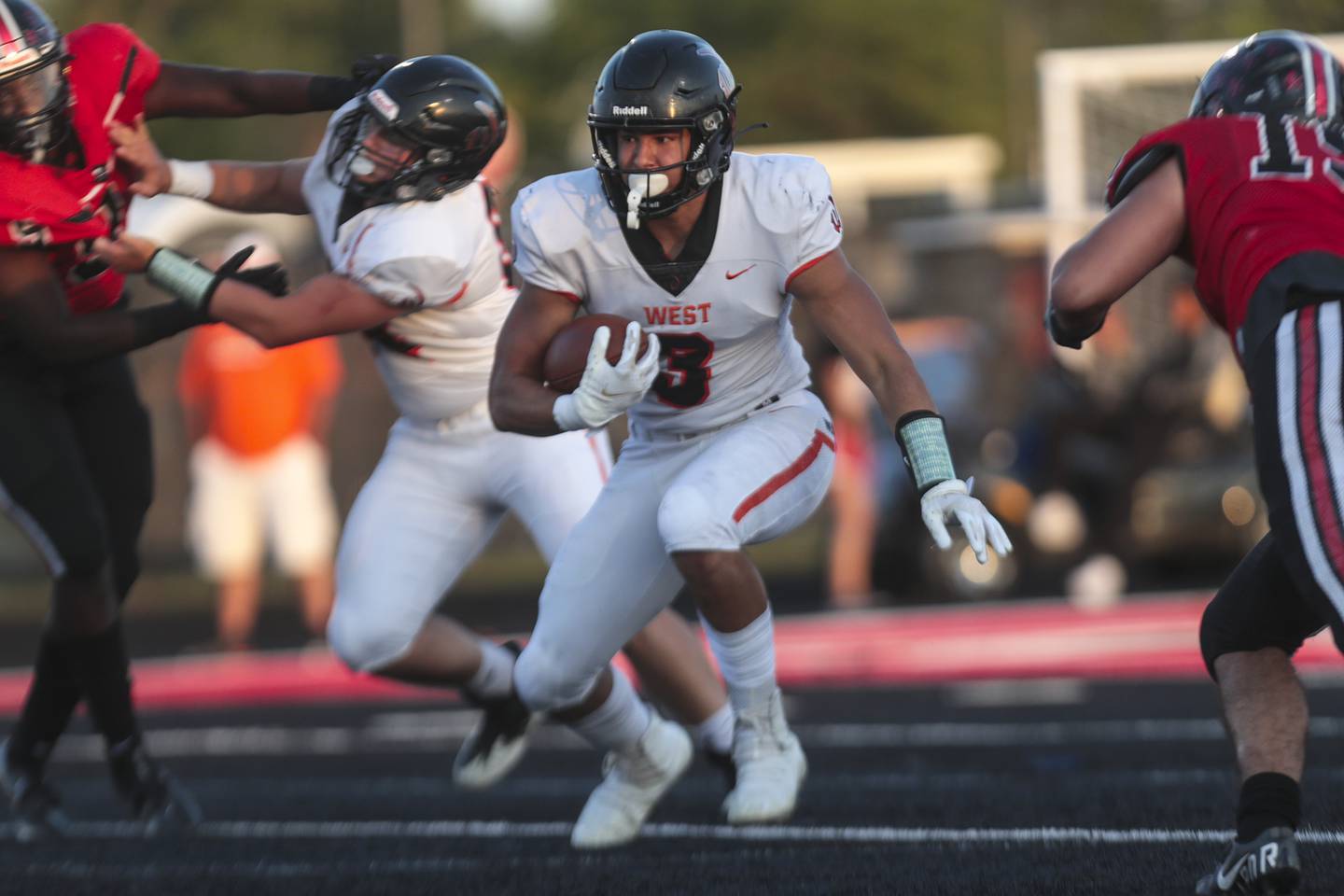 Lincoln-Way West did manage to respond to that tally with a score of its own putting together a drive keyed by a 29-yard reception from Jason Harris and capped by a 2-yard touchdown run from Justin Harris to cut the lead in half.
But Bolingbrook got yet another big gainer from Stewart, this time for 39-yards, that allowed John Zeitler to boot a 29-yard field goal to stretch Bolingbrook's lead to 17-7.
The Raiders looked like they might be able to tack on more score after a spectacular one-handed interception by Anthony Harris allowed Bolingbrook one more chance just before half. They couldn't capitalize, but the Harris interception was the culmination of a excellent first-half defensive effort from the Raiders. Although they allowed a fair amount of pass completions, they made sure the Warriors had to settle for minimal gains on almost every one of them.
Bolingbrook coach John Ivlow, ever the perfectionist, wasn't happy with some of the things his team did in the win, but ultimately conceded the overall goal was met.
"3-0 is 3-0. Nothing is guaranteed. You never know, we could be shut down in a week," Ivlow said. "Get your five and get out."