The Dixon Dukes got rolling early and never looked back in a 62-0 win over Rockford Christian.
Dixon (3-0) got a pair of first-quarter touchdowns, including a blocked punt by Hunter Vacek that he recovered in the end zone.
Jath St Pier opened the scoring with an 8-yard TD run, then Vacek's score made it 12-0.
Rylan Ramsdell ran for two touchdowns, Tyler Shaner threw for two and ran for another, and Eli Davidson also ran for a score. Shaner's scoring strikes went to St. Pier and Jacob Gusse.
After Alex Fulton returned an interception for a touchdown, Spencer Thompson sacked Royal Lion QB Keon Leach for a safety with 5:20 to play as the Dukes scored on offense, defense and special teams. They have only allowed one score through three games, outscoring their opponents 147-7.
Shaner ran for 128 yards on nine rushes, and also completed 4 of 6 passes for 76 yards. Ramsdell ran for 121 yards on nine carries. Leach threw for 168 yards for Rockford Christian, but the Lions finished with minus-40 yards on the ground.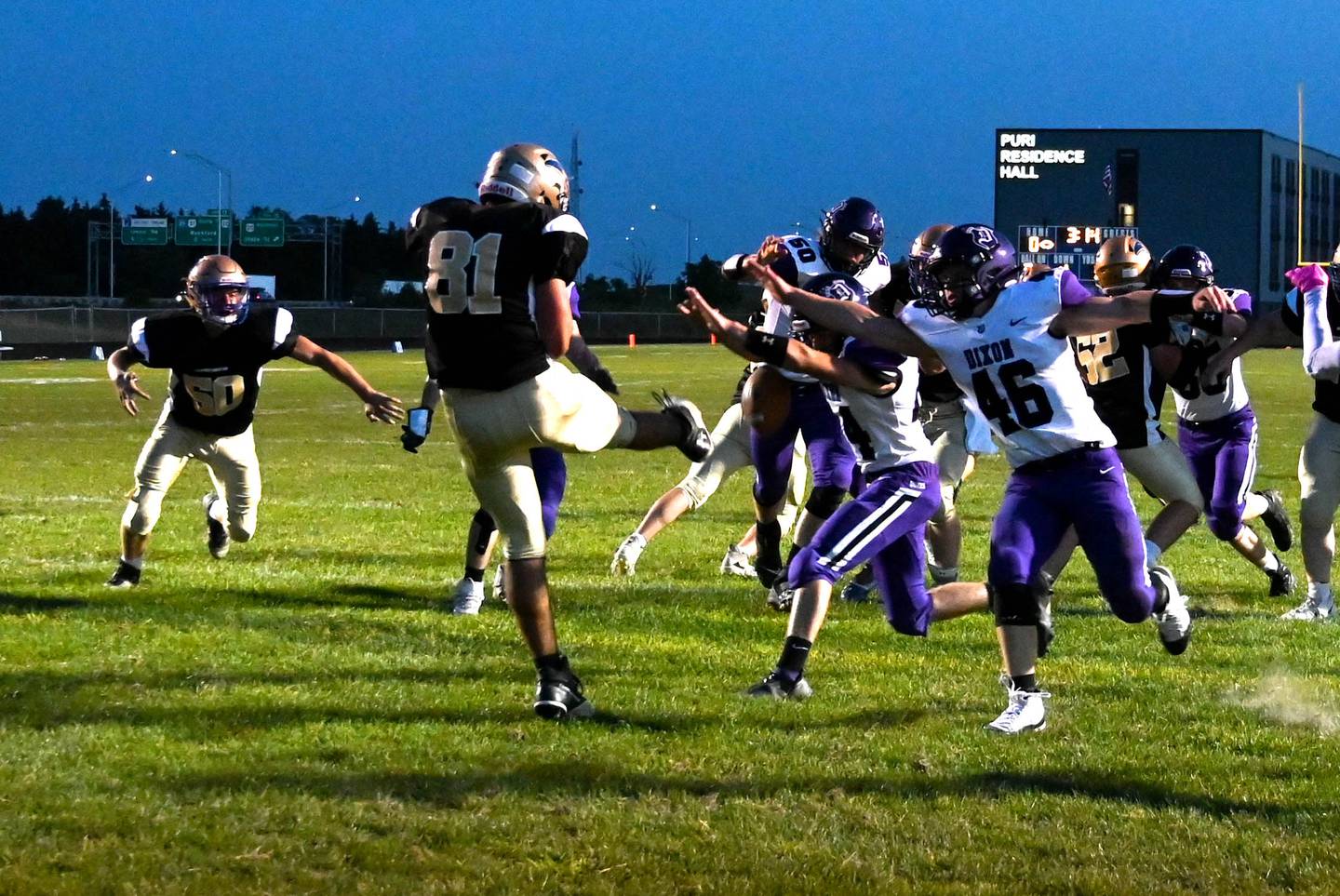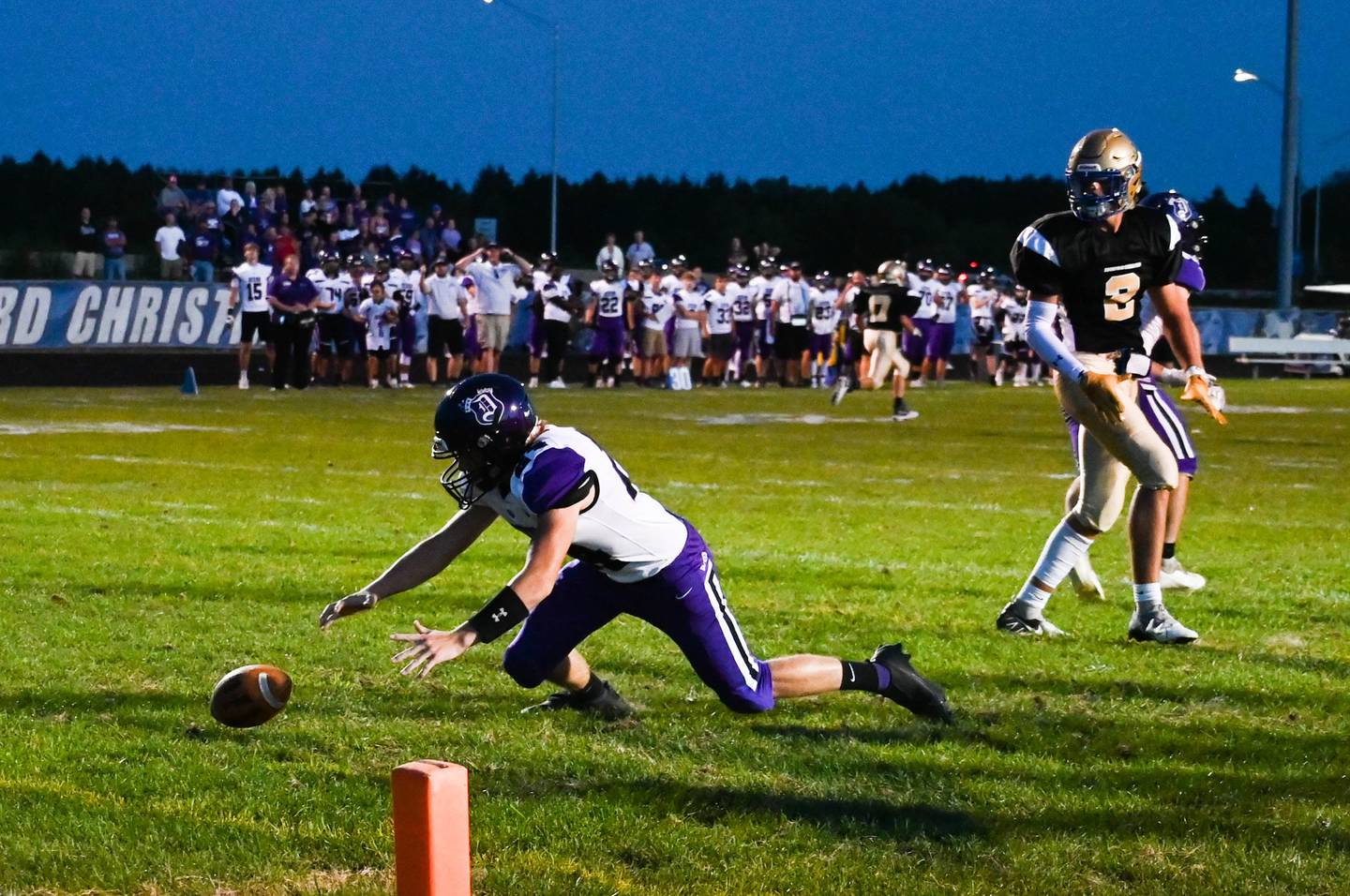 Winnebago 45, Rock Falls 8: A 75-yard punt return by Booker Cross was the bright spot for the Rockets in a road loss.
Winnebago's Michael Cunningham scored three touchdowns and added a 27-yard field goal. He gained 213 yards on 14 carries.
Cross rushed for 31 yards on seven carries. Baraka Boards had a 30-yard reception, and Audric Thomas had two catches for 20 yards.
Monmouth-Roseville 43, Morrison 28: The Mustangs got 124 rushing yards from Alex Anderson in a loss to Monmouth-Roseville.
Morrison led early, getting touchdowns from Carson Strating and Anderson in the first quarter, Anderson's on a 56-yard run, but the Titans jumped in front 22-14 in the second quarter. After a 40-yard touchdown pass from Danny Mouw got the Mustangs within two, Monmouth-Roseville added three second-half scores to jump out to a 43-20 lead before a late touchdown by Mouw.
Peoria Heights 52, AFC 8: The Raiders fell to Peoria Heights on the road in 8-man action.
Milledgeville 64, River Ridge 0: The Missiles rolled past River Ridge, leading 32-0 after one quarter and not looking back.
The Missiles were scoring in plenty of different ways. Bryce Aude returned a punt 83 yards for one score, and Izaac Toms-Smith returned a fumble 53 yards for another. Connor Nye threw touchdown passes to Kacen Johnson, Ashton Nobis and Johnson again, and also ran for a score. Johnson, Peyton Sarber and Bryce McKenna also had rushing touchdowns.
Nobis gained 87 yards rushing, with McKenna chipping in 79.