It didn't take long for the La Salle-Peru football team to establish its dominance at the line of scrimmage Friday.
The Cavaliers stopped Ottawa for a loss on the Pirates first offensive play, while offensively L-P averaged 12.5 yards a carry on its second drive to take the lead for good.
All night, the Cavs pounded the ball up the middle while the Pirates struggled to get any offense going, as L-P opened Kishwaukee River/Interstate 8 White Division play with a 28-0 victory at Howard Fellows Stadium.
It was L-P's seventh consecutive win over Ottawa.
"Offensively, we played well, and defensively we played well," L-P coach Jose Medina said. "That's what we wanted to do this week was make sure we secured things and got better from Week 2 to Week 3. I think we did that."
On Ottawa's first possession, L-P linebacker Chris Swayne twice tackled Ottawa running back Javarius Whitfield for a loss, starting the trend of the night.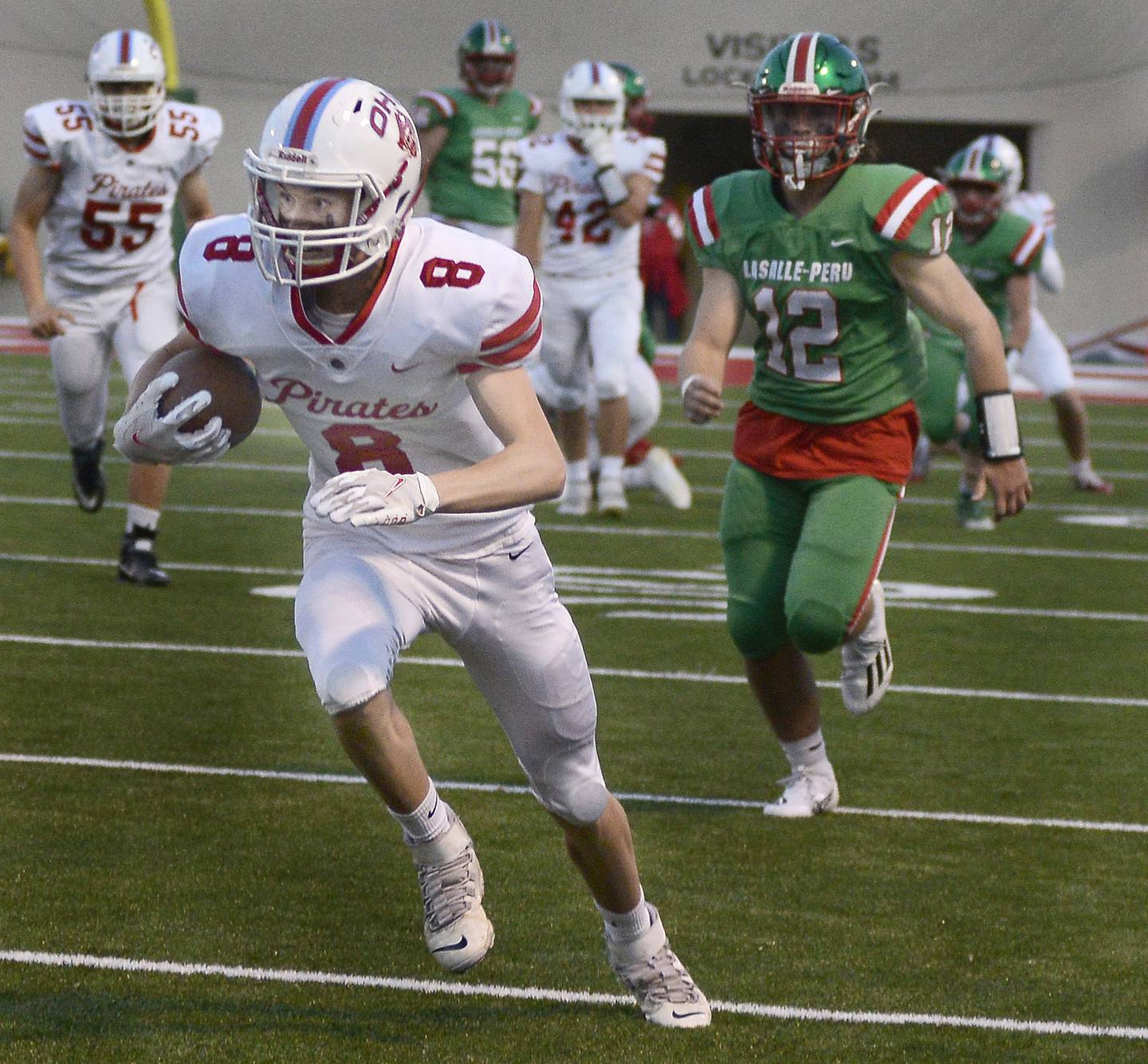 The Cavs (2-1, 1-0 KR/I8 White) held Ottawa to [minus] -4 rushing yards and stopped the Pirates for a loss on 10 of their 18 rushing attempts.
"Overall, our pressure was really good," L-P lineman Will Daugherty said. "We were getting some sacks and getting some negative yards. Whenever we couldn't, we have our backs covering everything real tight.
"I think [tackles for loss] raises team morale. It gets everybody hyped. It puts us in a better position offensively and defensively."
Daugherty was a constant presence in the Ottawa backfield, finishing with six tackles for loss and a sack.
"I just lined up, got ready, looked at the line in front of me and went as fast as I could to get around and get as many negative plays as I could," Daugherty said.
L-P also made things tough for the Pirates (1-2, 0-1) in the passing game, consistently pressuring quarterback Braiden Miller.
The senior QB completed 6 of 21 passes for 34 yards and was intercepted in the end zone by L-P's Mason Lynch with less than a minute before halftime to end Ottawa's lone trip to the red zone.
"Offensively, we have a lot of work to do," Ottawa coach Chad Gross said. "L-P's defense is very aggressive and took a lot of things away. They took away a lot of our first options and by the time we got to our second option, they were pressuring our quarterback.
"We were driving the ball late in the first half and their safety made a great interception, and we didn't come away with points. That's something we've been preaching. The last two weeks, we got down in the red zone, and we just don't punch it in. We really have to focus on scoring in the red zone. We can't not get points when we get down there."
L-P's offensive line controlled the trenches as well.
Behind Daugherty, Aidan VanDuzer, Creed McCormick, Nik Belski and Josue Bustos, the Cavs racked up 358 yards on 53 carries for an average of 6.8 yards an attempt.
Fullback Matt Carrico rushed for 246 yards on 29 carries – 8.5 yards per attempt – and scored a pair of touchdowns.
"The linemen really executed today and fired off the ball really well," Carrico said. "I wouldn't be anything without them. They really came to play. We all did."
On L-P's second drive of the game, Carrico ran on all four plays, gaining 8, 13 and 15 yards before scoring on a 14-yard run with 3:21 left in the first quarter.
Carrico's 7-yard run on the opening drive of the second half put L-P ahead, 21-0.
Quarterback Sean Whitfield scored on a 3-yard run in the second quarter and added a 1-yard plunge in the third.
"Our offensive line gets off the ball, sustain their blocks, and they keep driving," Medina said. "That's why Matt gets those yards. Those guys up front love to get after it and make sure our running backs do well."