OSWEGO – Kacey Battle clearly has got the jumping genes.
Battle, a lanky 6-foot-5 Oswego East senior, was an All-Stater in the high jump in the spring. His older brother, Kam, was an above-the-rim basketball player at East. Their dad, Kenny, of course, was a star of the Illinois Flyin' Illini Final Four team.
Apparently those verticals come in handy in football, too.
Battle leaped sky-high to snag an interception in the second quarter of game with Plainfield East on Friday, Sept. 10, then returned it 70 yards for a touchdown, cutting from the left sideline all the way across the field to the right side.
It was one of five Wolves' interceptions – four in the first half – in unbeaten Oswego East's 42-18 win in the Southwest Prairie Conference crossover game.
Battle flashed a big grin at getting the opportunity to showcase his ball skills.
"I never get the ball thrown to my side, so I was excited," Battle said. "It's just all about believing in myself. I believe if it's thrown high at me, I can go get it."
Battle's was one of two Oswego East pick-sixes – Juny Almeida's return was called back because of a penalty. JaMarcus Garrett, who had a pick-six last week, intercepted a pass to set up a Tre Jones TD run, and Ty Carlson had the Wolves' fourth interception of the half as they jumped out to a 35-0 lead midway through the second quarter on Battle's big return.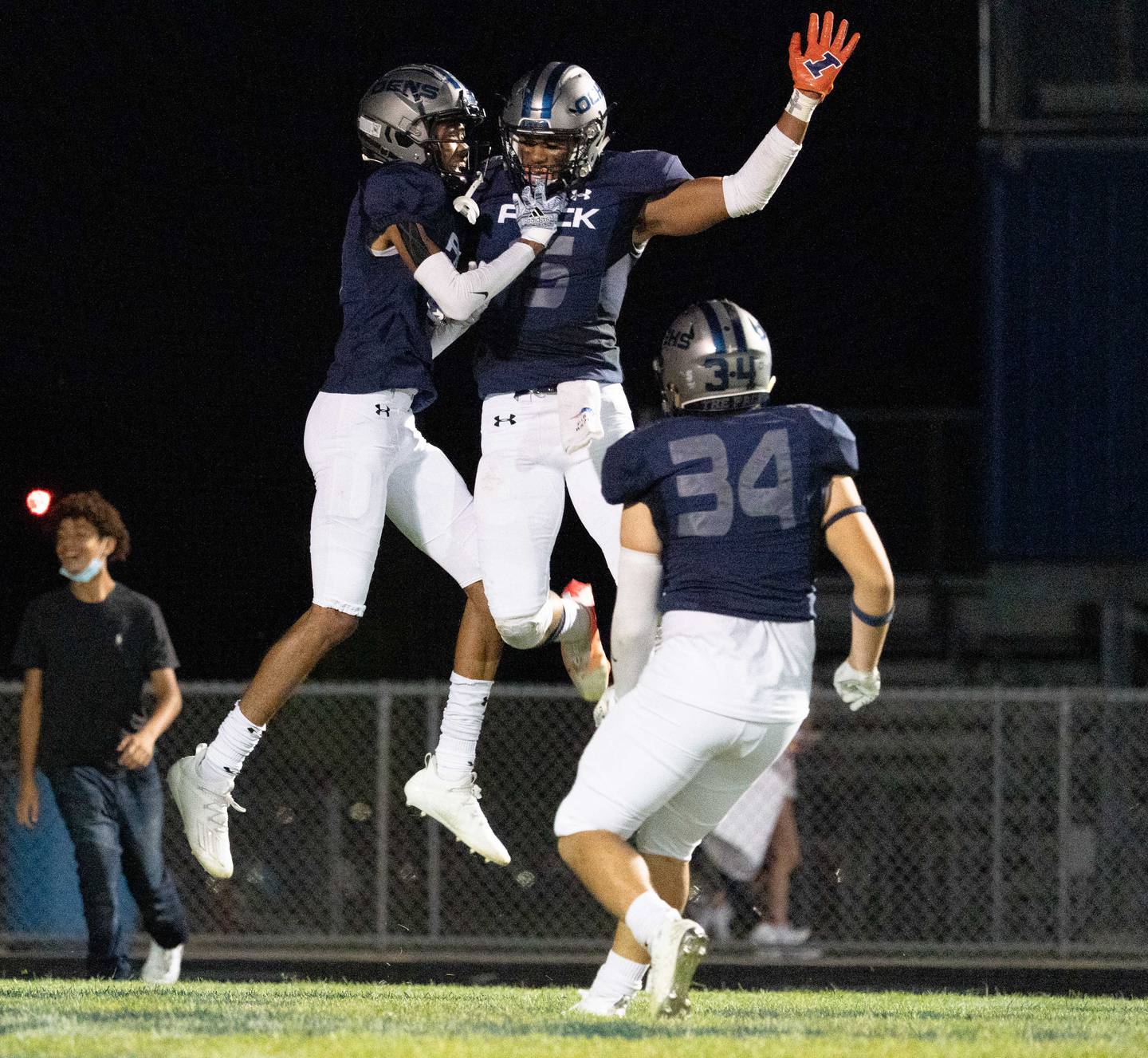 Carlson said they were prepared for the Plainfield East no-huddle, fast-paced attack. Oswego East (3-0) also had seven sacks, five in the first half.
"We game-planned all week, it's basically just us being smart, watching film all the time, knowing where the ball is going to be," Carlson said. "Kacey made a great play on the ball. That's just the kinds of players we have."
They are players such as Carlson, who celebrated his 18th birthday in style by returning the game's opening kickoff for a 98-yard TD and 7-0 lead.
"Coach came up with a special call this week because he thought we could get a return," Carlson said. "I caught the ball, busted through, got patient for a second before my linebacker kicked me out, leaving me wide open. Opening kickoff, six [points], good way to start."
Jones ran for touchdowns of 14 and 8 yards in the first half and added a 10-yard TD run in the game's waning moments for the final score.
Earlier, he connected with Austin Johnson for a 54-yard score and a 14-0 lead with 5:47 left in the first quarter.
Jones threw for 87 yards, and Oshobi Odior ran for 69 for Oswego East. The Wolves scored on several big plays and off turnovers while still searching for offensive consistency.
"We're still trying to find our way offensively," Oswego East coach Tyson LeBlanc said. "We show flashes of being really good and we show flashes of not being very good at all. We have to find our balance."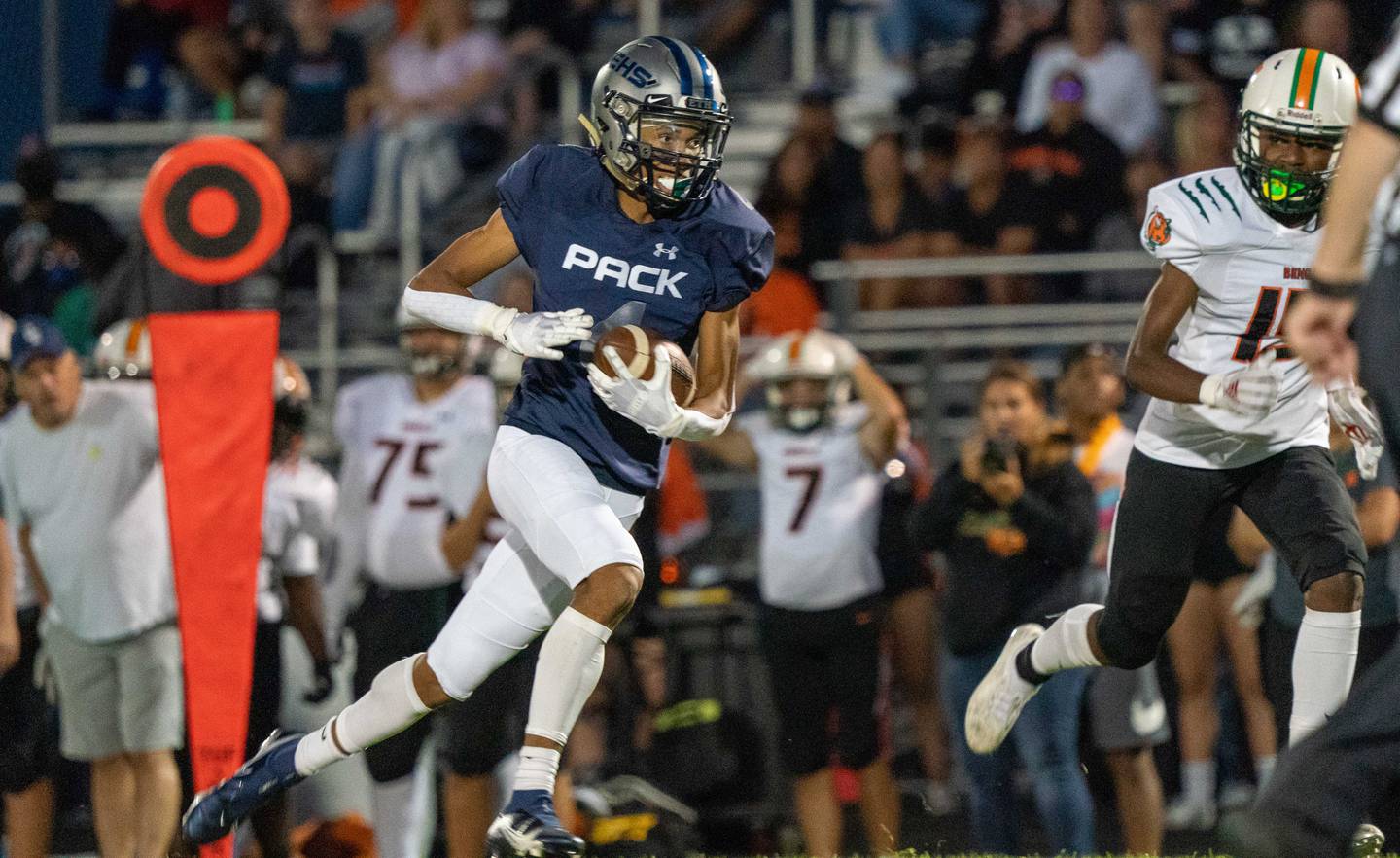 Battle certainly showed a glimpse of his athletic ability, which hardly left LeBlanc – who also is his jumps coach in track – surprised.
"The kid can run," LeBlanc said. "He is deceptively fast because he is such a long strider. When we measure jumps for long jump we're doing a seven-step approach and his mark is 30 feet longer than anybody else and it's the same amount of steps. He is a kid that has a ton of talent and is starting to fill in at the corner position. It's something that's new to him and he continues to grow and get better."
[ Photos: Oswego East vs. Plainfield East ]
Plainfield East (1-2), continues to grow while going through the growing pains of youth.
The Bengals were hurt by the four interceptions and 10 penalties in the first half, and an unsuccessful fake punt led to another Oswego East TD. Plainfield East trailed, 35-6, at half after Marco Liace's 2-yard TD run late in the second quarter.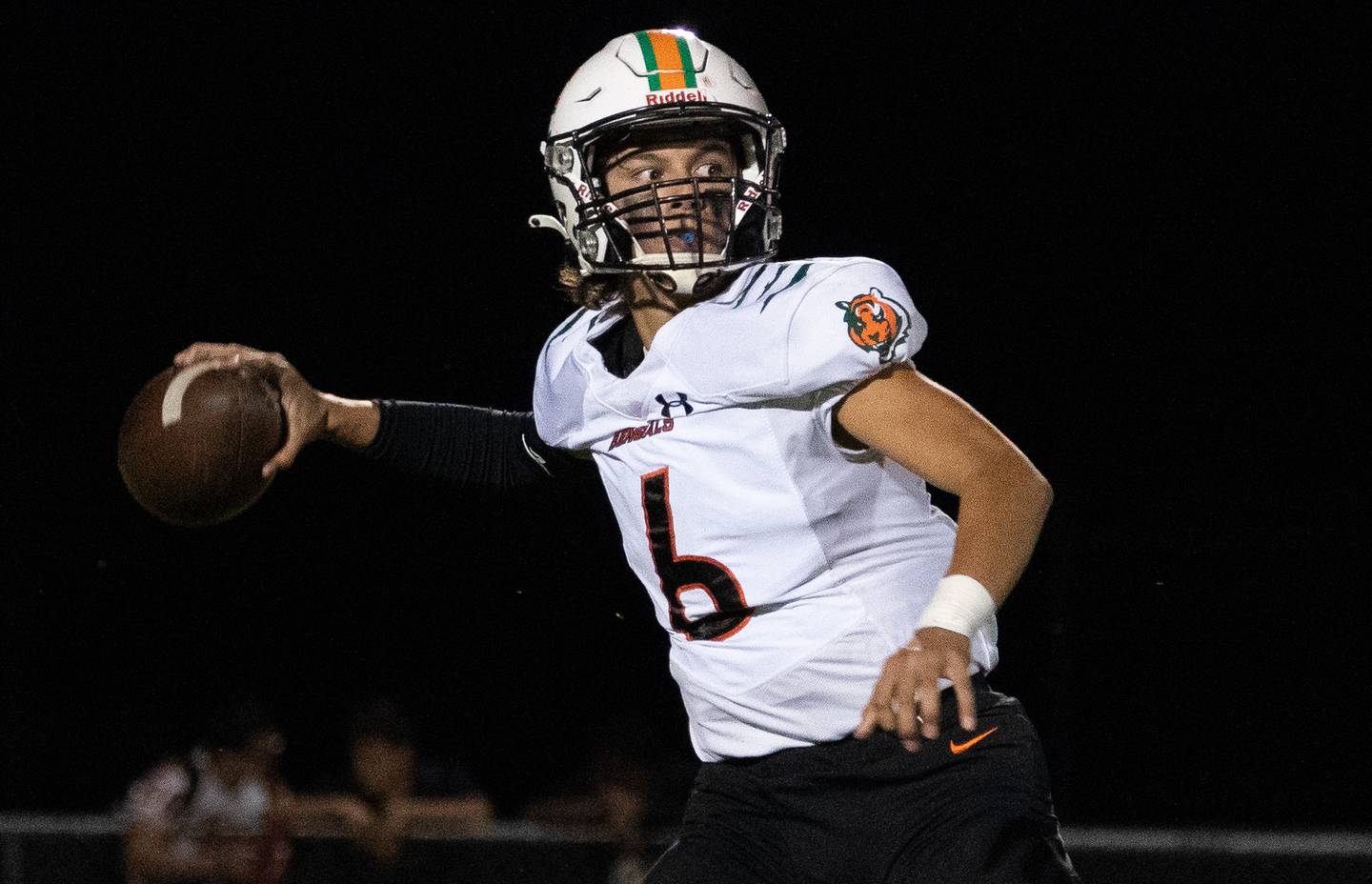 But freshman quarterback Brandon Parades came off the bench to direct two scoring drives in the fourth quarter, connecting with Michael Morgan on TDs of 25 and 26 yards. The second came after an onside kick was recovered.
"We're so young in a lot of positions and the same thing happened at Plainfield North. We kind of got awestruck to start the game," Plainfield East coach Brad Kunz said. "Oswego East made some big plays in the first quarter, and then our guys kind of settled in. We responded and it gave us a chance to mature in the second half."
Another freshman, Quinn Morris – the younger brother of Michigan recruit Tyler Morris – had four catches and one of the Bengals' two interceptions.
"We love our guys," Kunz said. "We have to continue to get better and believe in ourselves more."