LANARK – While the Eastland-Pearl City Wildcatz and Forreston Cardinals played the "3 yards and a cloud of dust" kind of running game Friday, it was the runs that didn't fit that definition that wound up being the most important.
The Cardinals scored twice in the first half on plays of more than 35 yards after finding holes in the middle of the line and held on to win 34-13 in a Northwest Upstate Illini Conference game at Eastland High School.
After a one-score halftime lead, Forreston (2-1, 2-1 NUIC) poured it on in the second half with three more touchdowns to keep the Wildcatz winless.
The Cardinals are glad to be back on the winning side after a tough loss to Durand-Pecatonica last week.
"We just came in here guns blazing," Cardinals senior running back Jacob Fiorello said. "We were really hyped up coming back from a loss like that to just get that win. We came out strong, we really just wanted to run all over the place, and get it done."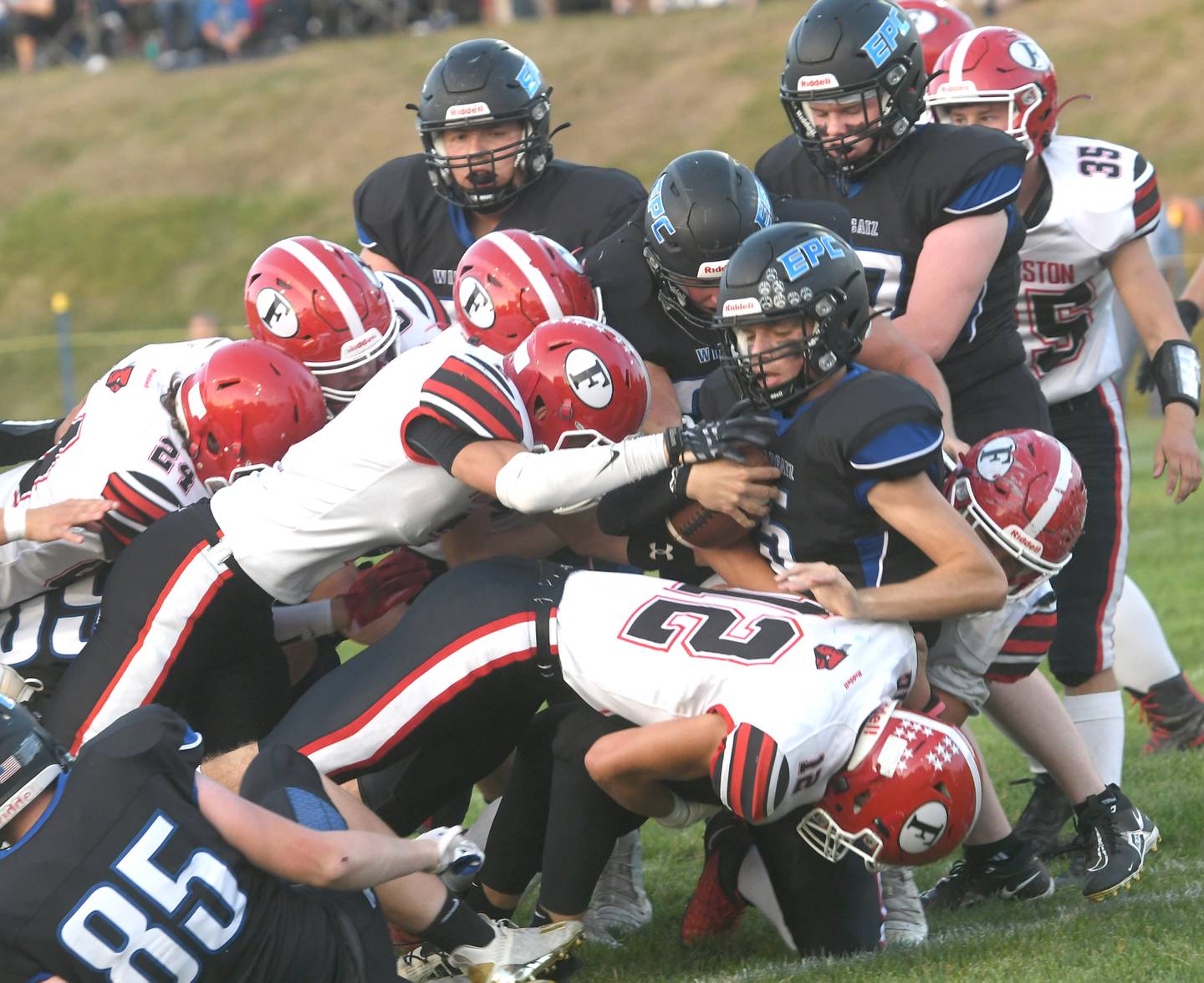 The Wildcatz's first drive lasted about 9 minutes, but fell 4 yards short of the goal line after a fourth-down pass failed. The Cardinals took over and ran five quick run plays for short yardage before the next resulted in a fumble that Riley Schauer scooped up and hauled 38 yards for a score to give EPC a 7-0 lead.
After three plays in Forreston's next drive, McKeon Crase found a hole in the middle and marched 45 yards to put his team on the board, but the 2-point try that followed failed, as the Wildcatz still led 7-6.
The next drive for the Wildcatz resulted in a punt, and the Cardinals put together a series of short-run plays that ended when Fiorello found the end zone on a 38-yard run through the middle; Forreston led 14-7 after the 2-point try was good. The score held up at halftime, as an EPC pass fell incomplete in the end zone with 3.6 seconds in the half.
"It's never good when you start off with a fumble," Fiorello said. "It hurts the team, but we faced the [issue] and we came back."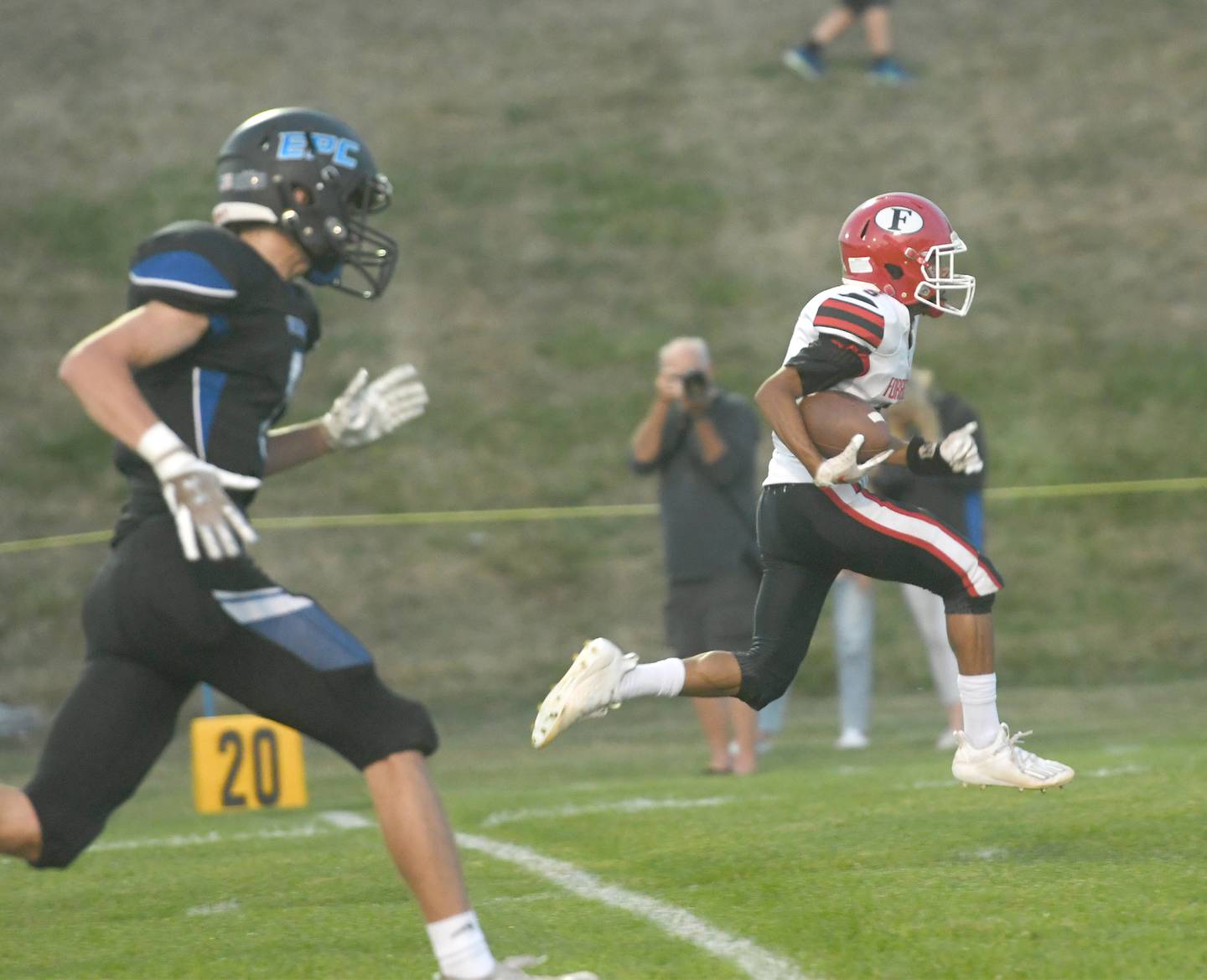 Forreston limited the Wildcatz to only 94 yards on running plays and 57 in the air for the game, including just 93 yards in the first half, while Fiorello and Crase combined for 153 first-half yards. The Cards' duo each eclipsed the century mark in total yards, Fiorello finishing with 115 yards on 17 carries and Crase with 105 yards on 13 rushes.
The Cardinals opened the second half with another TD drive on a quarterback keeper from Logan Dyson to go up 22-7, then recovered the resulting onside kick at their own 49. After that, they found the end zone again with some rare air: Dyson found Fiorello in left corner for a 23-yard scoring connection and a 28-7 lead. Matthew Beltran chipped in a TD for the Cards 15 seconds into the fourth quarter for a 34-7 advantage.
The first half wound up being a little too close for comfort for the Cardinals, with a big fumble loss and a couple of penalties that dashed the momentum at times.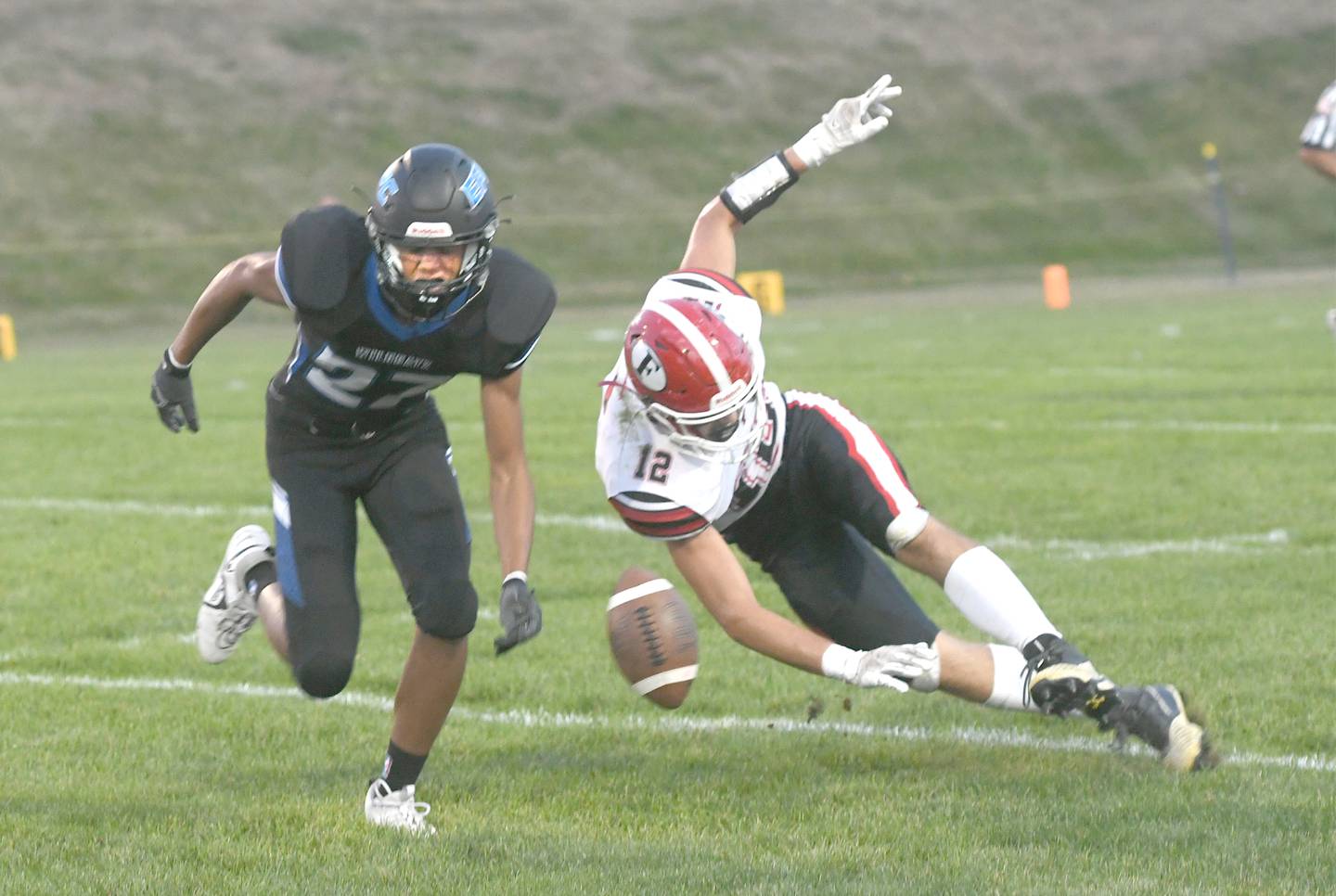 "We have to find our groove and be consistent with everything that we're doing," Forreston coach Keynon Janicke said. "Every time something doesn't go our way, it seems like we're shooting ourselves in the foot or are self-sabotaging. We scored 34 points and won the game, great, but there should have been a lot more points for us and a lot less for them. We're still always happy with a win, but we just got to be more consistent and play more sound football."
The team took Janicke's halftime message to heart.
"He said, 'This game can be completely different if you put your mind to it,'" Fiorello said. "He knows when we come together as a team and talk positive, we can do it."
Wildcatz quarterback Kellen Henze had his team's other score on a 10-yard run in the fourth quarter. Late-game passes to try and catch up largely failed to pan out.
Forreston will look to continue its winning ways next week at Dakota, while the Wildcatz hope to get their first win of the season at home, in Pearl City, against Durand-Pecatonica.