MENDOTA – Honesty is the best policy is one of the first things youngsters learn, but being a little less than honest is acceptable in high school football, especially on defense.
However, when those defenses cheat a little and start to overplay, it's up to the offense to show its versatility and slap them with a big play or two to put them back on the straight and narrow.
That's a lesson that Mendota's Ted Landgraf, Isaac Smith, Emilio Perez and Damien Magallanes didn't mind teaching Bureau Valley, not once, not twice but three times in their Three Rivers Conference East Division game Friday.
When the Storm loaded the box to stop Mendota's Uzi Agulo, the tandem of Landgraf to Smith took advantage, connecting on two long passes, including a touchdown, while Landgraf also hit Magallanes and Perez for scores to lead the Trojans to a 42-22 victory in a battle of TRC unbeatens.
Landgraf hit Smith for a 27-yard TD in the first quarter and a 39-yard big gain in the second.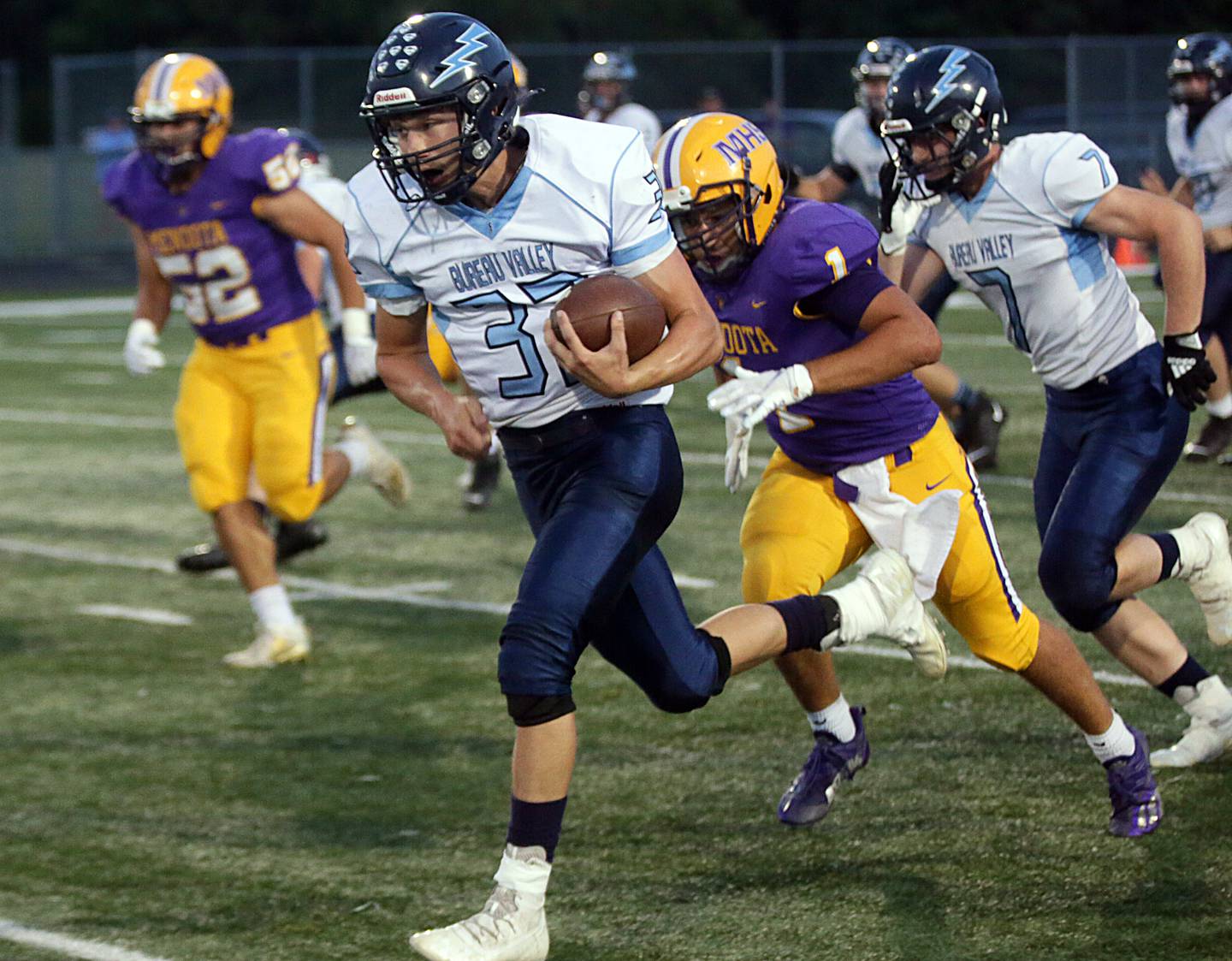 The senior quarterback, who had a 7-yard rushing touchdown in the first quarter, also connected with Magallanes for a 53-yard TD in the third quarter and with Perez for a 43-yard TD in the fourth on his way to a 7-for-12 night for 179 yards and three scores through the air.
Mendota (3-0) finished with 411 total yards as Angulo ended up with 18 carries for 111 yards and a score to lead 232 yards over land.
For the Storm, Jaden Michlig posted a 68-yard scoring run in the opening quarter and ended the night with 13 carries for 157 yards, but the lack of a consistent passing game allowed the home team to pack it in and limit BV to just another 85 yards for 242 overall, plus notching an interception by Christian Tellez, a fumble recovery by Smith and a safety by Diego Sandoval.
"Our guys maximized our chances tonight," Mendota coach Keegan Hill said. "We had only one or two poor plays but hit some big ones. The fact that people have to respect the run as much as they do, when we can do that, it helps the pass as well. We showed tonight that our kids are pretty versatile, running the ball, throwing the ball, catching the ball, as well as reacting well to some negative situations they were given.
"There's a whole bunch to learn from as we feel our way through this, and we expect to improve every week, regardless of the opponents. With all due respect, we want to be better at what we do and be the toughest team on their schedule."
The Trojans went with a surprise onside kick to start the game with Abel Rodriguez recovering.
A fumble at the Bureau Valley 1-yard line ended that threat, but Sandoval tackled Storm quarterback Adam Johnson in the end zone for a safety.
Later, Landgraf lobbed a 27-yard fade TD pass to Smith and, after Michlig broke free for his long scoring run, ran for his TD on the next drive.
Emilio Perez added two of his four PATs for a 16-6 lead after one quarter then booted field goals of 27 and 35 yards on the next two possessions, making it 22-6. Angula's 10-yard TD burst upped the lead to 28-6.
Bureau Valley didn't quit, finishing the half with a 7-yard Michlig score and a Johnson 2-point conversion, but the Trojans didn't quit either. The 53-yard TD to Magallanes started the third quarter with a 35-14 lead.
After a 2-yard TD by the Storm's Sam Rouse, the Trojans blanked the visitors the rest of the game. The final nail in the coffin was Landgraf's 43-yarder to Smith in the fourth.
"Big plays were the difference," Bureau Valley coach Mat Pistole said. "We can't give up four long touchdown passes. I thought we did a nice job against their run game for the most part, but then we'd give up a big pass play. You just can't make mistakes like that and expect to beat a good team. They executed better than us and took advantage of that.
"We knew this [Mendota] team would be the best team we'd played so far, that we'd have to grind it out, but we made just enough mistakes to shoot ourselves in the foot. And once we get behind the chains it's tough for a ball-control team like us to get it back."