SouthWest Suburban Conference
Bradley-Bourbonnais (2-0) at Lockport (2-0)
When: 6:30 p.m. Friday
Last matchup: Bradley-Bourbonnais 34, Lockport 27 (2018)
About the Boilermakers: It is difficult to get an exact read on where the Boilermakers are right now. They dominated an overmatched Proviso East squad in Week 1 and claimed a forfeit win over Tilden in Week 2. The offense has an interesting run-pass threat at quarterback in Caige Williams and weapons at wide receiver in Caleb Barclay and Mark Robinson, but they may not have gotten enough game repetitions to be properly prepped for a dynamic Lockport defense.
About the Porters: Things have gone about as well as they possibly could for Lockport. They are likely going to get even better with the return of running back Ty Schultz, who missed the spring season with an ACL injury. He'll make a great tandem with running back Andrew LoPresti. The Porters are yet to allow a point through two games.
Friday Night Drive pick: Lockport
Lincoln-Way Central (1-1) at Homewood-Flossmoor (2-0)
When: 6 p.m. Friday
Last matchup: Homewood-Flossmoor 28, Lincoln-Way Central 14 (2019)
About the Knights: Lincoln-Way Central rebounded with a 17-7 win over Lake Park in Week 2 after things came apart in the season opener against Buffalo Grove. The defense can be a strength, but it will be put to the test in this one.
About the Vikings: It seems like Homewood-Flossmoor is flying under the radar a bit after struggling through an uncharacteristically poor spring season and transitioning to a new head coach after former coach Craig Buzea departed for a job in Indiana. But H-F has been much steadier to start this campaign, particularly on defense, where the Vikings have allowed just six points combined to T.F. North and Cahokia.
FND pick: Homewood-Flossmoor
Lincoln-Way West (0-2) at Bolingbrook (2-0)
When: 6 p.m. Friday
Last matchup: First meeting
About the Warriors: A rugged nonconference schedule (Hersey, Oswego East) has put West in a difficult position. The Warriors were very much in both of those games but faded in the second half each time. RB Jason Harris had a huge game against Oswego East, eclipsing the 200-yard rushing barrier.
About the Raiders: Bolingbrook is certainly doing a lot with a little. It has steamrolled Minooka and Simeon out of the gate with a roster that has extremely limited depth. The one-two punch that the rushing attack of RB Jaquan Howard and QB Bobby Ervin has proven extremely difficult to contain, while DB Damon Walters seems to constantly be around the ball.
FND pick: Bolingbrook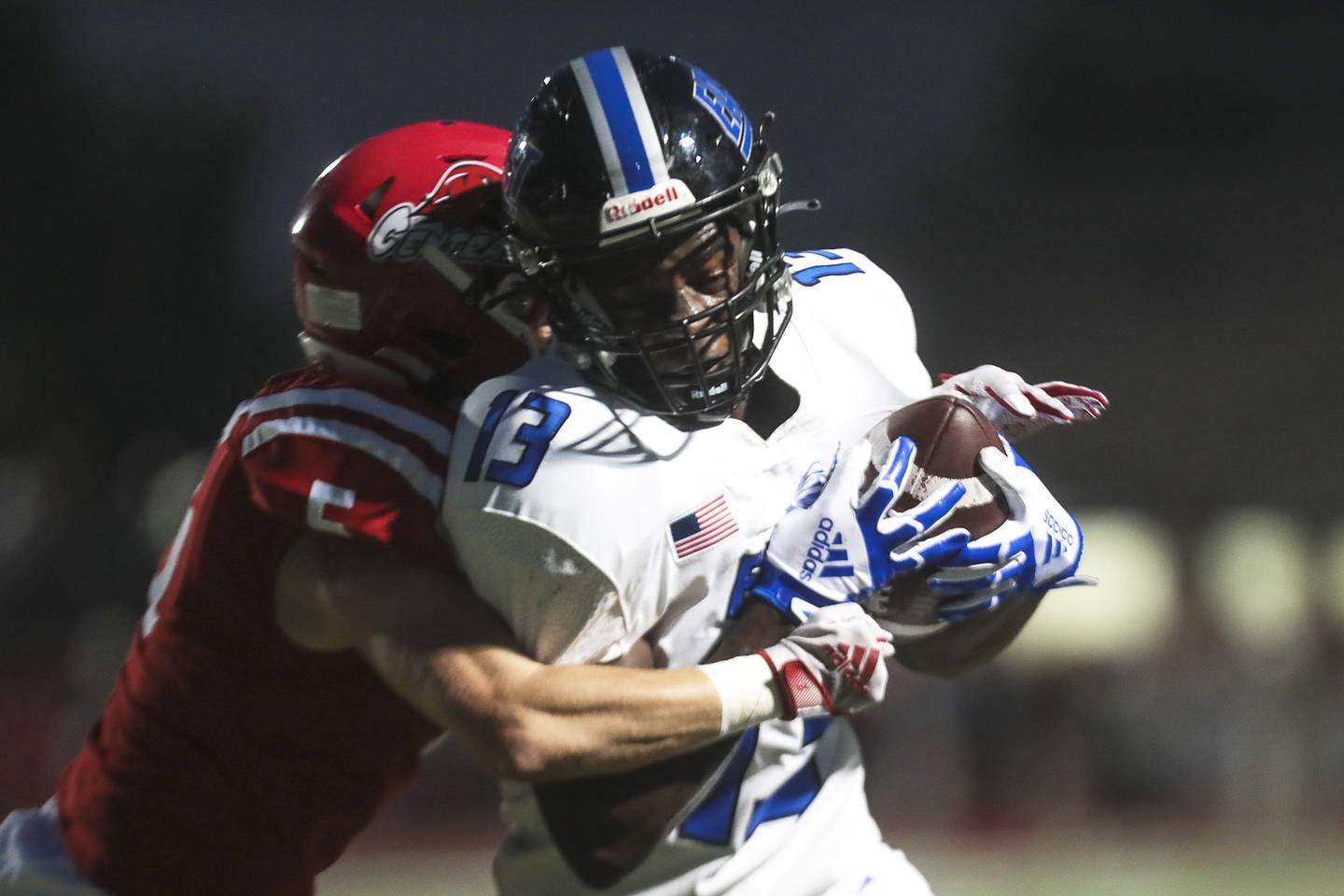 Stagg (0-2) at Lincoln-Way East (1-1)
When: 7 p.m. Friday
Last matchup: Lincoln-Way East 50, Stagg 0 (2015)
About the Chargers: Stagg was hoping to bridge the gap between itself and the rest of the SouthWest Suburban, but the results so far this season indicate that hasn't happened yet. The Chargers have been outscored 86-27 by opponents that don't exactly have histories of being fearsome.
About the Griffins: It will be very strange experience for the Griffins as they enter this contest coming off a loss, their first since 2018. This matchup should provide ample opportunity to right the ship. The Griffins are getting solid work out of the backfield from RB James Kwiecinski, but they appear to lack the game-breaking playmaker on offense that can change a game on a dime.
FND pick: Lincoln-Way East
Southwest Prairie Conference
Joliet Central (0-3) at Oswego (1-2)
Joliet Central has forfeited this contest to Oswego because of COVID concerns.
Joliet West (0-3) at Plainfield North (2-1)
Joliet West has forfeited this contest to Plainfield North because of COVID concerns.
Plainfield Central (2-0) at West Aurora (1-1)
When: 7 p.m. Friday
Last matchup: First meeting
About the Wildcats: Plainfield Central continued its strong start with a somewhat surprising win, 28-13, over Yorkville in Week 2. The Wildcats are doing it with a diverse offense that isn't allowing foes to key on standout RB Aaron Larkins. The aerial attack is also getting involved with WR Derek McClinnon evolving into a play-making threat as well.
About the Blackhawks: West Aurora appeared well on its way to starting 2-0 until a fierce late rally from Blue Island Eisenhower allowed them to snare the one-point win. How West Aurora bounces back from that heartbreak will be critical, but the veteran group should have what it needs to get back on track.
FND pick: West Aurora
Plainfield East (1-1) at Oswego East (2-0)
When: 7 p.m. Friday
Last matchup: Oswego East 19, Plainfield East 0 (2018)
About the Bengals: A nice bounce back for Plainfield East, particularly on defense, in its win over Shepard, 32-21, in Week 2. Continued progression for QB Quinn Callaghan would certainly help things, while the defense should get a much bigger challenge this week.
About the Wolves: Oswego East's confidence level has to be high after navigating a difficult nonconference schedule with a pair of wins over quality programs Waubonsie Valley and Lincoln-Way West. Illinois recruit Jared Badie continues to be an absolute menace on the defense. While Montini transfer QB Tre Jones hasn't shown off big passing numbers, he's demonstrated he's a major threat as a runner.
FND pick: Oswego East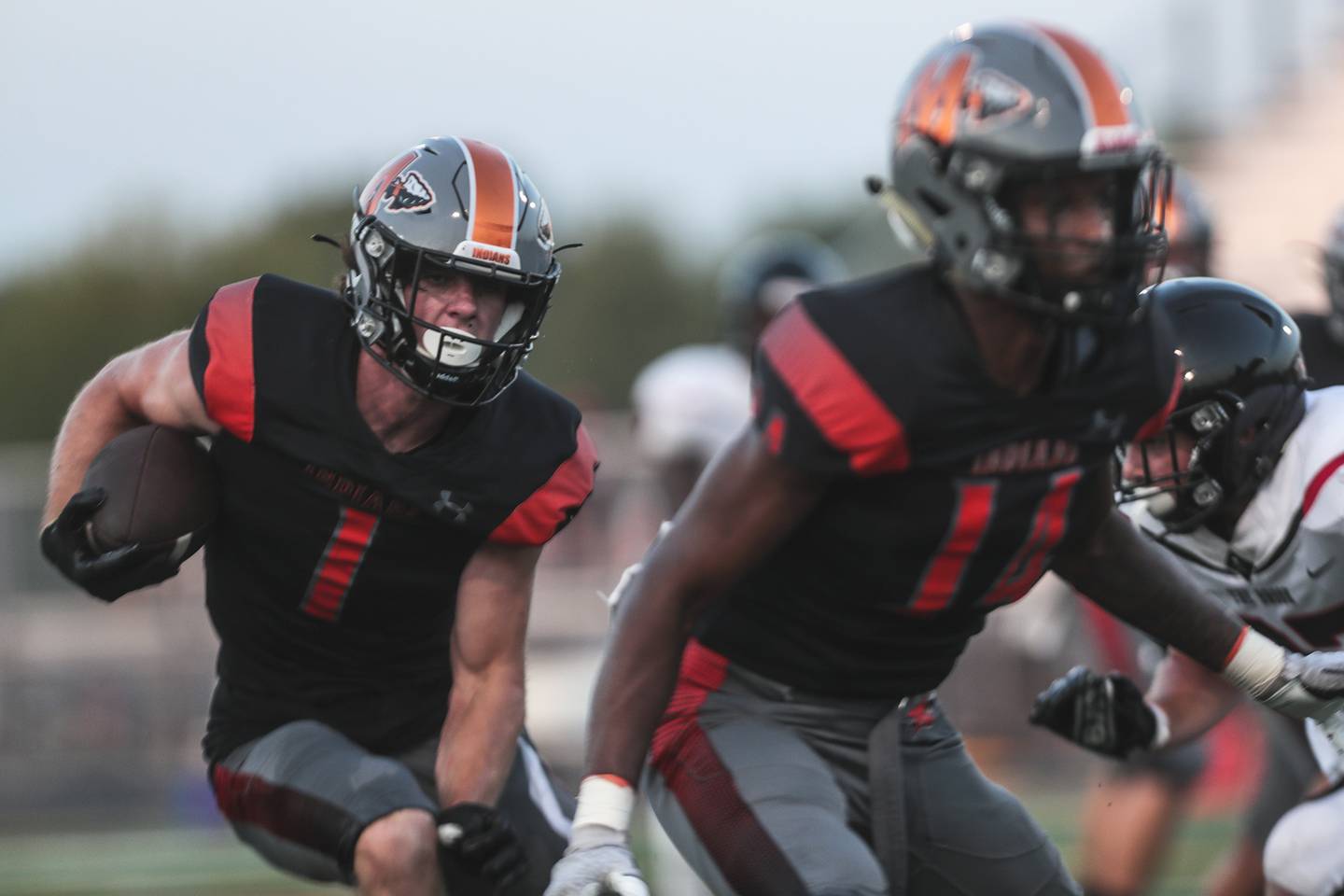 Romeoville (0-2) at Minooka (1-1)
When: 7:30 p.m. Friday
Last matchup: Minooka 58, Romeoville 0 (2018)
About the Spartans: Romeoville took a loss in Week 2 without hitting the field as COVID concerns caused it to forfeit to West Aurora. It was the hope that Romeoville would be cleared to compete in Week 3, but there's less certainty that the Spartans will be able to go with a full roster.
About the Indians: Minooka hopes to build on the momentum from evening out its record with a 20-15 win against Joliet West, but there's still the lingering feeling that the Indians aren't firing on all cylinders. There's some explosive offensive players on this roster that are still poised to become fully unleashed.
FND pick: Minooka
CCL/ESCC
De La Salle (2-0) at Joliet Catholic (2-0)
When: 7:30 p.m. Friday
Last matchup: Joliet Catholic 35, De La Salle 0 (2001)
About the Meteors: De La Salle is a tricky team to read based on its first two results. The Meteors have rolled to wins over a pair of Chicago Public League teams, but neither appear to be among the better CPL programs this season. RB/DB Ray Coffey is a quality playmaker.
About the Hilltoppers: Although the score, 30-20, shows a relatively close game with Cardinal Ritter, the hosts punched in a few late scores to make the contest appear closer. Joliet Catholic controlled the contest and did so without the services of RB Jordan Anderson, who could still remain sidelined for this encounter.
FND pick: Joliet Catholic
Fenwick (2-0) at Providence (1-1)
When: 7:30 p.m. Friday
Last matchup: Providence 37, Fenwick 0 (2017)
About the Friars: Fenwick has a lot of Division I-caliber talent, including QB Kaden Cobb (Ball State), WR Eian Pugh (Illinois) and OL Jimmy Liston (Purdue), and it appears to have some complementary pieces to make the Friars pretty powerful. The 2-0 start was also pretty important for Fenwick as they enter a rather rigorous league schedule here.
About the Celtics: Providence experienced the ups of the season with a shut-out victory over Willowbrook in Week 1, but then the downs as it got ran away from quickly in a Week 2 loss, 30-7, at Wheaton North. In both cases, it's clear that Providence is going to have to figure out a way to get a few more points on the board. Averaging just over eight points a game through two contests isn't going to cut it in the CCL/ESCC.
FND pick: Fenwick
South Suburban Conference
Lemont (2-0) at Shepard (0-2)
When: 7 p.m. Friday
Last matchup: Lemont 41, Shepard 7 (Spring 2021)
About Lemont: Best teams in 6A? Lemont would like a word. It turned in another tremendous performance, particularly on defense, in edging out, 15-10, Nazareth in Week 2. That defense, led by defensive lineman Tyler Wilms, has been extremely stingy. As such, the burden hasn't been heavy on the offense, but it is capable as well, anchored by RB Albert Kunickis, who has rushed for over 100 yards in each of Lemont's two games.
About the Astros: Shepard has a very experienced base, but very little of that has translated to success on the field thus far. The Astros have dropped back-to-back decisions to Kankakee, 27-6, and Plainfield East, 32-21.
FND pick: Lemont
Illinois Central Eight Conference
Lisle (2-0) at Reed-Custer (2-0)
When: 7 p.m. Friday
Last matchup: Lisle 20, Reed-Custer 0 (Spring 2021)
About the Lions: Lisle has put together back-to-back solid performances in the nonconference slate and appears to be in good shape as it enters Illinois Central Eight play. QB Tyrese Watson leads an offense that has several dangerous weapons in RB Gabe Quinones, WR Dominic Nigro and WR Cole Campbell.
About the Comets: Reed-Custer has been one of the more surprising 2-0 teams out of the box. It hasn't accomplished that feat since 2009, also the last time the program made the postseason. But experience is paying dividends as the Comets overwhelmed their first two opponents behind the power running of RB Elliot Cassem. This game will gauge if the Comets are a real player in the IC8, as they've only beaten Lisle once in their last 12 meetings.
FND pick: Lisle
Manteno (0-2) at Peotone (2-0)
When: 7 p.m. Friday
Last matchup: Peotone 28, Manteno 0 (2021 - spring)
About the Panthers: Manteno hasn't scored a single point through two games, a far cry from the high-powered offense usually put forth. It's cliche, but the numbers really do go out the window when these rivals play. They are separated by just five miles and were former cooperative program partners in the infancy of Manteno football.
About the Blue Devils: Peotone has developed a punishing ground attack behind the efforts of RB Dylan Sroka. Sroka ran for nearly 200 yards in the Blue Devils' Week 2 win over North Central (Ind.). There's little reason to deviate from the blueprint.
FND pick: Peotone
Wilmington (2-0) at Coal City (1-1)
When: 7 p.m. Friday
Last matchup: Wilmington 24, Coal City 21 (2021 - spring)
About the Wildcats: Wilmington heads into the rivalry-week showdown apparently doing exactly what it hoped to. The vaunted running game, led by Karsen Hansen and Jacob Friddle, is averaging about 250 yards per game at this point.
About the Coalers: Coal City is banking on its defense and is getting solid results by doing so. The Coalers have done a nice job containing a high-powered Morris offense despite a 13-3 loss and really did a spectacular job against Bishop McNamara in a 14-6 win. Like Wilmington, Coal City looks to pound the ball on the ground with Ashton Harvey leading a multi-pronged rushing attack.
FND pick: Wilmington
Interstate 8 Conference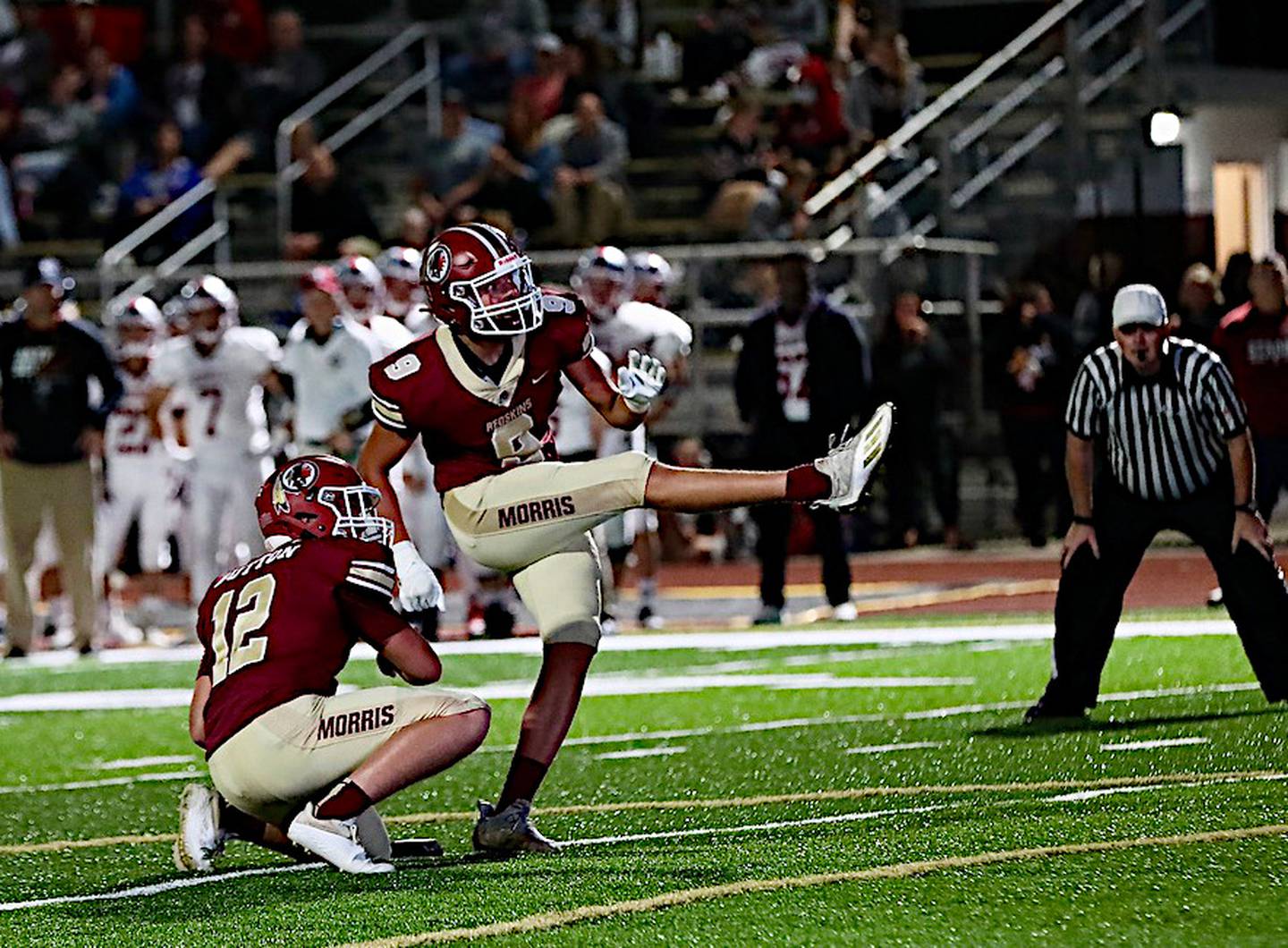 Morris (2-0) at Woodstock North (0-2)
When: 7 p.m. Friday
Last matchup: First Meeting
About Morris: Morris earned a nice feather in its cap with its Week 2 win over Antioch, 31-21, a team that has been a consistent winner over the past few seasons. Morris started fast and hung on after notching three touchdowns in the game's first nine minutes, including a defensive tally from LB Sam Reddinger. Morris also received a strong night from RB Ashton Yard (18 carries, 106 yards).
About the Thunder: Woodstock North is off to a slow start this season, falling to a Westosha Central (Wisc.) and Harvard in the first two weeks. Both losses came with a significant amount of points scored upon its defense, which isn't an encouraging sign for the Thunder as their schedule ramps up significantly starting now.
FND pick: Morris
Vermilion Valley Conference
Dwight (0-3) at Westville (2-0)
Dwight has forfeited this game to Westville. Westville will play Oblong/Palestine/Hutsonville instead.
Salt Fork (2-0) at Seneca (0-2)
When: 7 p.m. Friday
Last matchup: First Meeting
About the Storm: Salt Fork has been piling up the points in the first two weeks, benefiting from some big play. It appears the Storm are utilizing athletes that have had some success at the state level in track and field. Opponents are having problems matching up with their speed.
About the Fighting Irish: It has to be qualified as an extremely disappointing loss for Seneca in Week 2 as it dropped a 26-21 decision to Hoopeston, a team that typically finds itself at the bottom of the Vermilion Valley standings. The young Fighting Irish dug themselves a hole that they couldn't quite recover from.
FND pick: Salt Fork