Streator held a 12-point lead early in the fourth quarter in Friday's 28-23 victory over rival Ottawa., but the Pirates brought the home crowd to its feet after using a short field to make it a one-score contest on a Javarius Whitfield's 1-yard plunge with 8:57 left.
On the ensuing kickoff, Bulldogs senior Cade Stevens – also a standout on the track and field team – fielded the boot at his own 12, slipped a tackle at the 30, but then looked to be pinned in as he started up the sidelines in front of his own bench.
However, Stevens broke a couple of tackles at the Ottawa 45 and made another man miss at the 40 before cutting back to his left and outsprinting a half dozen Pirates to the end zone.
In an electrifying and momentum-swinging 15 seconds, the Bulldogs were back up by 12 and on their way to a nail-biting victory.
– Brian Hoxsey
Crusaders excel at covering the spread
Tom Jobst is well aware that opponents of his Marquette Academy football team are more and more often employing spread offenses, something that has been difficult for his ground-and-pound winged-T attack to replicate in practice. That's made their defense's first encounter with teams using that style somewhat suspect, but not this year.
In Friday's 47-8 victory over such a club, Chicago Christian, the Crusaders showed enough pressure up front and good coverage downfield to hold Knights quarterback Luke Jelderks to a chilly 7-of-21 passing. He had 132 yards, but two of his completions went for 53 yards on back-to-back downs to set up his 12-yard score, the hosts' only one of the game, late in the first half.
Perhaps its because it is being tested in practices by its own QB, Alex Graham, who was a force in his own right (8 for 13, 142 yards), but in any case, the Crusaders many not be as vulnerable to the passing game as in years past.
– Charlie Ellerbrock
FCW backs up its state ranking
Despite a Week 1 loss – by only two points to West Central, the top-ranked 8-man football team in the state – Flanagan-Cornell/Woodland entered the Cover_8 Illinois 8-Man Rankings tied for 10th place.
The Falcons showed they deserve it in Week 2, demolishing Peoria Heights, 54-16, and setting up an I8FA matchup in Week 3 when FCW visits South Beloit, another team receiving votes in the Cover_8 poll.
– J.T. Pedelty
Climbing up the Ottawa passing leaderboard
Ottawa senior quarterback Braiden Miller, even after a short-season junior campaign this past spring, had already pickled his name all over the Pirates career passing records. On Friday in the loss to Streator, the tall lefty posted 248 passing yards, only paces short of the all-time record of 258 he set against Kaneland in the spring and surpassing the 246 that Wally Kistenfeger had against Mendota in 1969.
Along the way against the Bulldogs, Miller inched up past names like George Sutherland, Sam Holtzman, Paul Yocum, Rob Hart, Wally Kistenfeger, Bob Kistenfeger and Neil Hanley on the OHS career passing yard leaderboard, and currently sits at No. 11 with 1,338 yards. He needs 57 yards to pass Bud Bernardoni to move into the top 10.
– Brian Hoxsey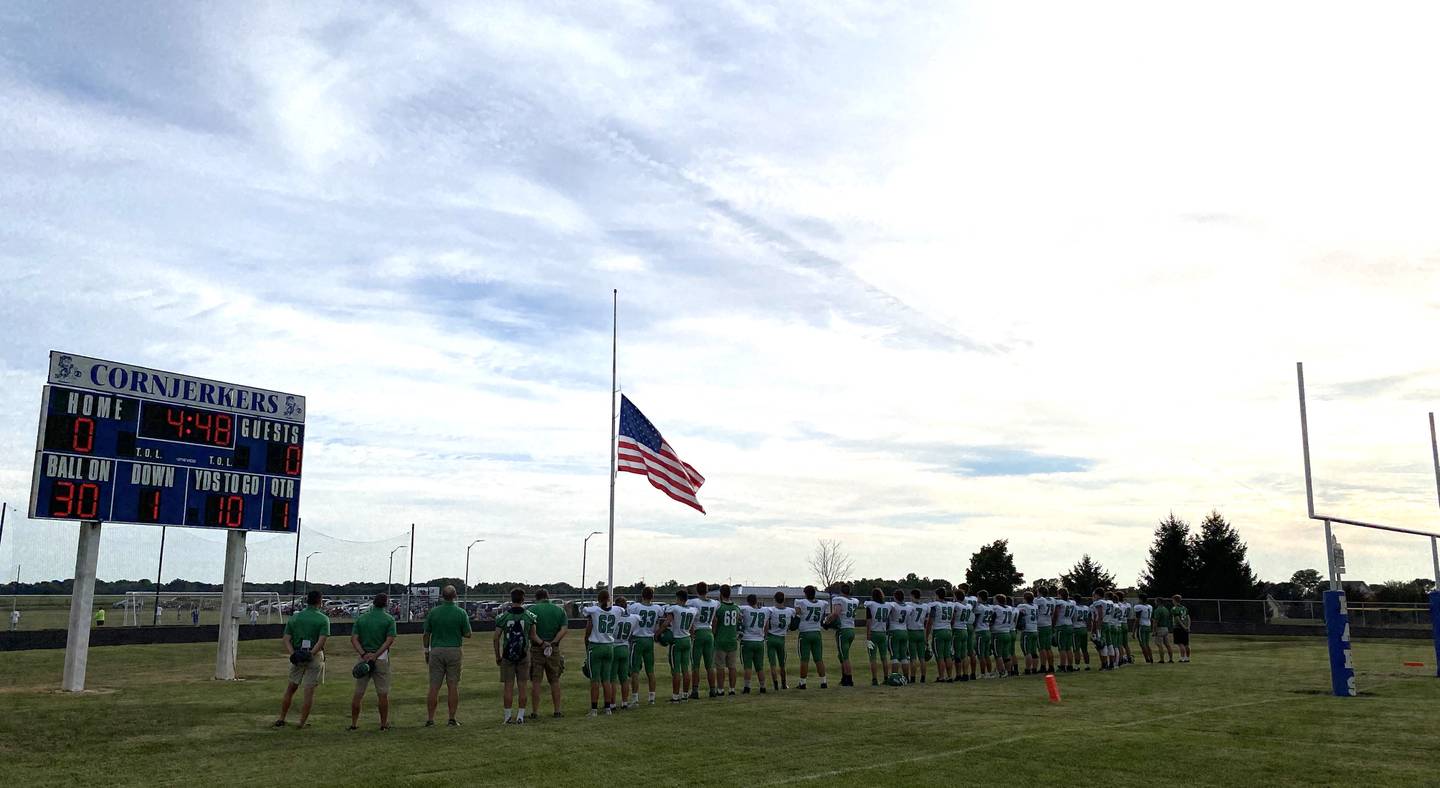 Irish squander late-half opportunities
Seneca had some quality chances at a win in their 26-21 Thursday loss at Hoopeston Area-Armstrong.
The host Cornjerkers handed them right to the young Fighting Irish.
After Hoopeston Area-Armstrong went ahead 12-0 with 34.3 seconds left before halftime, the Cornjerkers sent three consecutive kickoff attempts out of bounds and were moved back 15 yards, then tried an ill-advised onside kick that Seneca recovered at the Cornjerkers' 35-yard line, giving the Irish an opportunity to score with a half-minute remaining.
They did not.
Seneca rallied for a 13-12 lead heading into the fourth quarter, but were behind 26-21 with 7:08 left when two more kickoffs sailed out of bounds. When one finally did land in bounds, Asher Hamby ran it back to the Cornjerkers' 47, setting up Seneca with a short field and a potential game-winning drive.
After two first downs, the Irish lost four yards on a fumbled handoff and 10 on a holding call, ultimately turning the ball over on downs at the 17 with 2:20 remaining. Hoopeston Area-Armstrong proceeded to dodge the bullet and run out the clock.
– J.T. Pedelty
A 1-yard punt return for a touchdown?
In Friday's preliminary before the resumption of the Ottawa-Streator varsity rivalry, the Corsairs' Packston Miller recorded a 1-yard punt return for a touchdown.
The Bullpups' punt from their own end zone went up in the air and traveled only a handful of yards, bouncing backwards to the 1, where Miller scooped it up and tallied the improbable touchdown, per the description of Ottawa High School statistician Dan Eilts.
– J.T. Pedelty