The Fulton Steamers pulled out their second win in as many weeks in the NUIC, beating East Dubuque 30-20 on Friday.
East Dubuque got things started with a pair of first-quarter Dawson Feyen scores, as he returned the opening kick 87 yards for one touchdown and reeled in a 5-yard pass from Sam Bowman for another.
But the Steamers had big plays to answer, with Jacob Jones going 60 yards for a touchdown, Patrick Lower finding Brock Mason for an 81-yard scoring strike, and Jones adding a 33-yard score.
East Dubuque made it a 22-20 game after three quarters when Sam Huntington scored from 22 yards out, but Keegan VanKampen responded with a 9-yard touchdown in the fourth quarter.
Oregon 45, Rockford Christian 20: Daniel Dominguez rushed for 203 yards on 19 carries as the Hawks picked up their first win of the season by beating the Royal Lions.
Oregon jumped out to a 31-0 lead with Dominguez scoring twice – once from 39 yards – and Isaac Reber and Anthony Bell adding scores. Gabe Eckerd added a pair of second-half scores.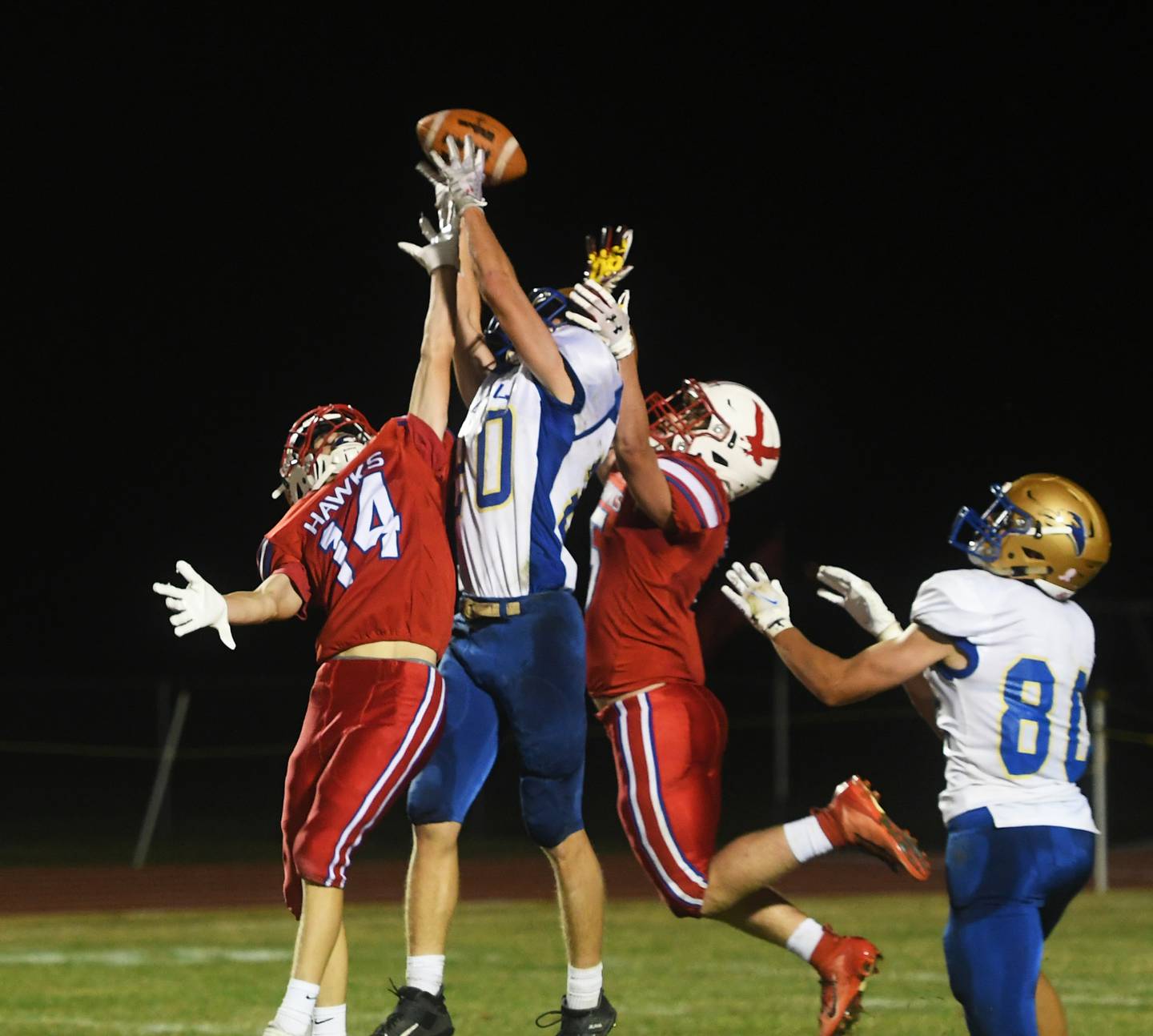 Stillman Valley 48, Rock Falls 0: Rock Falls was shut out by the Cardinals in a Big Northern game.
The Rockets fall to 1-1 on the year.
Kewanee 28, Morrison 6: The Mustangs were held in check by a Three Rivers East division team for the second week in a row.
Bureau Valley 50, Sherrard 7: Layton Britt rushed for 111 yards, Jaden Michlig ran for 100, and Levi Hardy gained 95 as the Storm cruised past Sherrard to improve to 2-0.
Hardy scored three times in the first two quarters, and Adam Johnson added a touchdown run as Bureau Valley built a 28-7 halftime lead. Michlig scored twice in the third quarter, and Britt found the end zone in the fourth.
Bureau Valley outgained Sherrard 327-55 on the ground and intercepted a pair of Tigers passes.
Stockton 18, Eastland-Pearl City 13: A Karl Hubb 21-yard touchdown with nine minutes left lifted the Blackhawks to a win over the Wildcatz.
In the back-and-forth game, Stockton struck first on a touchdown pass from Caleb Mammosser to Drew Mensendike in the second quarter before EPC's Kellen Henze hit Carsen Heeren for a 17-yard score to put the Wildcatz up 7-6 with 1:20 left in the half.
A 5-yard Jace Phillips touchdown in the third quarter put the Blackhawks back on top before EPC retook the lead on a 5-yard run by Henze.
Henze finished with 116 rushing yards and 122 passing yards, with Maddux Hayden adding 108 yards on the ground.
Durand-Pecatonica 28, Forreston 0: Hunter Hoffman was 13-for-24 passing for 154 yards and two touchdowns as the Rivermen blanked Forreston.
Devonte King-Black led the Cardinals with 35 rushing yards, and Noah Johnson added 31. Forreston was held to 125 rushing yards on 43 carries, and 24 passing yards.