STERLING – In a game where defense held for most of the evening, Montini's defense came up with big plays on back-to-back downs late in the fourth quarter to secure a 17-10 win over Sterling on Friday at Roscoe Eades Stadium.
The Golden Warriors got to the Broncos' 35 with 2:17 left in the game thanks to a toe-tapping catch on the sideline by Tommy Tate for a first down. But after a run for no gain and another Drew Kested pass to Tate for a limited gain, Sterling faced a third-and-9. That's when the Broncos defense stepped up, with Jackson McWhinney sacking Kested on third down, knocking Kested out of the game in the process. In stepped Sterling sophomore quarterback Garrett Polson to face the fourth-and-15 play, and Luke Cushing flushed him from the pocket and sacked him for the turnover on downs.
"Obviously we knew they had to throw the ball, and obviously on the last down [Kested] went out so they were kind of limited there," Montini coach Mike Bukovsky said. "We got a chance to make a couple changes. But our defense, really two weeks in a row, our defense has played very well. We were very physical tonight. We set the tone early. Our offense struggled a bit to get things rolling after that first score. ... But it was a hard-fought game. This is a very good program. We have a lot of respect for these people out here. We've played them three times, and every single one of these games has been a very good football game."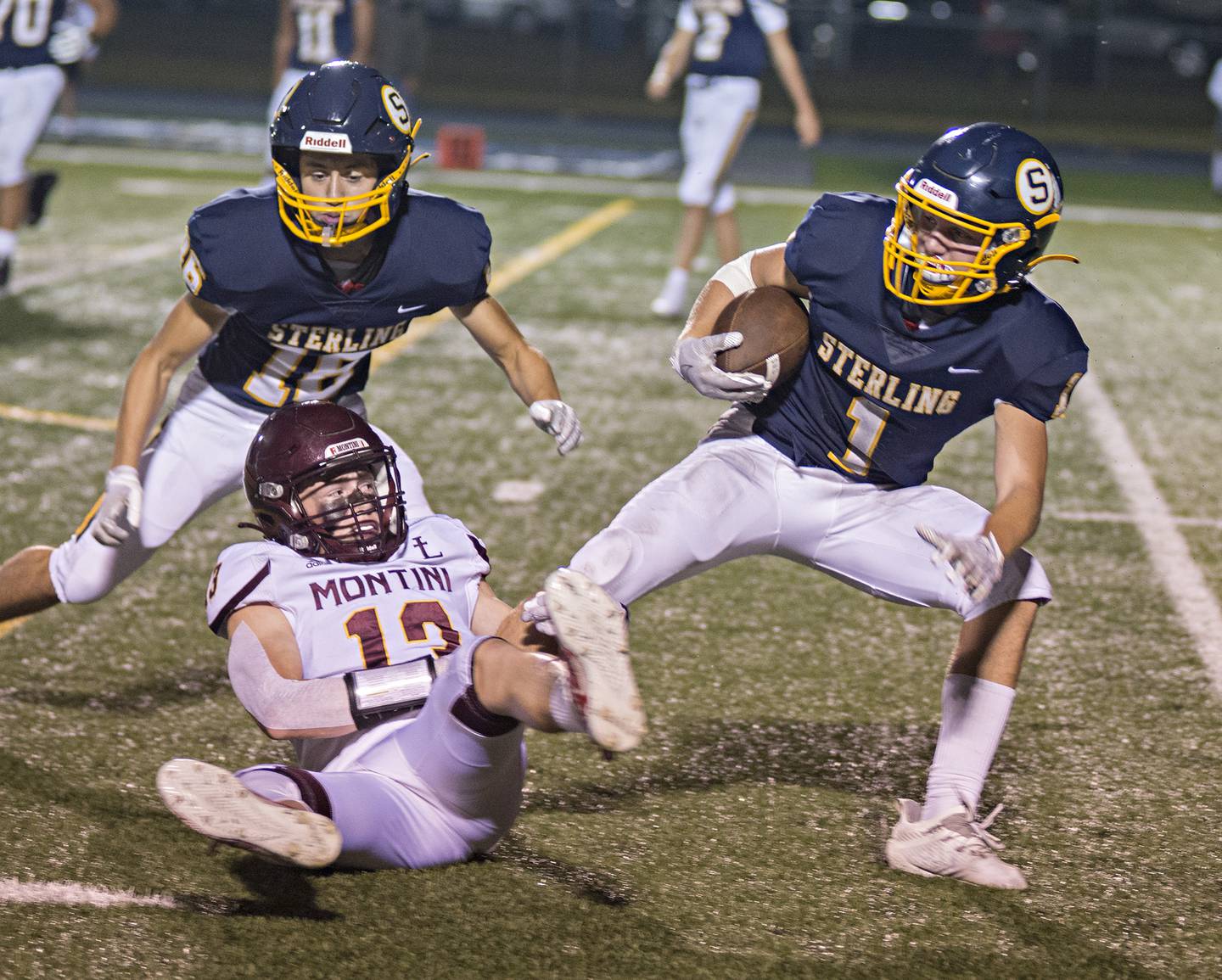 Montini had scored the first 17 points of the game before Sterling responded, getting a 27-yard interception return for a touchdown from AJ Kested in the third quarter and a 15-play drive capped off by a 27-yard Luis Diaz field goal with 7:05 left in the game to get the Warriors within a score.
Sterling (1-1) then stopped Montini three-and-out on the ensuing drive, with Tyree Kelly coming up with a key tackle for a loss on second down, and the Golden Warriors had a chance to tie the score, getting the ball back with 5:20 left in the game.
"It all started with a defensive takeaway and AJ punched it in," Sterling coach Jon Schlemmer said. "I thought our offense did some good things, it's just tough to get it going at times. We've got to get better in the passing game, and we will. I thought our running backs ran hard tonight. I thought our offensive line played well against a really good defensive front. We're going to get better."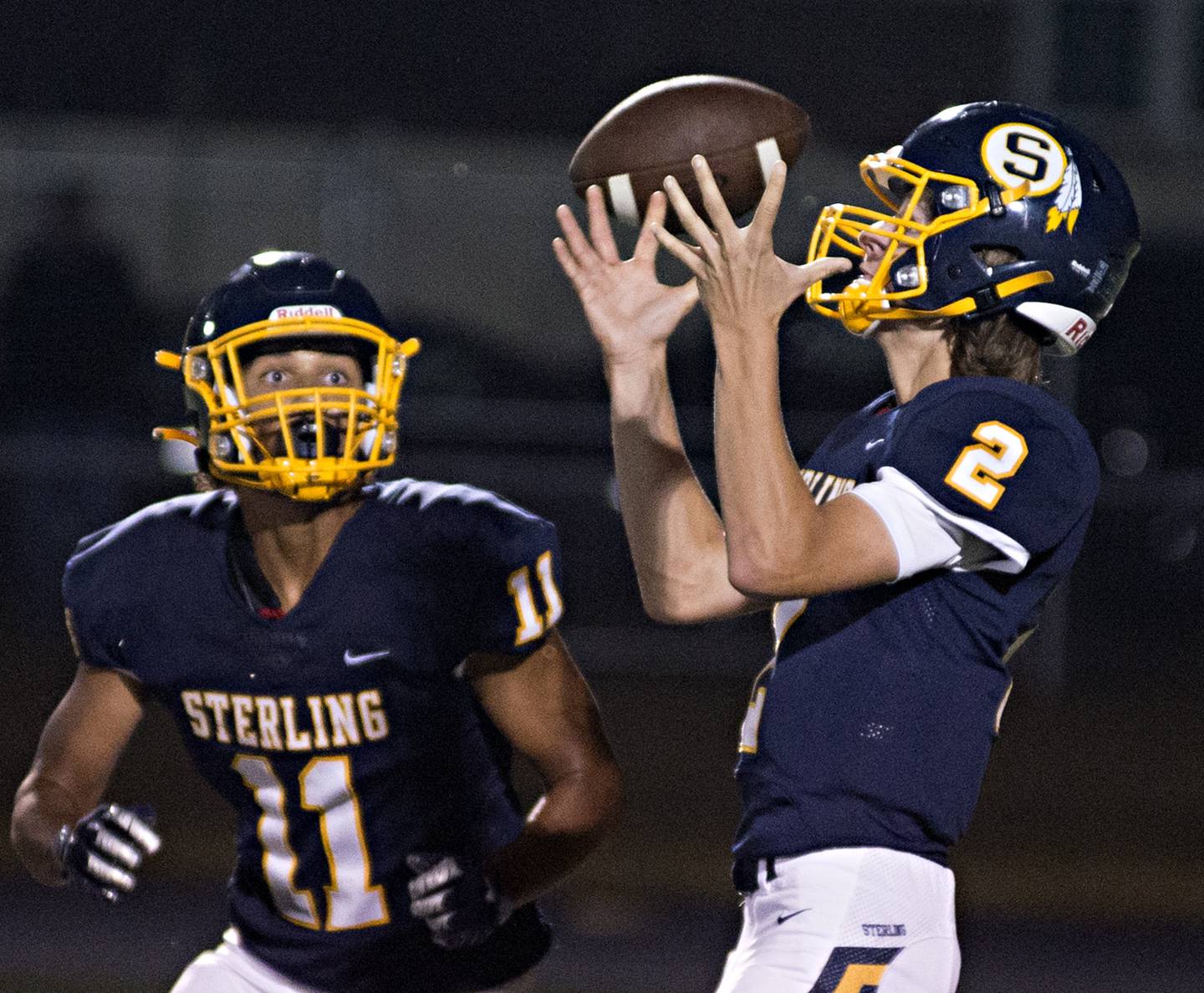 Defense dominated the first half on both sides. Sterling had seven first-half possessions, punting six times; Montini's Deion Manley ended the other drive with an interception.
The Golden Warriors managed two first downs in the half, gaining 42 yards on the ground and 8 through the air. Four drives went three-and-out, with two of those losing yardage. Sterling reached midfield just twice, despite good field position on several drives thanks to a pair of Montini kickoffs going out of bounds, and Sterling starting a drive at its own 44 after pinning the Broncos back on the previous drive and forcing a punt.
Sterling's defense made some stops as well. Josh Robinson had 12 carries for 39 yards in the first half, but other Montini ballcarriers combined for minus-3 yards on the ground. Four Montini drives ended in punts in the first half, and two more ended in punts in the second.
Even after Manley's interception set up Montini at the Sterling 35 to start a drive, the Golden Warriors defense sniffed out a screen pass to stop it for no gain, and Anthony Amezola came up with a sack on the next play.
"They played hard," Schlemmer said. "That was a physical game. That was a high-level game. ... I think our kids battled from one to 11. [Sterling defensive coordinator Mike] LeMay, the mentality that dude makes sure our defense plays with is high level. Kudos to them. They've got some really good athletes, and they got us on some big ones."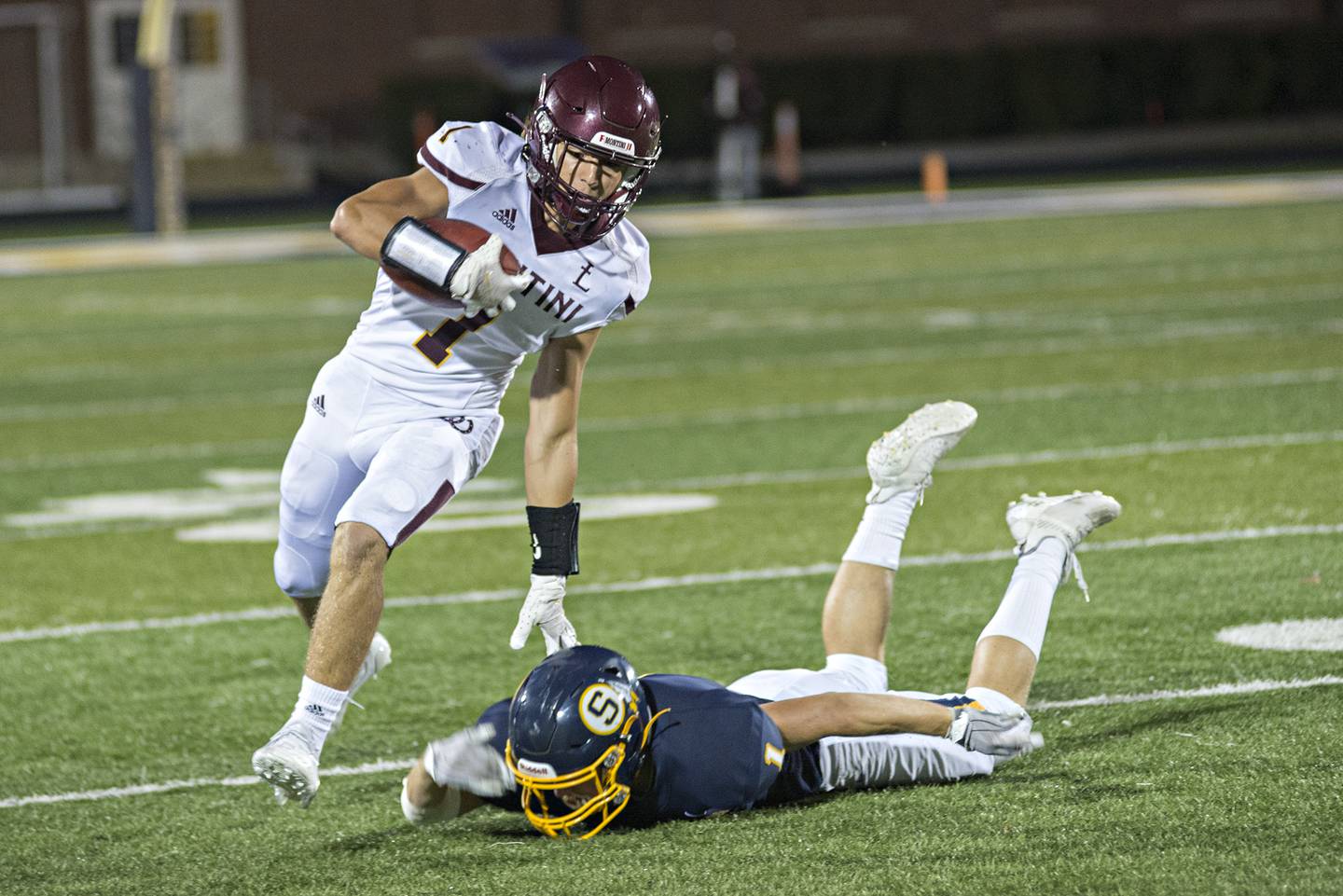 Montini (1-1) did break through with a pair of long passes. Cole Teschner hit Julian Turner for a 52-yard touchdown pass over the middle on Montini's second drive of the game. In the second quarter, the two hooked up once again for a 55-yard touchdown pass, making it 14-0 Broncos with 3:46 left in the half.
"They play very aggressively, and they press," Bukovsky said. "I thought we could have taken even more advantage of that. That was part of the game plan. We were going to go over the top. We tried early and they did a good job of covering. When we put our four guys across the field, sometimes five, it's hard to match up on all of them, and I think we found some mismatches there we were able to take advantage of a couple times."
Sterling's first-half bright spot was punter Yuriy Guerrero, who pinned the Broncos back at their own 4 on one drive and at the 2 on another. His first six punts yielded 260 yards, with another 50-yard kicked wiped out by a motion call.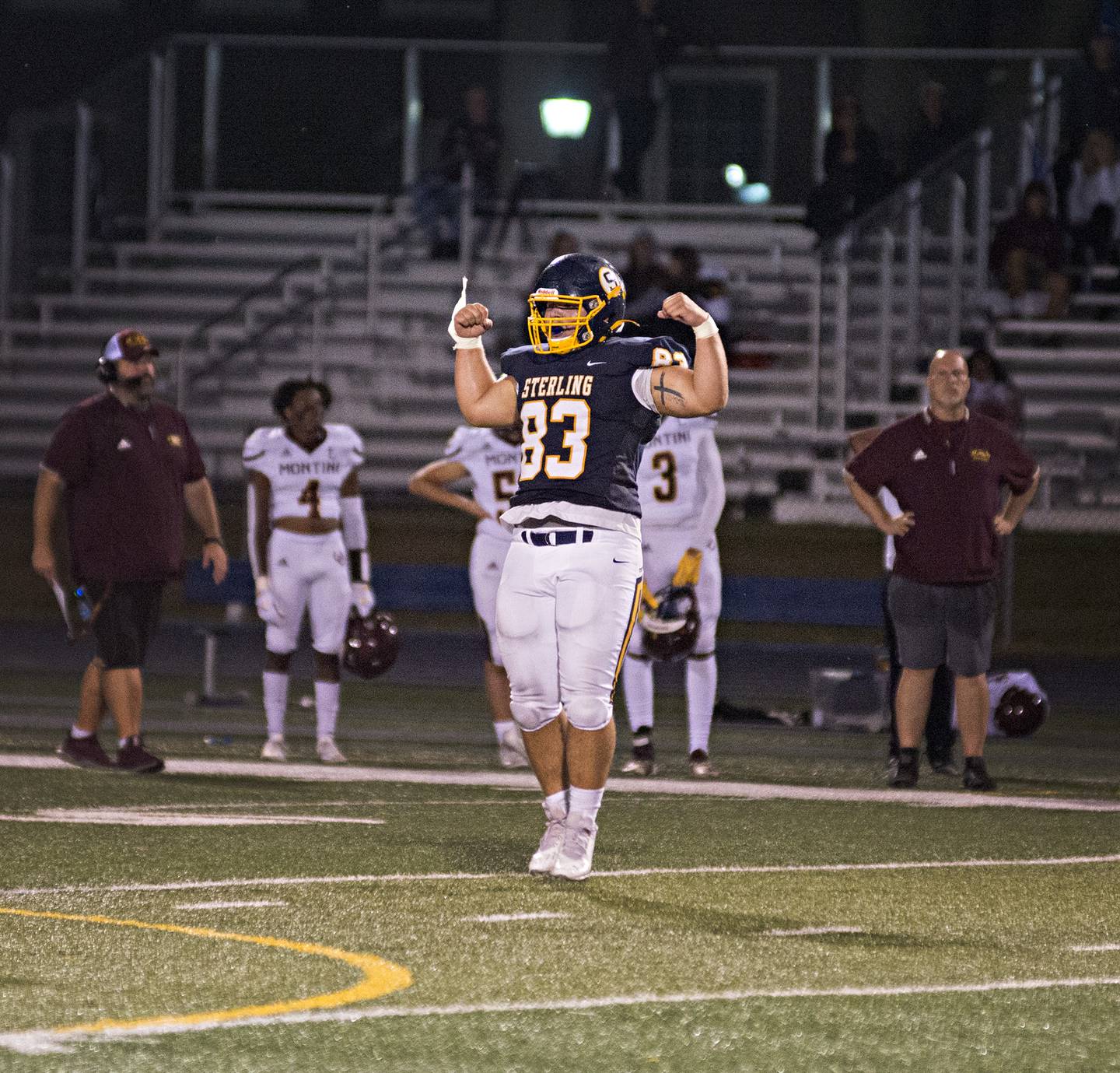 Montini's ground game got going on the opening drive of the third, as a couple of long Alex Marre runs got the Broncos deep into Sterling territory, resulting in a 24-yard Colin May field goal.
Marre finished the game with nine carries for 87 yards.
"Sometimes it's good to have a little change of pace," Bukovsky said. "Josh is working hard, but he was a little dinged. He was a warrior working for us, but it was nice to have a changeup. People focus on Josh."
Antonio Tablante led Sterling with 21 carries for 81 yards. Drew Kested led the Warriors with 59 yards through the air, completing 7-of-11 passes.