MORRIS – The Morris football team couldn't have asked for a better start Friday night in a 31-21 nonconference win over Antioch.
Morris received the opening kickoff and marched down the field, using eight plays – seven of them on the ground – to cover 56 yards, with Ashton Yard (18 carries, 106 yards) scoring from six yards out. Henry Hansen's extra point gave Morris a 7-0 lead with 9:24 to play in the first.
On Antioch's third play from scrimmage, running back Andy Bowles collided with Morris linebacker Sam Reddinger. Reddinger suddenly spun away from Bowles with the ball in his hand and sped 35 yards into the end zone. Hansen's kick gave Morris a 14-0 lead with 7:51 still to play in the first quarter.
"I met him in the hole," Reddinger said. "I felt the ball come loose when I hit him, so I just grabbed it and ran the other way.
"It felt like that gave us a lot of energy, being up 14-0 so fast. It pretty much set the tone for the rest of the game."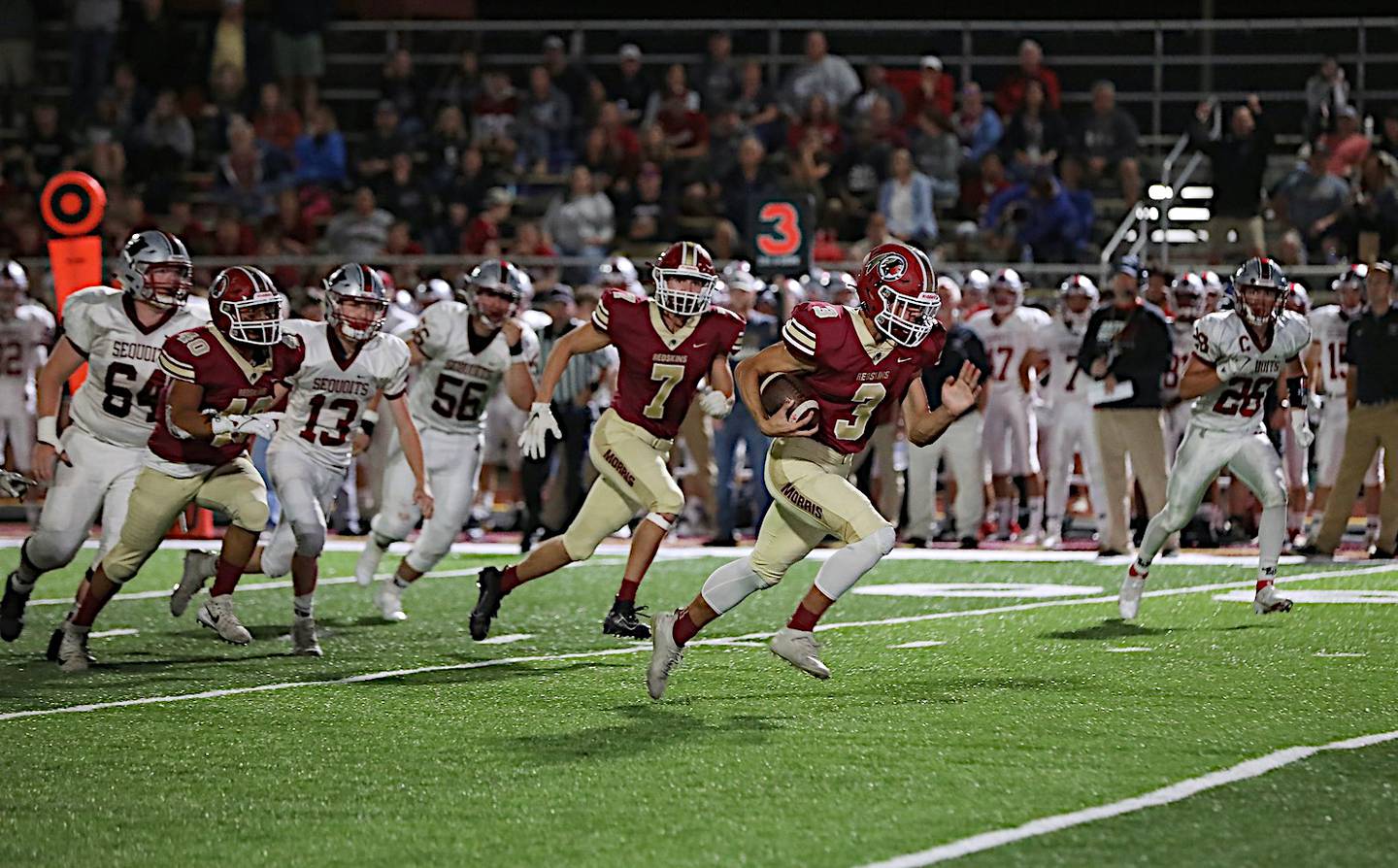 Morris (2-0) wasn't finished with its first-quarter domination. The defense forced an Antioch punt, and Aidan Romak returned it 27 yards to the Sequoit 41. On 3rd-and-3 from the 21, Zach Romak hit Hansen in the end zone for a 21-yard TD pass and Hansen's kick made it 21-0 with 3:16 left in the first.
"We wanted the ball to start the game," Morris coach Alan Thorson said. "You could probably tell what we worked on practice this week. We really stressed running the ball. We know we have a lot of athletes that can make big plays in the passing game, but we need to be balanced.
"I have been hard on our offensive line, but that's because I know how good they can be. They did a great job tonight, and this should be a huge confidence boost for them."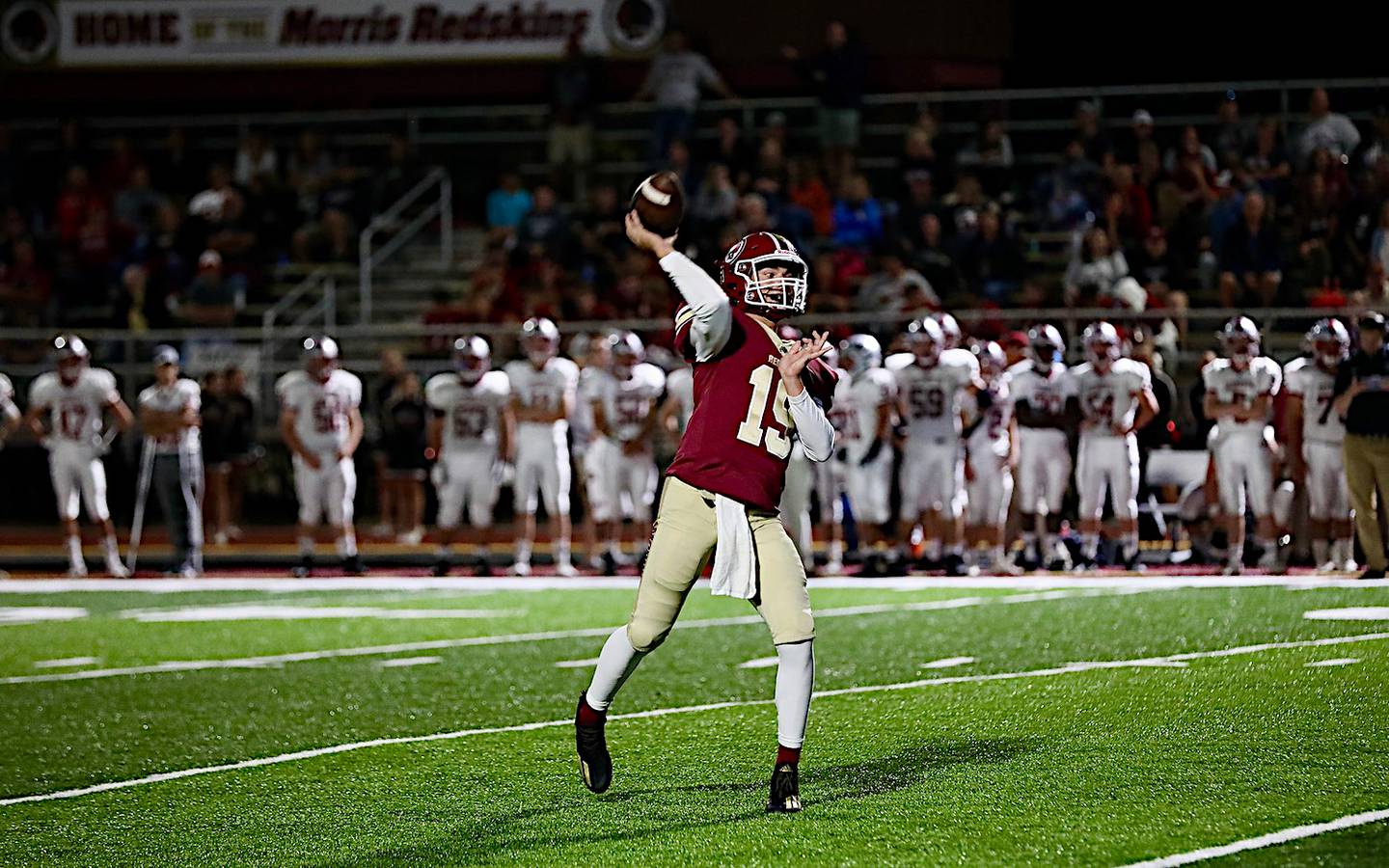 Morris had 190 yards rushing on 39 attempts, led by Yard's 106 on 18. Zach Romak ran 11 times for 54 yards, while Jorge Loza had five carries for 17 yards and Reddinger carried four times for 10 yards.
"We knew we had a challenge this week," said Justin Hemmersbach, a 6-foot-2, 260-pound junior lineman and captain. "They [Antioch] were the No. 1 ranked team in 6A last year. We knew we had to go out and show them what Morris can do.
"They were in a 3-4 most of the night, and we were able to control the A gaps. We worked hard all summer, and we just want to keep getting better every game."
Antioch (0-2) did not go down without a fight. Midway through the second quarter, Bowles scored from two yards out to make it 21-7, which was the halftime score.
Morris forced an Antioch punt on the first drive of the second half, but Bowles picked up a Morris fumble on the first play of the next drive and scampered 45 yards for a touchdown to make it 21-14. Morris answered with a drive that ended with a 33-yard field goal by Hansen for a 24-14 Morris lead.
Antioch followed with a 10-play, 84-yard drive that ended with a 5-yard TD pass from Quade Moll to James Sheehan with 1:40 to play in the third to bring the score to 24-21.
Morris then showed its quick-strike capability, needing only five plays to cover 62 yards. Zach Romak hit Myles Johnston with a 44-yard touchdown pass with 26 seconds to play in the third quarter for a 31-21 lead.
"A lot of teams would have gone for the short pass and the first down," Thorson said. "We have confidence in our guys to go for the home run. Zach made a great throw, and Myles was wide open."
Romak finished 9 of 12 for 115 yards, with Johnston (50 yards) and Aidan Romak (37 yards) catching three passes each.
Morris' defense stiffened in the fourth quarter and did not allow another point. For the game, Morris held the triple-option Sequoit attack to 161 rushing yards on 38 attempts. Moll was 10 of 17 for 104 yards, with Sheehan catching six passes for 65 yards. A.J. Zweeres led Morris with 12 tackles, while Reddinger had 10 tackles and the fumble return, and Jorge Loza had nine tackles, including a sack.
"That's a tough offense to defend," Thorson said. "They run the triple-option out of the shotgun, and they have a couple of big, talented receivers. But the defense made some adjustments and played great. Henry Hansen made a big field goal and had a nice touchdown catch, and Ashton Yard ran the ball hard all night.
"There is still some room for improvement, but this was a big win for us. We are now 2-0 with a win against a bigger school. I think the kids are starting to believe in what can happen."