DIXON – A.C. Bowers Field was slick and slippery Friday night when the Dixon Dukes hosted North Boone in a Big Northern Conference game, but there were no wipeouts for the Dukes, who rolled past the Vikings.
Dixon scored the first 30 points and never looked back in a 50-7 win over the Vikings.
The Dukes scored four times in a wet first half, scoring on both run and pass plays, to take complete control of the game. They also held the Vikings to less than 100 total yards of offense through three quarters.
"I felt like we could be more physical than them up front," Dixon coach Jared Shaner said. "Our defense played real well, and they're a team that can put points up. We had a great game plan, and our kids came out and were physical right from the start."
Dixon (2-0, 2-0 BNC) scored on their first drive, capped by a 1-yard TD by Rylan Ramsdell with 5:33 to play in the opening quarter. The Dukes' next TD came in the air nearly 2 1/2 minutes later when Tyler Shaner found Jacob Gusse in the far left corner from 30 yards out for a 16-0 lead. Gusse's interception of a Chandler Alderman pass set up the Dukes' second TD drive.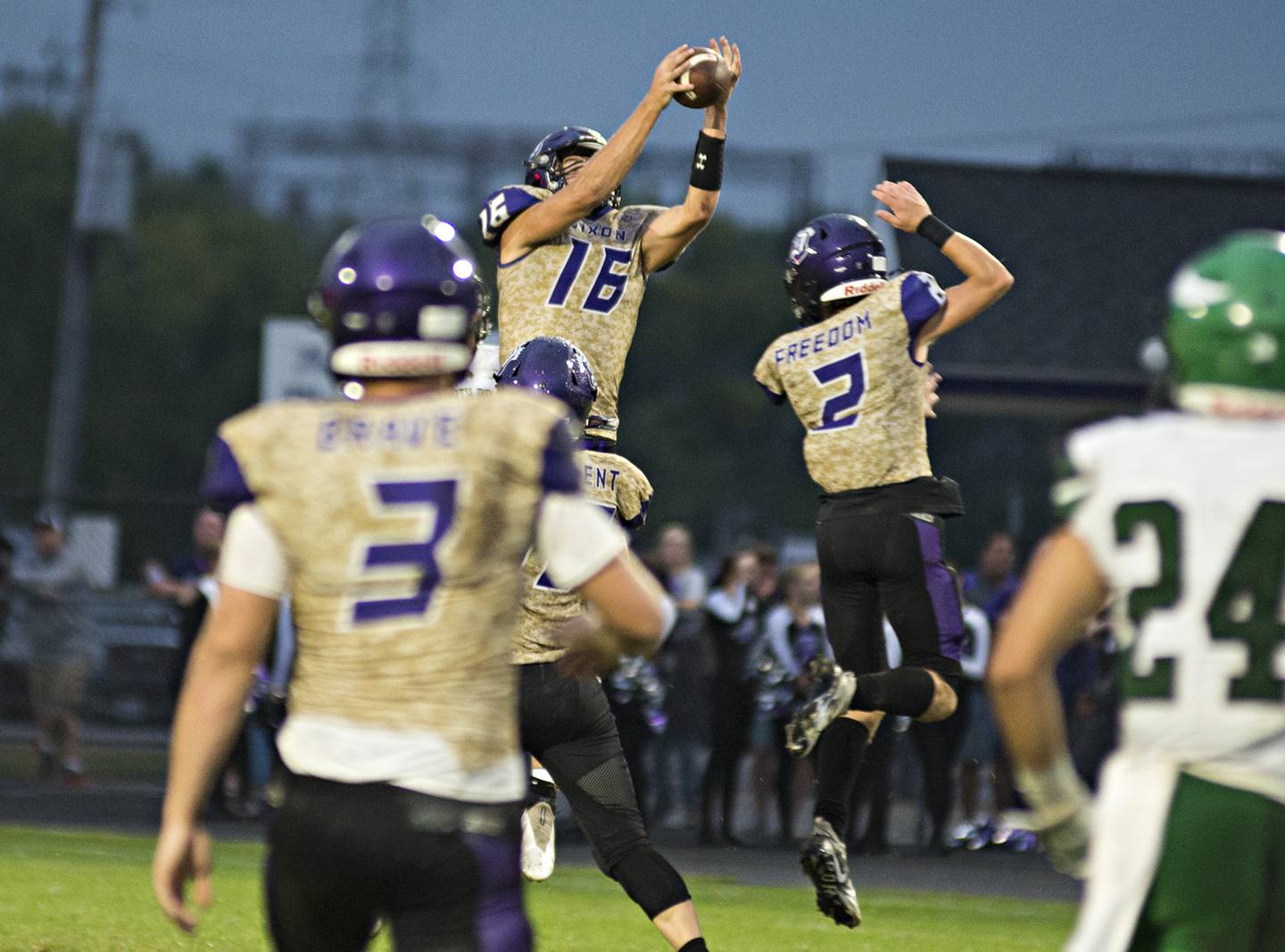 The Dukes' second-quarter scores also came via both the run and pass. Jath St. Pier scored from 1 yard out with 6:42 left in the half, and Mason Randick caught a Shaner pass from 6 yards out with 3:52 left for a 30-0 lead. Randick's score was set up by a blocked punt in the Viking red zone; Eli Davidson got his hand on the ball and Gavin Jensen landed on it at the Vikings' 9.
North Boone (1-1, 1-1) was hurt by 70 penalty yards in the first half, but finally cracked the scoreboard with 1:31 to play in the first half on an Alderman TD pass to Chris Doetch from 2 yards out. Dixon went three-and-out on its next possession, but the snap on the attempted punt flew over Shaner's head in the backfield to set up a chance at another Vikings score with 31.2 seconds left. North Boone got as far as the Dukes' 6, but a penalty dashed their hopes before the halftime buzzer.
Ramsdell had 78 yards on 16 carries in the first half. He added another rushing TD just 2 minutes into the third quarter, an 8-yard score that put the Dukes up 37-7 and put him over 100 rushing yards on the night.
"We knew their D-line wasn't the best, so we came in the week just executing," Ramsdell said. "I told my line I'll get them something if they went for me, and that's just what they did."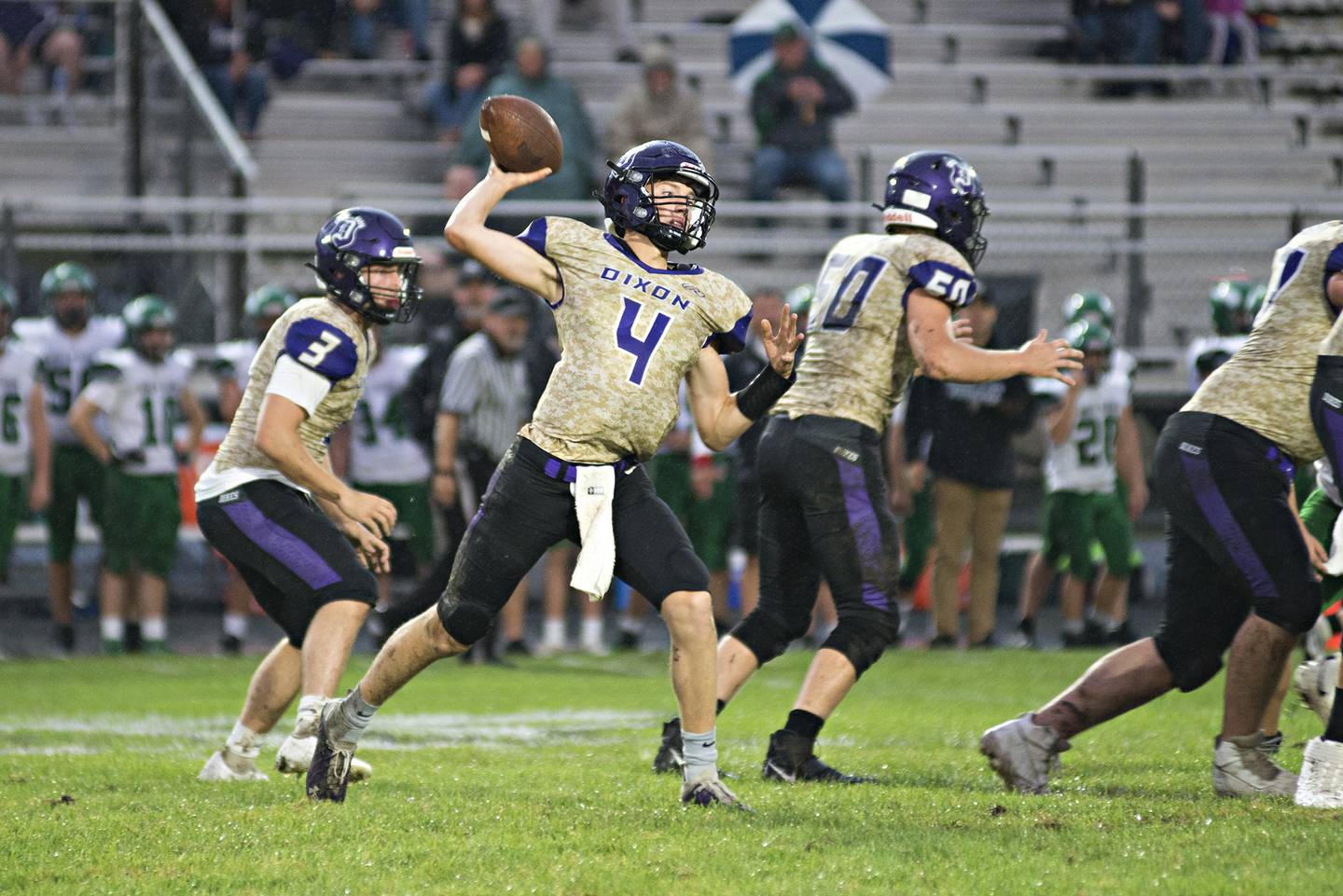 Shaner's second passing TD to Gusse from 19 yards out on the right corner put the Dukes one score away from a running clock situation at 43-7; that pass also gave Shaner more than 100 passing yards at that point.
Mitchell White gave the Dukes that running clock with a 1-yard run 90 seconds into the fourth quarter.
North Boone's backward yardage troubles not only came via penalty, but Hunter Gehrt contributed to at least 30 yards of reversal. Gehrt led the Dukes' defense with a tackle for loss and a pair of 14-yard sacks; one as the first quarter came to a close, and another in Viking territory early in the third quarter.
The Vikings had won five straight games going back to this spring's 4-0 season, and eight consecutive Big Northern games dating to 2019.
"We came in this week and we all got told that they were No. 1 in the conference," Ramsdell said.
Dixon will look to continue its strong start to the season at Rockford Christian next Friday.