OTTAWA – It had been since 2013 that the football programs from Streator and Ottawa had met on the football field.
But from start to finish, everything surrounding Friday's game at King Field didn't feel like it had been that long.
Streator used three big plays to jump to a 22-10 lead at halftime in front of an estimated 2,500 onlookers, but Ottawa stormed back in the second half to close within a single score and had the ball fourth-and-goal at the Bulldogs' 4-yard line with 12.3 seconds left in the game.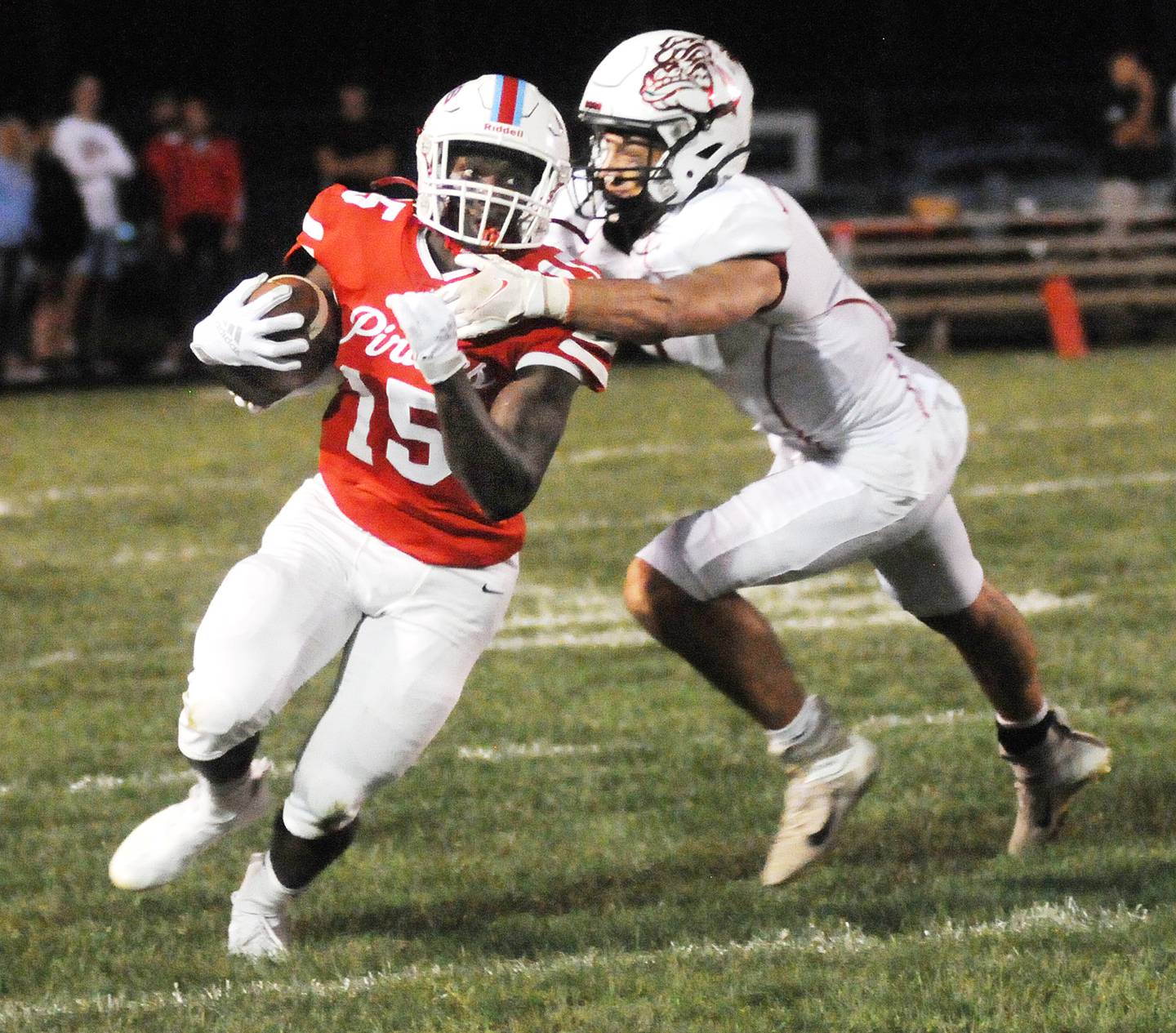 Streator was able to stop the hosts at the 2-yard line to improve to 2-0 for the first time since 2004 with a 28-23 win over Ottawa in the 97th meeting between the Route 23 rivals.
"You could see how much fun everyone here was having tonight. This is what high school football is all about. This was a great game to be a part of."

—  Streator football coach Kyle Tutt
Ottawa leads the all-time series, 58-38-1.
"Defense and special teams were big for us tonight, including the kickoff return," Streator coach Kyle Tutt said. "We had a lot of mental mistakes on offense that hurt us throughout the game, but like last week, our defense picked us up. We put a lot on our defense and special teams to continue to play at a high level this week in practice, and they came out and did everything we could have asked of them.
"To be honest we didn't know a lot about Ottawa, but they are an excellent football team, and [I] wouldn't be surprised to see them playing come playoff time. We took advantage of some things early, but Ottawa never quit and kept coming after us."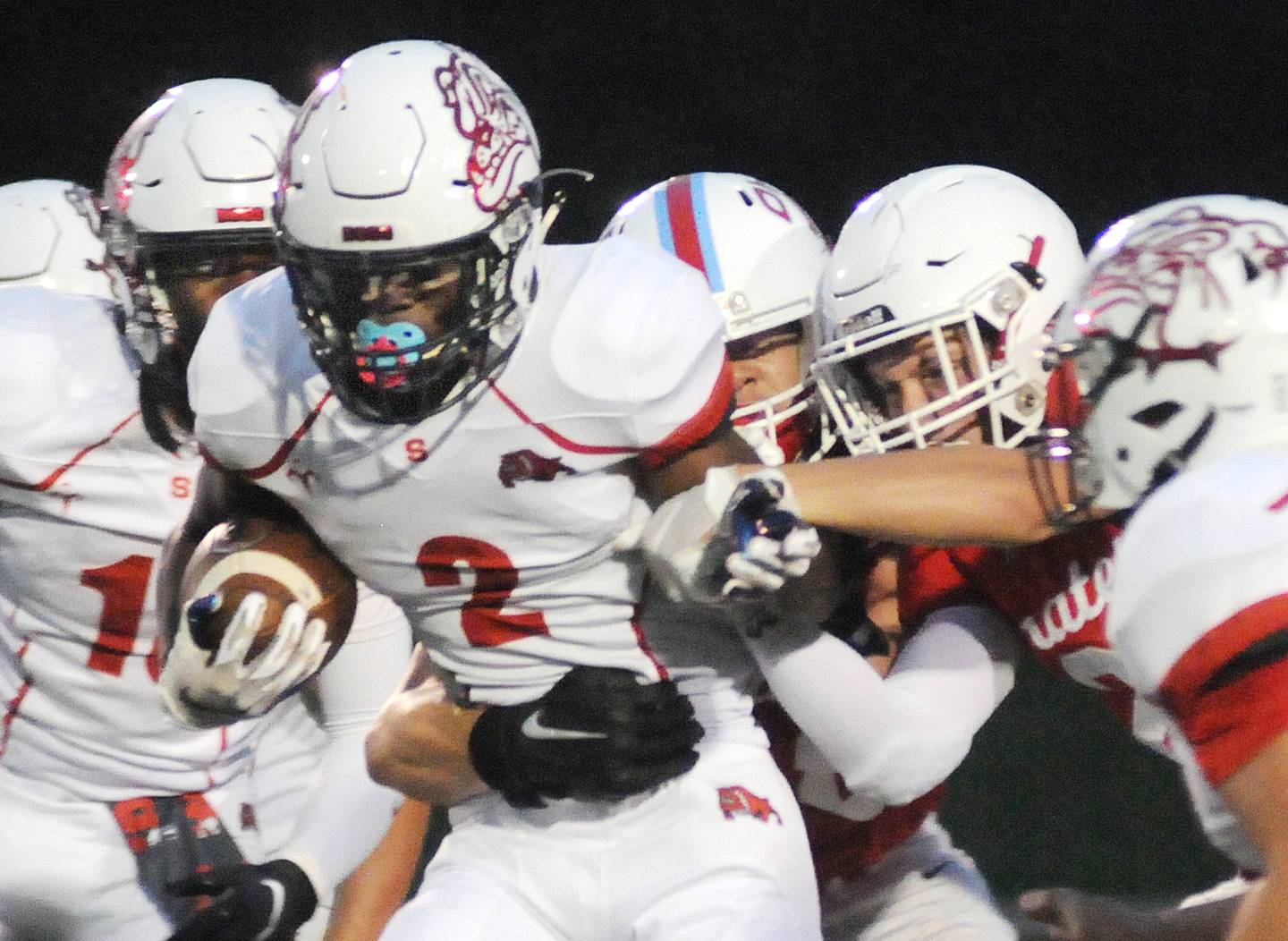 After Ottawa's Cam Loomis kicked a 32-yard field goal midway through the first quarter, Streator answered with a 72-yard touchdown pass from Christian Benning to Cade Stevens. Then after Ottawa muffed the kickoff and the Bulldogs recovered, Darryl Gullens scored on a 51-yard run, with Benning hitting Aneefy Ford for the two-point conversion to make it 14-3.
The visitors added to their lead with about two minutes remaining before halftime on a Benning 1-yard sneak that completed a 12-play, 76-yard drive in which Benning hit Ford for 31 yards on a fourth-down play after the snap for the punt went of the former's head and in the end zone. Ottawa cut the disadvantage with 31.8 seconds to go in the half on a Braiden Miller-to-Levi Sheehan 16-yard pitch and catch.
"You can't win football games having a first half like we did."

—  Ottawa football coach Chad Gross
"The big play killed us tonight," said Ottawa coach Chad Gross, whose team fell to 1-1. "We just dug ourselves too big of a hole to get out of in the first half. We had too many penalties and too many self-inflected problems that we have to get cleaned up. You can't win football games having a first half like we did. We self-imploded in the first half, and that falls on me.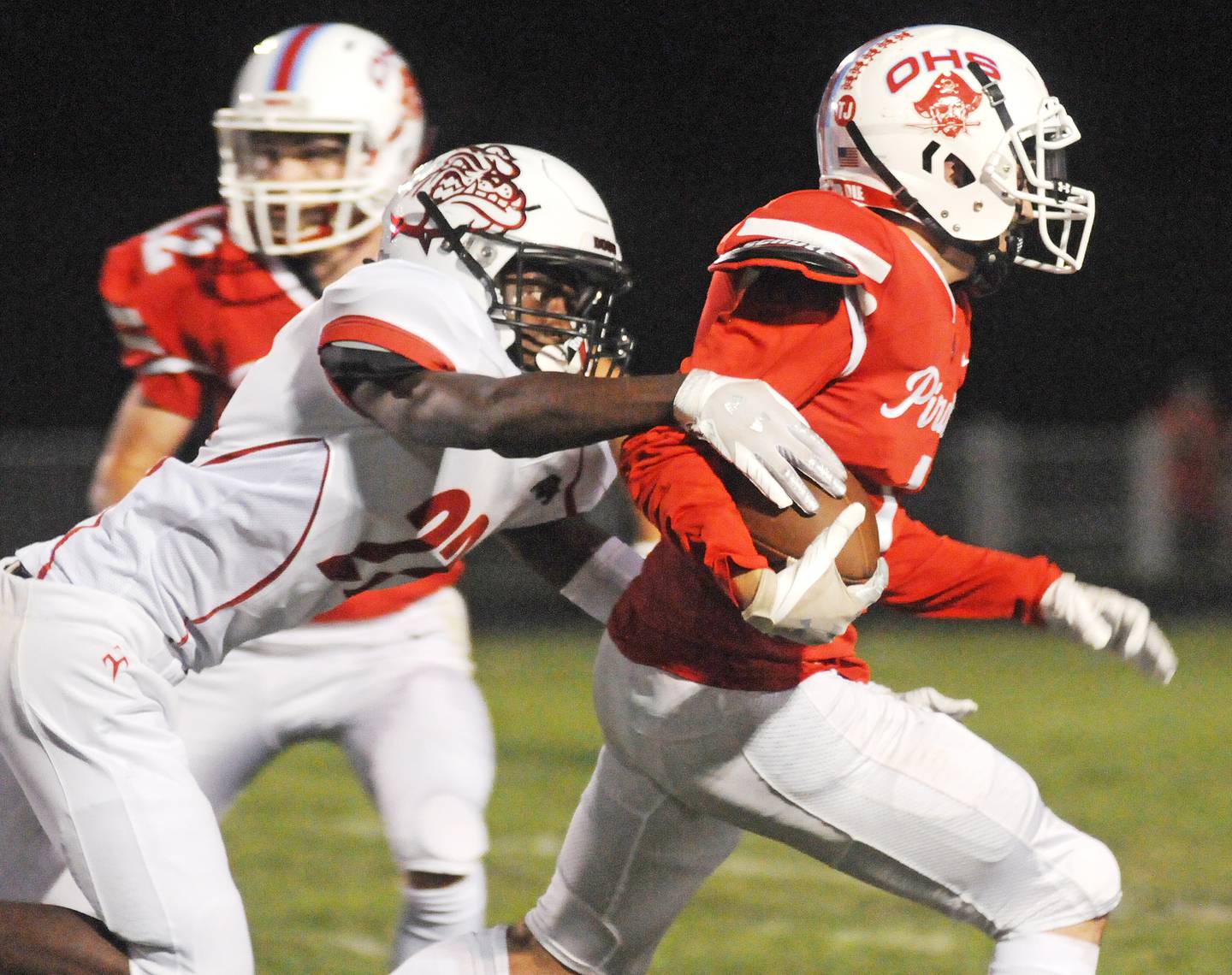 "I was proud of how we fought back. Streator really jumped on us, and it would have been easy to quit down 22-3, but the kids hung in there and were able to get back in the game. We just have to stick together. We have another rivalry game next week at La Salle-Peru, and we'll have to have a better start and keep our composure better than we did tonight."
After a scoreless third quarter, Ottawa used a 1-yard smash from Javarius Whitfield at the 8:57 mark to make it 22-16, but Streator's Stevens returned the ensuing kickoff 88 yards for the score to push the Bulldogs' lead back to 28-16.
The Pirates got to within five on another Miller-to-Sheehan hook-up, this time from 13 yards out, and after forcing the Bulldogs to punt with under a minute to play, drove to the 4, but were stopped on the 2 on a run to essentially end the game.
"It was nice to be able to and have the opportunity to start up this rivalry game again," said Tutt. "You could see how much fun everyone here was having tonight. This is what high school football is all about.
"This was a great game to be a part of."
Streator was led on the ground by Gullens with 68 yards on 13 carries, while in the air Benning was 5-of-8 for 139 yards, with Stevens making three catches for 100 yards. Ottawa, which led the Bulldogs in total yards 369-251, was paced by 94 yards on 24 carries by Whitfield, while Miller was 14-of-30 passing for 248 yards, with Sheehan posting nine receptions for 136 yards.
Streator hosts Herscher to open Illinois Central Eight Conference play Sept. 10, while Ottawa travels west on Route 6 to take on the Cavaliers for the 122nd meeting in the series.
—
At King Field, Ottawa
Streator 28, Ottawa 23
Streator (2-0) 14 8 0 6 — 28
Ottawa (1-1) 3 7 0 13 — 23
Scoring by quarter
First quarter
O — Cam Loomis 32 field goal, 4:46, 3-0.
S — Cade Stevens 72 pass from Christian Benning (run failed), 3:21, 3-6.
S — Darryl Gullens 51 run (Aneefy Ford from Christian Benning), 3:04, 3-14.
Second quarter
S — Christian Benning 1 run (Tyler Luckey from Christian Benning), 2:35, 3-22.
O — Levi Sheehan 16 pass from Braiden Miller (Cam Loomis kick), :31.8, 10-22.
Fourth quarter
O — Javarius Whitfield 1 run (kick wide right), 8:57, 16-22.
S — Cade Stevens 88 kickoff return (pass fialed), 8:38, 16-28.
O — Levi Sheehan 13 pass from Braiden Miller (Cam Loomis kick), 2:39, 23-28.
Team statistics
Streator Ottawa
Total plays 40 60
First downs 9 20
Rushes-Yards 32-112 30-121
Passing yards 139 248
Total offense 251 369
Comp-Att-Int. 5-8-0 14-30-0
Third downs 3-of-9 5-of-13
Fourth downs 1-of-3 2-of-6
Fumbles-Lost 4-0 2-1
Penalties-Yards 6-72 5-37
Punts-Avg. 2-27.0 1-26.0
Time of possession 24:20 23:40
Individual statistics
RUSHING — Streator: Darryl Gullens 13-68, Christian Benning 11-21, Aneefy Ford 4-19, Seth Miles 2-14, Cade Stevens 2-0. Ottawa: Javarius Whitfield 24-94, Ryder Miller 2-17, Levi Sheehan 2-16, Braiden Miller 2-(minus 6).
PASSING (C-A-TD-INT-YD) — Streator: Christian Benning 5-8-1-0-139. Ottawa: Braiden Miller 14-30-2-0-248.
RECEIVING — Streator: Cade Stevens 3-100, Aneefy Ford 2-39. Ottawa: Levi Sheehan 9-136, Ryder Miller 1-52, Ryan DeMoss 2-31, Javarius Whitfield 2-29.