HOOPESTON - A first half owned by Hoopeston Area-Armstrong was followed Thursday night by a third quarter dominated by the Seneca Fighting Irish.
Then the lead of this Vermilion Valley Football Alliance crossover changed hands three times over a 4-minute, 4-second span of the fourth quarter. The scoring ceased there, however, with the host Cornjerkers claiming a 26-21 victory over the visiting Fighting Irish.
"We're a young team," Seneca coach Terry Maxwell said, "and we're learning. We learned a lesson tonight that you can't come out and play flat against any team, especially when (the other team) has athletes like that over there.
"It's one of those things where I hope our guys take this and learn from it and don't do that again."
Braden Ellis carried the ball 13 times for 122 yards and two of Seneca's three touchdowns. Fellow power-T running back Asher Hamby added 36 yards and the other touchdown, with Collin Wright rushing for 28 yards for the Irish (0-2), who are now off until their Sept. 10 matchup at home against Salt Fork (1-0).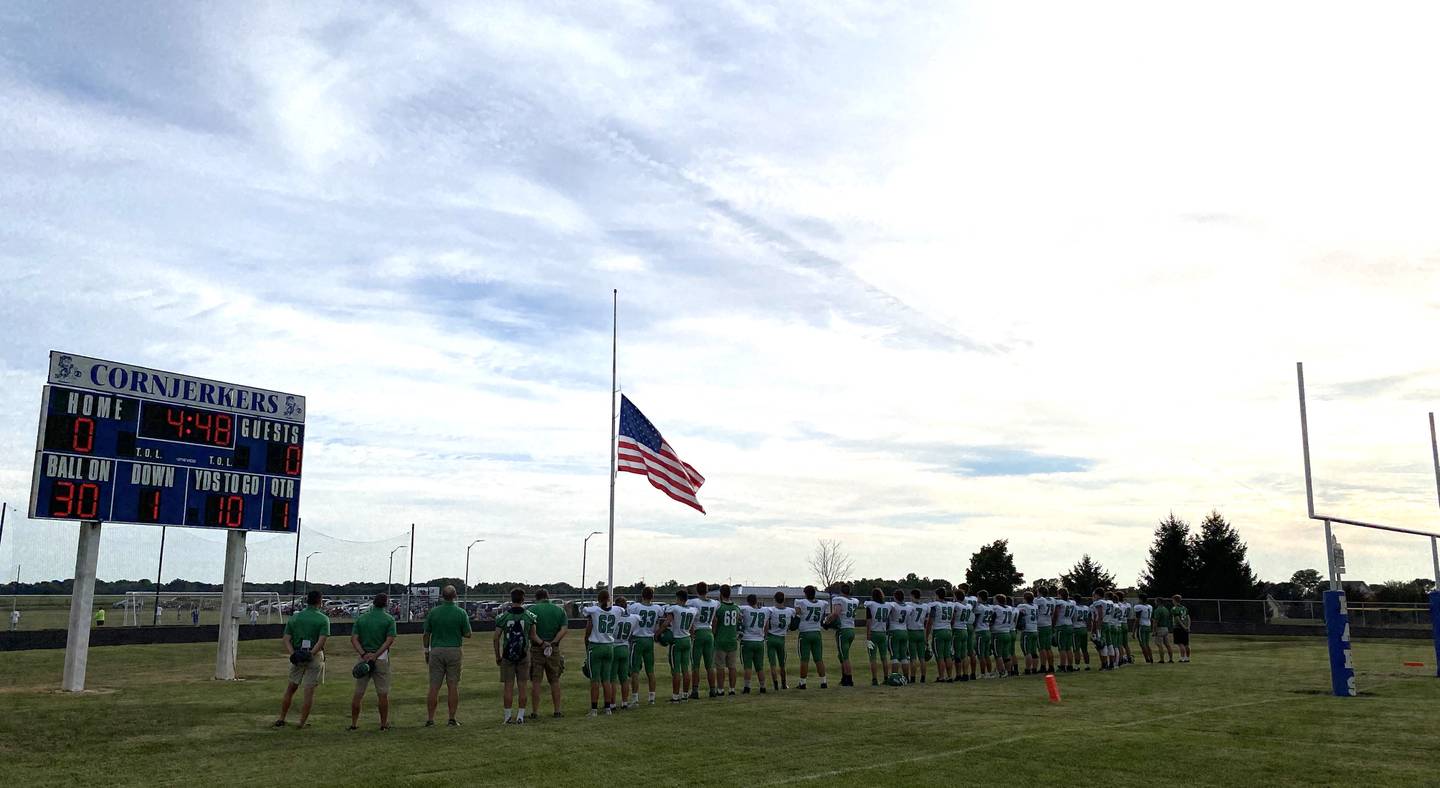 Seneca trailed 12-0 at halftime, with the Cornjerkers scoring in the closing seconds of each of the first two quarters. A 6-yard TD scramble from QB Anthony Zamora as time expired in the first and a 7-yard scoring pass from Zamora to Grant Morgan with 34 seconds left before halftime accounted for those dozen points, with both 2PAT tries stuffed.
Everything changed when the teams retook Glen Brasel Field for the second half, as the re-energized Irish took possession and drove 70 yards on 11 plays to paydirt, Hamby finishing it off with a 7-yard burrow up the middle. Just over three minutes of game clock later Seneca was back in the end zone, as Ellis ripped off a 46-yard, tackle-breaking sprint to tie the game 12-12.
"I think the guys started to understand that we could take control of this game and started to believe that," Maxwell said. "We need to come out in the first half and believe that. We can't wait 'til halftime to believe it … but if we can play like that consistently, we're going to be all right."
The PAT kick was true, and the Irish held their first advantage, 13-12.
It didn't last long.
The Cornjerkers (1-1) retook the lead in the opening minute of the fourth on a 28-yard scoring run from Abel Colunga (88 yards rushing). Seneca replied with a six-play, 49-yard drive after an inexplicable Hoopeston onside kick, a drive kept alive by a 12-yard pass on 4th-and-7 from sophomore Irish QB Nathan Grant to senior Brian Hooker. Ellis cashed it in with a 28-yard run up the gut, Hamby ran in the conversion, and Seneca led 21-18 with 7:32 remaining.
But again, it didn't last long.
Hoopeston Area-Armstrong's Sam Champs picked up the ensuing kickoff after it had bounded by him and proceeded to bound by the Irish coverage team 84 yards all the way down to the Seneca 4-yard line. The next play, Zamora — who finished 9-of-17 passing for 124 yards and a TD and added 33 yards and two scores rushing — ran it in on a keeper, and the Cornjerkers were back ahead.
"That was huge ..." Cornjerkers coach Matthew Leskis said. "(I was hoping to get the ball and get good field position, but (84) yards or whatever it was? I was concerned when he let it roll and then he picked it up. I was hoping we could at least get to the 30 or 40. But the (4-yard line) is much better."
"That," said Maxwell, "was really deflating."
The Fighting Irish took possession at their own 47 after a nice Hamby return and drove it down to earn a 1st-and-10 at the Cornjerkers 21. A holding penalty on what would have been a touchdown run left the Irish with a 4th-and-7 at the 18. Ellis was stopped short, and the hosts took over and ran out the clock for their first win.
Hoopeston Area-Armstrong outgained the Irish 276-238 in yards from scrimmage despite quarterback sacks recorded by Seneca's Collin Wright and Josh Lucas. Patrick Griffin and Carter Ellis added tackles for loss.